Dear friends, Let the games begin: It's the opening day of the International Film Festival Berlin! Today we have a special film for you, which will also be the opening film for the section Panorama this evening. "Ja, Olga Hepnarova" is a story about a young woman, who turns from a social outcast into a mass murderer and the last woman hanged in the Czechoslovakia. But to tell you even more, the story is based on true events and the directors should know about, because they already shot a documentary about Olga Hepnarova called "Everythins is Crap".
For more informations you can read the film desscription below. We will now go to Potsdamer Platz, have a look around and be happy about our personal fifth season of the year! Cheers and see you later, folks!
---
Ja, Olga Hepnarova
I, Olga Hepnarova
Czech Republic/ Poland/ Slovakia/  France 2016
105´
Director: Tomas Weinreb, Petr Kazda
Cast: Michalina Olszanska, Martin Pechlat, Klara Meliskova, Marika Soposka
Olga is a complex young woman desperate to break free from her unfeeling family and social conventions. With her Louise Brooks like tomboyish looks she drags herself, chain-smoking, from one job to another until she appears to find her niche as a truck driver. Although she has female lovers she does not form a bond with any of them; instead she clashes, time and again, venting herself in wordless emotional outbursts and other behavioural extremes. Meticulously composed and shot in elegiac black-and-white this film tells the story of the short life of an exceptionally lonely young woman who turns into a mass murderer when, on 10 July 1973 – as she has just turned 22 – she drives a rented truck into a group of people, killing eight. In a letter acknowledging her deed she writes that she sought to take revenge on the world and on those she felt hated her. In spite of clear indications that she was mentally ill she was executed – making her the last woman to be publicly executed in Czechoslovakia. After producing several documentaries and shorts together, this film marks the directors' first drama. The film is based on a lengthy period of research which culminated initially in a documentary entitled "Everything is Crap".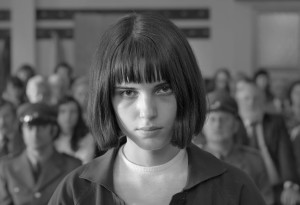 21:00, CinemaxX 7
---
Girl Talk
Girl Talk
USA 2015
4´
Director:Wu Tsang
Cast: Fred Moten
Girl Talk features poet and critical theorist Fred Moten dancing in slow motion, or 'dragged time', to an a cappella rendition of Betty Carter's jazz standard "Girl Talk", here reinterpreted and performed by musician Josiah Wise. Wearing a velvet cloak covered in jewels, Moten turns euphorically in a sunlit garden as the crystals adorning his body refract pink, blue, and green rays. In exploring the figure of the drag queen and the mother, Moten and Tsang, poet and artist, remain unfixed in any one persona.
10.02-22.0 2. / daily 19:00 – 21:00 Akademie der Künste as an Installation