Last Thursday 8th March marked the occasion of International Women's Day 2018. Communities worldwide recognised the achievements and struggles of all those identifying as women that, thanks to the widespread prevalence of patriarchal attitudes, are so often sidelined. The past year has been somewhat turbulent in terms of women's rights – we have a US president whose misogyny is public and unapologetic, the ongoing revelations of sexual assault in the media industry, and spikes in violence towards trans women in Latin America and elsewhere. But in response to those struggles have been empowering movements like the #MeToo campaign, and huge successes like the first win for a foreign language Oscar by a film about a transgender woman.
To celebrate womanhood in its many wonderful forms this week is the Berlin Feminist Film Week. It runs until 14th March and you can find all of the events by following their facebook page 
https://www.facebook.com/berlinfeministfilmweek/
. We spoke to founder of the festival, Karin Fornander, about the queer aspects of the film week, of which there are many!
The Berlin Feminist Film Week has been going since 2014 – what
inspired you to found this festival, and how has it developed in the
years since? 
I wanted to work with feminist issues, something I had been interested in for a long time and was the subject of much of my university work. After uni, I found myself in an unrelated field and as I quit my job, I wanted to do something that was relevant to those interests. The film festival idea kind of happened in conversation with Mobile Kino, the cinema project I was involved with and after speaking about a short film night it gradually evolved into a whole festival. Since then, the program has gotten bigger, the team and the audence have both grown, but we still get by without much funding and have kept much of the DIY spirit. We also started taking submissions, which adds to the democratic and also feminist spirit of the festival as all filmmakers and our selection committee help shape how our feminist discourse looks like. 
The word 'feminist' has, for many, connotations of exclusion, often
seen to privilege the concerns of white-cis women over those of
marginalised individuals within the female community. What efforts have you gone to counter this?
I'm obviously a white cis-woman with a university-degree, and I am aware that will bias the my views of feminism. That said, knowing this has also influenced our focus on bringing in as many films as possible from other countries. This year, we mainly have non-english speaking feature films and a lot of the shorts are also from different gender, racial, cultural and geographical perspectives. Our festival is not a women's film festival, it is a feminist festival with focus on inclusion of all women, non-binary, queer and trans filmmakers and think a lot of intersectionality. I think you can always do better, but we put an emphasis on telling stories from all gender perspectives and explore cinematic views that are often not represented. 
What are the major obstacles facing female and non-binary
film-makers today, and how can a platform like the BFFW help change
this?
I'm sure most filmmakers dream about showing at the big festivals, that is a recoginition we can't offer and we of course hope that all the filmmakers we screen films from will be able to enjoy international widespread success and recognition one day, if that is what they want. Resources for female and non-binary filmmakers are often limited; many stick to making documentaries as it is cheaper to produce. Film funding is often reserved for male filmmakers, both public and private funding have these tendencies in most countries I know of. A quota in Sweden has led to public funding being split even between men and women, hopefully also more inclusion for non-binary filmmakers. Private funding however, also plays a big role in film production, and you can't put quotas on that. But I do think that all these smaller film festivals combined will signal to bigger film festivals that it is time to change. Maybe our festival will be obsolete one day, but I also like to see it as a collection of films showing these perspectives and a space where you come to and enjoy these in the company of like-minded people.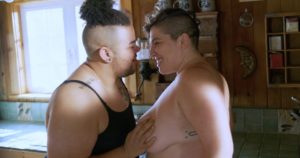 We're increasingly seeing greater visibility of LGBTQ individuals in
mainstream cinema, with the success of 'Moonlight', 'Call Me By Your Name' and 'God's Own Country' in recent years. Those films focus on male homosexuality – how can we improve the visibility of female queerness on screen as well?
Yeah, that's an amazing development. But you're right, female queerness is still very lacking on screen. Which on the one hand probably has to do with less visibility of female filmmakers in general. Films such as 'Blue is the Warmest Colour' have some success, but that was directed by a man. I think by improving condition for female* filmmakers in general and also reclaiming the gaze on queer and lesbian women from the male gaze as something pornograhic, we can improve visibility. But something has to change at a top tier level. In mainstream cinema, female perspectives are still very much seen as "for women" while male protagonists are believed to be more universal and speak to both men and women – this has to change! 
The opening film, 'They', follows the life of a young individual at
the delicate stage of gender transition. How can films like this help
influence and inform young people's perceptions of gender and sexuality? And how is that reflected in your programme? 
I think representation is important in term of widening everyone's, but especially young people's perception of what is "allowed". When we're young, a lot of our information comes from our peers or from media, if we never see ourselves reflected in those images represented, it is difficult to accept yourself. I think our programme keeps an ongoing conversation of what gender and sexuality are and mean to us, how that is reflected in film or even how film can shape these perceptions. 
We're at a hugely uncertain point in the struggle for equality of
gender, sexuality and race; we're facing the appalling revelations of
sexual abuse and misogyny in the film industry, rapid escalation of
racism and xenophobia across Europe, and a growth of religious
conservatism in the US, Latin America and parts of Europe that curbs the rights of LGBTQ people. But we're also experiencing a major backlash to those attitudes. How do these current-day conflicts impact the film-making we see in the festival this year? 
We've got many films by female filmmakers conceptualizing sexual violence and rape, many of them of course produced before the MeToo campaign (re-)started. But I think there will be more courage to tell these stories from female and queer perspectives now. I think the movement has done a good job creating an arena for women to speak up, but I would like to see more inclusion of queer, trans and non-binary people who are also subjected to a lot of violence and stigma. We have tried to include perspectives from feminists from oppressed areas, such as Kurdistan and Palestine. The documentary 'The Judge' does a brilliant job of showing that muslim women are not the suppressed individuals Western media make them out to be but also powerful and their own subjectives. I think in general a lot of our filmmakers use film to critically assess these conflicts and hopefully bring attention to the absurdity of them. 
Within the programme are some older films by female/non-binary
filmmakers, like Jane Campion's 1984 short, 'After Hours'. How can a look at past works help form the future of feminist film production? And what trends do you predict for feminist filmmaking? 
I think a look at past work is always important and interesting. Feminism didnt come about in a day, and obvisouly perspectives change, but at the core there will always be ideas that we carry with us, although maybe refined and updated. I think any creative process gets better from learning from history and building from that, none of us like a vacuum. I'm predicting, well hoping, that feminist filmmaking won't be a niche, but that intersectional perspectives are taken into account in filmmaking in general.