We just started preparing the 29th TEDDY AWARD – The Queer Film Award at the 65th Berlin International Film Festival (05-15th Feb. 2015).
Just like in the years before, also the 29th TEDDY AWARD opens its family album and reminds us of outstanding queer characters. Homage will be paid to director Rainer Werner Fassbinder. This year's artwork shows our queer icon Rainer Werner Fassbinder  drawn by Rinaldo Hopf on a poster designed by cabine.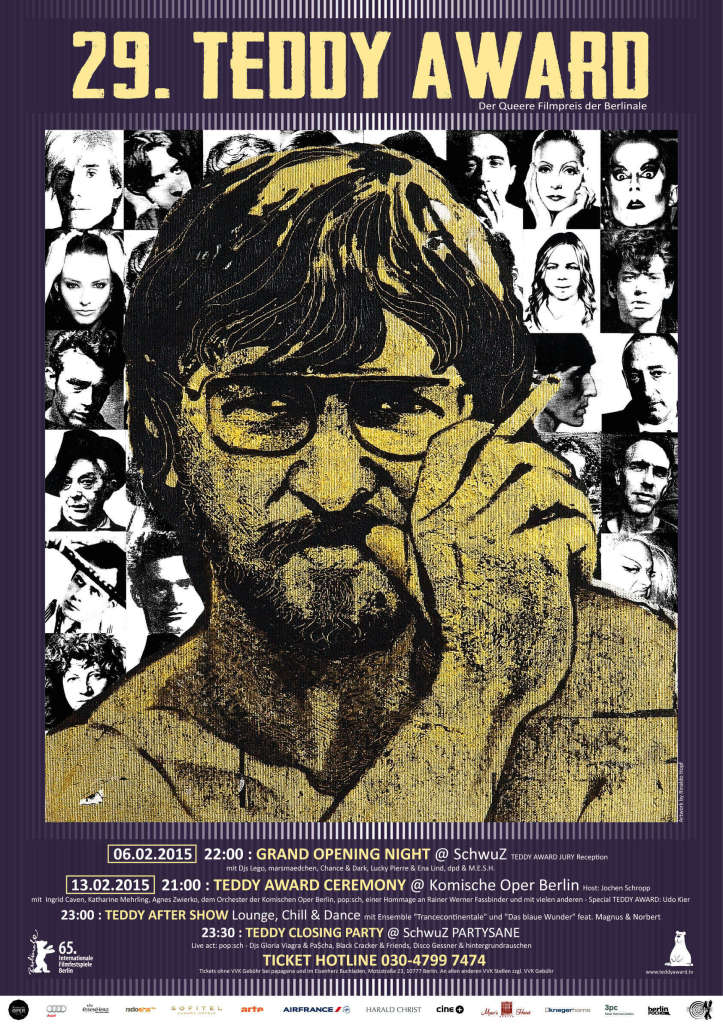 The advance ticket sale has begun. The tickets for the 29th TEDDY AWARD Ceremony are available from now on. The awards will be given away during the 65. Berlin International Film Festival on Friday, 13th February 2015. The location of the festive awarding will be in 2015 again the Komische Oper Berlin.
At the festive TEDDY AWARD Ceremony with more than 2000 guests from the fields of art, culture, economy and politics, the TEDDY AWARD will be awarded in the categories: Best Feature Film, Best Documentary/Essay Film and Best Short Film. Also in this year, movies from all sections of the Berlinale compete for the awards. The Special TEDDY AWARD for artistic life achievements is given to outstanding personalities.
Besides of the award winners of the evening, a high class artistic stage programme will await the audience. Among many others, the Orchestra of the Komische Oper, actress and diseuse Ingrid Caven  and the Austrian electro-pop group pop:sch will perform on the TEDDY stage. Your host for the evening will be Jochen Schropp.
Dates
05-15th Feb. 2015                  65. International Film Festival Berlin
FRIDAY Feb. 06, 2015
TEDDY GRAND OPENING NIGHT @ SchwuZ
23:00 TEDDY AFTER SHOW LOUNGE
23:00 TEDDY AWARD Closing Party @
SchwuZ
Ticket-Hotline: +49 (0)30 – 4799 7474
Tickets for the TEDDY AWARD Ceremony are available from now on in the online shop at www.teddyaward.tv. Ticket reservation is possible via e-mail: tickets@papagena.de or via the Ticket Hotline 030 – 4799 7474 and at the Ticket Office of the Komische Oper Berlin. Without booking fee the tickets are available in Prinz Eisenherz Bookshop, Motzstraße 23, 10777 Berlin.
TICKETS
TEDDY Supporter Ticket A incl. TEDDY Reception: 136,- EUR
Seat category A: 68,- EUR
Seat category B: 57,- EUR
Seat category C: 42,- EUR
TICKET HOTLINE & INFO phone: +49-(0)30-4799 7474