Monthly Archives: December 2017
At the 23rd of Feb. 2018 we are going to celebrate the 32nd TEDDY AWARD and the preparations are in full swing! The venue for the award ceremony and the TEDDY PARTY will be at the Haus der Berliner Festspiele in Schaperstraße 24, 10719 Berlin.
Tickets for the 32nd TEDDY AWARD Ceremony and the Backstage Party are available from now on in the papagena online Shop. Ticket reservation is possible via e-mail at tickets@papagena.de or on the telephone via the Ticket Hotline +49 (0)30 – 4799 7447. Without booking fee the tickets are available at Prinz Eisenherz Bookshop, Motzstraße 23, 10777 Berlin.
For the special support of the Teddy e.V., we offer a limited amount of Premium Tickets. With the purchase of a Premium Ticket, you will be guest of honour in the best seating category. Furthermore, you will be invited to an exclusive pre-reception between 06.30 and 08.00 pm on the evening of the ceremony. Here you can purchase your Premium Ticket.
The award ceremony starts directly after the opening at 08:30pm. After the ceremony we are going to celebrate  the TEDDY 32 Backstage PARTY  with dance floor and DJ-Lounge until dawn.
DATES:
15.02.- 25.02.2018 68. Internationale Filmfestspiele Berlin
FRIDAY, Feb. 23, 2018
23:30 TEDDY 32 Backstage PARTY with dance floor and DJ-Lounge

TICKETS
Premium Ticket cat. A incl. reception: 148,- EUR
Seat category A: 74,- EUR
Seat category B: 52,- EUR
Seat category C: 35,- EUR
Screening Lounge: 25,- EUR
Party: 15,- EUR
(All tickets include the entrance to the Backstage party on the 23rd of February in the Haus der Berliner Festspiele.)
TICKET HOTLINE & INFO Tel.: +49-(0)30-4799 7474
The TEDDY AWARD is a non-profit event. The TEDDY AWARD finances itself only by contributions of sustaining members and patrons of the Teddy e.V., by donation of supporters, the contribution of many voluntary helpers as well as sponsors and the earnings of the award ceremony.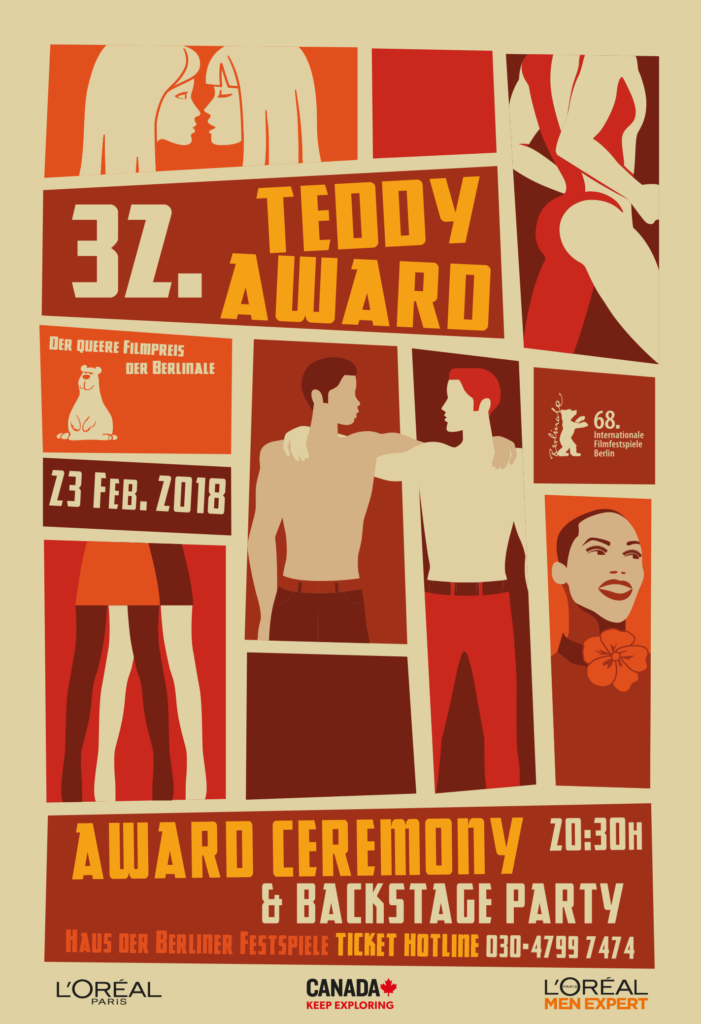 In good old tradition at the 32nd TEDDY AWARD  there is again the TEDDY Readers Jury, this time powered by MANNSCHAFT MAGAZINE.
Those who are interested in being part of the TEDDY Readers Jury simply apply at MANNSCHAFT MAGAZIN.