The country of the Alps, the rivers and the lakes. The country of pastries, skiing vacationists and beer drinkers. Home of the coffee houses and "Sachertorten". But now it's enough with cliches about Austria, let's rather talk about the interesting things like Austrian movies. Film makers like Michael Haneke or Ulrich Seidl who are famous for their naturalistic visual language and merciless insides of human abysms. This tradition has been followed by film maker Händl Klaus who made "Tomcat" a movie about alienation, love, fault and madness in a relationship. The relationsip between two men gets shattered by a violent attack and nothing will be like before. Pervasive, shocking, thrilling. This movies will go under your skin!
Also the next movie "Brothers of the Night" won't give you mind candy. This documentary is about bulgarian boys who are working the streets. Patrick Chiha, the director of the movie, came up with the idea when he met the protagonists in an Viennese coffee house at night and decided to do the movie together with the guys. A heartbreaking search of freedom and secureness, which is hard to find in the nightly streets of Vienna. They say about the movie, that it reminds them of Fassbinder and Pasolini. I say, go and check out yourself! Have fun at the eighth day of Berlinale!
---
Brüder der Nacht
Brothers of the Night
Austria 2016
88´
Director: Patric Chiha
Vienna as a non-stop nocturnal land and doss house, the flip side of its daytime persona, devoid of schmaltzy waltzes and'Mozartkugel' chocolates. The protagonists of this documentary are young Bulgarian Romani who have wound up in Vienna due to poverty and the need to earn money for their families, and who are now offering their services at a hustler bar called 'Rüdiger' in the working class Margareten district. They wait, smoke, drink, play pool, dance, show off, fool around like young bulls, talk about their meagre excesses, their families and prostitutes, exchange experiences and information about the 'bizness'. In the midst of a clash of cultures and traditions, they lead lives caught between worlds, between reality and illusion; transitory, deceptive, and fleeting. Gus Van Sant meets James Bidgood meets Pasolini: Brothers of the Night is a hybrid, imbued with a rich baroque semi-darkness, deliberately and disturbingly oscillating between documentary and dramatised scenes. This is no moralising know-all ballad about hustlers, but rather a tender and empathetic hymn to the grim poetry of survival and the solidarity amongst the ostracised and the outsiders.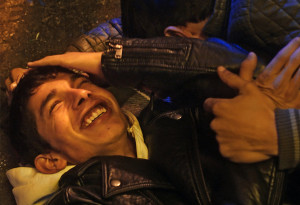 14:30, Colosseum 1
---
En la azotea
On the Roof
Spain 2015
12´
Director: Damià Serra Cauchetiez
Cast: Nil Cardoner, Roger Príncep, Biel Estivill, Pol Hinojosa
The heat's bearing down on the high-rise rooftops of the suburbs. Every day at the same time, five boys climb to the top of one of them to stare at the house next door. Like clockwork, a woman appears, removes her clothes and proceeds to sunbathe in the nude. But this day something's different. On the roof next door, a naked man seeks relief from the heat under a hose and one of the boys can't keep his eyes off of him. His buddies don't fail to notice.
15:30, Filmtheater am Friedrichshain
---
Fugue
Fugue
Germany/ Canada 2015
8´
Director: Kerstin Schroedinger
Framed by a grid, an elusive figure performs a number of movements, leaving traces of light on the film emulsion, while short texts are projected onto the figure, obscured by the uneven surface of its body. "In music, a fugue is defined as a contrapuntal compositional technique in two or more voices. It builds on a motif that is introduced at the beginning in imitation and recurs frequently in the course of the composition. Fugue is a formal and physical experiment in order to understand the relationship between image, sound, and movement. The movements and the setting are informed by motion studies that were conducted and filmed at the beginning of the 20th century with the aim to use film making for analyzing motions of manual mechanized labor as well as concepts of biomechanics that elaborate the relation between body and mind as a form of actor's training. In the film, the movements that are recorded are also printed on the part of the film strip that is read as optical sound by the light sensitive sensor of the projector. What you hear is what you see. The image recurs as movement and the movement recurs as sound." Kerstin Schroedinger
15:00 Kino Arsenal 1
---
Inside the Chinese Closet
Inside the Chinese Closet
Netherlands 2015
Director: Sophia Luvarà
Andy's father knows that his son is gay but, determined to conform to social conventions, he urges him to find a lesbian who is willing to marry him. Cherry has already entered into a bogus marriage, but now her parents expect their only daughter to provide them with a grandchild so that they can finally put an end to their neighbours' gossiping. In China, gay men and lesbians are under enormous pressure to spare their parents the perceived shame of having an unmarried child without offspring. Homosexuality may no longer be illegal, but understanding for a life lived outside traditional heterosexual norms is rare. Director Sophie Luvarà sensitively accompanies Andy and Cherry in their often absurd attempts to do the right thing: bogus gay-lesbian marriage markets, agencies for surrogate mothers, price lists for the adoption of newborns and their constantly carping parents who will simply not let up. Both Cherry and Andy succeed in carving out a little piece of freedom. But they also know that their personal coming out will, in turn, force their parents into a closet, since they do not want to acknowledge their children's homosexuality in public.
---
Kater
Tomcat
Austria 2016
114´
Director: Händl Klaus
Cast: Lukas Turtur, Philipp Hochmair, Toni, Thomas Stipsits
Andreas and Stefan live a blissful existence together with their tomcat, Moses. They inhabit a beautiful old house in the vineyards near Vienna and work in the same orchestra as manager and musician. Their passion for music, their large circle of friends and colleagues and their furry companion define the daily lives of the two men. But one morning an unexpected outburst of violence from Stefan shakes their harmonious relationship to its core. From this moment on, scepticism and alienation define their cohabitation and represent an almost insurmountable obstacle. While Stefan is losing the ground beneath his feet, Andreas struggles with his mistrust and his love for Stefan. Following his award-winning debut März (March), in his second film Händl Klaus portrays the expulsion of two lovers from paradise. Demonstrating exceptional sensitivity for the male psyche and for the blind spots in all our personalities, this artistic and poetic ballad tells of the fragility of love. Actors Philipp Hochmair and Lukas Turtur are both born theatre thespians and their naturalistic screen performances are impressive.
---
Kiki
Kiki
Sweden/ USA 2016
95´
Director: Sara Jordenö
Twenty-five years after Paris is Burning, the 1991 Teddy Award-winning film that brought Berlinale audiences closer to New York's ballroom scene, Kiki provides an insight into the world of today's young black LGBT community, by taking a look at the balls where participants of voguing competitions compete for trophies, and by listening to proponents talking about their dreams and their lives. In contrast to the time when Paris is Burning was made, these balls are no longer born of a subculture but are instead organised by queer youth welfare organisations. The enlightened manner in which the young people discuss gender-political questions today and how naturally they use terms such as heteronormativity and gender deconstruction is striking. The city, the social structures and the gender-political consciousness may have changed since the 1980s but what remains is the desire for acceptance and a safe place to celebrate one's individuality. Even if coming out would seem to be easier today for some of the protagonists and same-sex marriages are now legalised in the US, co-writer Twiggy Pucci Garçon puts it straight: "There is so much left to fight for."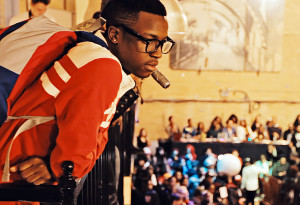 20:00, CineStar 7
---
Mamma vet bäst
Mother knows best
Sweden 2016
12´
Director: Mikael Bundsen
Cast: Alexander Gustavsson, Hanna Ullerstam, Karl-Erik Franzén
So, he's gay. This evening he's introduced his boyfriend to his mum and later kissed him passionately goodbye in the car. He's fortunate to have such an open-minded mother – not everyone is as lucky. But she thinks it's best that he doesn't tell his father yet. And he certainly shouldn't make it known in public that he's gay. A lot of people are prejudiced. Not everyone is as understanding as his mother.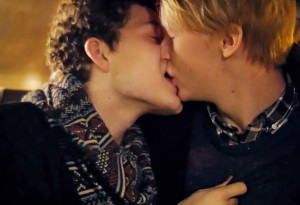 13:00, HKW
---
Nunca vas a estar solo
You'll Never Be Alone
Chile 2016
82´
Director: Alex Anwandter
Cast: With Sergio Hernandez, Andrew Bargsted, Jaime Leiva, Benjamin Westfall, Antonia Zegers
Introverted Juan, manager of a mannequin factory, lives alone with his eighteen-year-old gay son, Pablo. Whilst Pablo blithely studies dance, Juan is hoping that, after twenty-five years at the firm, his boss will consider him for a partnership. When Pablo is badly wounded in a brutal homophobic attack which sees him hospitalised, his father realises just how far they have become estranged. A lack of witnesses and expensive medical bills force Juan to leave the quiet stability of his life for good and reposition himself in a world where there is discrimination. Time and again his efforts come to nought, until one night on the streets of Santiago he makes up his own rules in order to save his son. In March 2012 the murder of an openly gay Chilean man, Daniel Zamudio, by neo-Nazis, shocked the whole of Latin America. This incident inspired Alex Anwandter to make his impressively multi-layered debut. Demonstrating great sensitivity, he traces in the figure of the reclusive father the enormous pressure that exists to adhere to the fixed norms of masculinity – only to dissolve these norms in Pablo's dream of living a life that is vibrantly queer.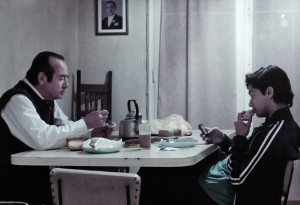 20:15, Cubix 7
---
O noapte in Tokoriki
A night in Tokoriki
Romania 2016
18´
Director: Roxana Stroe
Cast: Cristian Priboi, Cristian Bota, Iulia Ciochina
There's a party in the Tokoriki nightclub. It's Geanina's 18th birthday and the whole village is there. The neon palm is lit up and the DJ is wearing his golden shirt. Alin and his friends ride up in style in the horse-drawn cart and take over the dance floor. But Alin seems to have something on his mind. His eyes sparkle when he sets eyes on Geanina, which doesn't escape her boyfriend's attention. Emotions are running high. Will there be an escalation tonight?
---
Reluctactly Queer
Reluctactly Queer
Ghana/ USA 2016
Director: 8´
Director: Akosua Adoma Owusu
Cast: Kwame Edwin Otu
This epistolary film invites us into the unsettling life of a young Ghanaian man struggling to reconcile his love for his mother with his love for the same-sex desire amid the increased tensions incited by same-sex politics in Ghana. Focused on a letter that is ultimately filled with hesitation and uncertainity, Reluctantly Queer both disrobes and questions what it means to be queer for this time in this space.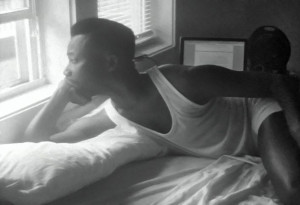 17:00, Colosseum 1
---
San Fu Tian
Dog Days
Hong Kong, China 2016
95´
Director: Jordan Schiele
Cast: Huang Lu, Tian Mu Chen, Luo Lanshan, Xing Dan Wen
Endless dog days of summer weigh heavily on the impoverished suburb of Changsha where a young mother, Lulu, works as a dancer in a cheap nightclub. Coming home late one night, she discovers that her boyfriend Bai Long has disappeared with their baby. Her desperate search takes her to a transvestite bar where gay man Sunny is performing; he knows the whereabouts of the child's father. A deal is struck between the odd couple whose lives are now fatefully intertwined: Lulu wants her child back and, in return, agrees to not stand in the way of Bai Long's and Sunny's homosexual relationship. In a hotel in Shanghai events come to a head as emotional and erotic trials and tribulations pile up. It transpires that, pretending the child's mother had died, Bai Long has now sold his son to a wealthy couple, a doctor and his wife. What does the future hold for Lulu and her child?
---
Take Your Partners
Take Your Partners
Great Britain 2015
11´
Director: Siri Rødnes
Cast: Lily Graham, Mori Christian, George Anton, Reanne Farley
Why should a girl's Easter bonnet look any different than the ones the boys wear? Ollie is eight years old and crazy about football and the gunslingers of the Wild West. When it comes time to get ready for the traditional Easter parade at school, Ollie categorically refuses to accept conventional gender roles. With the support of her parents, Ollie finds her own very personal way of dealing with the situation in the end.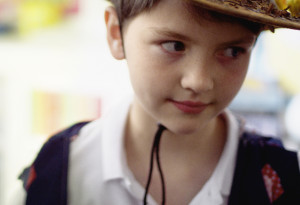 11:30, CinemaxX 3
---
The Lamps
The Lamps
USA 2015
4´
Director: Shelly Silver
"All who want me would like to eat me up. But I am too expansive and am open to all sides, desire this here and that there." The Baroness Elsa von Freytag-Loringhoven "The Baroness is not a futurist. She is the future." Marcel Duchamp "The Baroness Elsa von Freytag-Loringhoven, née Plötz, was an unsung member of the New York Dada Movement. She was a poet, artist, vaudeville performer, runaway, rabble-rouser, cross-dresser, and all around public provocateur. She actively did not fit into her historical moment, and like most misfits, suffered for it. As with many women artists throughout history, her cultural legacy has been obscured and in some instances appropriated into the oeuvres of better-known male peers. Some researchers believe that the Baroness was the artist behind "Fountain," the ready-made urinal attributed to Duchamp. The Lamps details her trip to the Naples Archeological Museum in the early 1900s where she breaks into "Il Gabinetto Segretto," a secret room filled with erotic objects from Pompeii." Shelly Silver
---
WEEKENDS
WEEKENDS
South Corea 2016
98´
Director: Dong-ha Lee
Cast: Jaewoo, Sander, Jonggirl, Namypooh, Gang
Every weekend the gay male choir G-Voice rehearses in Seoul – as they have been doing since 2003. The choir, being a kind of antidote to homophobic Korean society, makes the everyday lives of gay men its theme in an intelligent and humorous way. For their tenth anniversary, the members are planning to give their first big concert with ambitious arrangements, creative choreographies and many new pieces. This really puts these amateur singers to the test because the enthusiasm of some members outweighs their vocal abilities, whilst others work themselves into the ground as voluntary organisers. Besides preparing for their big day, G-Voice are also politically active, singing for equality and serenading against discrimination, and not just at LGBTQ demos. Director Lee Dong-hasucceeds, almost incidentally, in giving an insight into gay life in Korea. He also accompanies choir members and organisers after the rehearsals, when conversations become more personal over a meal. Filmed in the style of glossy music videos, G-Voices' set-pieces provide a commentary, among other things, on the men's experiences of Korean society, their conservative families and a gay joy of life.
---
Who's Gonna Love Me Now?
Who's Gonna Love Me Now?
Great Britain/ Israel 2016
84´
Director: Tomer Heymann, Barak Heymann, Alexander Bodin Saphir
Saar has never fulfilled his parents' expectations. Ever since he defied the rules of his kibbutz and was barred from the settlement community seventeen years ago, as far as his family is concerned, he simply does not exist. He left Israel to live freely as a gay man in London. When a three-year relationship ended, he threw himself into an excess of sex and drugs until he was diagnosed with HIV and was forced to rethink his life. He has finally found a home singing in the London Gay Men's Chorus where music is giving him the courage for a reunion with his family. This film provides a sensitive, humorous and charming record of how the now forty-year old protagonist and his estranged parents and siblings set off to confront their disagreements and fears. Unexpected warmth and deep rejection become equally challenging. Incidentally, Saar's intensely personal story also illuminates the fascinating diversity of a communal way of life that is pervaded by culture and religion; he also inspires us with the sincerity of his search for his identity. The film's numerous energetic and emotional choral scenes lend passionate expression to his message.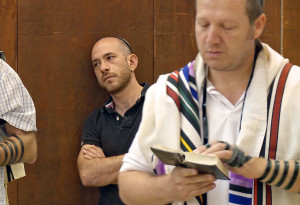 22:30, CineStar 7
---
Zona Norte
Zona Norte
Germany 2016
90´
Director: Monika Treut
Fifteen years after Monika Treut portrayed human rights activist Yvonne Bezerra de Mello working with street kids in Kriegerin des Lichts (Warrior of Light, Panorama 2002), she returns to Rio de Janeiro to document the development and sustainability of the alternative educational project, Uerê. Every day, de Mello provides meals for around 250 children in her institution and offers them a loving, secure and effective learning environment. Her alternative approach to teaching enables the children to overcome learning disabilities that have resulted from experiences of severe violence. In the meantime, the preparations for the Olympic Games and heavy military intervention against the inhabitants of the favelas have created conditions akin to a civil war. Staying very close to her protagonists and employing a sensitive visual approach, Treut examines the effects of urban sociological changes. In Zona Norte she sets off in search of the protagonists of her earlier film. The schoolchildren she portrayed in 2001 seemed to have no future, but her re encounter with them demonstrates how, in the long run, de Mello's project has given these children a better chance in life.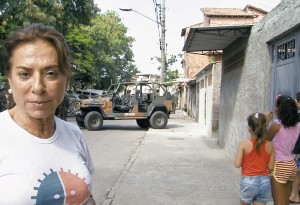 17:00, CineStar 7
---
Girl Talk
Girl Talk
USA 2015
4´
Director:Wu Tsang
Cast: Fred Moten
Girl Talk features poet and critical theorist Fred Moten dancing in slow motion, or 'dragged time', to an a cappella rendition of Betty Carter's jazz standard "Girl Talk", here reinterpreted and performed by musician Josiah Wise. Wearing a velvet cloak covered in jewels, Moten turns euphorically in a sunlit garden as the crystals adorning his body refract pink, blue, and green rays. In exploring the figure of the drag queen and the mother, Moten and Tsang, poet and artist, remain unfixed in any one persona.
10.02-22.0 2. / daily 19:00 – 21:00 Akademie der Künste as an Installation