Dear friends, today it's the day of the spectacular TEDDY Ceremony and Party which will take place at the STATION-Berlin at Gleisdreieck. The queer movies of the Berlinale will be awarded with a TEDDY AWARD in the categories: "Special TEDDY", "Best Short", "Best Feature Film" and "Best Documentary". We will also have great artists who will perform during and after the Ceremony. You can find them here. ARTE will be shooting the Ceremony for a Live Stream, which you can find here in German and here in French.
Please come in droves and dance with us til the sun rises. We are looking forward to see you there, but now we have to go to the STATION and prepare everything for tonight! See you later!
---
Antes o tempo nao acabava
Time Was Endless
Brazil/ Germany2016
85´
Director: Sérgio Andrade, Fábio Baldo
Cast:  Anderson Tikuna, Rita Carelli, Begê Muniz, Emanuel Aragão
Having been born into an indigenous tribe in the Amazon, Anderson is familiar with painful initiation rites. He is now living with his sister and her sick little girl in the city of Manaus. He has a mobile phone and takes on casual work, but must face the challenges posed by the incompatibility between modern life and shamanism. For him, the two worlds collide on a daily basis: when his niece is to be sacrificed, when a mythical monster appears to him in human form, or when he experiences a one-night stand in a doom metal night club. The shaman has another ancient ritual in store for Anderson, without which, according to the healer, he will be lost forever. With powerful images accompanied by electronic music, directors Sérgio Andrade and Fábio Baldo create a portrait of a wanderer between two worlds. One – endangered and fuelled by myths and legends – is fading away in the dwindling space accorded to it by the white conquerors. The other is loud and exhausting, but perhaps one in which Anderson will be able to develop in a better way. Eschewing didacticism, the film paints a dreamlike documentary portrait of a disappearing culture.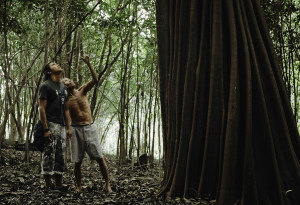 10:00, CinemaxX 7
---
Balcony
Balcony
Great Britain 2015
17´
Director: Toby Fell-Holden
Cast: Charlotte Beaumont, Genevieve Dunne, Umit Ulgen
Tina doesn't know much about the schoolgirl in the Hijab. She might come from Egypt or Iraq – but what does it matter? She would like to be there for her neighbour, protect her from her tough life at home and in the hood but how comes Tina thinks she knows so much about this foreign girl? Dana starts wondering why the blond girl has been paying her so much attention of late. Prejudice and tentative advances collide head-on in the block.
---
Der Ost-Komplex
The GDR Complex
Germany 2016
90´
Director: Jochen Hick
Even now, twenty-five years after German reunification, historians are still debating whether the GDR was an illegitimate state. In his current work, Jochen Hick, several of whose films have screened in the Panorama, tells the story of ex-GDR citizen Mario Röllig. Hick accompanies him as he visits his parents and his former colleagues but also the sites of his attempted flight from the GDR and his incarceration. Röllig started a relationship with a politician from West Berlin back in 1985 and was arrested in Hungary in 1987 for attempting to flee the German Democratic Republic; in 1988 the Federal Republic of Germany purchased his freedom. Today he regularly talks about his experiences in schools; he also volunteers as a guide at the former Stasi prison in Hohenschönhausen in Berlin that is now a memorial. Hick stays close to his subject at all times but remains neutral, instead observing and asking questions from behind the camera. In confrontations with GDR-sympathisers Rölling is accused of distorting history and it becomes abundantly clear that the battle to have the last word on how the history of the GDR should be interpreted is riddled with taboos and fraught with individual traumas.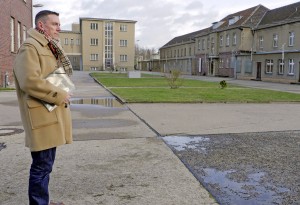 17:00, CineStar 7
---
En la azotea
On the Roof
Spain 2015
12´
Director: Damià Serra Cauchetiez
Cast: Nil Cardoner, Roger Príncep, Biel Estivill, Pol Hinojosa
The heat's bearing down on the high-rise rooftops of the suburbs. Every day at the same time, five boys climb to the top of one of them to stare at the house next door. Like clockwork, a woman appears, removes her clothes and proceeds to sunbathe in the nude. But this day something's different. On the roof next door, a naked man seeks relief from the heat under a hose and one of the boys can't keep his eyes off of him. His buddies don't fail to notice.
17:30, CinemaxX 1
---
Kiki
Kiki
Sweden/ USA 2016
95´
Director: Sara Jordenö
Twenty-five years after Paris is Burning, the 1991 Teddy Award-winning film that brought Berlinale audiences closer to New York's ballroom scene, Kiki provides an insight into the world of today's young black LGBT community, by taking a look at the balls where participants of voguing competitions compete for trophies, and by listening to proponents talking about their dreams and their lives. In contrast to the time when Paris is Burning was made, these balls are no longer born of a subculture but are instead organised by queer youth welfare organisations. The enlightened manner in which the young people discuss gender-political questions today and how naturally they use terms such as heteronormativity and gender deconstruction is striking. The city, the social structures and the gender-political consciousness may have changed since the 1980s but what remains is the desire for acceptance and a safe place to celebrate one's individuality. Even if coming out would seem to be easier today for some of the protagonists and same-sex marriages are now legalised in the US, co-writer Twiggy Pucci Garçon puts it straight: "There is so much left to fight for."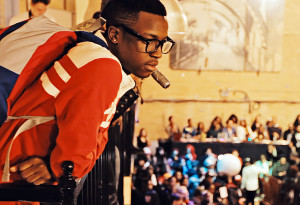 14:30, CineStar 7
---
Mãe só há uma
Don´t Call me Son
Brazil 2016
82´
Director: Anna Muylaert
Cast: Naomi Nero, Dani Nefussi, Matheus Natchergaele, Daniel Botelho, Luciana Paes
Pierre is seventeen and in the middle of puberty. He plays in a band, has sex at parties and secretly tries on women's clothing and lipstick in front of a mirror. Ever since his father's death, his mother Aracy has looked after him and his younger sister Jacqueline, spoiling them both. But when he discovers that she stole him from a hospital when he was a new born baby, Pierre's life changes dramatically. Overnight, his world falls apart and his mother Aracy is arrested. His biological parents Gloria and Matheus have spent seventeen years searching for him; they are now desperate to make up for the lost years and spend time with their eldest son, whom they call Felipe. Observed from a critical distance by his younger brother Joca, Pierre/Felipe moves in with his well-heeled new family, who are determined to mould him according to their ideals. But Pierre has his own designs for his life. Director Anna Muylaert won the Panorama Audience Award in 2015 for Que horas ela volta? (The Second Mother). In her new work she explores the mother-child relationship through the eyes of a rebellious son whose whole world unravels overnight.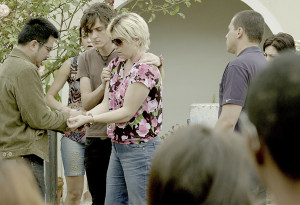 20:00, CinemaxX 7
---
Moms On Fire
Moms On Fire
Sweden 2016
12´
Director: Joanna Rytel
An ordinary neighbourhood in an ordinary town. Two women sit on a sofa and scratch their pregnant bellies. Four days till the due date. The situation is as unbearable as it is unavoidable. It's simply intolerable. Masturbation isn't an option, the clitoris can't even be reached, and the boyfriend is absent, but he's boring anyway. The only advantage in having another child is that one no longer has to play with the first one. Artist and filmmaker Joanna Rytel uses claymation to candidly address questions and situations that usually go unnoticed.
---
Nunca vas a estar solo
You'll Never Be Alone
Chile 2016
82´
Director: Alex Anwandter
Cast: With Sergio Hernandez, Andrew Bargsted, Jaime Leiva, Benjamin Westfall, Antonia Zegers
Introverted Juan, manager of a mannequin factory, lives alone with his eighteen-year-old gay son, Pablo. Whilst Pablo blithely studies dance, Juan is hoping that, after twenty-five years at the firm, his boss will consider him for a partnership. When Pablo is badly wounded in a brutal homophobic attack which sees him hospitalised, his father realises just how far they have become estranged. A lack of witnesses and expensive medical bills force Juan to leave the quiet stability of his life for good and reposition himself in a world where there is discrimination. Time and again his efforts come to nought, until one night on the streets of Santiago he makes up his own rules in order to save his son. In March 2012 the murder of an openly gay Chilean man, Daniel Zamudio, by neo-Nazis, shocked the whole of Latin America. This incident inspired Alex Anwandter to make his impressively multi-layered debut. Demonstrating great sensitivity, he traces in the figure of the reclusive father the enormous pressure that exists to adhere to the fixed norms of masculinity – only to dissolve these norms in Pablo's dream of living a life that is vibrantly queer.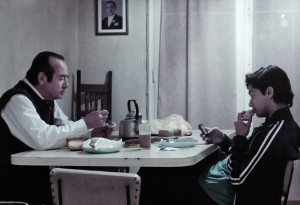 22:30, CinemaxX 7
---
Quand on a 17 ans
Being 17
France 2016
116´
Director: André Téchiné
Cast: Sandrine Kiberlain, Kacey Mottet Klein, Corentin Fila, Alexis Loret
Damien and Thomas attend the same grammar school class. They cannot stand each other and whenever verbal insults fail to do enough damage they take a swing at each other. Yet they could just as easily be friends. Damien's mother Marianne is a country doctor and his father a military pilot on a tour of duty abroad. Thomas is of Maghrebi descent and is the adopted son of a farming family living on a remote farm in the mountains. After several miscarriages the farmer's wife is expecting again and, since her pregnancy promises to be a difficult one, Marianne invites the withdrawn boy to come and stay with them for a while. Damien and Thomas find themselves having to live under the same roof … André Techiné has already taken part in the Berlinale Competition several times with films such as Les temps qui changent (2005) and Les témoins (2007). In Quand on a 17 ans he explores what it is like to grow up in different social environments in this portrait of two confused youths trying to govern their emotions. A rugged village in the mountains of south-western France as the seasons pass becomes the psychological landscape of the relationship between two young men which vacillates between disdain and attraction.
---
Reluctactly Queer
Reluctactly Queer
Ghana/ USA 2016
Director: 8´
Director: Akosua Adoma Owusu
Cast: Kwame Edwin Otu
This epistolary film invites us into the unsettling life of a young Ghanaian man struggling to reconcile his love for his mother with his love for the same-sex desire amid the increased tensions incited by same-sex politics in Ghana. Focused on a letter that is ultimately filled with hesitation and uncertainity, Reluctantly Queer both disrobes and questions what it means to be queer for this time in this space.
---
San Fu Tian
Dog Days
Hong Kong, China 2016
95´
Director: Jordan Schiele
Cast: Huang Lu, Tian Mu Chen, Luo Lanshan, Xing Dan Wen
Endless dog days of summer weigh heavily on the impoverished suburb of Changsha where a young mother, Lulu, works as a dancer in a cheap nightclub. Coming home late one night, she discovers that her boyfriend Bai Long has disappeared with their baby. Her desperate search takes her to a transvestite bar where gay man Sunny is performing; he knows the whereabouts of the child's father. A deal is struck between the odd couple whose lives are now fatefully intertwined: Lulu wants her child back and, in return, agrees to not stand in the way of Bai Long's and Sunny's homosexual relationship. In a hotel in Shanghai events come to a head as emotional and erotic trials and tribulations pile up. It transpires that, pretending the child's mother had died, Bai Long has now sold his son to a wealthy couple, a doctor and his wife. What does the future hold for Lulu and her child?
17:00, Cubix 9
---
Strike a Pose
Strike a Pose
Netherlands/ Belgium 2016
83´
Director: Ester Gould, Reijer Zwaan
For her 'Blond Ambition' tour in 1990, pop superstar Madonna was looking for performers who knew how to vogue. Out of countless hopefuls, the gay dancers Salim, Kevin, Carlton, José, Luis and Gabriel were chosen along with breakdancer Oliver, the only straight guy. The tour was accompanied by a film crew and Madonna cast herself in the role of mother figure of her stage family. The boys soon found fans among homosexual youths who saw them as role models, while the tour came to epitomise Madonna's commitment to gay liberation and the acknowledgement of AIDS. But the idyll fell apart when Gabriel, Kevin and Oliver sued against their involuntary outing as gay men brought about by the film In Bed with Madonna. In 1995 Gabriel died of AIDS-related illness, while the others continued to pursue their professional careers. Now, twenty-five years after their time together, the six surviving performers are reunited and long-buried secrets are aired. The filmmakers excel at telling the stories of these very different dancers whilst carefully calling into question the official version of events in order to edge closer to the truth.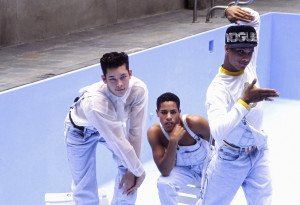 14:30, Colosseum 1
---
Take Your Partners
Take Your Partners
Great Britain 2015
11´
Director: Siri Rødnes
Cast: Lily Graham, Mori Christian, George Anton, Reanne Farley
Why should a girl's Easter bonnet look any different than the ones the boys wear? Ollie is eight years old and crazy about football and the gunslingers of the Wild West. When it comes time to get ready for the traditional Easter parade at school, Ollie categorically refuses to accept conventional gender roles. With the support of her parents, Ollie finds her own very personal way of dealing with the situation in the end.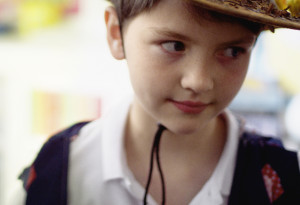 15:30 Filmtheater am Friedrichshain
---
Toro
Toro
Deutschland 2015
84´
Director: Martin Hawie
Cast: Paul Wollin, Miguel Dagger, Leni Speidel, Kelvin Kilonzo
An unequal friendship. Toro (25) is as disciplined as he is withdrawn. In contrast Victor (29) is a light-headed dreamer who careers more or less heedlessly through life. Both work as prostitutes. Toro services women, Victor men. Toro, whose real name is Piotr, cameto Germany ten years ago. He knows exactly what he is working for: he wants to establish a boxing school back in Poland. And soon he will have enough money to do so. The only thing he wants to take with him from Germany is Victor so they can dare to embark upon a new life together. Victor knows all about Toro's plans but cannot take them seriously because he is far too busy keeping his dealers, to whom he owes money, at bay. TORO is the story of two highly contrasting characters who take hugely different approaches to trying to fight their way out of an ignoble life on the margins. They could be each other's last chance to save themselves from plunging off the precipice and into the abyss of the apocalypse which would consume everything else along with them and cast the world into eternal sin.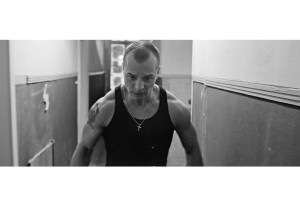 16:30, CinemaxX 3
---
Uncle Howard
Uncle Howard
Great Britain/ USA 2016
96´
Director: Aaron Brookner
Cast: Jim Jarmusch, Sara Driver, Tom DiCillo, Brad Gooch, Frederic Mitterand
After Howard Brookner, director of two documentaries and a feature film, died from AIDS related illnesses at the age of 34 in 1989, his slender oeuvre was in danger of being forgotten – until his nephew Aaron decided to preserve his uncle's legacy and to digitalise his first film, the cult classic Burroughs: The Movie (1983). This endeavour led to the discovery of a number of other gems stored in the godfather of Beat's legendary 'bunker' in New York's Bowery district. This rich archive of material, shot by film maniac Brookner from 1978 until the end of the 1980s, represents a unique document of the decade's incredibly vibrant art and gay scene in downtown New York. Aaron Brookner's film Uncle Howard takes us on an adventurous, artistic and very personal journey back in time, accompanied by conversations with both relatives and his uncle's close friends (including Robert Wilson, Jim Jarmusch, Brad Gooch and James Grauerholz). The resulting film is a powerful and loving portrait of an artist who left this world far too soon.
17:30, Cubix 7
---
Zjednoczone stany milosci
United States of Love
Poland/ Sweden 2016
104´
Director: Tomasz Wasilewski
Cast: Julia Kijowska, Magdalena Cielecka, Dorota Kolak, Marta Nieradkiewicz, Lukasz Simlat,Andrzej Chyra, Tomek Tyndyk
It is the beginning of the 1990s and Polish society is trying to redefine itself after years of stagnation. Schools are being named 'Solidarno ', the first West German spa visitors are bringing hard currency into the country, porn videos are doing the rounds and TV constantly repeats images of the trial of Rumanian dictator Ceausescu. But private emotions remain untouched by these external changes: all the hopes and longings, caught between work, family and religion, desire and abstinence. Tomasz Wasilewski portrays four women in a small provincial town. Agata is attracted to a priest and secretly observes him. Iza is a head teacher who has been having a long-standing affair with a married doctor. Russian language teacher Renata seeks a closer relationship with her young neighbour Marzena who teaches sports and dance, while Marzena herself dreams of an international career as a model. Shot in desaturated colours and with a muted production design, this drama reflects upon the attempts to escape an anti-pleasure, body-hating environment. Wasilewski's subject is the death throes of a society – and the emotional impoverishment of the individual.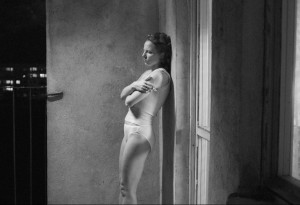 16:00, Berlinale Palast
---
Zona Norte
Zona Norte
Germany 2016
90´
Director: Monika Treut
Fifteen years after Monika Treut portrayed human rights activist Yvonne Bezerra de Mello working with street kids in Kriegerin des Lichts (Warrior of Light, Panorama 2002), she returns to Rio de Janeiro to document the development and sustainability of the alternative educational project, Uerê. Every day, de Mello provides meals for around 250 children in her institution and offers them a loving, secure and effective learning environment. Her alternative approach to teaching enables the children to overcome learning disabilities that have resulted from experiences of severe violence. In the meantime, the preparations for the Olympic Games and heavy military intervention against the inhabitants of the favelas have created conditions akin to a civil war. Staying very close to her protagonists and employing a sensitive visual approach, Treut examines the effects of urban sociological changes. In Zona Norte she sets off in search of the protagonists of her earlier film. The schoolchildren she portrayed in 2001 seemed to have no future, but her re encounter with them demonstrates how, in the long run, de Mello's project has given these children a better chance in life.
---
Girl Talk
Girl Talk
USA 2015
4´
Director:Wu Tsang
Cast: Fred Moten
Girl Talk features poet and critical theorist Fred Moten dancing in slow motion, or 'dragged time', to an a cappella rendition of Betty Carter's jazz standard "Girl Talk", here reinterpreted and performed by musician Josiah Wise. Wearing a velvet cloak covered in jewels, Moten turns euphorically in a sunlit garden as the crystals adorning his body refract pink, blue, and green rays. In exploring the figure of the drag queen and the mother, Moten and Tsang, poet and artist, remain unfixed in any one persona.
10.02-22.0 2. / daily 19:00 – 21:00 Akademie der Künste as an Installation