Best Feature Film
Nasty Baby
Nasty Baby
USA 2014
100′
Director: Sebastián Silva
Cast: Kristen Wiig, Sebastián Silva, Tunde Adebimpe, Agustin Silva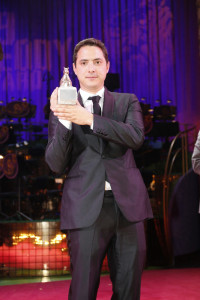 Freddy is an artist whose desire for a baby has become something of an obsession. He surrounds himself with photographs of his childhood and is working feverishly on a fresh piece about new-borns. He and his partner Mo have even managed to persuade their best friend Polly to have their baby. However, after numerous failed attempts to conceive, this proves to be more difficult than they first
envisaged. Freddy's planned video installation also turns out to be rather more complicated than he thought. And then, when the 'Bishop', their rather deranged neighbour, begins tormenting them
with his serious chicanery, their hitherto carefree existence starts to go dangerously awry. A series of surprising events bring their frustrations to a head and before long, Freddy and his friends begin
to lose their grip on reality.Sebastiàn Silva's savagely satirical film is an angry portrait of a group of presumptuous and self-absorbed bohemians. The director himself plays the role of Freddy, infusing
his performance with the complacency, doggedness, ignorance and egomania of a social circle which is in the process of becoming estranged from their original visions and dreams.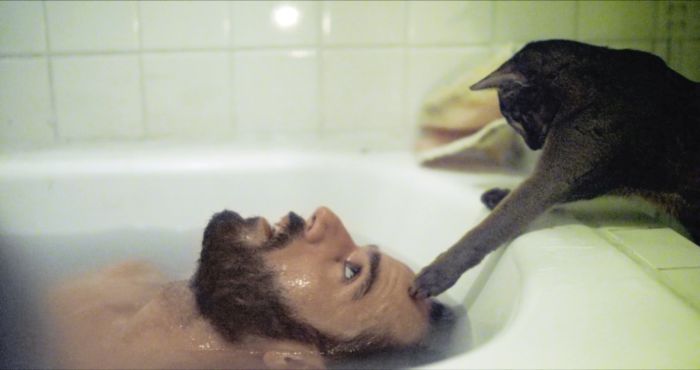 Jury Statement:
The Teddy jury awards its 2015 feature film prize to Nasty Baby, by Sebastian Silva. The jury wishes to highlight the film's bold intention to present an urgent question of morality. Director Sebastian Silva confronts middle-class gay artist life in Brooklyn as it clashes with realities of class, race and gentrification. What starts as a film about a gay couple and their best friend trying to conceive a baby turns into a gruesome situation that symbolizes major divides that cut across the LGBT spectrum and across society. It's a provocative film that sensitively portrays the queer American dream, and subtly implores all of us to dream beyond.
---
Best Documentary/Essay Film
El hombre nuevo
The new man
Uruguay/Chile 2015
79′
Director: Aldo Garay
At the tender age of twelve, Roberto supported the Sandinista revolution in Nicaragua and fought for education and social reforms. He was to continue his political struggle fighting alongside the
communist Tupamaros in Uruguay. Thirty years later he is struggling to live his life as a woman named Stephanía and striving to be accepted by both society and his family. Documentary filmmaker
Aldo Garay has followed Stephanía for over twenty years. In El Hombre Nuevo he provides a personal and tender portrait of a woman who can look back on a tempestuous life in which violence,
drugs, prostitution and political commitment all found its place. Scenes from her day-to-day life are interspersed with interview material that includes conversations with old friends, fellow-travellers and siblings, as well as a passionate, heated exchange with her mother. The picture of society that emerges is as diverse as it is intimate, and spans a time of great political upheaval in the 1970s to
the present day.
Jury Statement:
This award is recognising 20 years of struggle for the Trans community in Uruguay through the story of a Trans woman without victimisation who refuses to be marginalised despite her circumstances. This film shows the tension between religion and gender and sexual identity in Latin America in a way that is both intimate and powerful. And it portrays the story of this remarkable activist, teacher, revolutionary, sister and daughter who is so much of her time and ahead of it too.
---
Best Short Film
 San Cristóbal
Saint Christopher

Chile 2015
29′
Director: Omar Zúñiga Hidalgo
Cast: Samuel González, Antonio Altamirano
Lucas and Antonio. Two young men meet and fall in love in a remote fishing village in the south of Chile. One lives there, the other is visiting. Sensuality dictates the pace of the narrative and the lives of both in the days to follow: Being one another's mirror. Recognising one another. Yielding to one another. When the village rebels against their love, the experience of this limitation marks a momentous step in Lucas' and Antonio's adulthood.A simple story of love and devotion, shot in the style of Direct Cinema. A not-so-simple setting, in Chile's Deep South, where anything that breaks out of the perceived norm is to be destroyed immediately, punished. The characters know of the limitations within the village. The romantic notion of resistance is brief; of greater importance are life and the love that is found. Going further. Going beyond the self.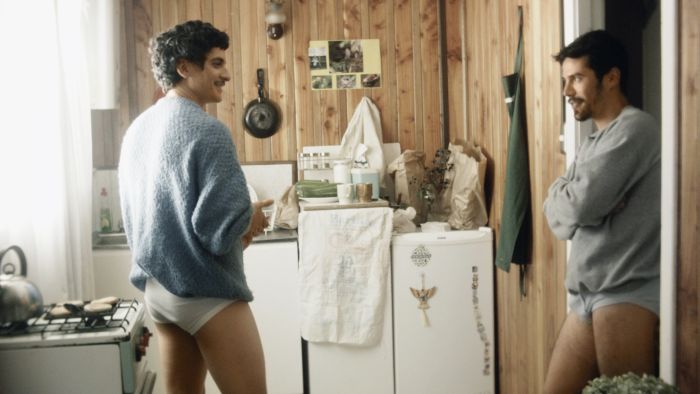 Jury Statement:
For best short, the Teddy jury awards San Cristobal, directed by Omar Zúñiga Hidalgo which we consider pitch perfect in its direction and acting, and a moving portrait of two men in a fishing village in northern Chile whose lives are endangered once their affair is discovered. The film tests the limits of queer happiness in such an environment. Deftly, the film builds on the layers of meaning, and hope, around St. Crisotbal's promise of safe passage.
---
Jury Award
Stories of Our Lives
Stories of Our Lives

Kenya 2014
60′
Director: Jim Chuchu
Cast: Kelly Gichohi, Janice Mugo, Jimmy Wanjala, Tim Mutungi
Members of the multi-disciplinary art collective NEST spent several months travelling Kenya collecting stories of young LGBTI people – stories about their experiences and their lives in a country that is still extremely homophobic. Based on countless anonymous interviews, they developed five screenplays for short films which provide an insight into the current situation and the problems of these sexually marginalised young people. These short, unadorned scenes are presented by director Jim Chuchu in crisp, poetic black-and-white images and accompanied by a measured soundtrack. The episodes, which address topics such as the search for identity and self-determination, enforced heterosexualisation and the struggle for acceptance, have one thing in common: they all describe the need for love and the fear of fulfilling this love openly. Time and again, their fears prompt the question: it is better to hide away, resign oneself to the situation and leave the country, or to stay and fight openly for sexual diversity? In spite of the film being banned from public screenings in Kenya, the members of NEST have opted for the latter and are determined to continue their struggle for recognition.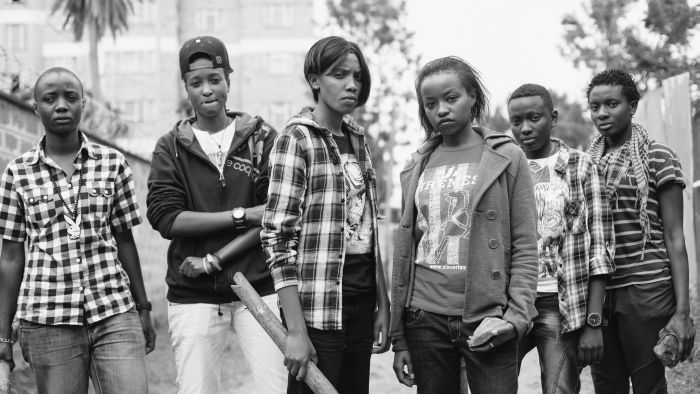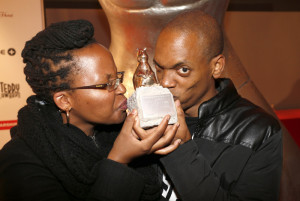 Jury Statement:
This film portrays great strength and tenacity in the face of adversity, and displays a vital amount of hope for the LGBTQI community. It sheds light on homophobia and aims to dismantle the stigma and discrimination that still occurs today, especially in countries where homosexuality is criminalised and individuals in our community are threatened with violence for their love. This is brave and beautiful filmmaking, based on true stories that cannot fail to touch each one of us.
---
Special TEDDY AWARD
Udo Kier
 Udo Kier (born Udo Kierspe; 14 October 1944) is a German actor who has appeared in over 200 films.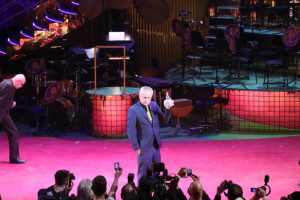 In 1966, Kier was cast in the lead role for the film Road to St. Tropez. One of the most important films in his early career was Andy Warhol's Frankenstein in 1973. Another film, Blood for Dracula in 1974 was filmed by Paul Morrissey for Andy Warhol's studio and produced by Vittorio de Sica and Roman Polański, with Kier playing the lead roles of young doctor Frankenstein and young count Dracula. Kier has appeared in a number of other vampire movies, such as Die Einsteiger (1985), Blade (1998), Modern Vampires (1998), Shadow of the Vampire (2000), Dracula 3000 and Bloodrayne (2006). In 1980s Keir worked with Hungarian director Gábor Bódy and made appearance in a number of his projects. Their most successful common work is Narcissus and Psyche, 1980.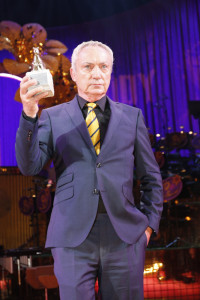 He has worked with Rainer Werner Fassbinder, Walerian Borowczyk, Dario Argento and starred in many horror and vampire movies, such as Flesh For Frankenstein (1973) and Blood for Dracula (1974), produced by Andy Warhol and directed by Paul Morrissey, horror classic Suspiria (1977), vampire Hollywood blockbuster Blade (1998) and ironic Independent film Shadow of the Vampire (2000) produced by Nicolas Cage.
He has appeared in all of Lars von Trier's movies since 1987's Epidemic (with the exceptions of The Idiots, The Boss of it All and Antichrist).
He made an appearance in cult movie My Own Private Idaho (1991) directed by Gus van Sant. Well-known film appearances were in Ace Ventura:Pet Detective (1994) with Jim Carrey as a billionaire, Ronald Camp, in Barb Wire with Pamela Anderson, as a NASA flight psychologist in Armageddon, and as Ralphie in the film Johnny Mnemonic. He has also frequently worked with German director Christoph Schlingensief.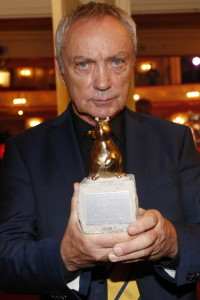 Kier also made an appearance in Madonna's 1992 book called Sex, as well as the video for her disco hit "Deeper and Deeper" from the album Erotica.[11] Kier appeared in Korn's music video "Make Me Bad", in Eve's music video "Let Me Blow Ya Mind" and in the music video for "Die Schöne und das Biest" by defunct German band Rauhfaser.
He also starred as the psychic "Yuri" in Command & Conquer: Red Alert 2 and its expansion, Yuri's Revenge, played the villainous Lorenzini in the 1996 film The Adventures of Pinocchio, and then later reprised his role in the 1999 sequel The New Adventures of Pinocchio. He also voiced Professor Pericles in Scooby-Doo! Mystery Incorporated.
A documentary on his life and career entitled "ICH-UDO…der Schauspieler Udo Kier" ("ME-Udo…the actor Udo Kier") was filmed for ARTE, the French-German culture channel in Europe, and released in 2012. 2013 the Documentary won the New York Festival "Finalist Certificate".
source: wikipedia
---
DAVID KATO
Vision & Voice Award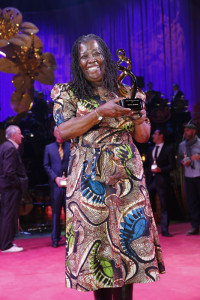 The David Kato Vision & Voice Award (DKVVA) is proud to announce that the 2015 award will go to HIV Positive activist Martha Tholanah from Zimbabwe. Martha risks her life everyday to support lesbian, gay, bisexual, transgender, and intersex (LGBTI) people across the country. Her activism is a powerful example of a straight ally standing in solidarity with LGBTI people despite threats to her own safety and security.
---