The kiss of an loving mother, the wedding kiss or a farewell kiss – a kiss can mean a lot.
The most beautiful kisses of the last year was delivered by the campaign #Mundpropaganda – Gentlemen against homophobia. Herbert Grönemeyer kissed Agust Diehl, Ken Duken smooched Kostja Uhlmann and Fettes Brot made it in a threesome. They and a lot of other german stars kissed to take a stand against homophobia and prejudices.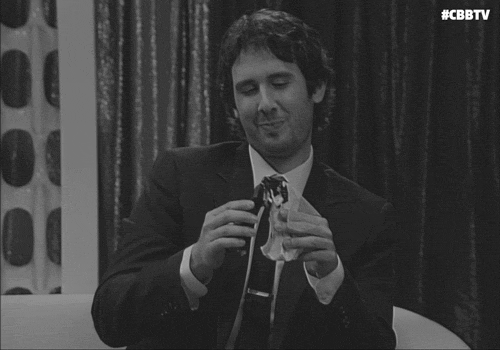 You will  also find one or other kiss scene in our today's TEDDY films.
---
How to Win at Checkers (Every Time)
How to Win at Checkers (Every Time)

Thailand/USA/Indonesia 2015
80′
Director: Josh Kim
Cast: Thira Chutikul, Ingarat Damrongsakkul, Iirah Wimonchailerk, Arthur Navarat
The poor outlying districts of Bangkok are a world where you grow up very quickly. After both their parents die, eleven-year-old Oat, his little sister and his older brother Ek move in with their aunt. Ek
works in a bar for male prostitutes and transvestites. His relationship with Jai, the son of rich parents, began when he was still at school. Their uneven love for one another is put to the test when the day of the annual conscription arrives; this is when a lottery decides who must do military service and who can stay at home. Young Oat steals money from the local mafia boss in order to buy their beloved brother and family breadwinner out of the army. His actions have dramatic and traumatic consequences.Told from the younger brother's point of view, the film takes a refreshingly unadorned and impartial look at an essentially loving environment where social conditions are governed by venality, corruption and false ideals.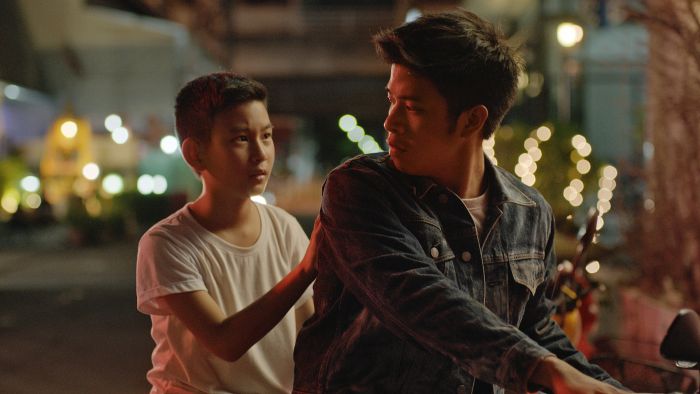 11.00 am, Habbel am Ufer
20.30 pm, Cubix 9
20.30 pm, Cubix 7
---
Nasty Baby
Nasty Baby

USA 2014
100′
Director: Sebastián Silva
Cast: Kristen Wiig, Sebastián Silva, Tunde Adebimpe, Agustin Silva
Freddy is an artist whose desire for a baby has become something of an obsession. He surrounds himself with photographs of his childhood and is working feverishly on a fresh piece about new-borns. He and his partner Mo have even managed to persuade their best friend Polly to have their baby. However, after numerous failed attempts to conceive, this proves to be more difficult than they first
envisaged. Freddy's planned video installation also turns out to be rather more complicated than he thought. And then, when the 'Bishop', their rather deranged neighbour, begins tormenting them
with his serious chicanery, their hitherto carefree existence starts to go dangerously awry. A series of surprising events bring their frustrations to a head and before long, Freddy and his friends begin
to lose their grip on reality.Sebastiàn Silva's savagely satirical film is an angry portrait of a group of presumptuous and self-absorbed bohemians. The director himself plays the role of Freddy, infusing
his performance with the complacency, doggedness, ignorance and egomania of a social circle which is in the process of becoming estranged from their original visions and dreams.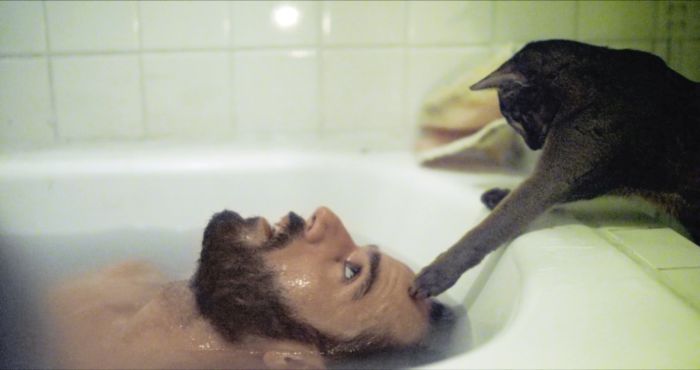 13.00 pm, CinemaxX 7
---
 Sangailė
The Summer of Sangailé
Lithuania/France/Netherlands 2015
88′
Director: Alanté Kavaïté
Cast: Julija Steponaityté, Aisté
Durité, Juraté Sodyté, Martynas Budraitis
Seventeen-year-old Sangaile is mesmerised by the dance-like loop-de-loop and pirouettes of acrobatic pilots. She herself suffers from vertigo and could never imagine sitting in a cockpit. A quiet and introverted girl, she is spending her summer in the countryside at her parents' holiday home where she tries to see the local air shows as often as she can. This is where she meets Auste, who lives out her days with impressive confidence and plenty of imagination. Sangailé is fascinated by Auste's natural assertiveness. Together the girls sample everything that life in the country has to offer. They soon become close and, when Sangailé shares with Auste her most intimate secret, it gives her a sense of security she has never known before and provides her with the courage to fly for the first time in her life. In buoyant, cinematic images suffused with light Alanté Kavaïté brings together the isolated emotions of two very different girls in the universe that is young love. In her sensitive, intensely sensual film, she tells the story of their intimacy, their passionate devotion and delicate collisions; their vulnerability and sense of trust.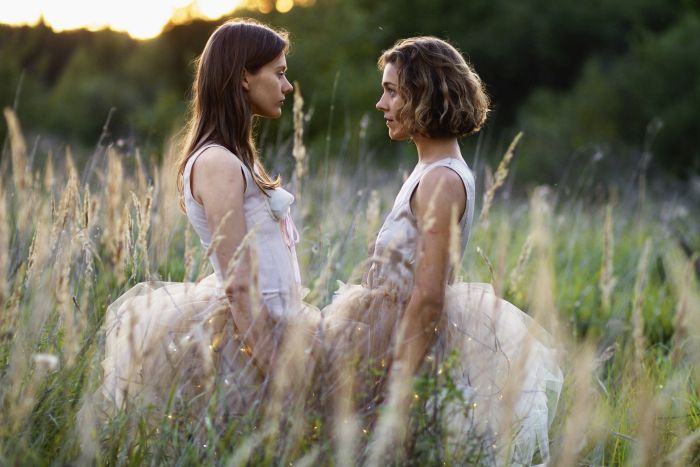 14.00 pm, Kino International
---
Der letzte Sommer der Reichen
The Last Summer of the Rich
Austria 2015
91′
Director: Peter Kern
Cast: Amira Casar, Nicole Gerdon, Winfried Glatzeder, Heinz Trixner
Young and attractive company executive Hanna von Stezewitz (Amira Casar) has everything, and just takes whatever she doesn't. She's an arrogant and unscrupulous manipulator who has politicians
and banks in her pocket – she's a perfect example of predatory capitalism whose preferred sartorial look is patent leather and leather. To avoid boredom she seeks ever more extreme kicks and sees her abuse of a young girl with hopes of a career merely as collateral damage, nothing money can't fix. The only person who stands in her way is her bedridden grandfather, the family patriarch, and his reactionary worldview. Desperate to be rid of him, she hires a killer. When Hanna unexpectedly finds a lover who is her equal in the shape of Sarah, the nun who is her grandfather's nurse, her happiness seems complete. But does she really have everything under control? Peter Kern has succeededin creating an angry,  opulent portrait of manners in which everyone – rich or poor – is corruptible or at least susceptible to seduction, and criminality and capital go hand in glove. A merry dance of corruption in which anyone who steps out of time is simply brushed aside.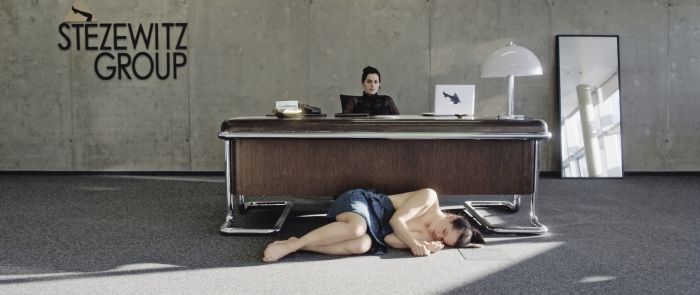 14.30 pm, Cubix 9
---
El hombre nuevo
The new man
Uruguay/Chile 2015
79′
Director: Aldo Garay
At the tender age of twelve, Roberto supported the Sandinista revolution in Nicaragua and fought for education and social reforms. He was to continue his political struggle fighting alongside the
communist Tupamaros in Uruguay. Thirty years later he is struggling to live his life as a woman named Stephanía and striving to be accepted by both society and his family. Documentary filmmaker
Aldo Garay has followed Stephanía for over twenty years. In El Hombre Nuevo he provides a personal and tender portrait of a woman who can look back on a tempestuous life in which violence,
drugs, prostitution and political commitment all found its place. Scenes from her day-to-day life are interspersed with interview material that includes conversations with old friends, fellow-travellers and siblings, as well as a passionate, heated exchange with her mother. The picture of society that emerges is as diverse as it is intimate, and spans a time of great political upheaval in the 1970s to
the present day.
14.30 pm, CineStar 7
---
 San Cristóbal
Saint Christopher

Chile 2015
29′
Director: Omar Zúñiga Hidalgo
Cast: Samuel González, Antonio Altamirano
Lucas and Antonio. Two young men meet and fall in love in a remote fishing village in the south of Chile. One lives there, the other is visiting. Sensuality dictates the pace of the narrative and the lives of both in the days to follow: Being one another's mirror. Recognising one another. Yielding to one another. When the village rebels against their love, the experience of this limitation marks a momentous step in Lucas' and Antonio's adulthood.A simple story of love and devotion, shot in the style of Direct Cinema. A not-so-simple setting, in Chile's Deep South, where anything that breaks out of the perceived norm is to be destroyed immediately, punished. The characters know of the limitations within the village. The romantic notion of resistance is brief; of greater importance are life and the love that is found. Going further. Going beyond the self.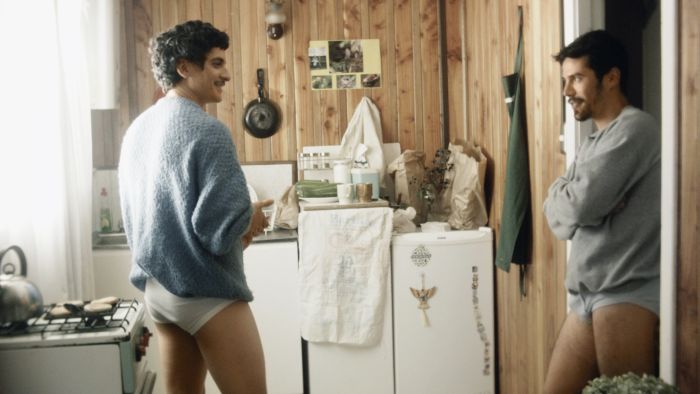 16.00 pm, CinemaxX 5
---
Beira-Mar
Seashore
Brazil 2015
83′
Director: Filipe Matzembacher, Marcio Reolon
Cast: Mateus Almada, Maurício José Barcellos, Elisa Brites, Francisco Gick
Having been good friends for years, Martin and Tomaz now find themselves on the cusp of adulthood. Martin's father sends his son to southern Brazil, where the family is from, to sort out an inheritance matter. Tomaz accompanies him there. For both of them, the brief excursion to the coastal town becomes a journey into themselves. It's not just the sea that nearly reaches the doors of the country house which exerts a slow, yet relentless pull on them – the two friends have the same effect on one other. Filipe Matzembacher and Marcio Reolon's richly atmospheric, autobiographically inspired feature debut follows its two main characters on a weekend that will change their relationship forever. Beira-Mar is a wander through the borderlands between love and friendship, exploring sexual orientation and personal identity. The outstanding camerawork picks up on the protagonists' complex emotional states in the same way as the soundtrack captures the roaring of the sea: gentle and powerful in equal measure. Always on an equal footing with the subject and the characters, the film creates a moment of magic and tenderness. Looking for love and finding it are sometimes one and the same thing.
16.30 pm, Delphi Filmpalast
---
Calamity qui?
Calamity Who?
Canada/France 2014
4′
Director: Isabelle Prim
Christine Boisson is being interviewed at her Parisian apartment. The things she says and the images that appear seem to have something to do with the legendary character named Calamity Jane. But what exactly is the relationship between the two women?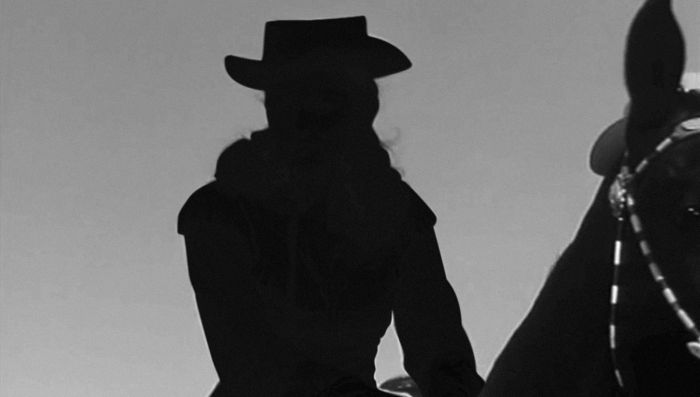 16.30 pm, AKD Hanseatenweg
---
Daniel svet
Daniel's World

Czech Republic 2014
74′
Director: Veronika Lišková
Daniel, a 25-year-old student of literature, lies in the bath. Off-screen we hear his voice: 'Although I've never been with either a boy or a girl, I can't say my life lacks love.' But what is it like for a young man who loves boys; a man who, unable to ever fulfil his desire, either has to content himself with sexual fantasies or use medication to suppress his feelings? This film accompanies Daniel in his struggle to accept himself, and his desperate search for a partner. While we watch simple yet wellcomposed images of Daniel at the hairdressers, ice skating, or taking his mother's dog out for a walk, his off-screen commentary continues to probe and find a way to handle both his coming out and his unfulfilled desires and live a fulfilled life. Not wanting to distort her protagonist's voice, nor make his face unrecognisable, Veronika Lišková met over twenty paedophiles before choosing to work with Daniel who, in spite of being aware of how vulnerable he is making himself, is exceptionately open about his condition.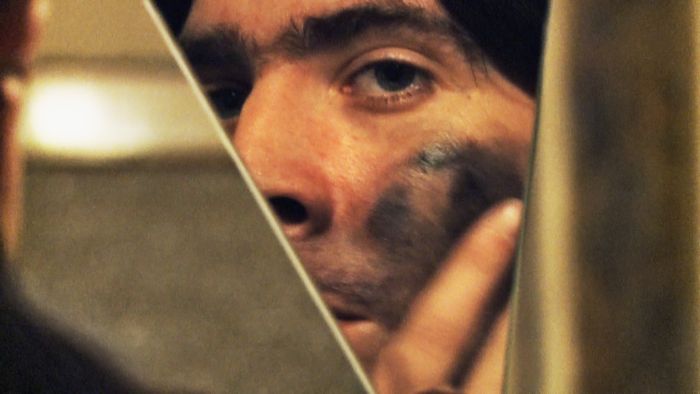 17.00 pm, CineStar 3
---
 I am Michael
I am Michael

USA 2015
100′
Director: Justin Kelly
Cast: James Franco, Zachary Quinto, Emma Roberts
San Francisco in 1998. Queer activist Michael is passionately committed to supporting gay and lesbian youths. His own deep longing to belong means that he is tirelessly engaged in redefining his own existence, absorbing with apparent ease young Tyler into his long term relationship with his friend Bennett. The trio decides to travel America to record on film the lives of gay teenagers. They subsequently manage to raise the cash to launch Michael's own LGBT magazine. But Michael isn't happy with the way he's living his life. Following a suspected heart attack he strives to find a way to balance sexuality and spirituality and decides to leave his chosen family and friends. After engaging in meditative contemplation and heterosexual experiments, he firmly embraces Christianity.In his sensitive directorial debut, Justin Kelly deftly juxtaposes different periods of time to describe the unusual transformation of Michael Glatze, the co-founder of the magazine 'Young Gay America' and a one-time inspirational figure of the LGBT community who, after prolonged and persistent soulsearching, decided to reject homosexuality and become a preacher.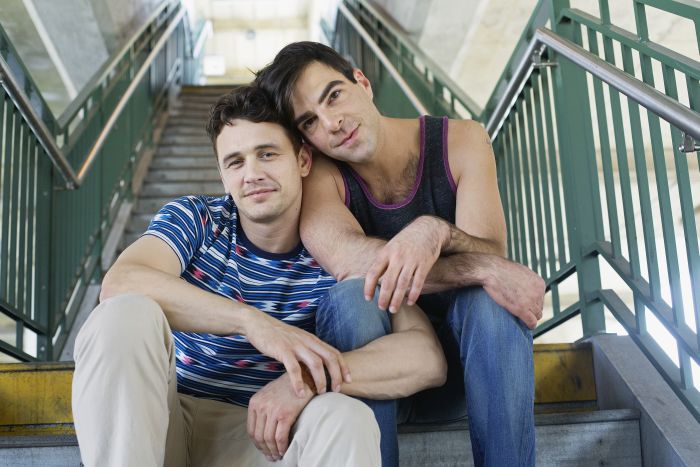 18.30 pm, Zoo Palast 1
---
Viaggio nella dopo-storia
Journey into Post-History

France 2015
80′
Director: Vincent Dieutre
Cast: Simon Versnel, Vincent Dieutre, Emmanuel Pierrat
A couple travels to Italy. During their trip, the state of their relationship becomes clear to them: They argue, take different paths and wonder whether to divorce. Vincent Dieutre has remade Viaggio in Italia and adapted it to his own life. Alex and Kate have become Alex and Tom, played by Vincent himself and his partner Simon. This new couple goes to the same places, experiences similar things, but their time in Naples is inevitably not the same. The city has changed, as has the nature of relationships, tourism has become more digital. As the two become increasingly alienated, Vincent the filmmaker moves through the city with his camera. He talks about how Rossellini's film shaped him. We hear his thoughts about a remake, notes to himself, his discussions with a copyright lawyer. Isabella Rossellini says she doesn't want to be involved. In Vincent and Simon's world, much like that of Tom and Alex, the procession of the final scene gives way to a football match. What was still sacred back then becomes a riot here. Yet the miracle of Rossellini's film remains, inscribing itself on the bodies of the two men: voices superimposed on to images and images superimposed on to bodies.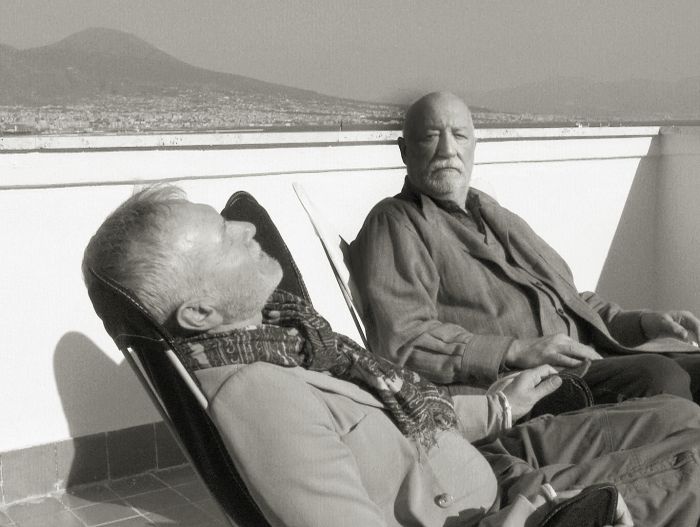 19.00 pm, Delphi Filmpalast
---
Ausência
Absence
Brazil/Chile/France 2014
87′
Director: Chico Teixeira
Cast: Matheus Fagundes, Irandhir Santos, Gilda Nomacce, Francisca Gavilán
Ever since his father left his family in the lurch, 15-year-old Serginho has been trying hard to cope with the new challenges of his daily life. He works with his uncle at the market, supports his depressed mother as best he can, and takes care of his little brother. But how can he find his place in a world that compels him to grow up in such a hurry? Full of longing for affection, he drifts through São Paulo with his friends Mudinho and Sivinha, visits an aunt who works in a circus on the edge of the city and spends as much time as possible with Ney, who gives private lessons, and to whom he feels especially close. But Serginho is consistently disappointed. He wants more from his mother, his friends, his future – and from Ney. Unfazed by the machismo that pervades his environment, he refuses to give up searching for a path between being responsible and caring and finding emotional security.Matheus Fagundes, who is just 17, lends both charismatic charm and a touching sense of self-confident ease to the role of the emotionally and sexually troubled Serginho. This enables his character to bear the weight of social expectations with profound faith in the possibility of happiness.
20.15 pm, CineStar 3
---
Cyclops Observes the Celestial Bodies
Cyclops Observes the Celestial Bodies

USA 2014
15′
Director: Ken Jacobs
"Cyclopean 3D is the most 3D a single eye can come up with. This means the celestial horde on display here can only seem to be galloping through space. Actual seeing into depth must be denied, it's the law." (Ken Jacobs)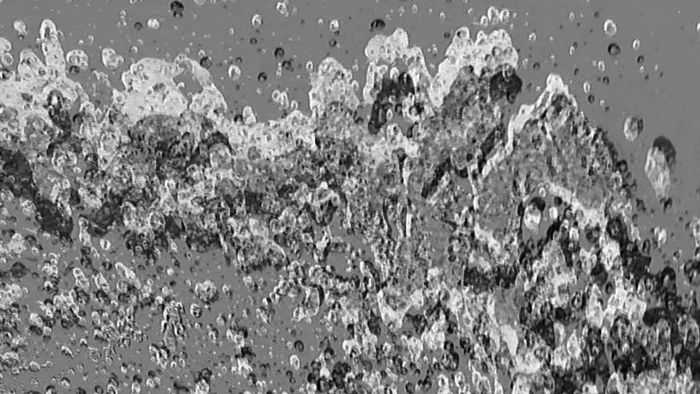 20.30 pm, AKD Hanseatenweg
---
 Dyke Hard
Dyke Hard
Sweden 2014
94′
Director: Bitte Andersson
Cast: Peggy Sands, Alle Eriksson, M Wågensjö, Lina Kurttila
After scoring a huge hit with their first single, hip lesbian band Dyke Hard fall into the creative doldrums. When their front woman leaves it looks like curtains for the rest of the band, but then the girls hear of a battle of the bands in the big city in three days' time and decide to participate and give their maudlin career a kick start. A road trip adventure full of danger, intrigue and all sorts of obstacles ensues. The women find themselves in a haunted house and soon after wind up unjustly accused on death row until a gay prison warder helps them escape. They find brief respite at the home of a sweet old lady with a hidden agenda who almost makes them forget where they're going. But their luck turns again and, following a battle with cyborgs and ninjas they finally manage to make it to the competition, just in time. 'Trash as trash can!' is the ambitious motto of this camp and zany sexploitation-horror-trash-musical guaranteed to be lacking in anything resembling good taste. Told at breakneck speed, this is a tongue-in-cheek, perverse, polymorphic ride that has the potential to vie with cult offerings by the likes of John Waters and Russ Meyer, or the Austin Powers series.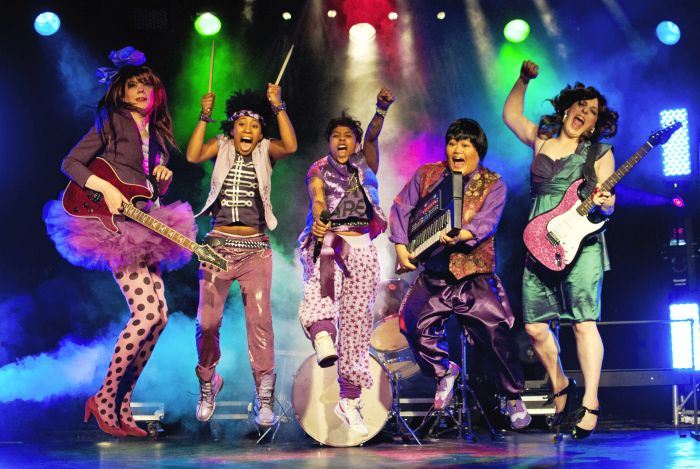 22.30 pm, Colosseum 1
---
Onthakan
The Blue Hour
2015
97′
Director: Anucha Boonyawatana
Cast: Atthaphan Poonsawas, Oabnithi Wiwattanawarang, Duangjai Hirunsri, Panutchai Kittisatima
Tam, a timid loner, is bullied regularly by his fellow pupils at school. He is met with similar rejection and suspicion within the narrow confines of his parents' dingy home, where his father beats him. One day Tam arranges online to meet Phum at a derelict swimming pool. They are both looking for sex, but their encounter leaves them with a feeling of comfort and security. A close bond develops between the two boys and, before long, they are roaming the rubbish heaps and dark corners of the city together, day and night. Phum opens a door for Tam, revealing a fantastical parallel universe full of spirits and dangerous encounters. Although he feels safe and loved for the first time in his life, Tam can no longer differentiate between dream and reality and finds himself increasingly drawn into a spiral of paranoia and violence.In his feature debut Boonyawatana leads his protagonist into an ambiguous microcosm full of chasms, at the same time cleverly toying with the conventions of different genres.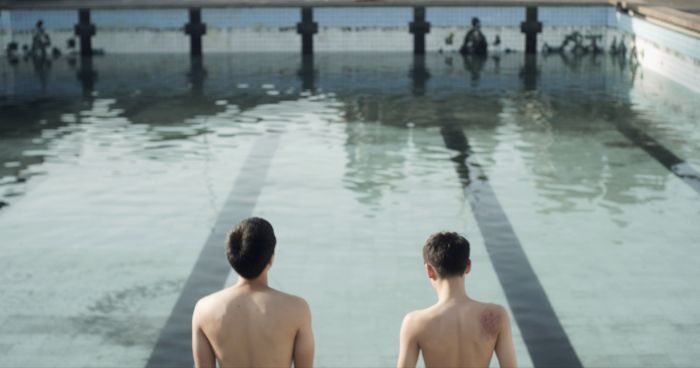 22.30 pm, CinemaX 7
---
Al Bahr Min Ouaraikoum
The Sea is Behind
Marocco 2014
88′
Director: Hicham Lasri
Cast: Malek Akhmiss, Hassan Badida, Yassine Sekkal, Mohammed Aouragh
Tarik is unable to shed a tear about the loss of his children, or that his life is in ruins. Instead he shrouds his moustache under a veil and sways his hips to the music as the procession moves down the street. Tarik is a H'Dya, a traditional dancer who appears in women's clothes. Tarik's father, who leads the parade down the empty Moroccan streets, bawls his eyes out when his beloved cart horse Larbi refuses to go on, and combs his mane lovingly with his dentures. Tarik's ex-wife's bruiser of a partner installs himself in Tarik's toilet. And Tarik's friend Murad is threatened and insulted on account of his homosexuality. Was there really something in the water, as everyone claims? Or is it all in Tarik's mind?In his third feature film, Hicham Lasri tells us, in surreally beautiful black-andwhite images, about traditions and trance, intolerance and violence, friendship and flesh and blood. And about animal love – albeit possibly inappropriate. Aided by raucous Moroccan rock music, Lasri composes a David Lynch-like state of intoxication to produce a truly modern Maghrebi cinematic experience.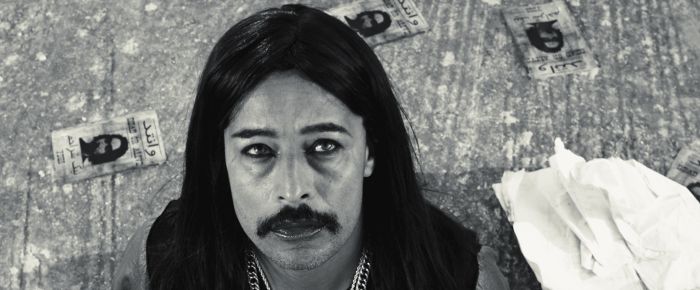 22.45 pm, CineStar 3
---
Mariposa
Butterfly
Argentina 2015
103′
Director: Marco Berger
Cast: Ailín Salas, Javier De Pietro, Julián Infantino, Malena Villa
A butterfly, a creature symbolising rebirth and a new beginning, epitomises Romina's and Javier's world, a world that consists of two parallel realities. In one of them they grow up as siblings who desire each other and try to give shape to their love without sexual fulfilment; in the other they are a young man and woman who form an awkward friendship instead of succumbing to their feelings
for each other. Javier finds himself in a discordant relationship with Mariela. Mariela's brother is interested in Bruno. Bruno is with Romina, but wants to be with Javier. Playfully alternating between
these two realities, the lovers find themselves drawn into ever new couplings in order to explore their intuitive feelings – cautiously, but at the same time prepared to lose everything.Marco Berger, who
won the 2011 Teddy Award, takes a fascinating film idea and turns it into an impressive universe of endlessly diverse approaches to friendship and love. This is an unusually dynamic space in which
emotional insecurity, sexual confusion, incest, self-deception, intuition and spiritual bonding all find their place.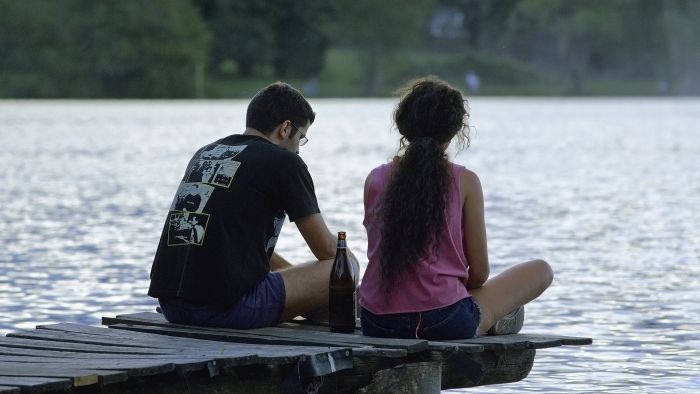 23.00 pm, Cubix 7 & 8