Let's start the day with a song.  And so the morning workout will not come off badly, there are also the appropriate dance moves.
It's just a jump to the left
And then a step to the right
With your hands on your hips
You bring your knees in tight
But it's the pelvic thrust
That really drives you insane
Let's do the Time Warp again
Let's do the Time Warp again
Before I forget, Richard O'Brian is not only the clever mind behind the Rocky Horror Show he is also a TEDDY winner. He won the Special TEDDY for his Life Achievement.
---
Der letzte Sommer der Reichen
The Last Summer of the Rich
Austria 2015
91′
Director: Peter Kern
Cast: Amira Casar, Nicole Gerdon, Winfried Glatzeder, Heinz Trixner
Young and attractive company executive Hanna von Stezewitz (Amira Casar) has everything, and just takes whatever she doesn't. She's an arrogant and unscrupulous manipulator who has politicians
and banks in her pocket – she's a perfect example of predatory capitalism whose preferred sartorial look is patent leather and leather. To avoid boredom she seeks ever more extreme kicks and sees her abuse of a young girl with hopes of a career merely as collateral damage, nothing money can't fix. The only person who stands in her way is her bedridden grandfather, the family patriarch, and his reactionary worldview. Desperate to be rid of him, she hires a killer. When Hanna unexpectedly finds a lover who is her equal in the shape of Sarah, the nun who is her grandfather's nurse, her happiness seems complete. But does she really have everything under control? Peter Kern has succeededin creating an angry,  opulent portrait of manners in which everyone – rich or poor – is corruptible or at least susceptible to seduction, and criminality and capital go hand in glove. A merry dance of corruption in which anyone who steps out of time is simply brushed aside.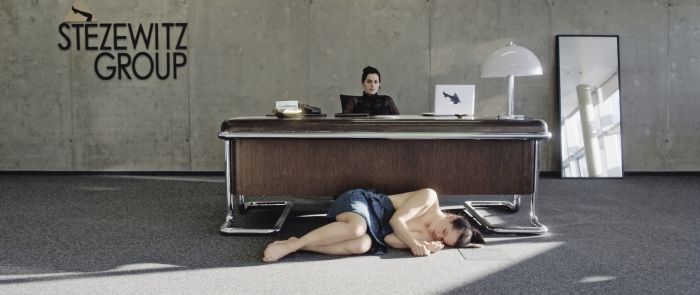 10.00 am, CinemaxX 7
---
Sangailė
The Summer of Sangailé
Lithuania/France/Netherlands 2015
88′
Director: Alanté Kavaïté
Cast: Julija Steponaityté, Aisté
Durité, Juraté Sodyté, Martynas Budraitis
Seventeen-year-old Sangaile is mesmerised by the dance-like loop-de-loop and pirouettes of acrobatic pilots. She herself suffers from vertigo and could never imagine sitting in a cockpit. A quiet and introverted girl, she is spending her summer in the countryside at her parents' holiday home where she tries to see the local air shows as often as she can. This is where she meets Auste, who lives out her days with impressive confidence and plenty of imagination. Sangailé is fascinated by Auste's natural assertiveness. Together the girls sample everything that life in the country has to offer. They soon become close and, when Sangailé shares with Auste her most intimate secret, it gives her a sense of security she has never known before and provides her with the courage to fly for the first time in her life. In buoyant, cinematic images suffused with light Alanté Kavaïté brings together the isolated emotions of two very different girls in the universe that is young love. In her sensitive, intensely sensual film, she tells the story of their intimacy, their passionate devotion and delicate collisions; their vulnerability and sense of trust.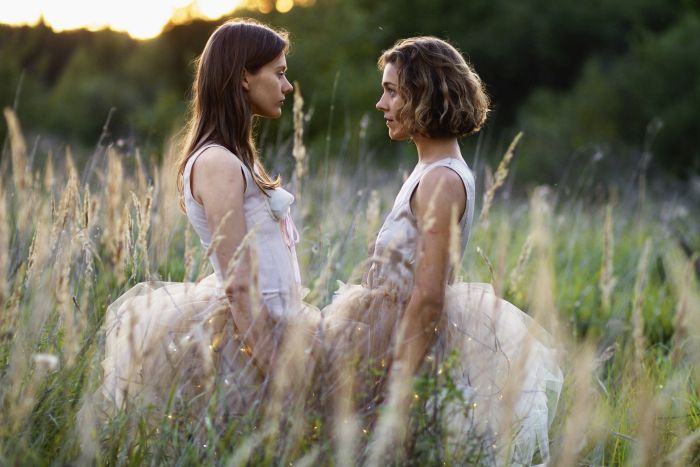 10.30 am, Kino Arsenal 1
22.45 am, CineStar 3
---
Beira-Mar
Seashore
Brazil 2015
83′
Director: Filipe Matzembacher, Marcio Reolon
Cast: Mateus Almada, Maurício José Barcellos, Elisa Brites, Francisco Gick
Having been good friends for years, Martin and Tomaz now find themselves on the cusp of adulthood. Martin's father sends his son to southern Brazil, where the family is from, to sort out an inheritance matter. Tomaz accompanies him there. For both of them, the brief excursion to the coastal town becomes a journey into themselves. It's not just the sea that nearly reaches the doors of the country house which exerts a slow, yet relentless pull on them – the two friends have the same effect on one other. Filipe Matzembacher and Marcio Reolon's richly atmospheric, autobiographically inspired feature debut follows its two main characters on a weekend that will change their relationship forever. Beira-Mar is a wander through the borderlands between love and friendship, exploring sexual orientation and personal identity. The outstanding camerawork picks up on the protagonists' complex emotional states in the same way as the soundtrack captures the roaring of the sea: gentle and powerful in equal measure. Always on an equal footing with the subject and the characters, the film creates a moment of magic and tenderness. Looking for love and finding it are sometimes one and the same thing.
12.30 pm, Kino Arsenal 1
---
Kumu Hina
A Place in the Middle
USA 2014
25′
Director: Dean Hamer, Joe Wilson
She feels more like a boy than even most boys. This documentary follows eleven-year-old Hawaiian girl Ho'onani who dreams of leading her school's traditional hula group. Hula is a mixture of dance and theatrical performance that is central to the culture of the Hawaiian people and requires a lot of practice. Here too, Ho'onani would like to dance on the boys' side. Normally she wouldn't be allowed to do so but Ho'onani is fortunate to have as her teacher the charismatic Kumu Hina, who assigns Ho'onani a special place in the middle. In ancient Hawaii there was always a life between genders, and a place for those who embrace both men and women. Kumu Hina knows what she is talking about for, twenty years ago, she was a man. Kumu Hina uses her profound knowledge to convey to her pupils the culture of their ancestors – a culture that has not been forgotten, in spite of years of influence by Christian missionaries. The magic word is 'aloha', meaning a life in harmony with nature. It also means that every man and every woman should be loved, respected and valued.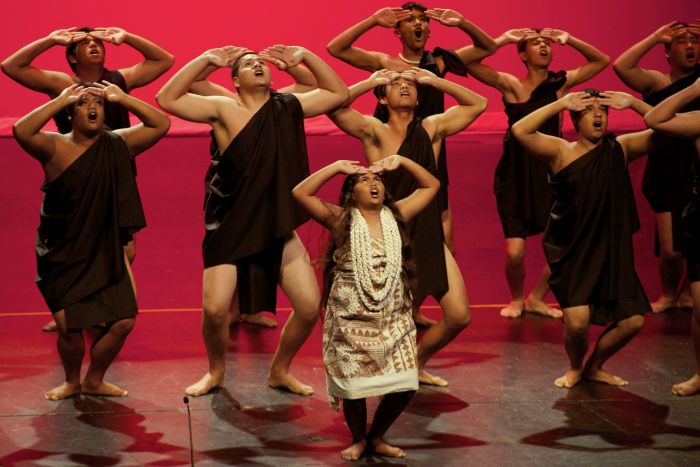 14.00 pm, CinemaxX 3
---
Härte
Tough Love
Germany 2015
89′
Director: Rosa von Praunheim
Cast: Hanno Koffler, Andreas Marquardt, Luise Heyer, Marion Erdmann
When karate champ Andreas Marquardt thinks about himself he feels nothing but bitterness: 'I refused to feel anything. I was cold, like a block of ice, I couldn't give a shit about anything.' When he was two years old, his father poured water over him and put him outside on the balcony in subzero temperatures. Another time he crushed his hand. When he was six, his mother began to seduce him: 'Your prick belongs to me, my little friend.' Later, Andreas became a pimp and earned millions – until he wound up behind bars. Lovely Marion was the only one who stood by him, who went on the game for him, and gave him the courage to go on … Interspersing interviews with dramatized scenes from Andreas Marquardt's biography, Rosa von Praunheim describes a life that veers from fear and humiliation to contempt, hatred and brutality. Filmed in stylised sets replete with photographic wallpaper that recall West Berlin décor at the time, the film provides a shocking insight into the deep wounds caused by domestic violence and one man's desperate attempts at resistance. Is it possible to break out of such a vicious circle? And how does Andreas Marquardt cope with these experiences today?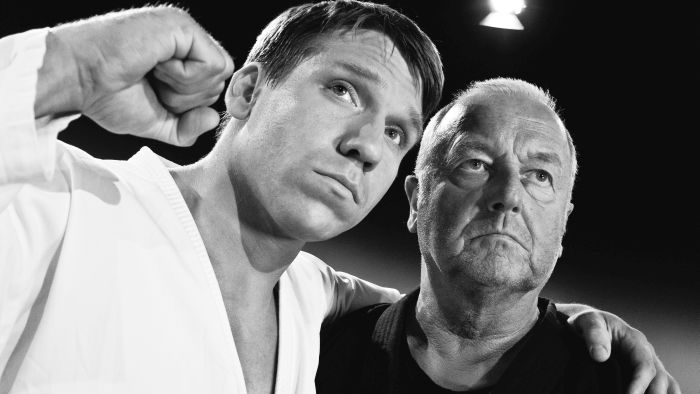 14.30 pm, Cubix 9
---
Stories of Our Lives
Stories of Our Lives

Kenya 2014
60′
Director: Jim Chuchu
Cast: Kelly Gichohi, Janice Mugo, Jimmy Wanjala, Tim Mutungi
Members of the multi-disciplinary art collective NEST spent several months travelling Kenya collecting stories of young LGBTI people – stories about their experiences and their lives in a country that is still extremely homophobic. Based on countless anonymous interviews, they developed five screenplays for short films which provide an insight into the current situation and the problems of these sexually marginalised young people. These short, unadorned scenes are presented by director Jim Chuchu in crisp, poetic black-and-white images and accompanied by a measured soundtrack. The episodes, which address topics such as the search for identity and self-determination, enforced heterosexualisation and the struggle for acceptance, have one thing in common: they all describe the need for love and the fear of fulfilling this love openly. Time and again, their fears prompt the question: it is better to hide away, resign oneself to the situation and leave the country, or to stay and fight openly for sexual diversity? In spite of the film being banned from public screenings in Kenya, the members of NEST have opted for the latter and are determined to continue their struggle for recognition.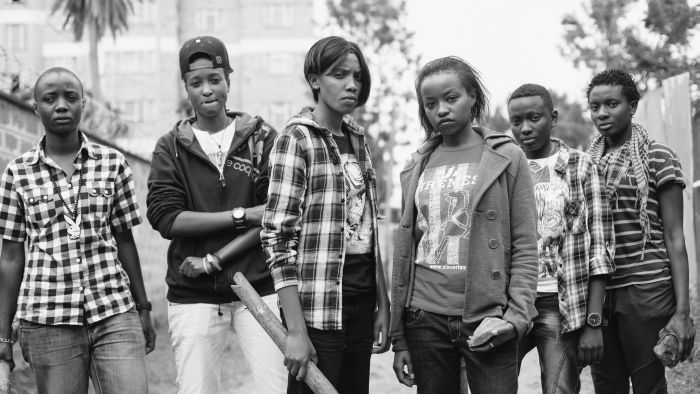 17.45 pm, CineStar 3
---
How to Win at Checkers (Every Time)
How to Win at Checkers (Every Time)

Thailand/USA/Indonesia 2015
80′
Director: Josh Kim
Cast: Thira Chutikul, Ingarat Damrongsakkul, Iirah Wimonchailerk, Arthur Navarat
The poor outlying districts of Bangkok are a world where you grow up very quickly. After both their parents die, eleven-year-old Oat, his little sister and his older brother Ek move in with their aunt. Ek
works in a bar for male prostitutes and transvestites. His relationship with Jai, the son of rich parents, began when he was still at school. Their uneven love for one another is put to the test when the day of the annual conscription arrives; this is when a lottery decides who must do military service and who can stay at home. Young Oat steals money from the local mafia boss in order to buy their beloved brother and family breadwinner out of the army. His actions have dramatic and traumatic consequences.Told from the younger brother's point of view, the film takes a refreshingly unadorned and impartial look at an essentially loving environment where social conditions are governed by venality, corruption and false ideals.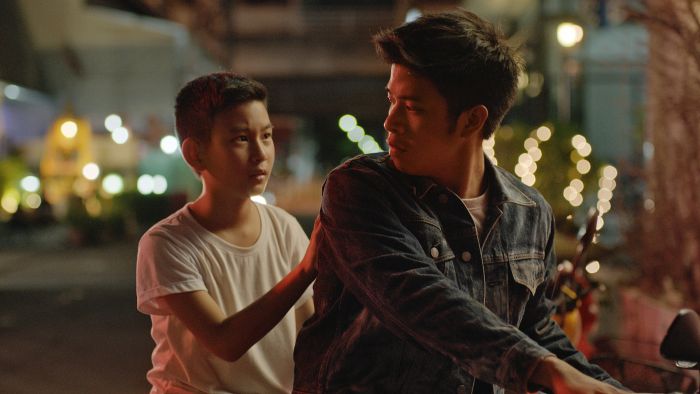 20:00 Uhr, CinemaxX 7
---
El hombre nuevo
The new man
Uruguay/Chile 2015
79′
Director: Aldo Garay
At the tender age of twelve, Roberto supported the Sandinista revolution in Nicaragua and fought for education and social reforms. He was to continue his political struggle fighting alongside the
communist Tupamaros in Uruguay. Thirty years later he is struggling to live his life as a woman named Stephanía and striving to be accepted by both society and his family. Documentary filmmaker
Aldo Garay has followed Stephanía for over twenty years. In El Hombre Nuevo he provides a personal and tender portrait of a woman who can look back on a tempestuous life in which violence,
drugs, prostitution and political commitment all found its place. Scenes from her day-to-day life are interspersed with interview material that includes conversations with old friends, fellow-travellers and siblings, as well as a passionate, heated exchange with her mother. The picture of society that emerges is as diverse as it is intimate, and spans a time of great political upheaval in the 1970s to
the present day.
20.00 pm, CineStar 3
---
Mariposa
Butterfly
Argentina 2015
103′
Director: Marco Berger
Cast: Ailín Salas, Javier De Pietro, Julián Infantino, Malena Villa
A butterfly, a creature symbolising rebirth and a new beginning, epitomises Romina's and Javier's world, a world that consists of two parallel realities. In one of them they grow up as siblings who desire each other and try to give shape to their love without sexual fulfilment; in the other they are a young man and woman who form an awkward friendship instead of succumbing to their feelings
for each other. Javier finds himself in a discordant relationship with Mariela. Mariela's brother is interested in Bruno. Bruno is with Romina, but wants to be with Javier. Playfully alternating between
these two realities, the lovers find themselves drawn into ever new couplings in order to explore their intuitive feelings – cautiously, but at the same time prepared to lose everything.Marco Berger, who
won the 2011 Teddy Award, takes a fascinating film idea and turns it into an impressive universe of endlessly diverse approaches to friendship and love. This is an unusually dynamic space in which
emotional insecurity, sexual confusion, incest, self-deception, intuition and spiritual bonding all find their place.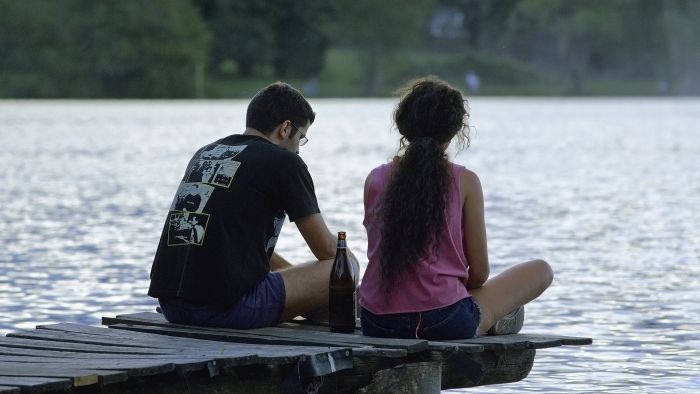 20.15 pm, CineStar 3
---
Dyke Hard
Dyke Hard
Sweden 2014
94′
Director: Bitte Andersson
Cast: Peggy Sands, Alle Eriksson, M Wågensjö, Lina Kurttila
After scoring a huge hit with their first single, hip lesbian band Dyke Hard fall into the creative doldrums. When their front woman leaves it looks like curtains for the rest of the band, but then the girls hear of a battle of the bands in the big city in three days' time and decide to participate and give their maudlin career a kick start. A road trip adventure full of danger, intrigue and all sorts of obstacles ensues. The women find themselves in a haunted house and soon after wind up unjustly accused on death row until a gay prison warder helps them escape. They find brief respite at the home of a sweet old lady with a hidden agenda who almost makes them forget where they're going. But their luck turns again and, following a battle with cyborgs and ninjas they finally manage to make it to the competition, just in time. 'Trash as trash can!' is the ambitious motto of this camp and zany sexploitation-horror-trash-musical guaranteed to be lacking in anything resembling good taste. Told at breakneck speed, this is a tongue-in-cheek, perverse, polymorphic ride that has the potential to vie with cult offerings by the likes of John Waters and Russ Meyer, or the Austin Powers series.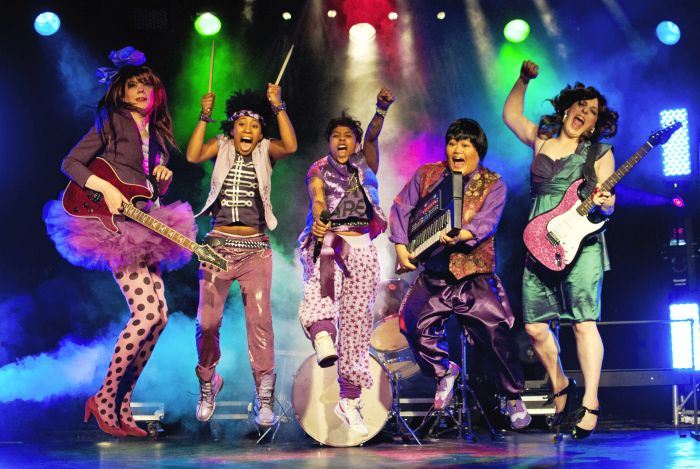 20.30 pm, Cubix 7 &8
---
Nasty Baby
Nasty Baby

USA 2014
100′
Director: Sebastián Silva
Cast: Kristen Wiig, Sebastián Silva, Tunde Adebimpe, Agustin Silva
Freddy is an artist whose desire for a baby has become something of an obsession. He surrounds himself with photographs of his childhood and is working feverishly on a fresh piece about new-borns. He and his partner Mo have even managed to persuade their best friend Polly to have their baby. However, after numerous failed attempts to conceive, this proves to be more difficult than they first
envisaged. Freddy's planned video installation also turns out to be rather more complicated than he thought. And then, when the 'Bishop', their rather deranged neighbour, begins tormenting them
with his serious chicanery, their hitherto carefree existence starts to go dangerously awry. A series of surprising events bring their frustrations to a head and before long, Freddy and his friends begin
to lose their grip on reality.Sebastiàn Silva's savagely satirical film is an angry portrait of a group of presumptuous and self-absorbed bohemians. The director himself plays the role of Freddy, infusing
his performance with the complacency, doggedness, ignorance and egomania of a social circle which is in the process of becoming estranged from their original visions and dreams.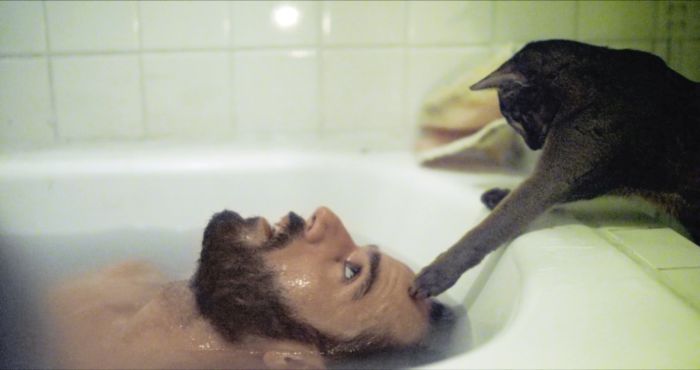 21.30 pm, Zoo Palast 1
---
Sueñan los androides
Androids Dream
Spain/Germany 2014
61′
Director: Ion de Sosa
Cast: Manolo Marín, Moisés Richart, Marta Bassols, Coque Sánchez
The year may be 2052, yet this is a future with one foot in the past. Between the strangely artificial skyscrapers along the coastline and the neon-lined broadwalk, there's nothing here to suggest it isn't still 1975, 1995 or 2015. But there are fewer people around nowadays and many apartments lie empty, a tranquil wasteland of exposed wires, unfinished plasterwork and endless dust. Those that remain are at least house-proud, eager to show off their knickknacks and traditional costumes, when not meeting up for the occasional dance. Hardly the most obvious place for a bounty hunter, but the robots still need to be exterminated, particularly as they already look so much like you and me. Ion de Sosa's spare, enigmatic adaptation of Philip K. Dick's "Do Androids Dream of Electric Sheep?" is at once a minimalist genre piece, an oblique treatise on difference and an essayistic almost-documentary on the unreal status quo of contemporary Spain. And as the title suggests, these androids do indeed dream: of far-off places and new opportunities; of the songs of past summers; of a shared embrace, a sheep on a leash, as the towers and mountains open out beyond.
22.30 pm, Kino Arsenal 1
---
Ausência
Absence
Brazil/Chile/France 2014
87′
Director: Chico Teixeira
Cast: Matheus Fagundes, Irandhir Santos, Gilda Nomacce, Francisca Gavilán
Ever since his father left his family in the lurch, 15-year-old Serginho has been trying hard to cope with the new challenges of his daily life. He works with his uncle at the market, supports his depressed mother as best he can, and takes care of his little brother. But how can he find his place in a world that compels him to grow up in such a hurry? Full of longing for affection, he drifts through São Paulo with his friends Mudinho and Sivinha, visits an aunt who works in a circus on the edge of the city and spends as much time as possible with Ney, who gives private lessons, and to whom he feels especially close. But Serginho is consistently disappointed. He wants more from his mother, his friends, his future – and from Ney. Unfazed by the machismo that pervades his environment, he refuses to give up searching for a path between being responsible and caring and finding emotional security.Matheus Fagundes, who is just 17, lends both charismatic charm and a touching sense of self-confident ease to the role of the emotionally and sexually troubled Serginho. This enables his character to bear the weight of social expectations with profound faith in the possibility of happiness.
22.30 pm, CinemaxX 7