… are close together today. The calendar sheet shows it: Tomorrow will be Friday the 13th.  Usually,  this day does not bode well.  We expect bad luck and accidents at this day. Although, the statisticians have been saying that this superstition is nonsense since years. We know it better. No, Friday the 13th is a bad day for going out. But of course the moste accidents happen at home, it's not a opportunity to stay at home.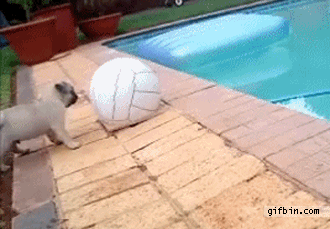 What next? Another fiews in the calendar will help. Yes, then tomorrow will still be Friday the 13th but more important: Tomorrow the big TEDDY ceremony will take place at the Komische Oper. To be honest,  we can't expect that something bad will happen there.
---
Wonderful World End
Wonderful World End

Japan 2015
82′
Director: Daigo Matsui
Cast: Ai Hashimoto, Jun Aonami, Yû Inaba, Gô Rijû
In her Gothic Lolita guise 17-year-old Shiori attracts a lot of followers for her blogcast. Whenever she can she talks about herself, offers make-up tips and is delighted at the growing number of visitors to her site. After a music video shoot, confident Shiori meets a strange young girl named Ayumi. The girl is a big fan of Shiori's and tries to copy her style. She also seems to be rather distracted and monosyllabic, as if she had nothing of her own to say, but she has run away from home to be with Shiori. Hesitant, but also flattered, Shiori allows herself to be drawn in by this girl. This story of the odd friendship between these two girls is also a multi-coloured romp through the artificial world of Japanese teenagers. They do crazy things and dream of making it big. Their private thoughts are shared only in blogs. The film also reflects the disintegration of traditional forms of communication in its aesthetical approach: online chats pop up regularly over the proceedings. It's as if the smartphone display has been brought to the big screen. Based on two music videos by Seiko Oomori – Shiori's favourite female musician in the film – the drama ends like a comic book dream.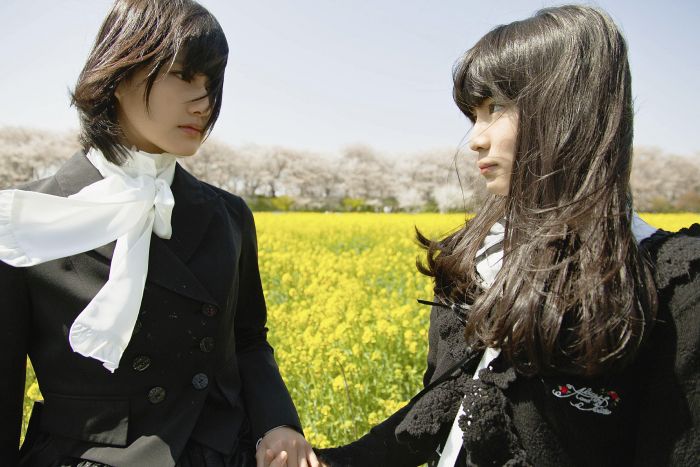 9.30 am, Zoo Palast 1
---
Blood Below the Skin
Blood Below the Skin

USA 2015
32′
Director: Jennifer Reeder
Cast: Jennifer Estlin, Kelsey Ashby-Middleton, Morgan Reesh, Marissa Castillo
'Blood Below the Skin' chronicles a week in the lives of three teenage girls who attend the same high school class. Coming from different social circles, the girls prepare for the most important night of their life – Prom Night. They have formed a dance group and rehearse the choreography. Two of the girls are drawn to one another and fall in love. The third is forced to take care of her distraught mother in the wake of her father's disappearance. Each girl finds refuge in her room and bed, comfort and a place to explore new feelings. The music blasting from the turntable provides a magical synchronicity between them all – the space-time continuum is expanded by the dimension of music.Jennifer Reeder tells everyday stories with stylistic elements of magic realism that recall Latin American cinema. All it takes is the power of thought in order to express your love to another.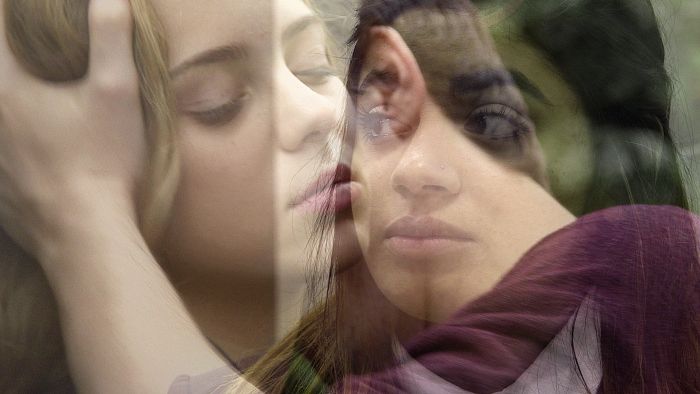 11.00 am, Hebbel am Ufer 1
21.30 am, Neues Off
---
Viaggio nella dopo-storia
Journey into Post-History

France 2015
80′
Director: Vincent Dieutre
Cast: Simon Versnel, Vincent Dieutre, Emmanuel Pierrat
A couple travels to Italy. During their trip, the state of their relationship becomes clear to them: They argue, take different paths and wonder whether to divorce. Vincent Dieutre has remade Viaggio in Italia and adapted it to his own life. Alex and Kate have become Alex and Tom, played by Vincent himself and his partner Simon. This new couple goes to the same places, experiences similar things, but their time in Naples is inevitably not the same. The city has changed, as has the nature of relationships, tourism has become more digital. As the two become increasingly alienated, Vincent the filmmaker moves through the city with his camera. He talks about how Rossellini's film shaped him. We hear his thoughts about a remake, notes to himself, his discussions with a copyright lawyer. Isabella Rossellini says she doesn't want to be involved. In Vincent and Simon's world, much like that of Tom and Alex, the procession of the final scene gives way to a football match. What was still sacred back then becomes a riot here. Yet the miracle of Rossellini's film remains, inscribing itself on the bodies of the two men: voices superimposed on to images and images superimposed on to bodies.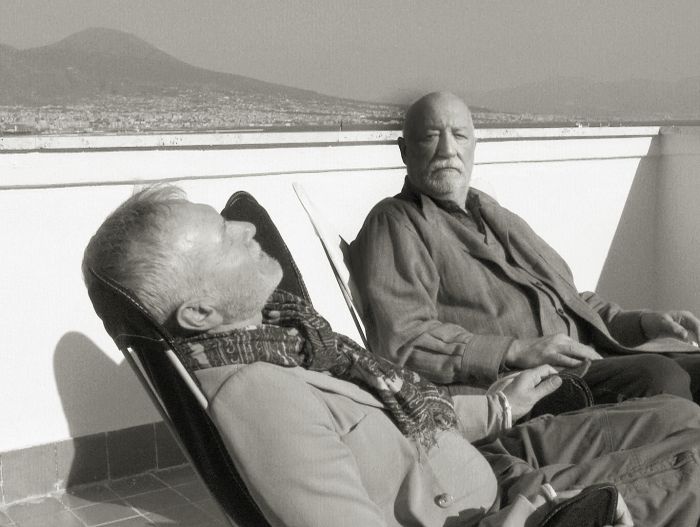 11.00 am, CineStar 3
---
Eisenstein in Guanajuato
Eisenstein in Guanajuato
Netherlands/Mexico/Finland/Belgium/ 2015
105′
Director: Peter Greenaway
Cast: Elmer Bäck, Luis Alberti, Rasmus Slatis, Jacob Öhrmann
In 1931 the Soviet director Sergei Eisenstein travels to Guanajuato to direct his film Que viva México. There he encounters a new culture and its dealings with death; he also discovers another revolution – and his own body. Peter Greenaway depicts Eisenstein as an eccentric artist who travels to Mexico filled with the hubris of being an internationally celebrated star director. Once there, he gets into difficulties with his American financier, the novelist Upton Sinclair. At the same time he begins, in the simultaneously joyful and threatening foreign land, to re-evaluate his homeland and the Stalinist regime. And, in doing so, he undergoes the transition from a conceptual filmmaker into an artist fascinated by the human condition. Under his gaze, the signs, impressions, religious and pagan
symbols of Mexican culture assemble themselves anew.Making use of extreme close-ups, splitscreens and a dramatic montage – all to enact the transformation of a hero who presents himself as a tragic clown – Greenaway deliberately quotes and modifies Eisenstein's own cinematic tools. Scene by scene the film gets closer to Eisenstein the man, who finds himself surprised by an unexpected desire.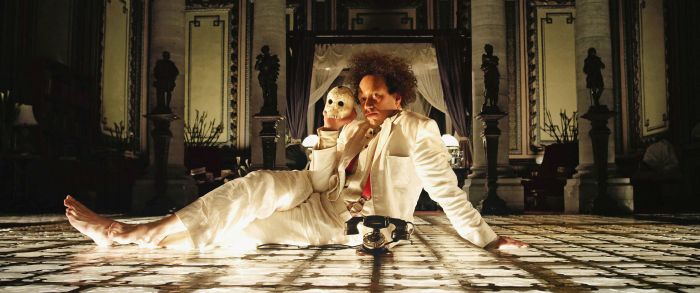 12.00 pm, Friedrichstadtpalast
13.00 pm, Zoo Palast 1
18.00 pm, Friedrichstadtpalast
---
Je suis Annemarie Schwarzenbach
My name is Annemarie Schwarzenbach
France 2015
85′
Director: Véronique Aubouy
Cast: Julia Perazzini, Nina Langensand, Megane Ferrat, Pauline Leprince
Annemarie Schwarzenbach was a shimmering figure of bohemian society of the 1920s. A talented writer, she was lesbian, addicted to drugs, a globetrotter, bewitchingly androgynous and – much to her domineering Nazi-loving mother's chagrin – also anti-fascist. Berlin photographer Marianne Breslauer described her as the most beautiful creature she had ever encountered. Schwarzenbach died young at the age of 34. She remained forgotten until the 1980s when her books began to be republished and her biography reconstructed. Director Véronique Aubouy does more than merely save Annemarie Schwarzenbach from obscurity, she brings her into the present. Sixteen young actors of both genders slip into different roles in order to play Schwarzenbach, her friends and lovers. Increasingly fascinated by the pull of this figure, their oscillations between genders becomes a joint project. Something that begins as an audition in which the young actors are asked to attach their biographies to that of the writer, ends in a dance of relationships in which the borders between reality and dramatization are blurred.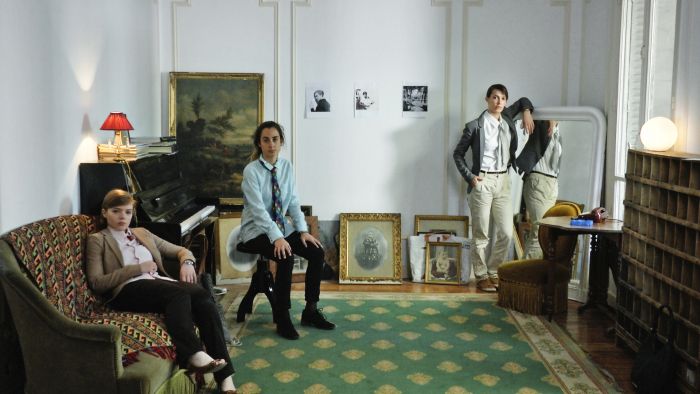 12.00 pm, CineStar 7
---
Cancelled Faces
Cancelled Faces

South Korea/Germany 2014
80′
Director: Lior Shamriz
Cast: Kim Won-mok, Lee Je-yeon, Ye Soo-jeong, Won Tae-hee
A man, striving for autonomy, lives in fear of being absorbed by his lover. Korea, the now: When Unk hits Boaz on his scooter, an amour fou takes its course in a performative ballad of dependency, which is intertwined with the staging of an ancient story.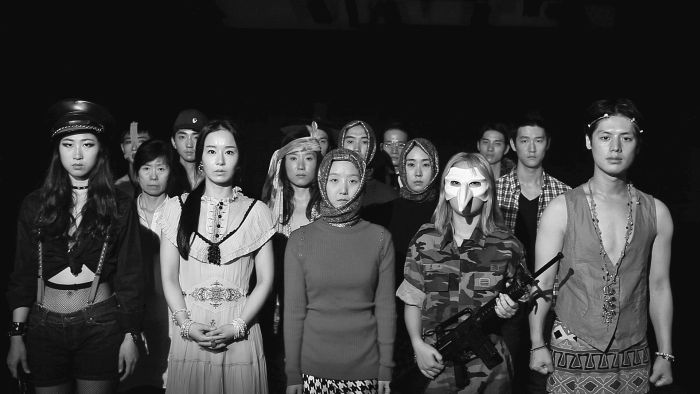 14.30 pm, Kino Arsenal 1
---
Fassbinder – lieben ohne zu fordern
Fassbindern – to love without demands
Denmark 2015
109′
Director: Christian Braad Thomsen
Cast: Rainer Werner Fassbinder, Irm Hermann, Harry Baer, Andrea Schober
Rainer Werner Fassbinder was probably Germany's most significant post-war director. His swift and dramatic demise at the early age of 37 in 1982 left behind a vacuum in European filmmaking that has yet to be filled, as well as a body of unique, multi-layered and multifarious work of astonishing consistency and rigour. From 1969 onwards, Danish director and film historian Christian Braad Thomsen maintained a close yet respectfully distanced friendship with Fassbinder. Fassbinder – Lieben ohne zu fordern is based on his personal memories as well as a series of conversations and interviews he held with Fassbinder and his mother Lilo in the 1970s. The film also contains current interviews with Irm Hermann and Harry Baer, both of whom were close to Fassbinder. Beginning with Fassbinder's extraordinary childhood in traumatised post-war Germany, the film, which is divided into seven chapters, provides an illuminating, intimate and moving tribute that bears witness to the
enduring relevance of both the man and his work. Today in particular his oeuvre continues to provoke us to engage with controversy and tension – be it aesthetical, creative or critical.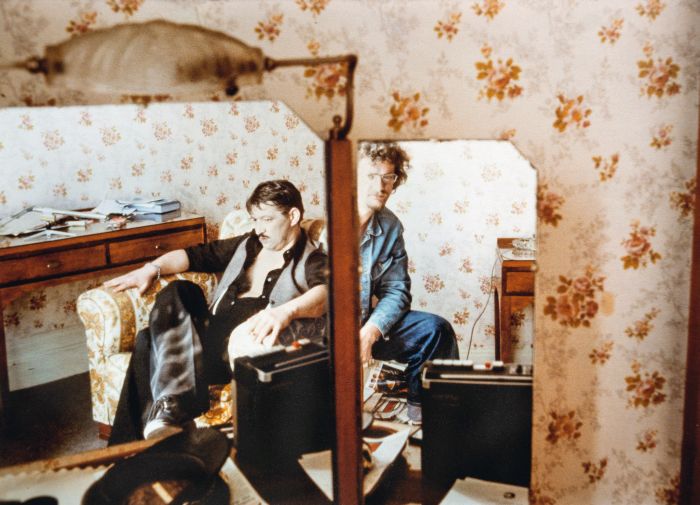 15.15 pm, Colosseum 1
---
Coming Out
Coming Out
German Democratic Republic  1989
109′
Director: Heiner Carow
Cast: Matthias Freihof, Dagmar Manzel, Dirk Kummer, Michael Gwisdek
An ambulance races down the streets of Berlin on New Year's Eve. A young man, Matthias, has taken an overdose of sleeping pills and is wrestling with death. A flashback: an ambitious young teacher named Philipp Klahrmann is well-liked by his pupils and a fellow teacher, Tanja. When she falls in love with him they become a couple. But then Philipp runs into Jacob, an old school friend, who reminds him of their former homosexual relationship. Philipp has been repressing his predisposition for years but can do so no longer. He meets Matthias and falls in love with him. His passionate relationship with this young man puts him in a dilemma. He is fond of Tanja, who is now expecting his child, and does not want to disappoint her. Philip embarks on a painful process of finding himself. Not knowing what to do with himself or how to cope with his problems, he instead alienates everyone else. Upset and affronted, Tanja distances herself from him, and Matthias, who is
deeply in love with Philipp, tries to commit suicide. In the end, Philipp manages to overcome his fear of public opinion and comes out of the closet. DEFA Foundation.
---
Misfits
Misfits
Denmark/ Sweden 2015
74′
Director: Jannik Splidsboel
Tulsa, Oklahoma is a city in the midst of the USA's Bible Belt with almost 400,000 inhabitants, over 4,000 churches and just one gay and lesbian youth centre. This is the meeting place for Larissa, Ben, 'D' and other youths who because of their decision to live gay, lesbian and transgender lives, are either not accepted or, on the contrary, have received strong support from their families and unconditional love.Jannik Splidsboel, whose film How Are You screened in Panorama in 2011, takes an almost entirely observational approach to his depiction of the lives of these three teenagers, their first love or their longing for love, their coming out, and their dreams for the future. In an unhurried, almost casual fashion, the film shows how 'D' manages step by step to improve his precarious existence and how Ben learns from his brother how to defend himself. Courtesy of Larissa and her girlfriend we are also are treated to one of the most dazzling and colourful lesbian kiss scenes in film history. Misfits portrays three basically 'average' young people as they try to live queer lives, find their gender identities, love and be loved in an environment pervaded by religious fundamentalism.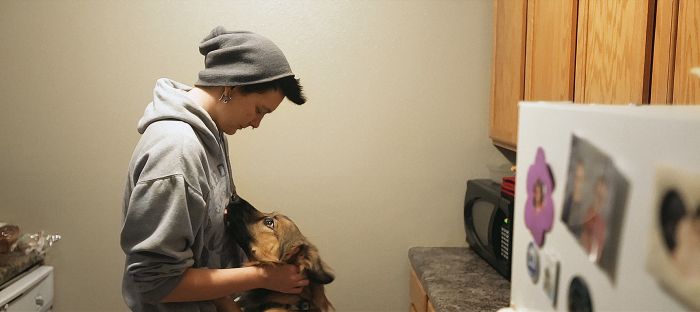 17.00 pm, CineStar 7
---
IEC Long
IEC Long

Portugal 2014
31′
Director: João Pedro Rodrigues, João Rui Guerra da Mata
Who inhabits the ancient Iec Long Firecracker Factory? A search for the traces of the history of china crackers, child labour and the ghosts of a majestic ruin.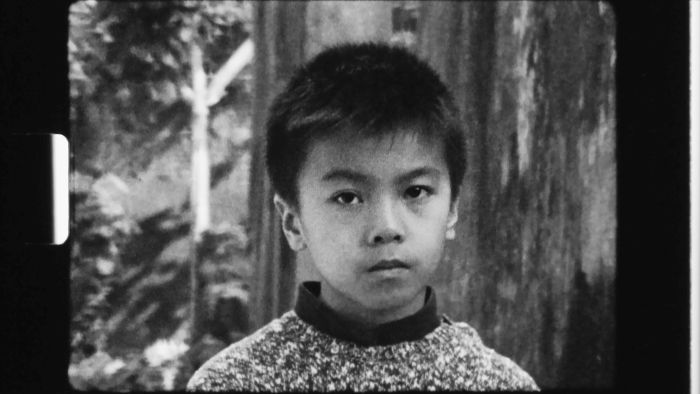 17.00 pm, Kino Arsenal 1
---
Dear John
Dear John

Austria 2014
42′
Director: Hans Scheugl
50 years ago, director Hans Scheugl could have left Vienna and started a new live in the USA. His contact with John, his American lover of past days, has long since ended. An investigation into what was and what might have been.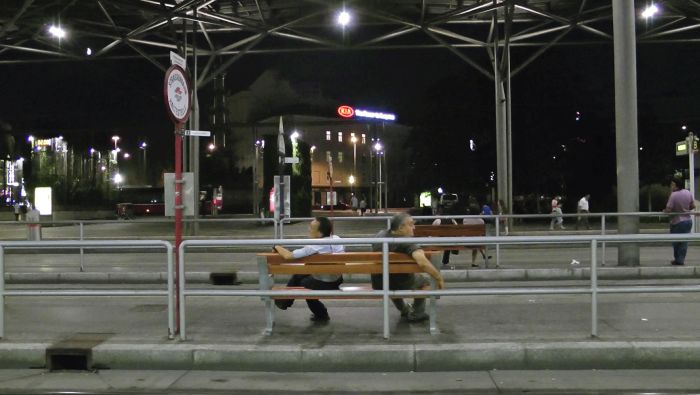 17.15 pm, AKD Hanseatenweg
---
Vyshybalshitsa
Embroideress
Russian Federation 2014
21′
Director: Lyusya Matveeva
Dreams and memories grasped as mystery. Five short stories united by one action: "Helicopter," "Sunday," "Doggie-photographer, "Mausoleum," and "Apocalypses." A reference to a Greek myth – the goddesses of fate, spinning the thread of human life.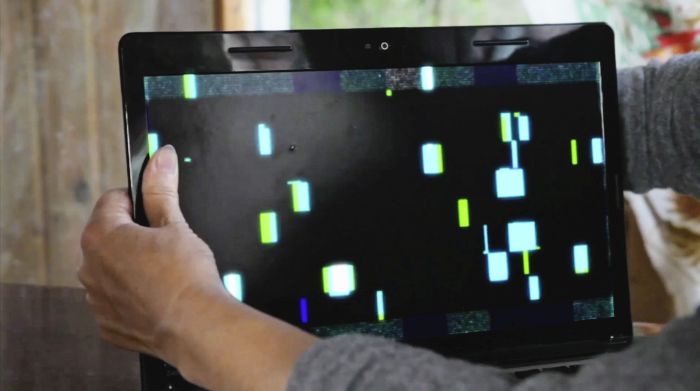 17.15 pm, AKD Hanseatenweg
---
Danielův Svět
Daniel's World

Czech Republic 2014
74′
Director: Veronika Lišková
Daniel, a 25-year-old student of literature, lies in the bath. Off-screen we hear his voice: 'Although I've never been with either a boy or a girl, I can't say my life lacks love.' But what is it like for a young man who loves boys; a man who, unable to ever fulfil his desire, either has to content himself with sexual fantasies or use medication to suppress his feelings? This film accompanies Daniel in his struggle to accept himself, and his desperate search for a partner. While we watch simple yet wellcomposed images of Daniel at the hairdressers, ice skating, or taking his mother's dog out for a walk, his off-screen commentary continues to probe and find a way to handle both his coming out and his unfulfilled desires and live a fulfilled life. Not wanting to distort her protagonist's voice, nor make his face unrecognisable, Veronika Lišková met over twenty paedophiles before choosing to work with Daniel who, in spite of being aware of how vulnerable he is making himself, is exceptionately open about his condition.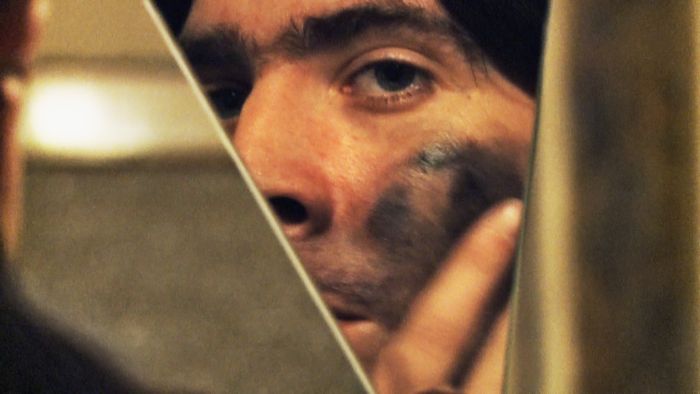 17.30 pm, Cubix 7
---
Bad at Dancing
Bad at Dancing
USA 2015
11′
Director: Joanna Arnow
Cast: Eleanore Pienta, Keith Poulson, Joanna Arnow
Interior, Day. Matt and Isabel lie in bed, naked. They have sex. She sits on top of him; they surrender to one another passionately. Joanna, the flatmate, enters the room and sits on the corner of the bed, close to them. Isabel and her boyfriend continue undeterred. Matt (after a while, without glancing sideways): What is she doing here?Joanna: "I can't sleep."Isabel (without stopping having sex): "Were we too loud?"Joanna (without moving to leave): "No." Bad at Dancing is a chamber piece and a comedy. A sex game. Isabel and Matt are together, Joanna would like to be with Matt. Joanna tries out various approaches to achieve her aim. The three move together, embracing from body to body – dressed and naked. Always introversive. Always direct. Envy and emotion are given a surreal context. The question of borders and their necessity is raised anew. A rickshaw always drives on three wheels.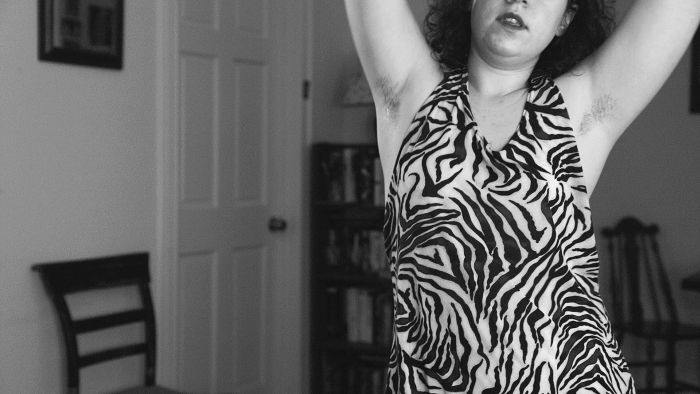 17.45 pm, Colosseum 1
---
Härte
Tough Love
Germany 2015
89′
Director: Rosa von Praunheim
Cast: Hanno Koffler, Andreas Marquardt, Luise Heyer, Marion Erdmann
When karate champ Andreas Marquardt thinks about himself he feels nothing but bitterness: 'I refused to feel anything. I was cold, like a block of ice, I couldn't give a shit about anything.' When he was two years old, his father poured water over him and put him outside on the balcony in subzero temperatures. Another time he crushed his hand. When he was six, his mother began to seduce him: 'Your prick belongs to me, my little friend.' Later, Andreas became a pimp and earned millions – until he wound up behind bars. Lovely Marion was the only one who stood by him, who went on the game for him, and gave him the courage to go on … Interspersing interviews with dramatized scenes from Andreas Marquardt's biography, Rosa von Praunheim describes a life that veers from fear and humiliation to contempt, hatred and brutality. Filmed in stylised sets replete with photographic wallpaper that recall West Berlin décor at the time, the film provides a shocking insight into the deep wounds caused by domestic violence and one man's desperate attempts at resistance. Is it possible to break out of such a vicious circle? And how does Andreas Marquardt cope with these experiences today?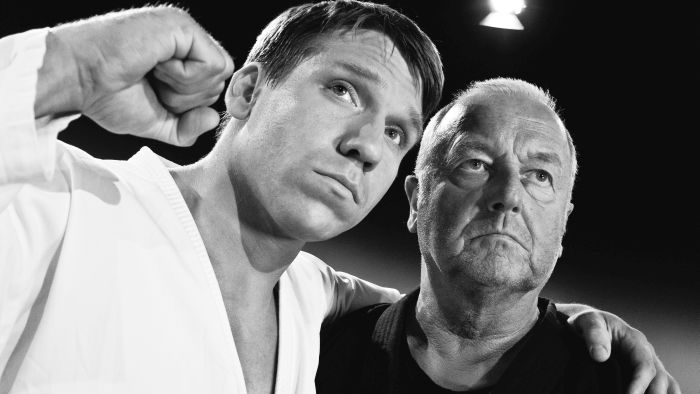 18.30 pm, Neues Off
---
Calamity qui?
Calamity Who?
Canada/ France 2014
4′
Director: Isabelle Prim
Christine Boisson is being interviewed at her Parisian apartment. The things she says and the images that appear seem to have something to do with the legendary character named Calamity Jane. But what exactly is the relationship between the two women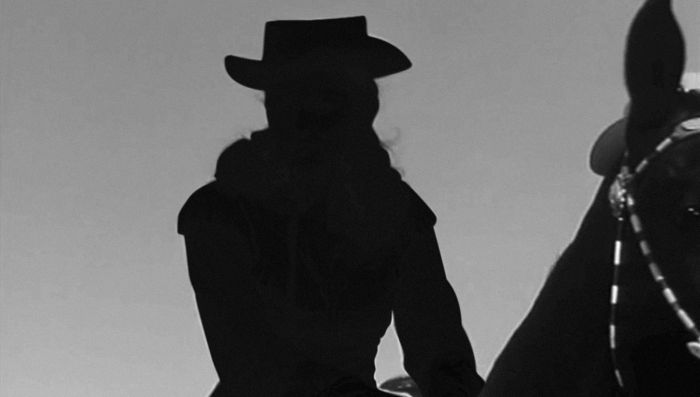 18.30 pm, Kino Arsenal 1
---
Vergine giurata
Sworn Virgin
Italy/Switzerland/Germany/Albania/Republic
Kosovo 2015
90′
Director: Laura Bispuri
Cast: Alba Rohrwacher, Flonja Kodheli, Lars Eidinger, Luan Jaha
Hana is growing up in an archaic alpine landscape in Albania where the old codes and traditional gender roles prevail. She escapes the fate of a wife and servant when, in accordance with the Kanun, the traditional Albanian law, she pledges herself to life-long virginity, thus sacrificing her femininity for perceived freedom. From now on, she is treated like a man. She is given a dagger and the name of Mark. But after ten years of seclusion, she decides to change her life and takes the train to Milan, where her sister lives with her family. She is not exactly expecting Hana …In her debut feature film, Laura Bispuri accompanies a young woman on a difficult and painful odyssey, away from the oldfashioned world of the mountains and into the modern life of the city. The film relays the story of a woman who rediscovers her sexuality and draws on allegoric images to allude to the ambivalences in Hana's emotional life. This empathic study makes do with little dialogue, instead relying on glances, gestures and a protagonist who faces up to her own inconsistencie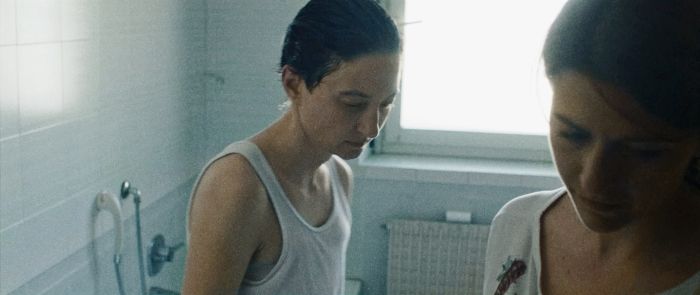 19.00 pm, Berlinale Palast
---
Zui Sheng Meng Si
Thontos Drunk

Taiwan 2015
178′
Director: Chang Tso-Chi
Cast: Lee Hong-Chi, Chen Jen-Shuo, Huang Shang-Ho, Lu Hsueh-Feng
The camera follows closely on the heels of two brothers – one gay, the other straight. Both are looking for a job in order to survive. But both are also looking for themselves and long to find a foothold in life. The younger brother sells vegetables at the market where he meets a young woman who cannot speak but who gets up to all sorts of crazy things. The older brother is attracted to a dancer at a nightclub and finds himself drawn into some shifty business. Taking its cue from the rhythm of their wanderings, the film stays very close to its protagonists, showing them in lonely moments at the river, rambling boisterously through Taipei's club scene by night, among barkers at the market, and in quiet moments together. Again and again the tone and hence the mood of the film changes. Zui Sheng Meng Si proves once again that young Taiwanese cinema does not have to avail itself of classical storytelling to fascinate its audience. These are lives in limbo, without fixed coordinates. In this way the film evolves into a portrait of manners, and a panorama of a society that does not appear to welcome its next generation.
---
Feelings are Facts: The Life of Yvonne Rainer
Feelings are Facts: The Life of Yvonne Rainer

USA 2015
83′
Director: Jack Walsh
In 1966, Yvonne Rainer changed the world of modern dance with her performance 'Trio A' by analysing the repertoire of human movement in a radically unspectacular way. Influenced by Merce
Cunningham and John Cage, she developed socio-political choreographies in which she explored on stage everyday movements in a way that deliberately thwarted audience expectations. Determined not to appear biddable, she began experimenting with film – applying to the new medium the same
revolutionary impetus that was to be found in her body work. At the age of fifty-six she came out as a lesbian, and in 1997 she won the Teddy Award with MURDER and murder.Making abundant use of
film excerpts, archive footage and reinterpretations of Rainer's choreographies, director Jack Walsh succeeds in illustrating the artistic development of an unswerving yet likeable avant-gardist – from the 1950s to the present day. Complementing Rainer's own recollections are contributions from dance experts and fellow-travellers such as Carolee Schneeman and B. Ruby Rich. Today, aged 80, she is still working on the stage, after Mikhail Baryshnikov persuaded her to make a belated comeback as a choreographer in the year 2000.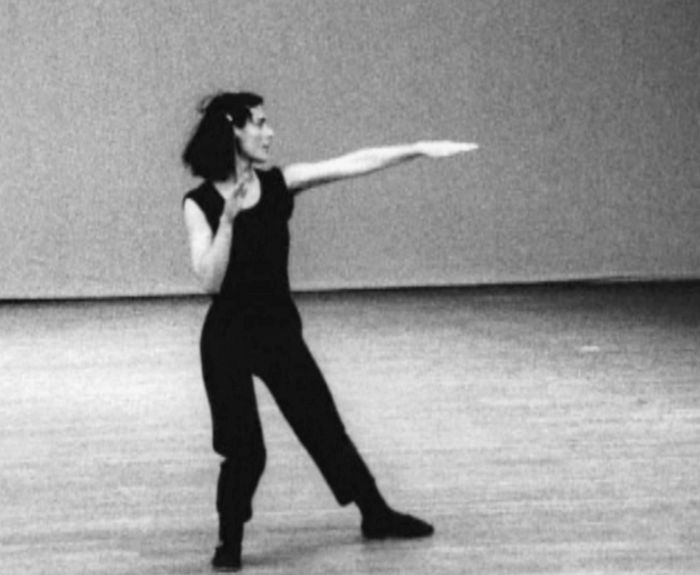 20.00 pm, CineStar 7
---
Bizarre
Bizarre
France/ USA 2015
98′
Director: Étienne Faure
Cast: Pierre Prieur, Adrian James, Raquel Nave, Rebekah Underhill
Maurice, a reticent young homeless man somehow manages to get by in Brooklyn; he spends his nights in parked cars until he finds himself at 'Bizarre', an underground club renowned for its burlesque shows. Maurice is fascinated by the club's playful revues celebrating self-determined sexuality and creative otherness, and the two female club owners both adore him. He soon becomes a part of their chosen family, and begins to bond with introverted Luka. But Maurice turns his back on Luka's growing affection. Running away from his true emotions he drifts aimlessly through the city. He tries to find his feet at a boxing club, where he meets Charlie. Unable to withstand the pressure of his repressed feelings, Maurice unleashes a mounting foment of emotions, pervaded by tenderness and menace. Étienne Faure shot his film on location at 'Bizarre'. Illuminating the promise of an independent future for his aimless escapees in the resplendent creations of 'Bizarre's' artistes, Faure moulds his keenly sensitive observations of these lost, disturbed souls to form a mesmerising trance.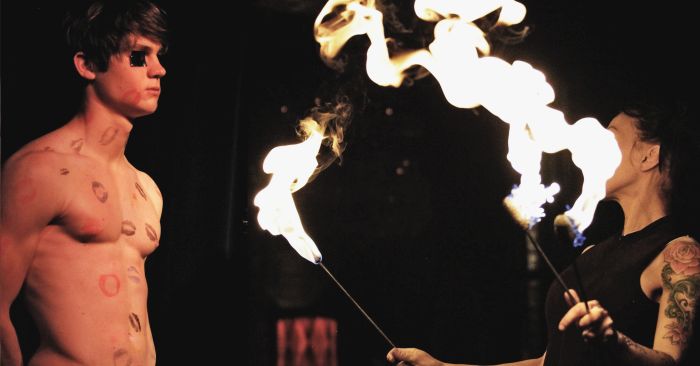 20.45 pm, Cubix 7&8
---
The Mad Half Hour
The Mad Half Hour

Argentina/Denmark 2015
22′
Director: Leonardo Brzezicki
Cast: Julian Larquier, Diego Echegoyen, Laila Maltz, Martina Juncadella
Once a day, domestic cats go completely mad. A total burst of energy. It's all over within half an hour. No one knows why. That's just how it is.Juan is rather similar. He doesn't know why, it just seizes him. The loss of commitment. Why should he bother to hit a ball over the net and wait for it to be returned, while making sure it stays within the white line? Does he still love Pedro, no, perhaps yes?
Pedro is used to it and takes him by the hand. They venture into the night together and stray, likes cats, through the streets of Buenos Aires. Far more than pursuing narrative logic, the film follows
human feelings without ever fully relinquishing the threads of the storyline.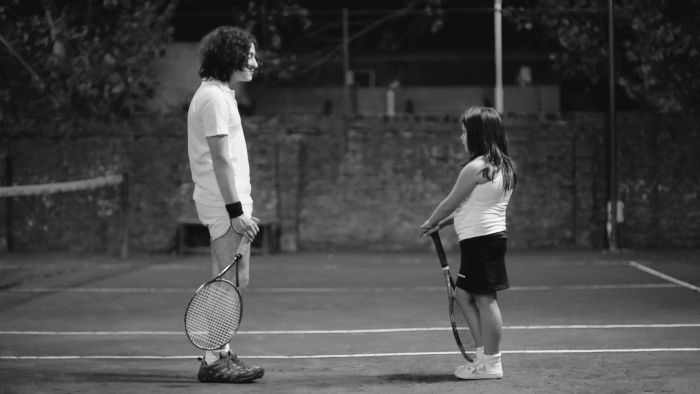 22.00 pm, CinemaxX 3
---
La Isla está Encantada con Ustedes
The Island is enchanted with You

USA/Switzerland/Australia 2014
28′
Director: Alexander Carver, Daniel Schmidt
Cast: Raul De Nieves, Lydela Leonor, Lea Cetera, Carlos Solis-Keyser
In 1511, indigenous people in Puerto Rico seduced and murdered a representative of colonial power. Some 300 years later, a further chapter of colonial history: In 1803, by order of the Spanish Crown, a doctor named Francisco Javier de Balmis travelled to Puerto Rico with a number of orphans. They were carriers of the live vaccine with which Balmis executed one of the first mass immunisations
against smallpox. A glance to the present day: In 2014, Puerto Rico produced an enormous amount of pharmaceuticals with subsidies from the USA. By interweaving strands of colonial and postcolonial history, the filmmakers of La Isla está Encantada con Ustedes have created a lyrical work that mirrors and completes the dynamics of power and lust. A modern roundelay, that restages the past in the present. Lead by a gaze of sexual subtext, this is a comedy in which reality is subordinate to strategies of power –while revealing the closely intertwined nature of health and economics, in the past and present.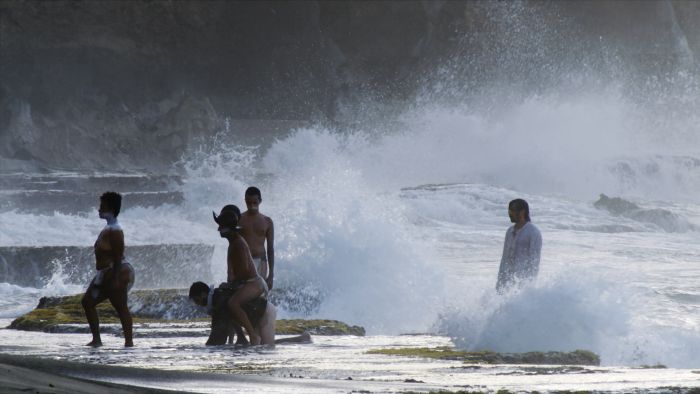 22.00 pm, CinemaxX 3
---
Al Bahr Min Ouaraikoum
The Sea is Behind
Marocco 2014
88′
Director: Hicham Lasri
Cast: Malek Akhmiss, Hassan Badida, Yassine Sekkal, Mohammed Aouragh
Tarik kann nicht über den Verlust seiner Kinder weinen. Tarik kann über sein ruiniertes Leben nicht weinen. Stattdessen verhüllt er den Schnauzer unter einem Schleier und schwingt beim Straßenumzug die Hüften zu Musik: Tarik ist ein H'Dya, ein traditionell in Frauenkleidung tanzender Künstler. Tariks Vater, der die Prozessionen durch die leeren Straßen Marokkos anführt, weint sich die Augen aus, als sein geliebtes Zugpferd Larbi nicht mehr will, und kämmt die Pferdmähne zärtlich mit seinem Gebiss. Der neue, brutale Partner von Tariks Ex-Frau nistet sich auf Tariks Toilette ein. Und Tariks Freund Murad wird wegen seiner Homosexualität bedroht und beleidigt. War wirklich, wie alle behaupten, etwas im Wasser? Oder spielt sich das alles nur in Tariks Kopf ab? In surreal-schönen, schwarz-weißen Bildern erzählt Hicham Lasri in seinem dritten Spielfilm von Traditionen und Trance, von Intoleranz und Gewalt, von Freundschaft und Körperlichkeit. Und von Tierliebe, deren Angemessenheit fraglich ist. Unterstützt von rauem Marokko-Rock, komponiert Lasri David-Lynch-artige Rauschzustände für ein modernes maghrebinisches Kinoerlebnis.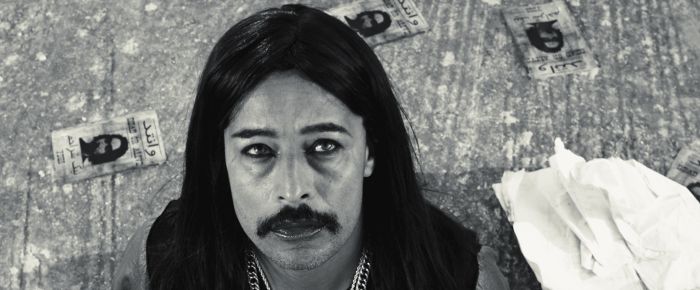 22.30 pm, CinemaxX 7
---
The Yes Men Are Revolting
The Yes Men Are Revolting
USA/Germany/France/Denmark/Netherlands 2014
92′
Director: Laura Nix, Andy Bichlbaum, Mike Bonanno
After almost two decades of humorous guerrilla activism against economic greed and political corruption as The Yes Men, everyday life and a crisis of identity seem to have caught up with the duo: Mike Bonanno now has a wife and children, and Andy Bichlbaum has not given up hope of a lasting relationship with his male partner. Their critical interventions, in which amongst other ruses they pretended to be spokespeople for the US Chamber of Commerce or for Shell and announced a change of tack to nonplussed members of the press have fizzled out without having had the desired effect. Growing responsibilities in their private lives have influenced their ability to stage interventions together. In spite of this they still feel a duty to oppose climate change – which far overshadows any of humanity's other problems – with all they have. Alternating between Andy and Mike's diary-like perspectives, this third film about The Yes Men (2009 Panorama Audience Award), describes the ups and downs of a creative friendship and takes an amusing look at the duo's successful and not so successful interventions from 2009 to the present.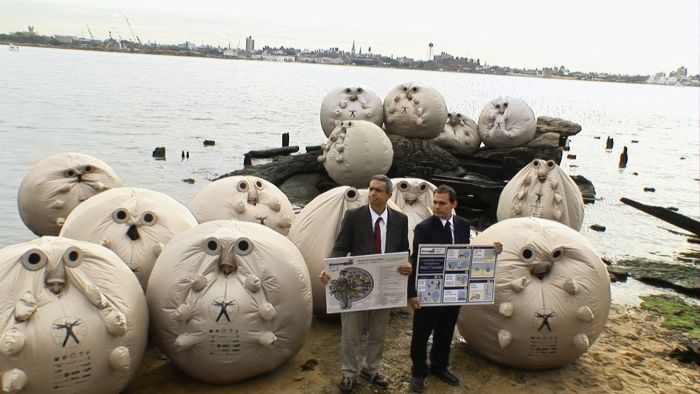 22.30 pm, Colosseum 1
---
54: The Director's Cut
54: The Director's Cut
USA 2015
106′
Director: Mark Christopher
Cast: Ryan Philippe, Salma Hayek, Neve Campbell, Mike Myers
We've revolutionised going out', pronounces club owner Steve Rubell. At the legendary Studio 54, the mother of all nightclubs since the invention of disco, clubbing was much more than just socialising to music. In 1998, director Mark Christopher created a cinematic monument to this ostentatious mixture of Art Deco and plush, frivolous 1970s hedonism and drug-induced 24-hour party people. At the producers' behest his film about this up-market disco in New York was changed considerably prior to its theatrical release and an extra 25 minutes of new material was added – including an ending that differed from the one in the original screenplay. Now, seventeen years after the premiere of the producers' version, the Panorama is presenting for the first time the painstakingly reconstructed original version telling the story of young, curly-haired blond Jersey boy Shane O'Shea who loses himself in the bewitchingly glamorous world of sex, drugs and disco and who only just manages to jump ship before the club is closed down by the police. This reintegrated version is weightier, darker, more drug-addled and above all queerer than the version that received the nod at the time.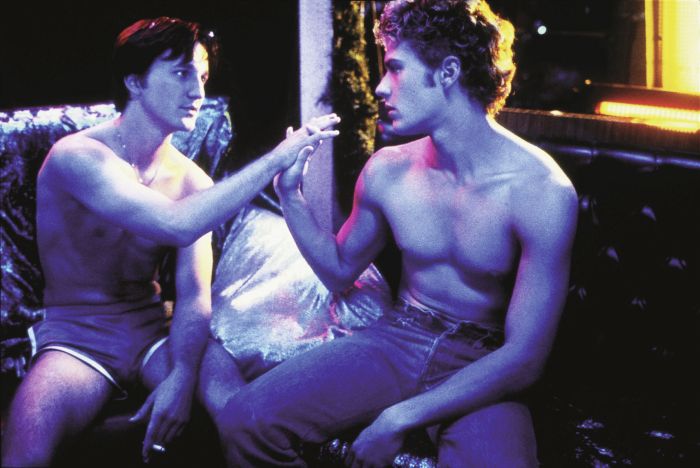 23.00 pm, Cubix 7&8