Tonight is the night: "And the TEDDY goes to…" at this year's TEDDY Awards Ceremony. The international TEDDY Jury gives away the beloved bears in the categories Best Feature Film, Best Documentary/ Essay Film, Best Short Film and the Jury Award. Everyone who does not yet have a ticket should hurry to get one! And all of you who won't make it to the ceremony will find all the information on this webpage after the show.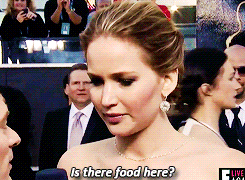 And after the ceremony you should not miss out on the teddylicious Closing Party at Schwuz! At 11 pm the best DJs in town will your feet want to move until the sweat drops from the ceiling!
But before all the festivities start, you have once again the possibility to watch the potential winners of the evening in the cinema!
---
Zui Sheng Meng Si
Thanatos Drunk

Taiwan 2015
178′
Director: Chang Tso-Chi
Cast: Lee Hong-Chi, Chen Jen-Shuo, Huang Shang-Ho, Lu Hsueh-Feng
The camera follows closely on the heels of two brothers – one gay, the other straight. Both are looking for a job in order to survive. But both are also looking for themselves and long to find a foothold in life. The younger brother sells vegetables at the market where he meets a young woman who cannot speak but who gets up to all sorts of crazy things. The older brother is attracted to a dancer at a nightclub and finds himself drawn into some shifty business. Taking its cue from the rhythm of their wanderings, the film stays very close to its protagonists, showing them in lonely moments at the river, rambling boisterously through Taipei's club scene by night, among barkers at the market, and in quiet moments together. Again and again the tone and hence the mood of the film changes. Zui Sheng Meng Si proves once again that young Taiwanese cinema does not have to avail itself of classical storytelling to fascinate its audience. These are lives in limbo, without fixed coordinates. In this way the film evolves into a portrait of manners, and a panorama of a society that does not appear to welcome its next generation.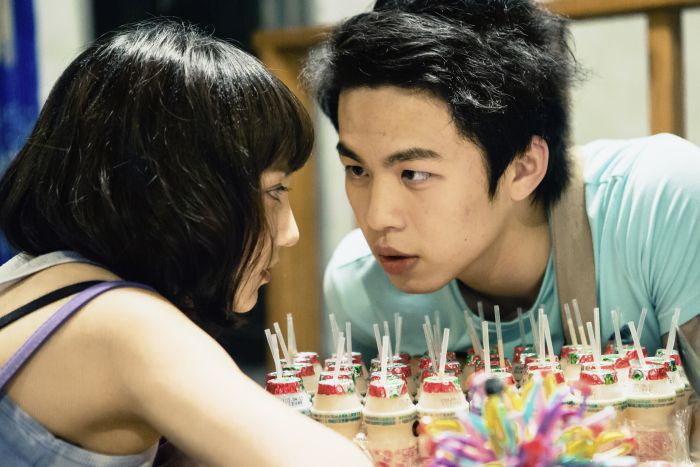 13.02.2015, 10:00, CinemaxX 7
---
Vergine giurata
Sworn Virgin
Italy/Switzerland/Germany/Albania/Republic
Kosovo 2015
90′
Director: Laura Bispuri
Cast: Alba Rohrwacher, Flonja Kodheli, Lars Eidinger, Luan Jaha
Hana is growing up in an archaic alpine landscape in Albania where the old codes and traditional gender roles prevail. She escapes the fate of a wife and servant when, in accordance with the Kanun, the traditional Albanian law, she pledges herself to life-long virginity, thus sacrificing her femininity for perceived freedom. From now on, she is treated like a man. She is given a dagger and the name of Mark. But after ten years of seclusion, she decides to change her life and takes the train to Milan, where her sister lives with her family. She is not exactly expecting Hana …In her debut feature film, Laura Bispuri accompanies a young woman on a difficult and painful odyssey, away from the oldfashioned world of the mountains and into the modern life of the city. The film relays the story of a woman who rediscovers her sexuality and draws on allegoric images to allude to the ambivalences in Hana's emotional life. This empathic study makes do with little dialogue, instead relying on glances, gestures and a protagonist who faces up to her own inconsistencies.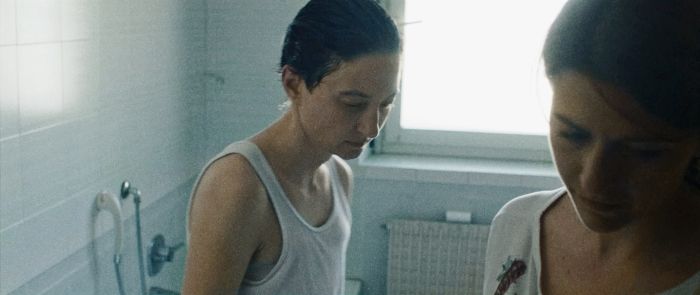 13.02.2015, 12:00, Friedrichstadtpalast
13.02.2015, 19:00, Haus der Berliner Festspiele
13.02.2015, 21:00, Friedrichstadtpalast
---
Misfits
Misfits
Denmark/Sweden 2015
74′
Director: Jannik Splidsboel
Tulsa, Oklahoma is a city in the midst of the USA's Bible Belt with almost 400,000 inhabitants, over 4,000 churches and just one gay and lesbian youth centre. This is the meeting place for Larissa, Ben, 'D' and other youths who because of their decision to live gay, lesbian and transgender lives, are either not accepted or, on the contrary, have received strong support from their families and unconditional love.Jannik Splidsboel, whose film How Are You screened in Panorama in 2011, takes an almost entirely observational approach to his depiction of the lives of these three teenagers, their first love or their longing for love, their coming out, and their dreams for the future. In an unhurried, almost casual fashion, the film shows how 'D' manages step by step to improve his precarious existence and how Ben learns from his brother how to defend himself. Courtesy of Larissa and her girlfriend we are also are treated to one of the most dazzling and colourful lesbian kiss scenes in film history. Misfits portrays three basically 'average' young people as they try to live queer lives, find their gender identities, love and be loved in an environment pervaded by religious fundamentalism.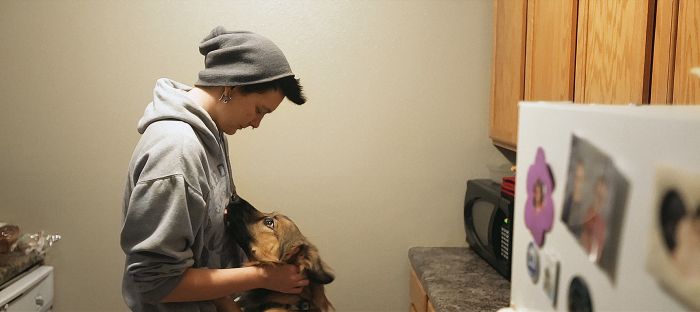 13.02.2015, 12:00, CineStar 7

---
Sangue azul
Blue Blood
Brazil 2014
119′
Director: Lirio Ferreira
Cast: Daniel de Oliveira, Caroline Abras, Sandra Coverloni, Rômulo Braga
A ship with a circus on board approaches an island in the South Atlantic. During the evening performance the ringmaster and illusionist Kaleb presents an artiste named Zolah who immediately wins over the hearts of everyone in the audience. Zolah is Pedro, who left the island twenty years previously at the age of nine. His reunion with his mother Rosa and his introverted sister Raquel brings the well-travelled acrobat face to face with old wounds and buried dreams. Raquel's world is the sea, and she always retreats to its depths. She wishes that Pedro could be a part of it. Questions begin to present themselves to Pedro. Why did his mother send him away all those years ago? Whilst islanders and circus artistes enjoy a lively exchange, Pedro and Raquel seek out a place of their own. Feelings of guilt, rivalry and burgeoning pride soon become a challenge for the whole family. Lirio Ferreira explores these siblings' willingness to take risks in images of impressively virtuoso circus acts, combining these with elements of classical tragedy and magical images of the sea to create a brilliant cinematic experience.
---
The Yes Men Are Revolting
The Yes Men Are Revolting
USA/Germany/France/Denmark/Netherlands
2014
92′
Director: Laura Nix, Andy Bichlbaum, Mike Bonanno
After almost two decades of humorous guerrilla activism against economic greed and political corruption as The Yes Men, everyday life and a crisis of identity seem to have caught up with the duo: Mike Bonanno now has a wife and children, and Andy Bichlbaum has not given up hope of a lasting relationship with his male partner. Their critical interventions, in which amongst other ruses they pretended to be spokespeople for the US Chamber of Commerce or for Shell and announced a change of tack to nonplussed members of the press have fizzled out without having had the desired effect. Growing responsibilities in their private lives have influenced their ability to stage interventions together. In spite of this they still feel a duty to oppose climate change – which far overshadows any of humanity's other problems – with all they have. Alternating between Andy and Mike's diary-like perspectives, this third film about The Yes Men (2009 Panorama Audience Award), describes the ups and downs of a creative friendship and takes an amusing look at the duo's successful and not so successful interventions from 2009 to the present.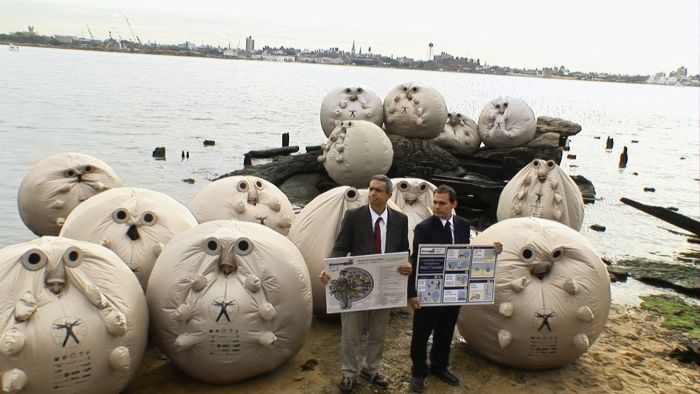 13.02.2015, 14:00, Kino International
---
Ausência
Absence
Brazil/Chile/France 2014
87′
Director: Chico Teixeira
Cast: Matheus Fagundes, Irandhir Santos, Gilda Nomacce, Francisca Gavilán
Ever since his father left his family in the lurch, 15-year-old Serginho has been trying hard to cope with the new challenges of his daily life. He works with his uncle at the market, supports his depressed mother as best he can, and takes care of his little brother. But how can he find his place in a world that compels him to grow up in such a hurry? Full of longing for affection, he drifts through São Paulo with his friends Mudinho and Sivinha, visits an aunt who works in a circus on the edge of the city and spends as much time as possible with Ney, who gives private lessons, and to whom he feels especially close. But Serginho is consistently disappointed. He wants more from his mother, his friends, his future – and from Ney. Unfazed by the machismo that pervades his environment, he refuses to give up searching for a path between being responsible and caring and finding emotional security.Matheus Fagundes, who is just 17, lends both charismatic charm and a touching sense of self-confident ease to the role of the emotionally and sexually troubled Serginho. This enables his character to bear the weight of social expectations with profound faith in the possibility of happiness.
13.02.2015, 14:30, Cubix 9
---
---
Feelings are Facts: The Life of Yvonne Rainer
Feelings are Facts: The Life of Yvonne Rainer

USA 2015
83′
Director: Jack Walsh
In 1966, Yvonne Rainer changed the world of modern dance with her performance 'Trio A' by analysing the repertoire of human movement in a radically unspectacular way. Influenced by Merce
Cunningham and John Cage, she developed socio-political choreographies in which she explored on stage everyday movements in a way that deliberately thwarted audience expectations. Determined not to appear biddable, she began experimenting with film – applying to the new medium the same
revolutionary impetus that was to be found in her body work. At the age of fifty-six she came out as a lesbian, and in 1997 she won the Teddy Award with MURDER and murder.Making abundant use of
film excerpts, archive footage and reinterpretations of Rainer's choreographies, director Jack Walsh succeeds in illustrating the artistic development of an unswerving yet likeable avant-gardist – from the 1950s to the present day. Complementing Rainer's own recollections are contributions from dance experts and fellow-travellers such as Carolee Schneeman and B. Ruby Rich. Today, aged 80, she is still working on the stage, after Mikhail Baryshnikov persuaded her to make a belated comeback as a choreographer in the year 2000.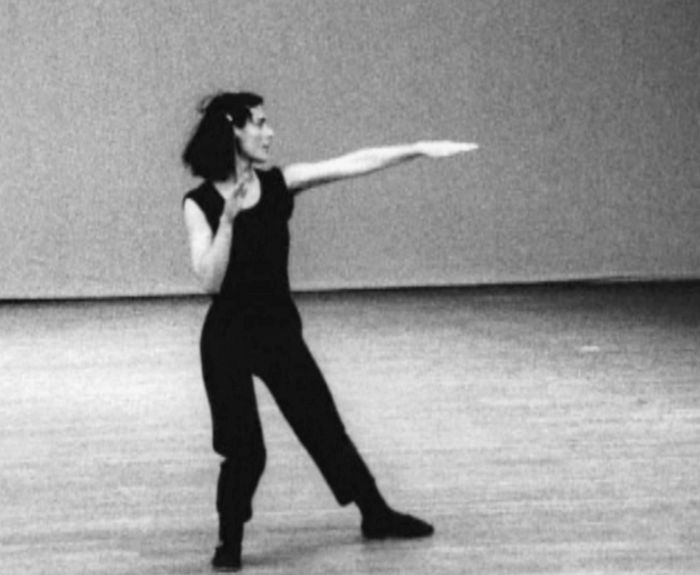 13.02.2015, 14:30, CineStar 7
13.02.2015, 17:00, Kino International
---
Je suis Annemarie Schwarzenbach
My name is Annemarie Schwarzenbach
France 2015
85′
Director: Véronique Aubouy
Cast: Julia Perazzini, Nina Langensand, Megane Ferrat, Pauline Leprince
Annemarie Schwarzenbach was a shimmering figure of bohemian society of the 1920s. A talented writer, she was lesbian, addicted to drugs, a globetrotter, bewitchingly androgynous and – much
to her domineering Nazi-loving mother's chagrin – also anti-fascist. Berlin photographer Marianne Breslauer described her as the most beautiful creature she had ever encountered. Schwarzenbach
died young at the age of 34. She remained forgotten until the 1980s when her books began to be republished and her biography reconstructed. Director Véronique Aubouy does more than merely
save Annemarie Schwarzenbach from obscurity, she brings her into the present. Sixteen young actors of both genders slip into different roles in order to play Schwarzenbach, her friends and lovers.
Increasingly fascinated by the pull of this figure, their oscillations between genders becomes a joint project. Something that begins as an audition in which the young actors are asked to attach their
biographies to that of the writer, ends in a dance of relationships in which the borders between reality and dramatization are blurred.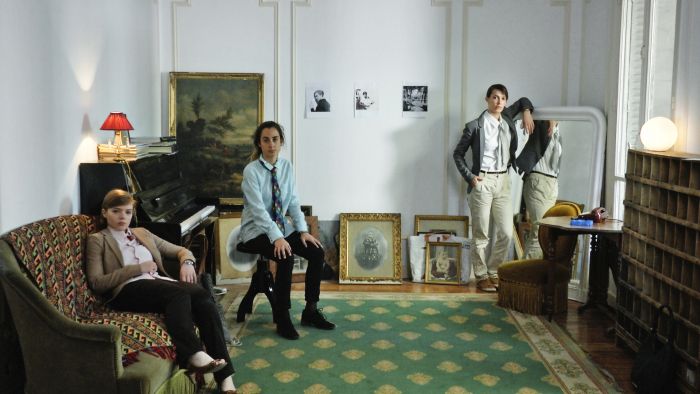 13.02.2015, 15:30, Colosseum 1
---
---
Bad at Dancing
Bad at Dancing
USA 2015
11′
Director: Joanna Arnow
Cast: Eleanore Pienta, Keith Poulson, Joanna Arnow
Interior, Day. Matt and Isabel lie in bed, naked. They have sex. She sits on top of him; they surrender to one another passionately. Joanna, the flatmate, enters the room and sits on the corner of the bed, close to them. Isabel and her boyfriend continue undeterred. Matt (after a while, without glancing sideways): What is she doing here?Joanna: "I can't sleep."Isabel (without stopping having sex): "Were we too loud?"Joanna (without moving to leave): "No." Bad at Dancing is a chamber piece and a comedy. A sex game. Isabel and Matt are together, Joanna would like to be with Matt. Joanna tries out various approaches to achieve her aim. The three move together, embracing from body to body – dressed and naked. Always introversive. Always direct. Envy and emotion are given a surreal context. The question of borders and their necessity is raised anew. A rickshaw always drives on three wheels.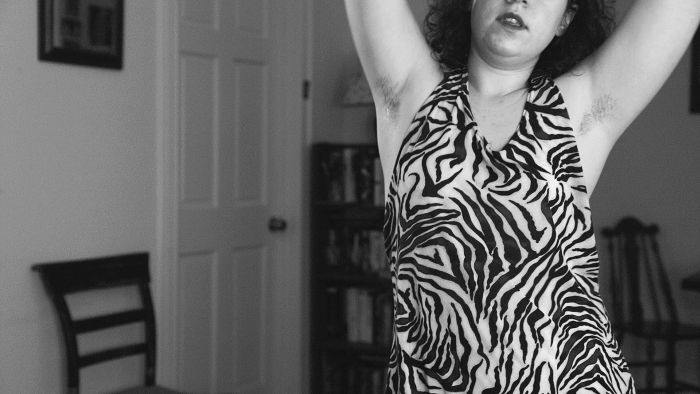 13.02.2015, 16:00, CinemaxX 5
---
Gineva
Gineva

Switzerland 2014
43′
Director: Nicolas Cilins
Adi and Florin, two illegalized migrants from Romania, earn money working as escorts in various Geneva bars. Extracted from reality in front of a blue screen, they are reenact their own experiences and talk about their dreams of money and cinema.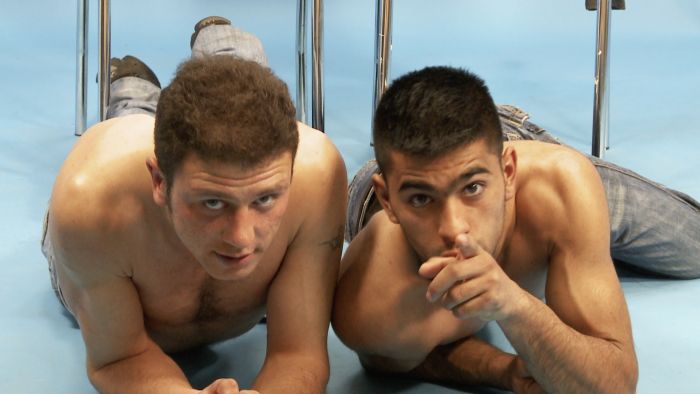 13.02.2014, 16:30, Kino Arsenal 1
---
Stories of Our Lives
Stories of Our Lives

Kenya 2014
60′
Director: Jim Chuchu
Cast: Kelly Gichohi, Janice Mugo, Jimmy Wanjala, Tim Mutungi
Members of the multi-disciplinary art collective NEST spent several months travelling Kenya collecting stories of young LGBTI people – stories about their experiences and their lives in a country that is still extremely homophobic. Based on countless anonymous interviews, they developed five screenplays for short films which provide an insight into the current situation and the problems of these sexually marginalised young people. These short, unadorned scenes are presented by director Jim Chuchu in crisp, poetic black-and-white images and accompanied by a measured soundtrack. The episodes, which address topics such as the search for identity and self-determination, enforced heterosexualisation and the struggle for acceptance, have one thing in common: they all describe the need for love and the fear of fulfilling this love openly. Time and again, their fears prompt the question: it is better to hide away, resign oneself to the situation and leave the country, or to stay and fight openly for sexual diversity? In spite of the film being banned from public screenings in Kenya, the members of NEST have opted for the latter and are determined to continue their struggle for recognition.
---
Viaggio nella dopo-storia
Journey into Post-History

France 2015
80′
Director: Vincent Dieutre
Cast: Simon Versnel, Vincent Dieutre, Emmanuel Pierrat
A couple travels to Italy. During their trip, the state of their relationship becomes clear to them: They argue, take different paths and wonder whether to divorce. Vincent Dieutre has remade Viaggio in Italia and adapted it to his own life. Alex and Kate have become Alex and Tom, played by Vincent himself and his partner Simon. This new couple goes to the same places, experiences similar things, but their time in Naples is inevitably not the same. The city has changed, as has the nature of relationships, tourism has become more digital. As the two become increasingly alienated, Vincent the filmmaker moves through the city with his camera. He talks about how Rossellini's film shaped him. We hear his thoughts about a remake, notes to himself, his discussions with a copyright lawyer. Isabella Rossellini says she doesn't want to be involved. In Vincent and Simon's world, much like that of Tom and Alex, the procession of the final scene gives way to a football match. What was still sacred back then becomes a riot here. Yet the miracle of Rossellini's film remains, inscribing itself on the bodies of the two men: voices superimposed on to images and images superimposed on to bodies.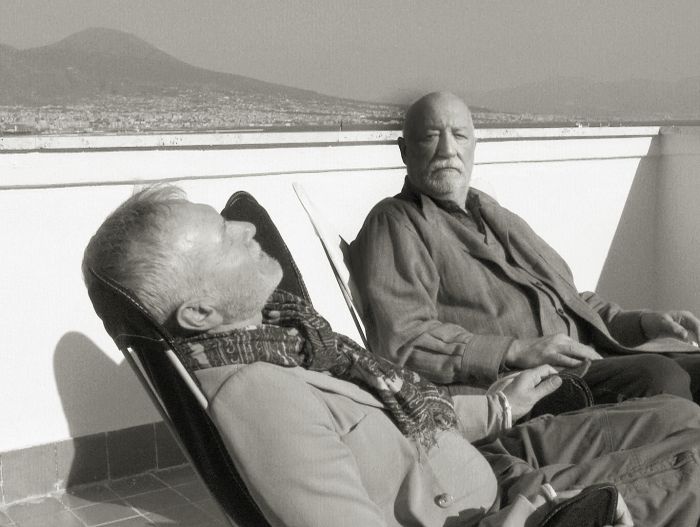 13.02.2015, 17:30, Kino Arsenal 1
---
Haftanlage 4614
Prison System 4614
Germany 2015
60′
Director: Jan Soldat
In the world of fetishes there's a niche for every type of proclivity. Arwed caters to a special type of customer: he runs a private prison where he is happy to find all sorts of ways to bully and victimise his paying guests on the other side of the bars. As prison director he is master of ceremonies; during the course of one week, he and his partner Dennis help fulfil their prisoners' wildest fantasies. The inmates treat the days and nights they spend in handcuffs and leg irons as a real holiday – here at last is a place they can finally switch off and relax. The role play looks a bit like improvised theatre, especially when director Arwed and his assistant Dennis plan the next day's performance in the bare cells and corridors of their institution. But even when using the whip these 'torturers' never forget to be humane and, in spite of their tough prison warder guise, they are fully aware, in way that is almost caring, of their responsibility for those in 'detention'. Director Jan Soldat poses his questions offscreen, in the same interview style that he adopted in his short films.

13.02.2015, 17:30, Cubix 7

---
Kumu Hina
A Place in the Middle
USA 2014
25′
Director: Dean Hamer, Joe Wilson
She feels more like a boy than even most boys. This documentary follows eleven-year-old Hawaiian girl Ho'onani who dreams of leading her school's traditional hula group. Hula is a mixture of dance and theatrical performance that is central to the culture of the Hawaiian people and requires a lot of practice. Here too, Ho'onani would like to dance on the boys' side. Normally she wouldn't be allowed to do so but Ho'onani is fortunate to have as her teacher the charismatic Kumu Hina, who assigns Ho'onani a special place in the middle. In ancient Hawaii there was always a life between genders, and a place for those who embrace both men and women. Kumu Hina knows what she is talking about for, twenty years ago, she was a man. Kumu Hina uses her profound knowledge to convey to her pupils the culture of their ancestors – a culture that has not been forgotten, in spite of years of influence by Christian missionaries. The magic word is 'aloha', meaning a life in harmony with nature. It also means that every man and every woman should be loved, respected and valued.
13.02.2015, 17:30, CinemaxX 1

---
San Cristóbal
Saint Christopher

Chile 2015
29′
Director: Omar Zúñiga Hidalgo
Cast: Samuel González, Antonio Altamirano
Lucas and Antonio. Two young men meet and fall in love in a remote fishing village in the south of Chile. One lives there, the other is visiting. Sensuality dictates the pace of the narrative and the lives of both in the days to follow: Being one another's mirror. Recognising one another. Yielding to one another. When the village rebels against their love, the experience of this limitation marks a momentous step in Lucas' and Antonio's adulthood.A simple story of love and devotion, shot in the style of Direct Cinema. A not-so-simple setting, in Chile's Deep South, where anything that breaks out of the perceived norm is to be destroyed immediately, punished. The characters know of the limitations within the village. The romantic notion of resistance is brief; of greater importance are life and the love that is found. Going further. Going beyond the self.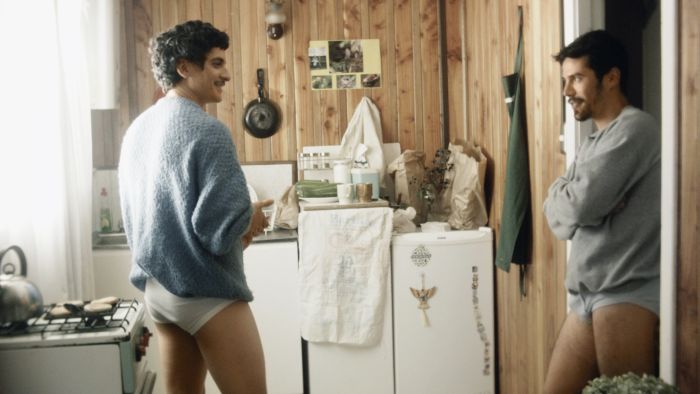 13.02.2015, 17:45, Colosseum 1
---
Dear John
Dear John

Austria 2014
42′
Director: Hans Scheugl
50 years ago, director Hans Scheugl could have left Vienna and started a new live in the USA. His contact with John, his American lover of past days, has long since ended. An investigation into what was and what might have been.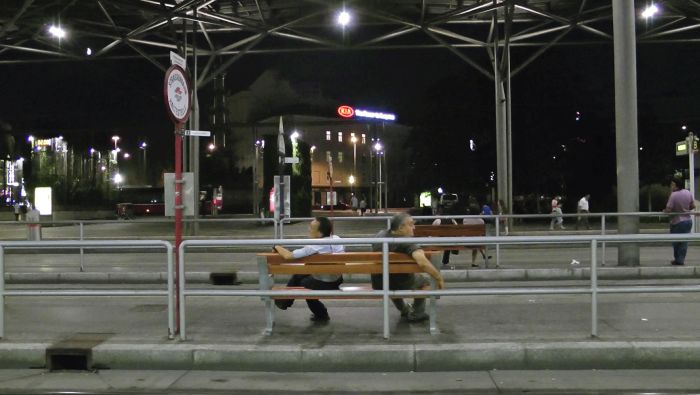 13.02.2015, 18:00, Kino Arsenal 1

---
Vyshybalshitsa
Embroideress
Russian Federation 2014
21′
Director: Lyusya Matveeva
Dreams and memories grasped as mystery. Five short stories united by one action: "Helicopter," "Sunday," "Doggie-photographer, "Mausoleum," and "Apocalypses." A reference to a Greek myth – the goddesses of fate, spinning the thread of human life.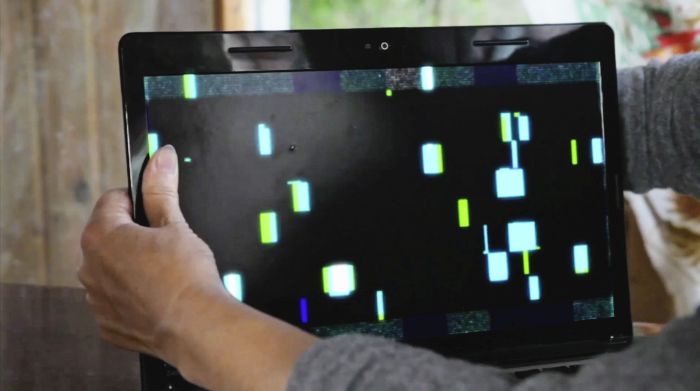 13.02.2015, 18:00, Kino Arsenal 1
---
---
Al Bahr Min Ouaraikoum
The Sea is Behind
Marocco 2014
88′
Director: Hicham Lasri
Cast: Malek Akhmiss, Hassan Badida, Yassine Sekkal, Mohammed Aouragh
Tarik is unable to shed a tear about the loss of his children, or that his life is in ruins. Instead he shrouds his moustache under a veil and sways his hips to the music as the procession moves down the street. Tarik is a H'Dya, a traditional dancer who appears in women's clothes. Tarik's father, who leads the parade down the empty Moroccan streets, bawls his eyes out when his beloved cart horse Larbi refuses to go on, and combs his mane lovingly with his dentures. Tarik's ex-wife's bruiser of a partner installs himself in Tarik's toilet. And Tarik's friend Murad is threatened and insulted on account of his homosexuality. Was there really something in the water, as everyone claims? Or is it all in Tarik's mind?In his third feature film, Hicham Lasri tells us, in surreally beautiful black-andwhite images, about traditions and trance, intolerance and violence, friendship and flesh and blood. And about animal love – albeit possibly inappropriate. Aided by raucous Moroccan rock music, Lasri composes a David Lynch-like state of intoxication to produce a truly modern Maghrebi cinematic experience.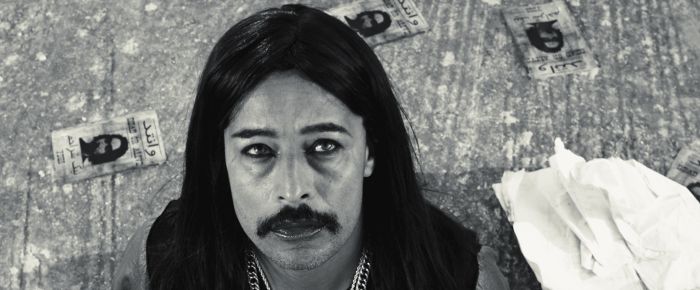 13.02.2015, 20:30, CineStar 3
---
Blood Below the Skin
Blood Below the Skin

USA 2015
32′
Director: Jennifer Reeder
Cast: Jennifer Estlin, Kelsey Ashby-Middleton, Morgan Reesh, Marissa Castillo
'Blood Below the Skin' chronicles a week in the lives of three teenage girls who attend the same high school class. Coming from different social circles, the girls prepare for the most important night of their life – Prom Night. They have formed a dance group and rehearse the choreography. Two of the girls are drawn to one another and fall in love. The third is forced to take care of her distraught mother in the wake of her father's disappearance. Each girl finds refuge in her room and bed, comfort and a place to explore new feelings. The music blasting from the turntable provides a magical synchronicity between them all – the space-time continuum is expanded by the dimension of music.Jennifer Reeder tells everyday stories with stylistic elements of magic realism that recall Latin American cinema. All it takes is the power of thought in order to express your love to another.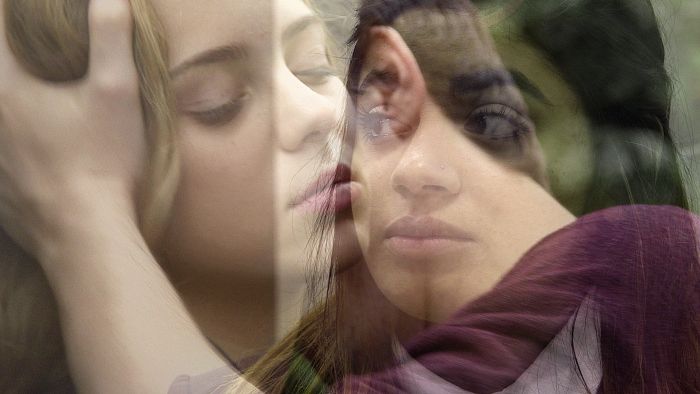 13.02.2015, 22:00, CinemaxX 3
---