Berlinale has been running for one week now and I have the feeling it just started two days ago. Time is running super fast and we reached the seventh day of the Festival. And we really need a motto…how about…CHINA!
China's law does not criminalize homosexuality but of course it's not the favourite country you want to live in when you are a queer person. "Chinese censors consistently hone in on LGBT content in media and film" writes Xiaogang Wei, who is part of the TEDDY Jury, in a statement. So we are especially happy about having two chinese films with queer content at the Berlinale this year!
We've got a documentary named "Inside the Chinese Closet" which is following two gay people in their everyday life in China. A boy and a girl. The film focuses on the pressure of society and their families they have to face. An empathetic film about the view of young queer people and how they deal with the expectations of their environment.
In the film "Dog Days" we see a mother coming home from her work as a nightdancer in a club, and she finds her baby stolen by her boyfriend. On her way to search her child she befriends a gay nightdancer who happens to know, where her boyfriend is.  Together they are chasing down Lulu's boyfriend, who turns out to be Sunny's lover as well. A triangle bisexual story which is rarely seen, especially in a country like China. Worth watching!
---
Balcony
Balcony
Great Britain 2015
17´
Director: Toby Fell-Holden
Cast: Charlotte Beaumont, Genevieve Dunne, Umit Ulgen
Tina doesn't know much about the schoolgirl in the Hijab. She might come from Egypt or Iraq – but what does it matter? She would like to be there for her neighbour, protect her from her tough life at home and in the hood but how comes Tina thinks she knows so much about this foreign girl? Dana starts wondering why the blond girl has been paying her so much attention of late. Prejudice and tentative advances collide head-on in the block.
14:30, CinemaxX 1
---
Brüder der Nacht
Brothers of the Night
Austria 2016
88´
Director: Patric Chiha
Vienna as a non-stop nocturnal land and doss house, the flip side of its daytime persona, devoid of schmaltzy waltzes and'Mozartkugel' chocolates. The protagonists of this documentary are young Bulgarian Romani who have wound up in Vienna due to poverty and the need to earn money for their families, and who are now offering their services at a hustler bar called 'Rüdiger' in the working class Margareten district. They wait, smoke, drink, play pool, dance, show off, fool around like young bulls, talk about their meagre excesses, their families and prostitutes, exchange experiences and information about the 'bizness'. In the midst of a clash of cultures and traditions, they lead lives caught between worlds, between reality and illusion; transitory, deceptive, and fleeting. Gus Van Sant meets James Bidgood meets Pasolini: Brothers of the Night is a hybrid, imbued with a rich baroque semi-darkness, deliberately and disturbingly oscillating between documentary and dramatised scenes. This is no moralising know-all ballad about hustlers, but rather a tender and empathetic hymn to the grim poetry of survival and the solidarity amongst the ostracised and the outsiders.
---
Fugue
Fugue
Germany/ Canada 2015
8´
Director: Kerstin Schroedinger
Framed by a grid, an elusive figure performs a number of movements, leaving traces of light on the film emulsion, while short texts are projected onto the figure, obscured by the uneven surface of its body. "In music, a fugue is defined as a contrapuntal compositional technique in two or more voices. It builds on a motif that is introduced at the beginning in imitation and recurs frequently in the course of the composition. Fugue is a formal and physical experiment in order to understand the relationship between image, sound, and movement. The movements and the setting are informed by motion studies that were conducted and filmed at the beginning of the 20th century with the aim to use film making for analyzing motions of manual mechanized labor as well as concepts of biomechanics that elaborate the relation between body and mind as a form of actor's training. In the film, the movements that are recorded are also printed on the part of the film strip that is read as optical sound by the light sensitive sensor of the projector. What you hear is what you see. The image recurs as movement and the movement recurs as sound." Kerstin Schroedinger
20:30, Akademie der Künste
---
Inside the Chinese Closet
Inside the Chinese Closet
Netherlands 2015
Director: Sophia Luvarà
Andy's father knows that his son is gay but, determined to conform to social conventions, he urges him to find a lesbian who is willing to marry him. Cherry has already entered into a bogus marriage, but now her parents expect their only daughter to provide them with a grandchild so that they can finally put an end to their neighbours' gossiping. In China, gay men and lesbians are under enormous pressure to spare their parents the perceived shame of having an unmarried child without offspring. Homosexuality may no longer be illegal, but understanding for a life lived outside traditional heterosexual norms is rare. Director Sophie Luvarà sensitively accompanies Andy and Cherry in their often absurd attempts to do the right thing: bogus gay-lesbian marriage markets, agencies for surrogate mothers, price lists for the adoption of newborns and their constantly carping parents who will simply not let up. Both Cherry and Andy succeed in carving out a little piece of freedom. But they also know that their personal coming out will, in turn, force their parents into a closet, since they do not want to acknowledge their children's homosexuality in public.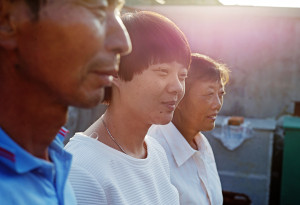 12:00, CineStar 7
---
Jonathan 
Jonathan
Germany 2016
99´
Director: Piotr J. Lewandowski
Cast: Jannis Niewöhner, André Hennicke, Julia Koschitz, Thomas Sarbacher, Barbara Auer
Jonathan is 23; he and his aunt, Martha, work on their farm. Jonathan also devotes himself to looking after his father Burghardt, who has cancer. But, railing against his own decrepitude that prevents him from a dignified end, his father stubbornly sabotages all of his son's efforts. Jonathan finds it increasingly difficult to cope until they hire a young carer, Anka, to help. Jonathan and Anka fall in love; her experience of working at a hospice helps Jonathan to gain a new inroad into his father's situation. When Burghardt's long-lost boyhood friend Ron appears on the scene his health visibly improves and, although the family sees Ron as an intruder and is against it, Ron continues to stay on to be with Burghardt. Jonathan discovers that, many years ago, his father and Ron were deeply in love. All at once, the façade of cherished family beliefs crumbles and long-repressed secrets come to light – but Jonathan also learns how to let go of his father and to accept his death as something that will open up the path towards a self-determined life.
---
Jug-yeo-ju-neun Yeo-ja
The Bacchus Lady
South Corea 2016
110´
Director: E J-yong
Cast: Youn Yuh-jung, Chon Moo-song, Yoon Kye-sang, An A-zu, Choi Hyun-jun
Youn So-young has contracted gonorrhoea. 'Make me well again quickly' she tells her gynaecologist, because she wants to get back to work. In a park in Seoul, this senior citizen manages to scrape together just enough money as a 'Bacchus lady' to avoid begging. 'Bacchus ladies' are elderly women who sell a popular soft drink containing taurine known as 'Bacchus' and offer sexual services on the side. Korea's rapidly ageing society barely has any money left for its pensioners and poverty among the elderly is soaring. When little Min-ho's mother is detained by the police, So-young takes him in. The boy, who only speaks Filipino, experiences a rather unique sort of patchwork family in this courtyard peopled, alongside So-young, by her transgender neighbour and a one-legged young man. Many of So-young's aged former clients and friends can no longer see a way out of their situation. One after the other, they ask this laconic lady, who for years has been harbouring a secret, for one last favour.
 17:45, CineStar 3
---
Liebmann
Liebmann
Germany 2016
82´
Director: Jules Herrmann
Cast: Godehard Giese, Adeline Moreau, Fabien Ara, Bettina Grahs
Teacher Antek Liebmann leaves his life in Germany behind and rents a place in summery northern France. He learns from his landlord that a murderer is striking terror in the surrounding woods. Following a dark premonition, Antek is drawn into the undergrowth on one of his walks where he makes a dangerous discovery. He befriends his attractive neighbour Geneviève and the cheery Sébastien. No one realises that Antek has left behind a terrible secret in his own country. Only the discovery of a mysterious property to which Geneviève takes him and the possibility of a new romantic relationship present Antek with a way out of the darkness. But before he can begin a new life he must confront the ghosts of his past, conjure them up and exorcise them. The storytelling is like the feathers of a peacock, oscillating between unobtrusive glimmering and striking iridescence. And so gentle summer days slide into night-time terrors or vanish in short flights of fancy into parallel worlds.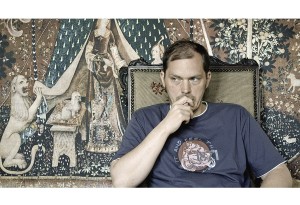 12:00 Colosseum 1 & 20:30 CinemaxX 1
---
Mãe só há uma
Don´t Call me Son
Brazil 2016
82´
Director: Anna Muylaert
Cast: Naomi Nero, Dani Nefussi, Matheus Natchergaele, Daniel Botelho, Luciana Paes
Pierre is seventeen and in the middle of puberty. He plays in a band, has sex at parties and secretly tries on women's clothing and lipstick in front of a mirror. Ever since his father's death, his mother Aracy has looked after him and his younger sister Jacqueline, spoiling them both. But when he discovers that she stole him from a hospital when he was a new born baby, Pierre's life changes dramatically. Overnight, his world falls apart and his mother Aracy is arrested. His biological parents Gloria and Matheus have spent seventeen years searching for him; they are now desperate to make up for the lost years and spend time with their eldest son, whom they call Felipe. Observed from a critical distance by his younger brother Joca, Pierre/Felipe moves in with his well-heeled new family, who are determined to mould him according to their ideals. But Pierre has his own designs for his life. Director Anna Muylaert won the Panorama Audience Award in 2015 for Que horas ela volta? (The Second Mother). In her new work she explores the mother-child relationship through the eyes of a rebellious son whose whole world unravels overnight.
---
Mamma vet bäst
Mother knows best
Sweden 2016
12´
Director: Mikael Bundsen
Cast: Alexander Gustavsson, Hanna Ullerstam, Karl-Erik Franzén
So, he's gay. This evening he's introduced his boyfriend to his mum and later kissed him passionately goodbye in the car. He's fortunate to have such an open-minded mother – not everyone is as lucky. But she thinks it's best that he doesn't tell his father yet. And he certainly shouldn't make it known in public that he's gay. A lot of people are prejudiced. Not everyone is as understanding as his mother.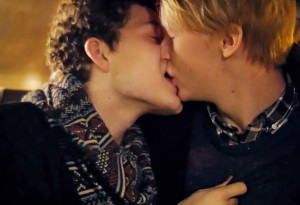 17:30, CinemaxX 1
---
Moms On Fire
Moms On Fire
Sweden 2016
12´
Director: Joanna Rytel
An ordinary neighbourhood in an ordinary town. Two women sit on a sofa and scratch their pregnant bellies. Four days till the due date. The situation is as unbearable as it is unavoidable. It's simply intolerable. Masturbation isn't an option, the clitoris can't even be reached, and the boyfriend is absent, but he's boring anyway. The only advantage in having another child is that one no longer has to play with the first one. Artist and filmmaker Joanna Rytel uses claymation to candidly address questions and situations that usually go unnoticed.
17:00, Colosseum 1
---
Nunca vas a estar solo
You'll Never Be Alone
Chile 2016
82´
Director: Alex Anwandter
Cast: With Sergio Hernandez, Andrew Bargsted, Jaime Leiva, Benjamin Westfall, Antonia Zegers
Introverted Juan, manager of a mannequin factory, lives alone with his eighteen-year-old gay son, Pablo. Whilst Pablo blithely studies dance, Juan is hoping that, after twenty-five years at the firm, his boss will consider him for a partnership. When Pablo is badly wounded in a brutal homophobic attack which sees him hospitalised, his father realises just how far they have become estranged. A lack of witnesses and expensive medical bills force Juan to leave the quiet stability of his life for good and reposition himself in a world where there is discrimination. Time and again his efforts come to nought, until one night on the streets of Santiago he makes up his own rules in order to save his son. In March 2012 the murder of an openly gay Chilean man, Daniel Zamudio, by neo-Nazis, shocked the whole of Latin America. This incident inspired Alex Anwandter to make his impressively multi-layered debut. Demonstrating great sensitivity, he traces in the figure of the reclusive father the enormous pressure that exists to adhere to the fixed norms of masculinity – only to dissolve these norms in Pablo's dream of living a life that is vibrantly queer.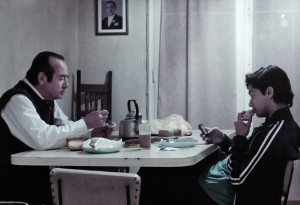 22:45, CineStar 3
---
O noapte in Tokoriki
A night in Tokoriki
Romania 2016
18´
Director: Roxana Stroe
Cast: Cristian Priboi, Cristian Bota, Iulia Ciochina
There's a party in the Tokoriki nightclub. It's Geanina's 18th birthday and the whole village is there. The neon palm is lit up and the DJ is wearing his golden shirt. Alin and his friends ride up in style in the horse-drawn cart and take over the dance floor. But Alin seems to have something on his mind. His eyes sparkle when he sets eyes on Geanina, which doesn't escape her boyfriend's attention. Emotions are running high. Will there be an escalation tonight?
---
San Fu Tian
Dog Days
Hong Kong, China 2016
95´
Director: Jordan Schiele
Cast: Huang Lu, Tian Mu Chen, Luo Lanshan, Xing Dan Wen
Endless dog days of summer weigh heavily on the impoverished suburb of Changsha where a young mother, Lulu, works as a dancer in a cheap nightclub. Coming home late one night, she discovers that her boyfriend Bai Long has disappeared with their baby. Her desperate search takes her to a transvestite bar where gay man Sunny is performing; he knows the whereabouts of the child's father. A deal is struck between the odd couple whose lives are now fatefully intertwined: Lulu wants her child back and, in return, agrees to not stand in the way of Bai Long's and Sunny's homosexual relationship. In a hotel in Shanghai events come to a head as emotional and erotic trials and tribulations pile up. It transpires that, pretending the child's mother had died, Bai Long has now sold his son to a wealthy couple, a doctor and his wife. What does the future hold for Lulu and her child?
19:00, Zoo Palast 1
---
Strike a Pose
Strike a Pose
Netherlands/ Belgium 2016
83´
Director: Ester Gould, Reijer Zwaan
For her 'Blond Ambition' tour in 1990, pop superstar Madonna was looking for performers who knew how to vogue. Out of countless hopefuls, the gay dancers Salim, Kevin, Carlton, José, Luis and Gabriel were chosen along with breakdancer Oliver, the only straight guy. The tour was accompanied by a film crew and Madonna cast herself in the role of mother figure of her stage family. The boys soon found fans among homosexual youths who saw them as role models, while the tour came to epitomise Madonna's commitment to gay liberation and the acknowledgement of AIDS. But the idyll fell apart when Gabriel, Kevin and Oliver sued against their involuntary outing as gay men brought about by the film In Bed with Madonna. In 1995 Gabriel died of AIDS-related illness, while the others continued to pursue their professional careers. Now, twenty-five years after their time together, the six surviving performers are reunited and long-buried secrets are aired. The filmmakers excel at telling the stories of these very different dancers whilst carefully calling into question the official version of events in order to edge closer to the truth.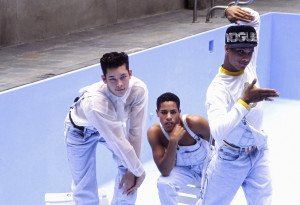 17:45, Cubix 8
---
Take Your Partners
Take Your Partners
Great Britain 2015
11´
Director: Siri Rødnes
Cast: Lily Graham, Mori Christian, George Anton, Reanne Farley
Why should a girl's Easter bonnet look any different than the ones the boys wear? Ollie is eight years old and crazy about football and the gunslingers of the Wild West. When it comes time to get ready for the traditional Easter parade at school, Ollie categorically refuses to accept conventional gender roles. With the support of her parents, Ollie finds her own very personal way of dealing with the situation in the end.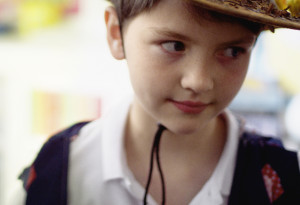 10:30, CinemaxX 1
---
The Lamps
The Lamps
USA 2015
4´
Director: Shelly Silver
"All who want me would like to eat me up. But I am too expansive and am open to all sides, desire this here and that there." The Baroness Elsa von Freytag-Loringhoven "The Baroness is not a futurist. She is the future." Marcel Duchamp "The Baroness Elsa von Freytag-Loringhoven, née Plötz, was an unsung member of the New York Dada Movement. She was a poet, artist, vaudeville performer, runaway, rabble-rouser, cross-dresser, and all around public provocateur. She actively did not fit into her historical moment, and like most misfits, suffered for it. As with many women artists throughout history, her cultural legacy has been obscured and in some instances appropriated into the oeuvres of better-known male peers. Some researchers believe that the Baroness was the artist behind "Fountain," the ready-made urinal attributed to Duchamp. The Lamps details her trip to the Naples Archeological Museum in the early 1900s where she breaks into "Il Gabinetto Segretto," a secret room filled with erotic objects from Pompeii." Shelly Silver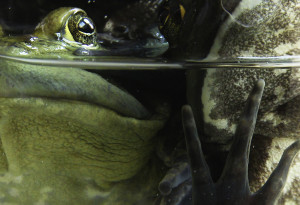 20:30 Akademie der Künste
---
Théo et Hugo dans le même bateau
Théo et Hugo dans le même bateau
France 2016
97´
Director: Olivier Ducastel, Jacques Martineau
Cast: Geoffrey Couët, François Nambot
Théo and Hugo encounter each other's bodies in a sex club. They talk, things blur into the haziness of unbridled desire, then take shape for a moment as their gaze meets before they resume their exploration and lose themselves anew. A few moments later the two men feel the need to go outside. Together they drift down the deserted streets of nocturnal Paris. Suddenly they find themselves confronted by a sense of reality that wipes out their freedom and aimlessness and lends each step an existential helplessness. Do they want to know more about each other? Will their trust be rewarded? What are their expectations? Olivier Ducastel and Jacques Martineau display consummate sensitivity in bringing us closer to two men as they strive for intimacy in spite of being stalled by their insecurity. Their two leading actors delight us with their remarkably intuitive performances and their incredible charm.
---
Uncle Howard
Uncle Howard
Great Britain/ USA 2016
96´
Director: Aaron Brookner
Cast: Jim Jarmusch, Sara Driver, Tom DiCillo, Brad Gooch, Frederic Mitterand
After Howard Brookner, director of two documentaries and a feature film, died from AIDS related illnesses at the age of 34 in 1989, his slender oeuvre was in danger of being forgotten – until his nephew Aaron decided to preserve his uncle's legacy and to digitalise his first film, the cult classic Burroughs: The Movie (1983). This endeavour led to the discovery of a number of other gems stored in the godfather of Beat's legendary 'bunker' in New York's Bowery district. This rich archive of material, shot by film maniac Brookner from 1978 until the end of the 1980s, represents a unique document of the decade's incredibly vibrant art and gay scene in downtown New York. Aaron Brookner's film Uncle Howard takes us on an adventurous, artistic and very personal journey back in time, accompanied by conversations with both relatives and his uncle's close friends (including Robert Wilson, Jim Jarmusch, Brad Gooch and James Grauerholz). The resulting film is a powerful and loving portrait of an artist who left this world far too soon.
---
WEEKENDS
WEEKENDS
South Corea 2016
98´
Director: Dong-ha Lee
Cast: Jaewoo, Sander, Jonggirl, Namypooh, Gang
Every weekend the gay male choir G-Voice rehearses in Seoul – as they have been doing since 2003. The choir, being a kind of antidote to homophobic Korean society, makes the everyday lives of gay men its theme in an intelligent and humorous way. For their tenth anniversary, the members are planning to give their first big concert with ambitious arrangements, creative choreographies and many new pieces. This really puts these amateur singers to the test because the enthusiasm of some members outweighs their vocal abilities, whilst others work themselves into the ground as voluntary organisers. Besides preparing for their big day, G-Voice are also politically active, singing for equality and serenading against discrimination, and not just at LGBTQ demos. Director Lee Dong-hasucceeds, almost incidentally, in giving an insight into gay life in Korea. He also accompanies choir members and organisers after the rehearsals, when conversations become more personal over a meal. Filmed in the style of glossy music videos, G-Voices' set-pieces provide a commentary, among other things, on the men's experiences of Korean society, their conservative families and a gay joy of life.
---
Girl Talk
Girl Talk
USA 2015
4´
Director:Wu Tsang
Cast: Fred Moten
Girl Talk features poet and critical theorist Fred Moten dancing in slow motion, or 'dragged time', to an a cappella rendition of Betty Carter's jazz standard "Girl Talk", here reinterpreted and performed by musician Josiah Wise. Wearing a velvet cloak covered in jewels, Moten turns euphorically in a sunlit garden as the crystals adorning his body refract pink, blue, and green rays. In exploring the figure of the drag queen and the mother, Moten and Tsang, poet and artist, remain unfixed in any one persona.
10.02-22.0 2. / daily 19:00 – 21:00 Akademie der Künste as an Installation