What a beautiful night my friends! What a spectacular Award Ceremony! Conchita Wurst was there, Udo Kier and even Andrea Nahles (even if she doesn´t really fit into this list). The TEDDY trophies were given away and we all danced till our toes were bleeding.
So maybe we should do something calm today… how about going to the movies?
Maybe something to sharpen our political awareness. How about "Mein wunderbares West-Berlin" by Jochen Hick? In this documentary, Jochen Hick revives memories of the time of political struggles. His film tells us, among other things, about the movement "Homosexuelle Aktion West-Berlin", which was founded in 1971 and stood up for the exclusion of §175. Jochen Hick takes us back to the time when Berlin was a magical and a very political place. Legends say, by the way, that the "HAW" was founded at the Berlin Film Festival right after the screening of Rosa von Praunheims film "It Is Not the Homosexual Who Is Perverse, But the Society in Which He Lives ". So maybe you are going to find out about this political movement right after this screening. Who knows…
Below you´ll find the programme for today
---
Bing Lang Xue
The Taste of Betel Nut
Hong Kong, China 2017
84′
Director: Hu Jia
Li Qi is working for a dolphin show, his friend Ren Yu chugs along with his mobile karaoke, working the surfers' beach along the coast of Hainan Island where they both live. The tourists are delighted by Ren's physical similarity to the screen actor Leslie Cheung and are happy to pay for a photo with him – or to get drunk with him. When a young woman joins this polyamorous couple, things are no different at first and an open, three-way relationship would seem possible. Together, Li Qi, Ren Yu and Bai Ling set out to test the limitations of a restrictive society as well as their own sexuality. But then, something happens that rocks the protagonists to the core and will have a deep and lasting effect on them … Director Hu Jia portrays a generation that would appear to move casually between tradition and a courageously alternative way of life. The film's unusual setting is compelling from the word go. Largely without dialogue, this drama instead relies on small gestures that are full of meaning. The film's quietly explicit images tell a tale of love, sex, trust and brutality – providing a picture of everyday life in China that is seldom seen on the big screen.
18.02. / 22:30 CinemaxX 7
---
Bones of Contention
Bones of Contention
USA 2017
75′
Director: Andrea Weiss
There are 120,000 victims of Franco's regime buried in the unmarked mass graves that stretch for kilometres alongside Spain's country roads. One of these victims is the world renowned Spanish author Federico García Lorca, who was shot and killed by the fascists during the early days of the Spanish Civil War. The mystery that surrounds the exact location of his remains has made him a symbol for those seeking to remember and disclose the hidden stories of gays and lesbians under Franco, people who continued to be subjected to violent repression long after the end of the dictatorship. Spain is today one of the most progressive countries when it comes to homosexuality, and yet the nation still refuses to account comprehensively for its dark past before a court of law. Andrea Weiss' sensitive film gives a voice to the victims from the LGBTIQ* community. Her documentary tells their stories and their struggle for clarification, justice and human rights as well as their continued efforts to provide those who were murdered and 'disappeared' with a dignified burial. Impressive archive material documents this repressed history which finds a painful echo in Lorca's poetry and music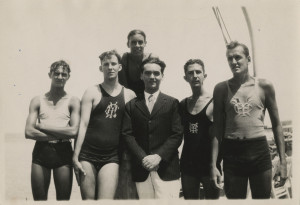 18.02. / 12:30 CinemaxX 7
---
Ceux qui font les révolutions à moitié n'ont fait que se creuser un tombeau
Those Who Make Revolution Halfway Only Dig Their Own Graves
Canada
183′
Director: Mathieu Denis, Simon Lavoie
'After twelve weeks of striking, assemblies, solidarity, arrest, protest, what do we get? Nothing.' As the 2012 'Maple Spring' student protest movement in Quebec slowly ebbs away, a dark storm of violence gathers. Driven by a growing sense of frustrated powerlessness and a longing for a new life, Klas Batalo, Ordine Nuovo, Tumulto and Giutizia form an avant-garde splinter group. Their deep-rooted hostility towards the prevailing social order finds an ambiguous political expression in acts that include guerilla pranks and throwing Molotov cocktails. Using powerful imagery shaped by a century of political aesthetics, the film is a collage of scenes and documentary fragments that makes the isolation of the four protagonists tangible. In the course of a path formed by ideals and doubt, we witness their radicalism as it increasingly turns inwards.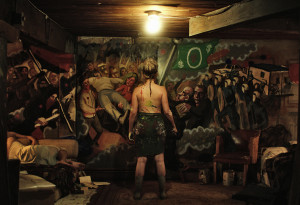 18.02. / 20:00 HKW
---
Chavela
Chavela
USA 2017
90′,
Director: Catherine Gund, Daresha KyiHauptsächlich
Singer Chavela Vargas gained a name for herself firstly in Mexico and later worldwide chiefly for her interpretation of traditional rancheras. These songs were mainly composed by men and mostly speak of unfulfilled love for women, world-weariness and loneliness. Chavela performed them with her own unique feeling for rhythm and her distinctively rough and yet vulnerable voice. Her masculine appearance and red poncho made her unmistakable. In Acapulco, which in the 1960s was the playground for the rich and famous in the world of politics and culture, she rubbed shoulders with many celebrities, turning the heads of Frida Kahlo and Lana Turner with her charm and striking beauty. After a 13-year break from performing brought on as a result of her addiction to alcohol she was rediscovered in the 1990s and enjoyed a glorious comeback as the muse of artists and directors such as Pedro Almodóvar. The unpublished material in this film, as well as the interviews with Chavela herself and her contemporaries, colleagues and partners have resulted in an affectionate portrait of a charismatic and exceptional artist – who was openly lesbian throughout her life until her death in 2012 at the age of 93.
18.02. / 17:00 CineStar 7
---
Cuateros
Rustlers
Argentina 2016
85′
Director: Albertina Carri
Albertina Carri wants to make a film about Isidro Velázquez, an almost mythical outlaw figure from northern Argentina who was shot dead by police in 1967. She's not the only one interested in him: her sociologist father Roberto Carri wrote a book on him called "PreRevolutionary Forms of Violence" and a film was made about his story, although both father and film disappeared during the Dirty War. Legends, families, political alignments, cinema: none offer a stable foothold and Carri's passage through them is like wandering a garden of forking paths, only to arrive at a landscape of cracked earth and thorns. Carri's narration is anyway not what it might once have been, a mother doesn't tell things the same way as a daughter. Legends, families, political alignments, cinema: each produces images and these are what appear on the screen, in one channel, three channels, five. It's all material plucked from an archive and a wonderfully eccentric one at that: news reels, ads, home videos, interviews, movies, abstract forms. Images that could stem from old films, lost films, new films, possible films, impossible films; this is a film for which no other images will do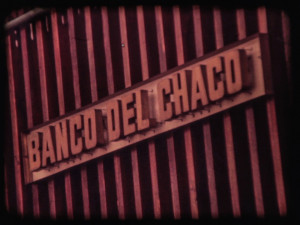 18.02. / 15:00 Kino Arsenal 1
---
Dream Boat
Dream Boat
Germany 2017
92′
Director: Tristan Ferland Milewski
One week on a cruise ship, with parties, fun and new friendships. The all-gay clientele on board discuss topics such as identity, the body beautiful and the search for sex. Every evening is dedicated to a new theme, challenging the passengers to ever more extravagant, body-hugging outfits. In the cabins however, the talk is more than skin deep as the men open up about their private lives. Marek, a young Polish man just wants to be accepted and loved as a human being and not just because of his taut body. Dipankar from India has just recently come out; he and Palestinian Ramzi are revelling in the kind of freedom they can only dream about in their homophobic societies back home. Martin is HIV positive and ponders hedonistic ways, while Philippe from France observes the proceedings on board serenely from his wheelchair. In his feature film debut director Ferland Milewski succeeds in providing a look behind the scenes of an ostensibly superficial world. His humorous approach helps him create a genuine bond with the protagonists who talk openly about gay desires, free love and good old-fashioned monogamy.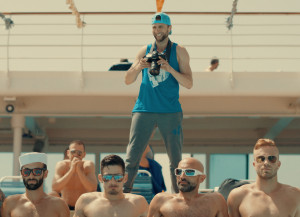 18.02. / 20:00 CineStar 7
---
Final Stage
Final Stage
Germany 2017
27′
Director: Nicolaas Schmidt
The present, the whole present and nothing but the present. A young man on a footbridge, a bus departs, his friend is gone. This is followed by a majestic parade through a shopping centre. This central shot in the film is a fragile balancing act between documentary observation and subtle direction. Deliberately asynchronous sound serves to heighten the sense that events are nothing more than a construction of an apparently familiar reality. The boy's melancholic bearing, and the way the film unfolds, are embedded in an extremely expressive, albeit narratively minimalistic, dramaturgy of colour. Vibrant colours introduce each individual sequence: blue, green, yellow, orange, red.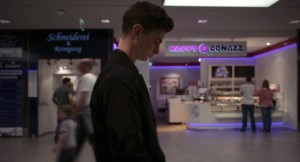 18.02. / 12:00 Colosseum 1
---
Freak Show
Freak Show
USA 2017
95′
Director: Trudie Styler
Being fabulous, no: being relentlessly fabulous is damn hard work. I should know. I've dedicated my life to the pursuit of it.' Could Billy Bloom be like everyone else if he wanted to? It would certainly save him a whole lot of trouble. But he has absolutely no desire to be like them. When others call him theatrical, he takes it as a compliment; when his classmates feel provoked by his drive to be different, it only motivates him further. 'The nail that sticks out gets hammered down', his father warns him. That does not deter Billy from deciding to run for homecoming queen. Somewhere in-between David Bowie, Lady Gaga, Freddy Mercury and Oscar Wilde, in the transgressive space of pop culture and dressed up as a high school comedy with wit, heart and a dazzling cast, Freak Show is about the violence of conformity and the power of self-determination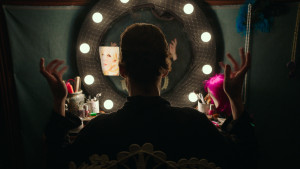 18.02. / 15:30 Zoo Palast 1
---
God's Own Country
God's Own Country
Great Britain 2017
104′
Director: Francis Lee
Young Johnny is running his ailing father's farm in Yorkshire, England. The communication between father and son reflects their adverse living and working conditions, the father's utterances mostly being restricted to terse criticism of his son. Johnny's grandmother plays her part stoically. A frustrated Johnny endures his strenuous daily routine. In a bid to escape the harsh daily grind, he has nostrings sex with men, or gets drunk at the local pub. In the spring, a farm hand is taken on for the season. Romanian Gheorghe is the same age as Johnny, who at first eyes him with suspicion. The initial tension between the two men soon gives way to an intense relationship. This opens up completely new prospects but also presents new challenges for Johnny. In his feature-length debut, Francis Lee finds authentic images to depict farm life as one of privation. His film concentrates on the looks and gestures of his characters and their physical proximity. The archaic landscape of 'God's own country' as the locals call their county, perfectly reflects the turmoil going on inside the protagonists.
18.02. / 12:00 Zoo Palast 2
---
Mein wunderbares West-Berlin
My Wonderful West Berlin
Germany 2017
97
Director: Jochen Hick
Cast: Romy Haag, Maximilian Lenz, Ades Zabel
In West Berlin in the 1960s it was possible to find bars where men could be left to themselves – a fact that was to turn the city into a magnet for young gay men. The protagonists of this film, all still active members of the community today, recall those early years in the city. Theirs are memories of a community that fought steadily for its existence and for change, right up to the fall of the Wall. Faced with considerable social repression in the 1970s, a collective gay identity began to emerge, and the 'West Berlin homosexual campaign' called for the abolition of paragraph 175 and the overthrow of patriarchy. Ruined buildings become the venues for new ways of living together such as all-male communes or the 'queer house'. Cottaging, East-West affairs, leather bars, drag performances in the subway – an anarchic kind of joy outshines past suffering. A decade later, AIDS was to hit Berlin. After Out in Ost-Berlin (Out In East Berlin) Jochen Hick explores queer lifestyles in the West of the city and the roots of a fascination that the metropolis still holds as a refuge – and not just for gay men. A fascinating journey through time featuring previously unpublished archive material.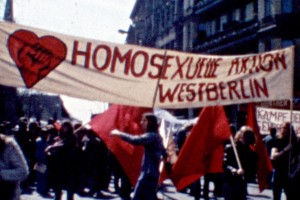 18.02. / 22:30 CineStar 7
---
The Misandrists
The Misandrists
Germany 2017 91′
Director: Bruce LaBruce
Cast: Susanne Sachsse, Viva Ruiz, Kembra Pfahler, Caprice Crawford
Somewhere in Ger(wo)many … A radical female 'army of lovers' is preparing itself for a final revolution. Women are discussing, campaigning, menstruating and pondering the decline of patriarchy, learning about single sex reproduction, and having sex. But then of all people a young soldier appears, seeking refuge at this feminist convent; moreover, one of the women-warriors turns out to be a police informer. This brings their strict superintendent on the scene. And 'big mother' is not amused. "Two cocks! And a cop! In our house! That's intolerable!" But one question remains: is it possible to have equality in a corrupt system? Or will cocks need to roll first?! As if Valerie Solanas had directed an episode of 'Schoolgirl's Report', Bruce LaBruce's latest piece of shenanigans revolves around a utopian world without men. The Canadian director, experienced Berlinale guest and Teddy award-winner (for Pierrot Lunaire) serves up a merry, anarchic dance in which political slogans fall as trippingly off the tongue as religious acclamations. Their sermons are – naturally – rounded off with 'A(wo)men'. Sarcastic, very funny – and as queer as it gets.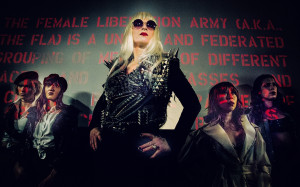 18.02. / 22:00 Zoo Palast 2
---
Pieles
Skins
Spain 2017
77′
Director: Eduardo Casanova
Cast: Ana Polvorosa, Candela Peña, Carmen Machi, Macarena Gómez
Samantha, Guille, Ana and Cristian all have something in common – and yet they couldn't be more diverse. Their bodies are different to those of other people; be it the mouth, the left side of the face, the texture of the skin or the feeling that your legs don't belong to your body. They all live and love hidden away in strangely artificial interiors. As 'freaks', they rarely go out onto the street. A confrontation with the rest of the world could have fatal consequences. Director Eduardo Casanova's strictly symmetrical, pink and purple world is populated by 'deformed' people that include the fat, the small, and a woman born without eyes who works as a sex worker. Spanish director Casanova's episodic feature-length debut is an extension of his previous shorts. Making use of deliberately artificial images he explores the lives of those who, living on the margins of society, are rarely granted places in which they feel secure. However, their situation is not as hopeless as it at first seems, and beauty is a term that is redefined at least once during the course of the film.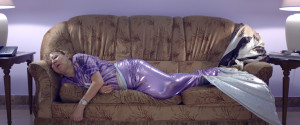 18.02. / 22:45 Cubix 8
---
La prima sueca
Swedish Cousin
Argentina 2016
20′
Director: Inés María Barrionuevo, Agustina San Martín
Cast: María Paula Mattio, Cecilia Valenzuela Gioia, Ámbar Taborda Ceballos, Nazarena García
It's not long to go until Cata's 15th birthday and she's getting more nervous by the day. She's irritated about her dress, her chilled-out friends, everything! Even her level-headed and reserved cousin from Sweden annoys her. But Cata's moodiness gradually gives way to tentative feelings of affection. In a sensitive portrayal the two directors gently capture the emotional whirlwind and irritations of a teenager.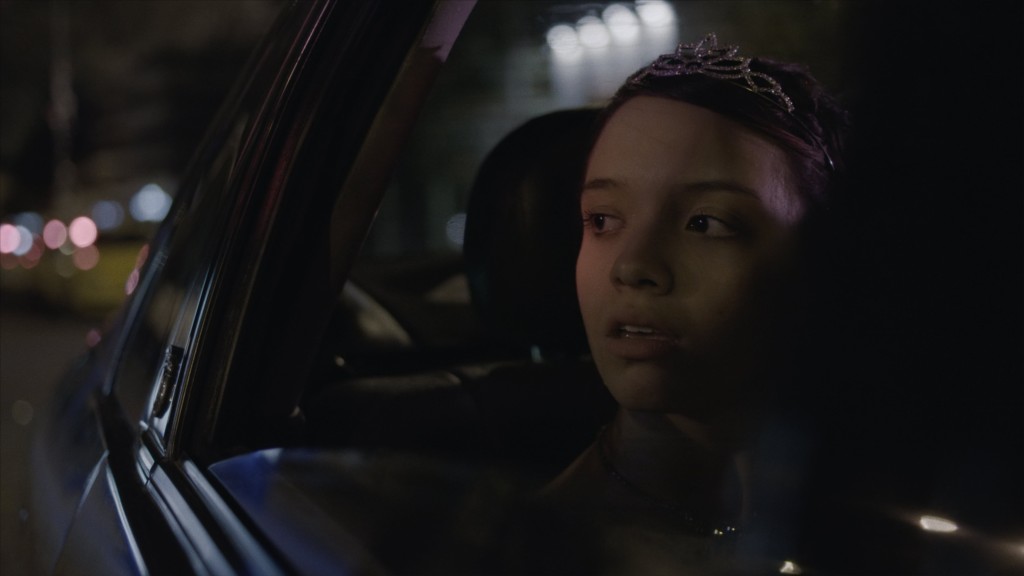 18.02. / 11:00 CinemaxX 1
---
Strong Island
Strong Island
USA/Denmark 2017
107′
Director: Yance Ford
In a phone call at the beginning of Yance Ford's film an employee for the district attorney refuses to make any more statements regarding the murder of William Ford and declares herself unwilling to take part in his documentary. William was Yance Ford's brother; his murder in 1992 threw his family into a state of shock. Their devastation came about not just because this young Afro-American man was shot and killed by a white car mechanic for an apparently trifling reason, but also because of what was to follow. Ford's subjective camera tells the story of a black middle-class family in America, a country which was, and still is, characterised by injustice and racism. His film is a puzzle, the pieces of which cannot be put together. Interweaving personal essay, detective investigation and documentary interviews with friends and relatives, he succeeds in painting a personal and political picture of the mood of this unequal country during the Obama era. Ford's concentrated, often minimalistic cinematic language describes simmering anger, grief and his own transgender coming out – as well as the relativity of equal opportunities.
18.02. / 17:30 Cubix 7
---
Ulrike's Brain
Ulrike's Brain
Germany/Canada 2017
55′
Director: Bruce LaBruce
Cast: Gertrude Stammheim, Susanne Sachsse, Jonathan Johnson, Saskia Timm
Referencing sixties B-movies like They Saved Hitler's Brain and The Brain That Would Not Die, Ulrike's Brain finds Doctor Julia Feifer (Susanne Sachsse) arriving at an academic conference with an organ box. Inside the box: the brain of Ulrike Meinhof, which was saved by the authorities along with the brains of the three other leaders of the RAF after their deaths in Stammheim prison. Doctor Feifer can communicate telepathically with Ulrike's brain, which is directing her to lead a new feminist revolution. To that end, she is searching for the ideal female body to transplant Ulrike's Brain into. At the same time, her arch-rival, Detlev Schlesinger, an extreme right-wing ideologue, arrives at the conference with the ashes of Michael Kühnen, the former German neo-Nazi leader and infamous homosexual who died of AIDS in 1989. When the two Frankenstein's monsters of the extreme left and the extreme right meet, chaos ensues.
18.02. / 20:00 Kino Arsenal 1