Sad but true: Today is the last day of Berlinale and the last day for you to have the opportunity to watch the queer programme. If you would like to do so, I would love to recommend you the "Teddyrolle" in Kino International. At 4pm all the queer short movies of Berlinale will be screened.
Furthermore, I am not a fan of big goodbyes, so i will keep it short and painless: Have a good one, I hope you all enjoyed the time and we will see us again next year. Cheers!
---
A Boy Needs a Friend
A Boy Needs a Friend
Canada/ USA 2015
23´
Director: Steve Reinke
In this latest installment of his ongoing video essay, "Final Thoughts", Steve Reinke ostensibly turns to the subject of friendship. A Boy Needs a Friend delves into its topic head on, in particular investigating the notion of queer Nietzschean friendship. Using his signature dry voice over monologue to tie together an eclectic array of disparate images, ranging from found footage collages to digital animation and cell phone video, Reinke sets forth theories about the identity of Stephen King and Joyce Carol Oates, needle point doodles, the upsides of owning both US and Canadian citizenship, and the ability of corpses to have sex. "Final Thoughts" was begun in 2004 as a life project: it will be complete upon Reinke's death. It is a collection of video essays, a stream of ongoing thoughts and provocative engagements. Forum Expanded screened The Tiny Ventriloquist: Final Thoughts, Series Two in 2012. A Boy Needs a Friend is part of The genital is Superfluous: Final Thoughts, Series Four (2016).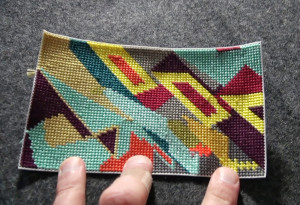 16:00, International
---
Brüder der Nacht
Brothers of the Night
Austria 2016
88´
Director: Patric Chiha
Vienna as a non-stop nocturnal land and doss house, the flip side of its daytime persona, devoid of schmaltzy waltzes and'Mozartkugel' chocolates. The protagonists of this documentary are young Bulgarian Romani who have wound up in Vienna due to poverty and the need to earn money for their families, and who are now offering their services at a hustler bar called 'Rüdiger' in the working class Margareten district. They wait, smoke, drink, play pool, dance, show off, fool around like young bulls, talk about their meagre excesses, their families and prostitutes, exchange experiences and information about the 'bizness'. In the midst of a clash of cultures and traditions, they lead lives caught between worlds, between reality and illusion; transitory, deceptive, and fleeting. Gus Van Sant meets James Bidgood meets Pasolini: Brothers of the Night is a hybrid, imbued with a rich baroque semi-darkness, deliberately and disturbingly oscillating between documentary and dramatised scenes. This is no moralising know-all ballad about hustlers, but rather a tender and empathetic hymn to the grim poetry of survival and the solidarity amongst the ostracised and the outsiders.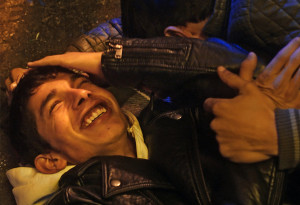 20:00, CineStar 7
---
En la azotea
On the Roof
Spain 2015
12´
Director: Damià Serra Cauchetiez
Cast: Nil Cardoner, Roger Príncep, Biel Estivill, Pol Hinojosa
The heat's bearing down on the high-rise rooftops of the suburbs. Every day at the same time, five boys climb to the top of one of them to stare at the house next door. Like clockwork, a woman appears, removes her clothes and proceeds to sunbathe in the nude. But this day something's different. On the roof next door, a naked man seeks relief from the heat under a hose and one of the boys can't keep his eyes off of him. His buddies don't fail to notice.
16:00, International
---
Ja, Olga Hepnarova
I, Olga Hepnarova
Czech Republic/ Poland/ Slovakia/  France 2016
105´
Director: Tomas Weinreb, Petr Kazda
Cast: Michalina Olszanska, Martin Pechlat, Klara Meliskova, Marika Soposka
Olga is a complex young woman desperate to break free from her unfeeling family and social conventions. With her Louise Brooks like tomboyish looks she drags herself, chain-smoking, from one job to another until she appears to find her niche as a truck driver. Although she has female lovers she does not form a bond with any of them; instead she clashes, time and again, venting herself in wordless emotional outbursts and other behavioural extremes. Meticulously composed and shot in elegiac black-and-white this film tells the story of the short life of an exceptionally lonely young woman who turns into a mass murderer when, on 10 July 1973 – as she has just turned 22 – she drives a rented truck into a group of people, killing eight. In a letter acknowledging her deed she writes that she sought to take revenge on the world and on those she felt hated her. In spite of clear indications that she was mentally ill she was executed – making her the last woman to be publicly executed in Czechoslovakia. After producing several documentaries and shorts together, this film marks the directors' first drama. The film is based on a lengthy period of research which culminated initially in a documentary entitled Everything is Crap.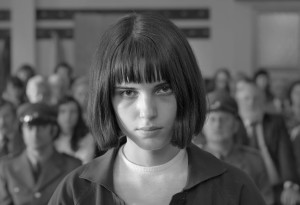 20:15, Cubix 7
---
Little Men
Little Men
USA 2016
85´
Director: Ira Sachs
Cast: Greg Kinnear, Paulina Garcia, Jennifer Ehle, Theo Taplitz, Michael Barbieri
«Why they're still mad on us?» · «Our parents are involved in a business matter and it's getting ugly. So they're taking it out on us.» Summer in Brooklyn. Jake's parents have just moved into the house that used to belong to his grandfather. Tony's mother has been renting the shop on the ground floor forever. The two 13-year-olds quickly discover their shared interest in art, computer games and girls. Together, they dream of transferring to the renowned La Guardia High School in the autumn. Soon they become allies, not only against the other boys on the block, but also when it comes to the rent dispute between their parents. Attempting to stem the inexorable effect the adult world is having on their genuine friendship, they stage a headstrong protest. Once again renowned Indie director Ira Sachs intuitively explores the family and moral conflicts with emotional depth.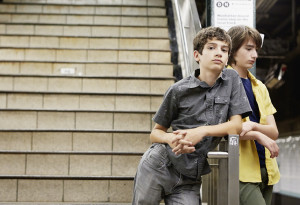 10:00 HKW
---
Mamma vet bäst
Mother knows best
Sweden 2016
12´
Director: Mikael Bundsen
Cast: Alexander Gustavsson, Hanna Ullerstam, Karl-Erik Franzén
So, he's gay. This evening he's introduced his boyfriend to his mum and later kissed him passionately goodbye in the car. He's fortunate to have such an open-minded mother – not everyone is as lucky. But she thinks it's best that he doesn't tell his father yet. And he certainly shouldn't make it known in public that he's gay. A lot of people are prejudiced. Not everyone is as understanding as his mother.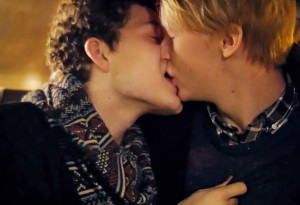 16:00, CinemaxX 5
---
Moms On Fire
Moms On Fire
Sweden 2016
12´
Director: Joanna Rytel
An ordinary neighbourhood in an ordinary town. Two women sit on a sofa and scratch their pregnant bellies. Four days till the due date. The situation is as unbearable as it is unavoidable. It's simply intolerable. Masturbation isn't an option, the clitoris can't even be reached, and the boyfriend is absent, but he's boring anyway. The only advantage in having another child is that one no longer has to play with the first one. Artist and filmmaker Joanna Rytel uses claymation to candidly address questions and situations that usually go unnoticed.
16:00, International
---
O noapte in Tokoriki
A night in Tokoriki
Romania 2016
18´
Director: Roxana Stroe
Cast: Cristian Priboi, Cristian Bota, Iulia Ciochina
There's a party in the Tokoriki nightclub. It's Geanina's 18th birthday and the whole village is there. The neon palm is lit up and the DJ is wearing his golden shirt. Alin and his friends ride up in style in the horse-drawn cart and take over the dance floor. But Alin seems to have something on his mind. His eyes sparkle when he sets eyes on Geanina, which doesn't escape her boyfriend's attention. Emotions are running high. Will there be an escalation tonight?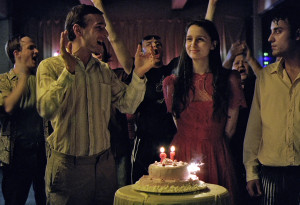 16:00, CinemaxX 5
---
O Pássaro da Noite
L'Oiseau de la Nuit
Portugal/ France 2015
20´
Director: Marie Losier
Cast: Cast: Fernando Santos aka Deborah Krystal, Cindy Scrash, Alda Cabrita, João Pedro Rodrigues
In the latest of her series of portraits of legendary underground performers, Marie Losier takes us into the world of Fernando, aka Deborah Krystal, the glittering and poetic performer of the Lisbon club Finalmente. Over the last thirty years, Fernando has been performing every night at Finalmente, dressed in golden gowns. O Pássaro da Noite reveals the many skins of Fernando that lay underneath the layers of his colorful fabrics, and – with the help of a large cast of friends and filmmaking colleagues – lets Lisbon's legends come to life. Alternating and shape shifting between manifestations as mermaid, bird, and lion, Fernando takes us on a journey into the desires and dreams of metamorphosis and myth: From the bright sunlight of a colorful beach to the haunted shadows of a museum at night.
16:00, International
---
Quand on a 17 ans
Being 17
France 2016
116´
Director: André Téchiné
Cast: Sandrine Kiberlain, Kacey Mottet Klein, Corentin Fila, Alexis Loret
Damien and Thomas attend the same grammar school class. They cannot stand each other and whenever verbal insults fail to do enough damage they take a swing at each other. Yet they could just as easily be friends. Damien's mother Marianne is a country doctor and his father a military pilot on a tour of duty abroad. Thomas is of Maghrebi descent and is the adopted son of a farming family living on a remote farm in the mountains. After several miscarriages the farmer's wife is expecting again and, since her pregnancy promises to be a difficult one, Marianne invites the withdrawn boy to come and stay with them for a while. Damien and Thomas find themselves having to live under the same roof … André Techiné has already taken part in the Berlinale Competition several times with films such as Les temps qui changent (2005) and Les témoins (2007). In Quand on a 17 ans he explores what it is like to grow up in different social environments in this portrait of two confused youths trying to govern their emotions. A rugged village in the mountains of south-western France as the seasons pass becomes the psychological landscape of the relationship between two young men which vacillates between disdain and attraction.
19:30, Berlinale Palast
---
Rara
Rara
Chile/ Argentinia 2016
88´
Director: Pepa San Martin
Cast: Mariana Loyola, Julia Lübbert, Agustina Muñoz, Emilia Ossandó
«So … do your Mom and Lia kiss in public?» · «Sometimes. Not that much.» Since their parents split up, Sara and her younger sister live with their mother, whose new partner is a woman. Everyday life for the four of them is hardly any different than it is for other families. The situation is actually totally fine with Sara. But not everyone sees it that way – her father in particular has his doubts. As Sara's 13th birthday approaches, she's feeling rather overwhelmed: her first crush, a body in the midst of changes and to top it off, conflicts over loyalty with her parents … Everything feels wrong. The empathetic feature-length debut of director Pepa San Martín is based on a true story.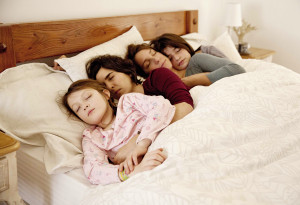 13:00, HKW
---
Reluctactly Queer
Reluctactly Queer
Ghana/ USA 2016
Director: 8´
Director: Akosua Adoma Owusu
Cast: Kwame Edwin Otu
This epistolary film invites us into the unsettling life of a young Ghanaian man struggling to reconcile his love for his mother with his love for the same-sex desire amid the increased tensions incited by same-sex politics in Ghana. Focused on a letter that is ultimately filled with hesitation and uncertainity, Reluctantly Queer both disrobes and questions what it means to be queer for this time in this space.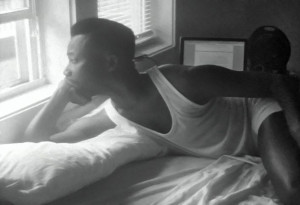 16:00, International
---
Strike a Pose
Strike a Pose
Netherlands/ Belgium 2016
83´
Director: Ester Gould, Reijer Zwaan
For her 'Blond Ambition' tour in 1990, pop superstar Madonna was looking for performers who knew how to vogue. Out of countless hopefuls, the gay dancers Salim, Kevin, Carlton, José, Luis and Gabriel were chosen along with breakdancer Oliver, the only straight guy. The tour was accompanied by a film crew and Madonna cast herself in the role of mother figure of her stage family. The boys soon found fans among homosexual youths who saw them as role models, while the tour came to epitomise Madonna's commitment to gay liberation and the acknowledgement of AIDS. But the idyll fell apart when Gabriel, Kevin and Oliver sued against their involuntary outing as gay men brought about by the film In Bed with Madonna. In 1995 Gabriel died of AIDS-related illness, while the others continued to pursue their professional careers. Now, twenty-five years after their time together, the six surviving performers are reunited and long-buried secrets are aired. The filmmakers excel at telling the stories of these very different dancers whilst carefully calling into question the official version of events in order to edge closer to the truth.
---
Take Your Partners
Take Your Partners
Great Britain 2015
11´
Director: Siri Rødnes
Cast: Lily Graham, Mori Christian, George Anton, Reanne Farley
Why should a girl's Easter bonnet look any different than the ones the boys wear? Ollie is eight years old and crazy about football and the gunslingers of the Wild West. When it comes time to get ready for the traditional Easter parade at school, Ollie categorically refuses to accept conventional gender roles. With the support of her parents, Ollie finds her own very personal way of dealing with the situation in the end.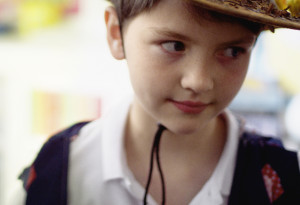 14:30, CinemaxX 1
---
The Lamps
The Lamps
USA 2015
4´
Director: Shelly Silver
"All who want me would like to eat me up. But I am too expansive and am open to all sides, desire this here and that there." The Baroness Elsa von Freytag-Loringhoven "The Baroness is not a futurist. She is the future." Marcel Duchamp "The Baroness Elsa von Freytag-Loringhoven, née Plötz, was an unsung member of the New York Dada Movement. She was a poet, artist, vaudeville performer, runaway, rabble-rouser, cross-dresser, and all around public provocateur. She actively did not fit into her historical moment, and like most misfits, suffered for it. As with many women artists throughout history, her cultural legacy has been obscured and in some instances appropriated into the oeuvres of better-known male peers. Some researchers believe that the Baroness was the artist behind "Fountain," the ready-made urinal attributed to Duchamp. The Lamps details her trip to the Naples Archeological Museum in the early 1900s where she breaks into "Il Gabinetto Segretto," a secret room filled with erotic objects from Pompeii." Shelly Silver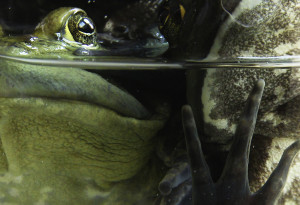 16:00, International
---
Toro
Toro
Deutschland 2015
84´
Director: Martin Hawie
Cast: Paul Wollin, Miguel Dagger, Leni Speidel, Kelvin Kilonzo
An unequal friendship. Toro (25) is as disciplined as he is withdrawn. In contrast Victor (29) is a light-headed dreamer who careers more or less heedlessly through life. Both work as prostitutes. Toro services women, Victor men. Toro, whose real name is Piotr, cameto Germany ten years ago. He knows exactly what he is working for: he wants to establish a boxing school back in Poland. And soon he will have enough money to do so. The only thing he wants to take with him from Germany is Victor so they can dare to embark upon a new life together. Victor knows all about Toro's plans but cannot take them seriously because he is far too busy keeping his dealers, to whom he owes money, at bay. TORO is the story of two highly contrasting characters who take hugely different approaches to trying to fight their way out of an ignoble life on the margins. They could be each other's last chance to save themselves from plunging off the precipice and into the abyss of the apocalypse which would consume everything else along with them and cast the world into eternal sin.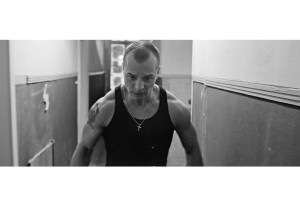 14:00, CinemaxX 5
---
Zjednoczone stany milosci
United States of Love
Poland/ Sweden 2016
104´
Director: Tomasz Wasilewski
Cast: Julia Kijowska, Magdalena Cielecka, Dorota Kolak, Marta Nieradkiewicz, Lukasz Simlat,Andrzej Chyra, Tomek Tyndyk
It is the beginning of the 1990s and Polish society is trying to redefine itself after years of stagnation. Schools are being named 'Solidarno ', the first West German spa visitors are bringing hard currency into the country, porn videos are doing the rounds and TV constantly repeats images of the trial of Rumanian dictator Ceausescu. But private emotions remain untouched by these external changes: all the hopes and longings, caught between work, family and religion, desire and abstinence. Tomasz Wasilewski portrays four women in a small provincial town. Agata is attracted to a priest and secretly observes him. Iza is a head teacher who has been having a long-standing affair with a married doctor. Russian language teacher Renata seeks a closer relationship with her young neighbour Marzena who teaches sports and dance, while Marzena herself dreams of an international career as a model. Shot in desaturated colours and with a muted production design, this drama reflects upon the attempts to escape an anti-pleasure, body-hating environment. Wasilewski's subject is the death throes of a society – and the emotional impoverishment of the individual.
---
Girl Talk
Girl Talk
USA 2015
4´
Director:Wu Tsang
Cast: Fred Moten
Girl Talk features poet and critical theorist Fred Moten dancing in slow motion, or 'dragged time', to an a cappella rendition of Betty Carter's jazz standard "Girl Talk", here reinterpreted and performed by musician Josiah Wise. Wearing a velvet cloak covered in jewels, Moten turns euphorically in a sunlit garden as the crystals adorning his body refract pink, blue, and green rays. In exploring the figure of the drag queen and the mother, Moten and Tsang, poet and artist, remain unfixed in any one persona.
10.02-22.0 2. / daily 19:00 – 21:00 Akademie der Künste as an Installation