No one in the world does not know the pop-icon Madonna. She is everywhere and in the showbiz since forever. The famous and wonderful documentary "Truth or Dare" followed the Popstar during her "Blond Ambition Tour" in 1990. For her tour, Madonna casted dancer from the voguing scene, which evolved out of the New Yorker gay subculture. The documentary is looking behind the scenes of the tour and shows Madonna in intimate moments with her dancers. They sit in bed, cuddle, talk, making fun. Madonna also wanted to take a political stance; the homosexuality of her dancers is in focus. Aids is also a subject. "Truth or Dare" happened in 1991, now we have 2016 and another documentary about the "Blond Ambition Tour" is coming, only 25 years later. "Strike a Pose", which is competing for the TEDDY AWARD this year, is telling the story of the dancers in Madonnas Show. How they felt during the tour, how they felt being filmed and being talked about. Obviously not that well, otherwise three of them wouldn't have filed a lawsuit against Madonna in 1992 because they felt their privacy being invaded. A really interesting look behind the scenes of show business. The movie will be shown at Kino International at 5pm. Dear friends: Strike a Pose, because today it's the fifth day of Berlinale!
---
Der Ost-Komplex
The GDR Complex
Germany 2016
90´
Director: Jochen Hick
Even now, twenty-five years after German reunification, historians are still debating whether the GDR was an illegitimate state. In his current work, Jochen Hick, several of whose films have screened in the Panorama, tells the story of ex-GDR citizen Mario Röllig. Hick accompanies him as he visits his parents and his former colleagues but also the sites of his attempted flight from the GDR and his incarceration. Röllig started a relationship with a politician from West Berlin back in 1985 and was arrested in Hungary in 1987 for attempting to flee the German Democratic Republic; in 1988 the Federal Republic of Germany purchased his freedom. Today he regularly talks about his experiences in schools; he also volunteers as a guide at the former Stasi prison in Hohenschönhausen in Berlin that is now a memorial. Hick stays close to his subject at all times but remains neutral, instead observing and asking questions from behind the camera. In confrontations with GDR-sympathisers Rölling is accused of distorting history and it becomes abundantly clear that the battle to have the last word on how the history of the GDR should be interpreted is riddled with taboos and fraught with individual traumas.
---
Jonathan 
Jonathan
Germany 2016
99´
Director: Piotr J. Lewandowski
Cast: Jannis Niewöhner, André Hennicke, Julia Koschitz, Thomas Sarbacher, Barbara Auer
Jonathan is 23; he and his aunt, Martha, work on their farm. Jonathan also devotes himself to looking after his father Burghardt, who has cancer. But, railing against his own decrepitude that prevents him from a dignified end, his father stubbornly sabotages all of his son's efforts. Jonathan finds it increasingly difficult to cope until they hire a young carer, Anka, to help. Jonathan and Anka fall in love; her experience of working at a hospice helps Jonathan to gain a new inroad into his father's situation. When Burghardt's long-lost boyhood friend Ron appears on the scene his health visibly improves and, although the family sees Ron as an intruder and is against it, Ron continues to stay on to be with Burghardt. Jonathan discovers that, many years ago, his father and Ron were deeply in love. All at once, the façade of cherished family beliefs crumbles and long-repressed secrets come to light – but Jonathan also learns how to let go of his father and to accept his death as something that will open up the path towards a self-determined life.
---
Kater
Tomcat
Austria 2016
114´
Director: Händl Klaus
Cast: Lukas Turtur, Philipp Hochmair, Toni, Thomas Stipsits
Andreas and Stefan live a blissful existence together with their tomcat, Moses. They inhabit a beautiful old house in the vineyards near Vienna and work in the same orchestra as manager and musician. Their passion for music, their large circle of friends and colleagues and their furry companion define the daily lives of the two men. But one morning an unexpected outburst of violence from Stefan shakes their harmonious relationship to its core. From this moment on, scepticism and alienation define their cohabitation and represent an almost insurmountable obstacle. While Stefan is losing the ground beneath his feet, Andreas struggles with his mistrust and his love for Stefan. Following his award-winning debut März (March), in his second film Händl Klaus portrays the expulsion of two lovers from paradise. Demonstrating exceptional sensitivity for the male psyche and for the blind spots in all our personalities, this artistic and poetic ballad tells of the fragility of love. Actors Philipp Hochmair and Lukas Turtur are both born theatre thespians and their naturalistic screen performances are impressive.
---
Mamma vet bäst
Mother knows best
Sweden 2016
12´
Director: Mikael Bundsen
Cast: Alexander Gustavsson, Hanna Ullerstam, Karl-Erik Franzén
So, he's gay. This evening he's introduced his boyfriend to his mum and later kissed him passionately goodbye in the car. He's fortunate to have such an open-minded mother – not everyone is as lucky. But she thinks it's best that he doesn't tell his father yet. And he certainly shouldn't make it known in public that he's gay. A lot of people are prejudiced. Not everyone is as understanding as his mother.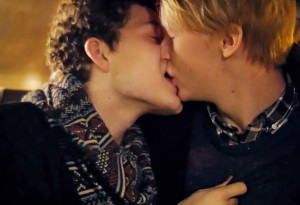 17:00, CinemaxX 1
---
Mapplethorpe: Look at the Pictures
Mapplethorpe: Look at the Pictures
USA/ Germany 2016
108´
Director: Fenton Bailey, Randy Barbato
Cast: Robert Mapplethorpe, Edward Mapplethorpe, Debbie Harry, Patti Smith, Gloria von Thurn und Taxis, Brooke Shields, Fran Lebowitz, Brice Marden
He was a catalyst and an illuminator, but also a magnet for scandal. From an early age Robert Mapplethorpe had but one goal which he single-mindedly pursued: to 'make it' not just as an artist but also as an art celebrity. He could not have picked a better time: it is the Manhattan of Warhol's Factory, of Studio 54 and, following the Stonewall riots, an era of unbridled hedonistic sexuality. His first solo exhibition in 1976 already unveils his topics: erotic depictions, flowers and portraits. He is gaining notoriety through his series of explicitly sexual photographs from the gay sadomasochistic scene as well as nude pictures of black men. Fenton Bailey and Randy Barbato, who took part in the Panorama in 2003 and 2005, were given unrestricted access to Mapplethorpe's archives for their documentary Mapplethorpe: Look at the Pictures in which this exceptional artist talks candidly about himself in recently discovered interviews. At the same time, the testimonials of friends, lovers, family members, celebrities and models help paint quite a critical picture of this complex key figure of twentieth century photography.
---
O noapte in Tokoriki
A night in Tokoriki
Romania 2016
18´
Director: Roxana Stroe
Cast: Cristian Priboi, Cristian Bota, Iulia Ciochina
There's a party in the Tokoriki nightclub. It's Geanina's 18th birthday and the whole village is there. The neon palm is lit up and the DJ is wearing his golden shirt. Alin and his friends ride up in style in the horse-drawn cart and take over the dance floor. But Alin seems to have something on his mind. His eyes sparkle when he sets eyes on Geanina, which doesn't escape her boyfriend's attention. Emotions are running high. Will there be an escalation tonight?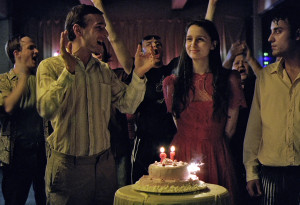 17:00, CinemaxX 1
---
Quand on a 17 ans
Being 17
France 2016
116´
Director: André Téchiné
Cast: Sandrine Kiberlain, Kacey Mottet Klein, Corentin Fila, Alexis Loret
Damien and Thomas attend the same grammar school class. They cannot stand each other and whenever verbal insults fail to do enough damage they take a swing at each other. Yet they could just as easily be friends. Damien's mother Marianne is a country doctor and his father a military pilot on a tour of duty abroad. Thomas is of Maghrebi descent and is the adopted son of a farming family living on a remote farm in the mountains. After several miscarriages the farmer's wife is expecting again and, since her pregnancy promises to be a difficult one, Marianne invites the withdrawn boy to come and stay with them for a while. Damien and Thomas find themselves having to live under the same roof … André Techiné has already taken part in the Berlinale Competition several times with films such as Les temps qui changent (2005) and Les témoins (2007). In Quand on a 17 ans he explores what it is like to grow up in different social environments in this portrait of two confused youths trying to govern their emotions. A rugged village in the mountains of south-western France as the seasons pass becomes the psychological landscape of the relationship between two young men which vacillates between disdain and attraction.

15:00, Friedrichstadt-Palast & 21:00, Haus der Berliner Festspiele
---
Rara
Rara
Chile/ Argentinia 2016
88´
Director: Pepa San Martin
Cast: Mariana Loyola, Julia Lübbert, Agustina Muñoz, Emilia Ossandó
«So … do your Mom and Lia kiss in public?» · «Sometimes. Not that much.» Since their parents split up, Sara and her younger sister live with their mother, whose new partner is a woman. Everyday life for the four of them is hardly any different than it is for other families. The situation is actually totally fine with Sara. But not everyone sees it that way – her father in particular has his doubts. As Sara's 13th birthday approaches, she's feeling rather overwhelmed: her first crush, a body in the midst of changes and to top it off, conflicts over loyalty with her parents … Everything feels wrong. The empathetic feature-length debut of director Pepa San Martín is based on a true story.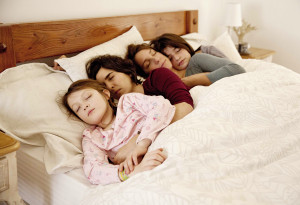 14:00, CinemaxX 3
---
Strike a Pose
Strike a Pose
Netherlands/ Belgium 2016
83´
Director: Ester Gould, Reijer Zwaan
For her 'Blond Ambition' tour in 1990, pop superstar Madonna was looking for performers who knew how to vogue. Out of countless hopefuls, the gay dancers Salim, Kevin, Carlton, José, Luis and Gabriel were chosen along with breakdancer Oliver, the only straight guy. The tour was accompanied by a film crew and Madonna cast herself in the role of mother figure of her stage family. The boys soon found fans among homosexual youths who saw them as role models, while the tour came to epitomise Madonna's commitment to gay liberation and the acknowledgement of AIDS. But the idyll fell apart when Gabriel, Kevin and Oliver sued against their involuntary outing as gay men brought about by the film In Bed with Madonna. In 1995 Gabriel died of AIDS-related illness, while the others continued to pursue their professional careers. Now, twenty-five years after their time together, the six surviving performers are reunited and long-buried secrets are aired. The filmmakers excel at telling the stories of these very different dancers whilst carefully calling into question the official version of events in order to edge closer to the truth.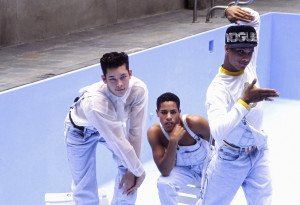 17:00, International
---
Théo et Hugo dans le même bateau
Théo et Hugo dans le même bateau
France 2016
97´
Director: Olivier Ducastel, Jacques Martineau
Cast: Geoffrey Couët, François Nambot
Théo and Hugo encounter each other's bodies in a sex club. They talk, things blur into the haziness of unbridled desire, then take shape for a moment as their gaze meets before they resume their exploration and lose themselves anew. A few moments later the two men feel the need to go outside. Together they drift down the deserted streets of nocturnal Paris. Suddenly they find themselves confronted by a sense of reality that wipes out their freedom and aimlessness and lends each step an existential helplessness. Do they want to know more about each other? Will their trust be rewarded? What are their expectations? Olivier Ducastel and Jacques Martineau display consummate sensitivity in bringing us closer to two men as they strive for intimacy in spite of being stalled by their insecurity. Their two leading actors delight us with their remarkably intuitive performances and their incredible charm.
20:00, International
---
Who's Gonna Love Me Now?
Who's Gonna Love Me Now?
Great Britain/ Israel 2016
84´
Director: Tomer Heymann, Barak Heymann, Alexander Bodin Saphir
Saar has never fulfilled his parents' expectations. Ever since he defied the rules of his kibbutz and was barred from the settlement community seventeen years ago, as far as his family is concerned, he simply does not exist. He left Israel to live freely as a gay man in London. When a three-year relationship ended, he threw himself into an excess of sex and drugs until he was diagnosed with HIV and was forced to rethink his life. He has finally found a home singing in the London Gay Men's Chorus where music is giving him the courage for a reunion with his family. This film provides a sensitive, humorous and charming record of how the now forty-year old protagonist and his estranged parents and siblings set off to confront their disagreements and fears. Unexpected warmth and deep rejection become equally challenging. Incidentally, Saar's intensely personal story also illuminates the fascinating diversity of a communal way of life that is pervaded by culture and religion; he also inspires us with the sincerity of his search for his identity. The film's numerous energetic and emotional choral scenes lend passionate expression to his message.
---
Girl Talk
Girl Talk
USA 2015
4´
Director:Wu Tsang
Cast: Fred Moten
Girl Talk features poet and critical theorist Fred Moten dancing in slow motion, or 'dragged time', to an a cappella rendition of Betty Carter's jazz standard "Girl Talk", here reinterpreted and performed by musician Josiah Wise. Wearing a velvet cloak covered in jewels, Moten turns euphorically in a sunlit garden as the crystals adorning his body refract pink, blue, and green rays. In exploring the figure of the drag queen and the mother, Moten and Tsang, poet and artist, remain unfixed in any one persona.
10.02-22.0 2. / daily 19:00 – 21:00 Akademie der Künste as an Installation