To establish a theme-block at the second day of Berlinale, I want to introduce to you two films who are about people and places in Mexico.
First we have a film called "Casa Roshell". A film about an event location in Mexico City, where everyone can be who they like to be. A kind of utopian space for people, who usually don´t have the possibility to express freely their sexuality.
The second film is a documentary about the singer Chavela Vargas, who lived all her life openly gay.  The women with the impressive voice had her career highlights in the 60´s and 90´s and turned women´s heads everywhere she went. A beautiful portrait about a far more beautiful and interesting woman. For more informations please look below! Have a nice day you all!
---
Casa Roshell
Casa Roshell
Mexico/Chile 2017
71′
Director: Camila José Donoso
You'd never know this is your home away from home. The surveillance camera outside shows a drab reception area and an unremarkable street in Mexico City; inside, the lights flash, but the tables are empty. Yet preparations are soon underway and fixed categories cease to apply: stubble is removed, make-up applied and strands of hair are teased into place; the camera is trained not on the men themselves, but what they see in the mirror. There's time for a lesson before the festivities get going, to practise walking, consider the letters of the alphabet, think about what sort of girl to be. Music plays, drinks are served and the last boundaries are suspended: those between man and woman, gay, straight and bi, past and present, reality and fiction. The people chatting at the tables or waiting before the darkroom are shot to resemble characters from a film, impossibly glamourous, which doesn't mean their stories aren't true. Whenever film stock replaces the digital images, it's like a symbol for the memories Casa Roshell contains, the spectres of all those who came here and no longer felt alone. No matter how small the utopia, the world outside can still catch up.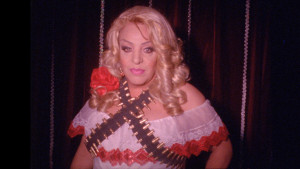 10.02. / 20:00 Kino Arsenal 1
---
Chavela
Chavela
USA 2017
90′,
Director: Catherine Gund, Daresha KyiHauptsächlich
Singer Chavela Vargas gained a name for herself firstly in Mexico and later worldwide chiefly for her interpretation of traditional rancheras. These songs were mainly composed by men and mostly speak of unfulfilled love for women, world-weariness and loneliness. Chavela performed them with her own unique feeling for rhythm and her distinctively rough and yet vulnerable voice. Her masculine appearance and red poncho made her unmistakable. In Acapulco, which in the 1960s was the playground for the rich and famous in the world of politics and culture, she rubbed shoulders with many celebrities, turning the heads of Frida Kahlo and Lana Turner with her charm and striking beauty. After a 13-year break from performing brought on as a result of her addiction to alcohol she was rediscovered in the 1990s and enjoyed a glorious comeback as the muse of artists and directors such as Pedro Almodóvar. The unpublished material in this film, as well as the interviews with Chavela herself and her contemporaries, colleagues and partners have resulted in an affectionate portrait of a charismatic and exceptional artist – who was openly lesbian throughout her life until her death in 2012 at the age of 93.
10.02. / 20:00 CineStar 7
---
Como Nossos Pais
Just Like Our Parents
Brazil 2017
102′,
Director: Laís Bodanzky
Rosa is in her late thirties. Her parents are divorced. She lives with her own family in an apartment in central São Paulo. Her husband is often away on research trips that are not particularly lucrative, so it's up to her to support and care for their two daughters. Instead of concentrating on her calling as a playwright she is obliged to earn a living writing advertising copy for a bathroom ceramics company. Coping with sexual conflicts in her relationship, dealing with problems with her various commissions, but also being obliged to tend to her fragile father's needy artistic personality all present an increasing challenge to Rosa. When Rosa's mother makes a surprising disclosure to her one day, Rosa decides to break out of her usual obligations. In so doing she discovers that life holds many surprises in store for her. Laís Bodanzky's impressively naturalistic film portrays the lives of three generations living in Brazil's largest city. These are lives caught between individual passions and living the lie. At the heart of the film is the portrait of a woman engulfed by the permanent demands that are placed upon her who decides to find out who she really is.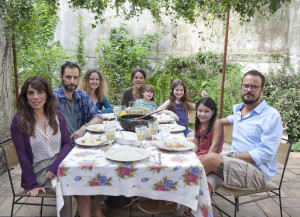 10.02. / 10:00 CinemaxX 7
---
Karera ga Honki de Amu toki wa
Close-Knit
Japan 2017
127′
Director: Naoko Ogigami
Cast: Toma Ikuta, Rinka Kakihara, Kenta Kiritani
Eleven-year-old Tomo is pretty much left to her own devices. Unwashed dishes are piling up in the sink and supermarket onigiri are all there is to eat again. Tomo's single mother usually comes home late, and drunk. When she leaves her daughter for good one day the girl has to rely on help from her uncle, who takes in Tomo to live with him and his girlfriend Rinko. At their first meeting Tomo is flabbergasted to discover that Rinko is a transsexual. Rinko immediately sets about taking care of Tomo; not only does she lovingly prepare meals but she also succeeds in creating a new home for the girl. But before long cracks appear in their perfect nest. As in her last film Rentaneko (Panorama 2012) Japanese director Naoko Ogigami offers another story about finding a way out of one's loneliness; in the case of Tomo and her new family the solution is a mixture of human warmth, good food and the symbolic act of knitting. In quietly concentrated images the film portrays non-normative sexuality as a natural way of life and describes the value of families that are defined not by convention but by a loving, caring environment.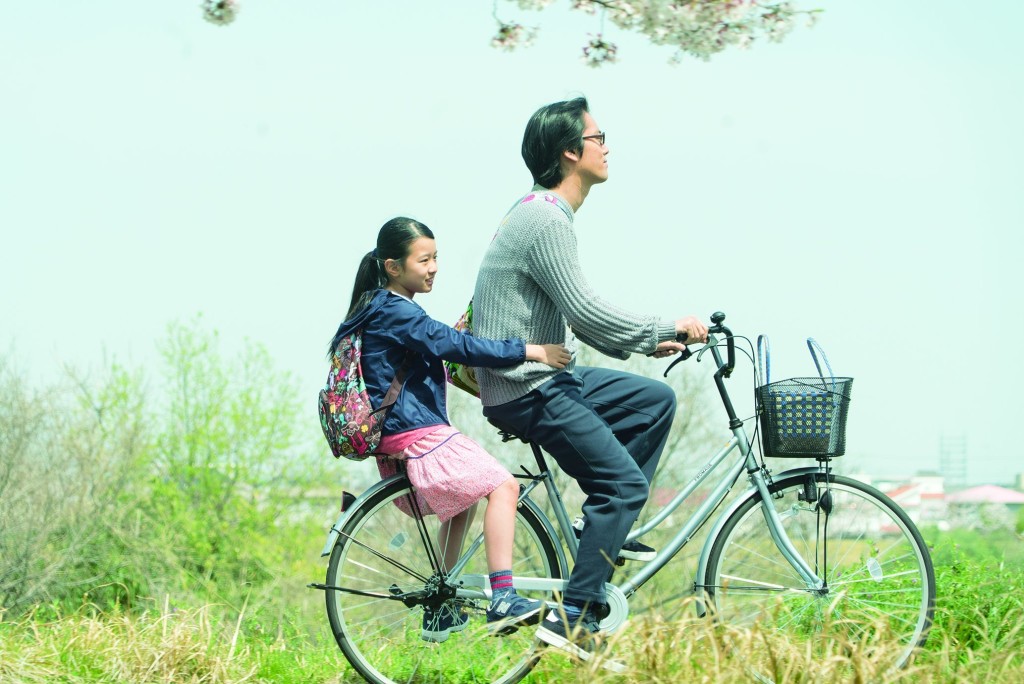 10.02. / 12:30 CinemaxX 7
---
Ri Chang Dui Hua
Small Talk
Taiwan 2016
88′
Director: Hui-chen Huang
Anu is a tomboy. Although she was married off at a young age – as was customary in Taiwan in the 1970s – and had two children, she quickly divorced her violent husband and brought up her daughters alone. Since then her only relationships have been with women who, like her, earn a living as professional mourners at funerals. One of her daughters is filmmaker Hui-chen Huang. It's considered taboo in Chinese culture to question a mother's unconditional love, and yet this taboo is exactly the topic of Huang's intimate portrait. Mother and daughter set off on a journey together into the past during which Anu is confronted by questions that have tormented her daughter for years. In a series of long shots the two women discuss such topics as trust, abuse and cognisance, and yet most of these discussions end in painful silence. Shifting focus in order to plumb the depths of the topic, the director attempts to understand her mother by also talking to her mother's siblings and ex-lovers. In doing so she paints a picture of changing living conditions for three generations of women in Taiwan.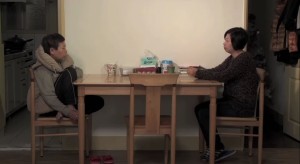 10.02. / 22:30 CineStar 7
---
The Wound
The Wound
South Africa/Germany/Netherlands/France 2016
88′
Director: John Trengove
Cast: Nakhane Touré, Bongile Mantsai, Niza Jay Ncoyini
Eastern Cape, South Africa. A lonely factory worker, Xolani, takes time off his job to assist during an annual Xhosa circumcision initiation into manhood. In a remote mountain camp that is off limits to women, young men, painted in white ochre, recuperate as they learn the masculine codes of their culture. In this environment of machismo and aggression, Xolani cares for a defiant initiate from Johannesburg, Kwanda, who quickly learns Xolani's best kept secret, that he is in love with another man. Having first explored male circumcision in his short film IBHOKHWE, South African director John Trengove revisits this topic and other rituals of masculinity in his first feature. The tension that builds inexorably throughout the film derives on the one hand from the young Kwanda who increasingly calls into question the patriarchal codes of the initiation, as well as the unbearable crisis building in Xolani as he must choose between the traditional world that he knows, and his own fulfillment.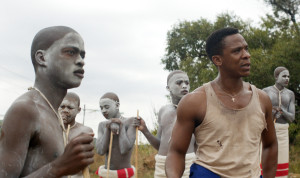 09.02. / 21:00 CinemaxX 7