Here you´ll find all films competing at the 31th TEDDY AWARD during the 67th Berlin International Film Festival from Feb. 09-Feb 19, 2017, enjoy. All information around the films and the TEDDY events you´ll find in the TEDDY AWARD Programme Magazin
An Englishman in New York
An Englishman in New York
Great Britain/ USA 2008
74′
Director: Richard Laxton
In 1975, at the age of 66, openly gay writer Quentin Crisp has given up on finding fame and so it comes rather as a surprise when the British TV film THE NAKED CIVIL SERVANT, which is about his life so far, makes him a celebrity overnight. However, while Quentin had successfully pushed a nation out of the closet, the nation "had a name to put to their demon." Refusing to return to anonymity and following an invitation to New York, Quentin finds himself in the country where he is welcomed with open arms. What was seen as freakish in London is normal in the Big Apple and having secured his Resident Alien status for his "unique qualities", Quentin becomes the toast of New York society. In his off-Broadway show he also advises people on, "how to be happy". But it's the gay community this time who now condemn him. In one of his shows Quentin unwisely describes AIDS as "a fad." The consequences are devastating. His hit show is pulled… But it is his friendship with the young and gay artist Patrick Angus that proves to be a profound revelation. Patrick is in search of his "Great Dark Man", a journey that is leading him to disillusion and destruction. Patrick confesses that he agrees with Quentin – homosexual love is impossible. Lately Patrick has contracted HIV…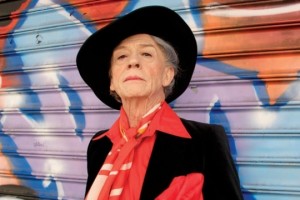 17.02. / 18.00 CinemaxX 6
---
Bing Lang Xue
The Taste of Betel Nut
Hong Kong, China 2017
84′
Director: Hu Jia
Li Qi is working for a dolphin show, his friend Ren Yu chugs along with his mobile karaoke, working the surfers' beach along the coast of Hainan Island where they both live. The tourists are delighted by Ren's physical similarity to the screen actor Leslie Cheung and are happy to pay for a photo with him – or to get drunk with him. When a young woman joins this polyamorous couple, things are no different at first and an open, three-way relationship would seem possible. Together, Li Qi, Ren Yu and Bai Ling set out to test the limitations of a restrictive society as well as their own sexuality. But then, something happens that rocks the protagonists to the core and will have a deep and lasting effect on them … Director Hu Jia portrays a generation that would appear to move casually between tradition and a courageously alternative way of life. The film's unusual setting is compelling from the word go. Largely without dialogue, this drama instead relies on small gestures that are full of meaning. The film's quietly explicit images tell a tale of love, sex, trust and brutality – providing a picture of everyday life in China that is seldom seen on the big screen.
13.02. / 20:00 CinemaxX 7
14.02. / 22:45 CineStar 3
15.02. / 20:15 Cubix 8
18.02. / 22:30 CinemaxX 7
---
Bones of Contention
Bones of Contention
USA 2017
75′
Director: Andrea Weiss
There are 120,000 victims of Franco's regime buried in the unmarked mass graves that stretch for kilometres alongside Spain's country roads. One of these victims is the world renowned Spanish author Federico García Lorca, who was shot and killed by the fascists during the early days of the Spanish Civil War. The mystery that surrounds the exact location of his remains has made him a symbol for those seeking to remember and disclose the hidden stories of gays and lesbians under Franco, people who continued to be subjected to violent repression long after the end of the dictatorship. Spain is today one of the most progressive countries when it comes to homosexuality, and yet the nation still refuses to account comprehensively for its dark past before a court of law. Andrea Weiss' sensitive film gives a voice to the victims from the LGBTIQ* community. Her documentary tells their stories and their struggle for clarification, justice and human rights as well as their continued efforts to provide those who were murdered and 'disappeared' with a dignified burial. Impressive archive material documents this repressed history which finds a painful echo in Lorca's poetry and music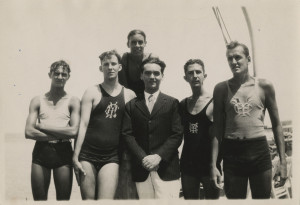 15.02. / 17:00 CineStar 7
16.02. / 22:30 CineStar 7
17.02. / 17:30 Cubix 7
18.02. / 12:30 CinemaxX 7
---
Call me by your Name
Call me by your Name
Italy/France 2017
130′,
Director: Luca Guadagnino
It's the hot, sun-drenched summer of 1983 and Elio is at his parents' country seat in northern Italy. The seventeen-year-old idles away the time listening to music, reading books and swimming until one day his father's new American assistant arrives at their large villa. Oliver is charming and, like Elio, has Jewish roots; he is also young, self-confident and good looking. At first Elio is somewhat cold and distant towards the young man but before long the two begin going out together on excursions. Elio begins to make tentative overtures towards Oliver that become increasingly intimate – even if, as Oliver says, 'one can't talk about such things'. As the short summer progresses, the pair's mutual attraction grows more intense. Director Luca Guadagnino co-wrote the screenplay – which is based on the novel of the same name by André Aciman – with US director James Ivory and Walter Fasano. Guadagnino transposes the memories of the book's first-person narrator Elio into quietly atmospheric images. Besides the two main characters of this unexpected coming-out story (played by Timothée Chalamet and Armie Hammer) the film also boasts a third leading role in the shape of the seductive landscape.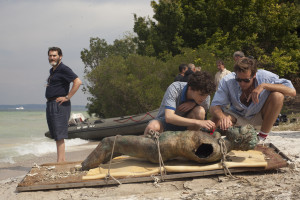 13.02. / 21:30 Zoo Palast 1
14.02. / 12:00 CinemaxX 7
15.02. / 17:00 Cubix 9
17.02. / 17:00 Cubix 9
19.02. / 21:30 Zoo Palast 1
---
Casa Roshell
Casa Roshell
Mexico/Chile 2017
71′
Director: Camila José Donoso
You'd never know this is your home away from home. The surveillance camera outside shows a drab reception area and an unremarkable street in Mexico City; inside, the lights flash, but the tables are empty. Yet preparations are soon underway and fixed categories cease to apply: stubble is removed, make-up applied and strands of hair are teased into place; the camera is trained not on the men themselves, but what they see in the mirror. There's time for a lesson before the festivities get going, to practise walking, consider the letters of the alphabet, think about what sort of girl to be. Music plays, drinks are served and the last boundaries are suspended: those between man and woman, gay, straight and bi, past and present, reality and fiction. The people chatting at the tables or waiting before the darkroom are shot to resemble characters from a film, impossibly glamourous, which doesn't mean their stories aren't true. Whenever film stock replaces the digital images, it's like a symbol for the memories Casa Roshell contains, the spectres of all those who came here and no longer felt alone. No matter how small the utopia, the world outside can still catch up.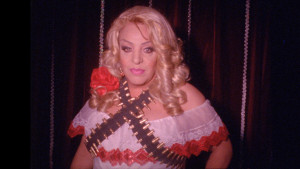 10.02. / 20:00 Kino Arsenal 1
11.02. / 22:00 CinemaxX 4
13.02. / 22:00 Delphi Filmpalast
17.02. / 16:30 Akademie der Künste
---
Casting
Casting
Germany 2017
91′,
Director: Nicolas Wackerbarth
For her first television film – a remake of Fassbinder's Die bitteren Tränen der Petra von Kant – director Vera wants the perfect cast. But the first day of shooting is fast approaching and the numerous casting sessions have yet to find a suitable actress to play the leading role. Although the producer and crew are getting ever more exasperated with Vera, Gerwin is happy about the extra work, as he earns his money as an audition reader, delivering the lines of dialogue to the starry candidates at the various castings. When the male lead suddenly has to back out, Gerwin thinks that this might just be his chance. Director Nicolas Wackerbarth captures the complex essence of Fassbinder's film and simultaneously creates a profound work of his own. Casting takes an unflinching look at the murky depths of human relationships driven by power, passion and desperation. Yet Wackerbarth also brings bitter truths to light about power relations and dependencies in the German television industry almost in passing. Casting is both intelligent and entertaining, marked by exciting turning points, humour and the breathtaking acting performances by a truly virtuoso ensemble.
11.02. / 19:00 Delphi Filmpalast
13.02. / 11:00 CineStar 8
16.02. / 20:00 Colosseum 1
19.02. / 20:00 Cubix 9
---
Ceux qui font les révolutions à moitié n'ont fait que se creuser un tombeau
Those Who Make Revolution Halfway Only Dig Their Own Graves
Canada
183′
Director: Mathieu Denis, Simon Lavoie
'After twelve weeks of striking, assemblies, solidarity, arrest, protest, what do we get? Nothing.' As the 2012 'Maple Spring' student protest movement in Quebec slowly ebbs away, a dark storm of violence gathers. Driven by a growing sense of frustrated powerlessness and a longing for a new life, Klas Batalo, Ordine Nuovo, Tumulto and Giutizia form an avant-garde splinter group. Their deep-rooted hostility towards the prevailing social order finds an ambiguous political expression in acts that include guerilla pranks and throwing Molotov cocktails. Using powerful imagery shaped by a century of political aesthetics, the film is a collage of scenes and documentary fragments that makes the isolation of the four protagonists tangible. In the course of a path formed by ideals and doubt, we witness their radicalism as it increasingly turns inwards.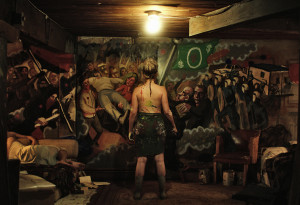 12.02. / 20:00 HKW
13.02. / 14:30 CinemaxX 3
18.02. / 20:00 HKW
---
Chavela
Chavela
USA 2017
90′,
Director: Catherine Gund, Daresha Kyi
Singer Chavela Vargas gained a name for herself firstly in Mexico and later worldwide chiefly for her interpretation of traditional rancheras. These songs were mainly composed by men and mostly speak of unfulfilled love for women, world-weariness and loneliness. Chavela performed them with her own unique feeling for rhythm and her distinctively rough and yet vulnerable voice. Her masculine appearance and red poncho made her unmistakable. In Acapulco, which in the 1960s was the playground for the rich and famous in the world of politics and culture, she rubbed shoulders with many celebrities, turning the heads of Frida Kahlo and Lana Turner with her charm and striking beauty. After a 13-year break from performing brought on as a result of her addiction to alcohol she was rediscovered in the 1990s and enjoyed a glorious comeback as the muse of artists and directors such as Pedro Almodóvar. The unpublished material in this film, as well as the interviews with Chavela herself and her contemporaries, colleagues and partners have resulted in an affectionate portrait of a charismatic and exceptional artist – who was openly lesbian throughout her life until her death in 2012 at the age of 93.
10.02. / 20:00 CineStar 7
11.02. / 14:30 CineStar 7
12.02. / 14:30 Colosseum 1
16.02. / 22:30 CinemaxX 7
18.02. / 17:00 CineStar 7
19.02. / 20:00 CineStar 7
---
Como Nossos Pais
Just Like Our Parents
Brazil 2017
102′,
Director: Laís Bodanzky
Rosa is in her late thirties. Her parents are divorced. She lives with her own family in an apartment in central São Paulo. Her husband is often away on research trips that are not particularly lucrative, so it's up to her to support and care for their two daughters. Instead of concentrating on her calling as a playwright she is obliged to earn a living writing advertising copy for a bathroom ceramics company. Coping with sexual conflicts in her relationship, dealing with problems with her various commissions, but also being obliged to tend to her fragile father's needy artistic personality all present an increasing challenge to Rosa. When Rosa's mother makes a surprising disclosure to her one day, Rosa decides to break out of her usual obligations. In so doing she discovers that life holds many surprises in store for her. Laís Bodanzky's impressively naturalistic film portrays the lives of three generations living in Brazil's largest city. These are lives caught between individual passions and living the lie. At the heart of the film is the portrait of a woman engulfed by the permanent demands that are placed upon her who decides to find out who she really is.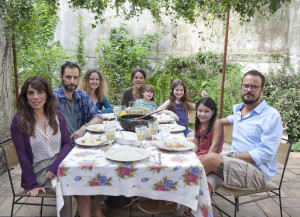 10.02. / 10:00 CinemaxX 7
11.02. / 19:30 International
12.02. / 17:00 Cubix 9
13.02. / 22:30 Colosseum 1
19.02. / 14:30 Cubix 9
---
Cuateros
Rustlers
Argentina 2016
85′
Director: Albertina Carri
Albertina Carri wants to make a film about Isidro Velázquez, an almost mythical outlaw figure from northern Argentina who was shot dead by police in 1967. She's not the only one interested in him: her sociologist father Roberto Carri wrote a book on him called "PreRevolutionary Forms of Violence" and a film was made about his story, although both father and film disappeared during the Dirty War. Legends, families, political alignments, cinema: none offer a stable foothold and Carri's passage through them is like wandering a garden of forking paths, only to arrive at a landscape of cracked earth and thorns. Carri's narration is anyway not what it might once have been, a mother doesn't tell things the same way as a daughter. Legends, families, political alignments, cinema: each produces images and these are what appear on the screen, in one channel, three channels, five. It's all material plucked from an archive and a wonderfully eccentric one at that: news reels, ads, home videos, interviews, movies, abstract forms. Images that could stem from old films, lost films, new films, possible films, impossible films; this is a film for which no other images will do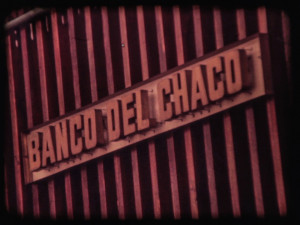 12.02. / 19:30 CinemaxX 4
14.02. / 22:00 Zoo Palast 2
15.02. / 14:00 Akademie der Künste
18.02. / 15:00 Kino Arsenal 1
---
Discreet
Discreet
USA 2017
81′
Director: Travis Mathews
Bacon sizzling in fat, a young woman thanking the subscribers of her YouTube channel, a corpse neatly wrapped up in black garbage bags and floating down a river – as clear as the first few images of Travis Mathews' mystery thriller may be, the connections only become clearer gradually, as if they were emerging from the subconscious. This elliptically edited story, which revolves around a man who can no longer be described as young, is accompanied by an eerie soundscape. Filmmaker Alex lives in a van. He sets up his camera in rural areas in the US and in the no-man's land near highways. During a visit to his alcoholic mother one day she shares with him a well-kept secret. There is also a small boy, with whom Alex develops an unexpectedly close relationship. Director Mathews chronicles a modern day gay existence in the West – from anonymous sex to heterosexual porn in a sex bar cabin, or as a service in a motel room. A small house and a life on the margins of society. Meanwhile, on the radio, we are treated to a steady stream of rightwing slogans against everything that is not white and heterosexual, here in Texas.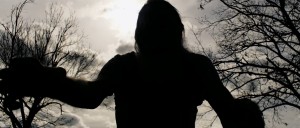 11.02. / 22:30 CinemaxX 7
12.02. / 17:45 CineStar 3
13.02. / 20:15 Cubix 7
13.02. / 20:15 Cubix 8
14.02. / 22:30 Colosseum 1
15.02. / 20:00 International
---
Dream Boat
Dream Boat
Germany 2017
92′
Director: Tristan Ferland Milewski
One week on a cruise ship, with parties, fun and new friendships. The all-gay clientele on board discuss topics such as identity, the body beautiful and the search for sex. Every evening is dedicated to a new theme, challenging the passengers to ever more extravagant, body-hugging outfits. In the cabins however, the talk is more than skin deep as the men open up about their private lives. Marek, a young Polish man just wants to be accepted and loved as a human being and not just because of his taut body. Dipankar from India has just recently come out; he and Palestinian Ramzi are revelling in the kind of freedom they can only dream about in their homophobic societies back home. Martin is HIV positive and ponders hedonistic ways, while Philippe from France observes the proceedings on board serenely from his wheelchair. In his feature film debut director Ferland Milewski succeeds in providing a look behind the scenes of an ostensibly superficial world. His humorous approach helps him create a genuine bond with the protagonists who talk openly about gay desires, free love and good old-fashioned monogamy.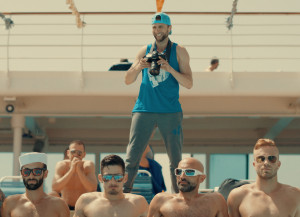 11.02. / 14:45 Colosseum 1
12.02. / 14:00 International
17.02. / 12:30 CinemaxX 7
18.02. / 20:00 CineStar 7
---
EMO the Musical
EMO the Musical
Australia 2016
94′
Director: Neil Triffett
'How do we know you´re for real?' · 'I tried to hang myself at my last school and they expelled me.' · 'Welcome to the band.' After receiving a Special Mention for Best Short Film from the Generation Youth Jury in 2014, this love story full of irony and exhilaration has now been given the feature-film treatment. Ethan, a sensitive and depressed Emo boy with suicidal tendencies, plays hard doom and gloom rock with the likeminded, in a band where good moods are strictly taboo. Ever chipper classmate Trinity for her part prefers to use her sweet voice to sing praises to the Lord in her Christian youth group. Trinity and Ethan, nobody will ever understand this unlikely match, let alone accept it! And yet that's exactly what came to pass when their two paths crossed for the first time. The impossible bond they share sets a number of events in motion at their crazy little school.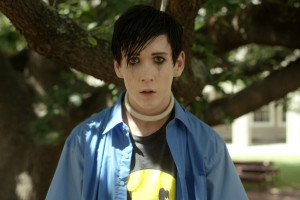 11.02. / 17:00 HKW
12.02. / 15:30 Filmtheater am Friedrichshain
15.02. / 14:00 CinemaxX 3
---
Final Stage
Final Stage
Germany 2017
27′
Director: Nicolaas Schmidt
The present, the whole present and nothing but the present. A young man on a footbridge, a bus departs, his friend is gone. This is followed by a majestic parade through a shopping centre. This central shot in the film is a fragile balancing act between documentary observation and subtle direction. Deliberately asynchronous sound serves to heighten the sense that events are nothing more than a construction of an apparently familiar reality. The boy's melancholic bearing, and the way the film unfolds, are embedded in an extremely expressive, albeit narratively minimalistic, dramaturgy of colour. Vibrant colours introduce each individual sequence: blue, green, yellow, orange, red.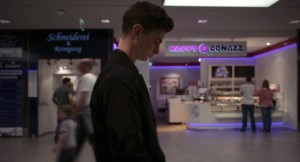 12.02. / 22:00 CinemaxX 3
17.02. / 16:30 CinemaxX 3
18.02. / 12:00 Colosseum 1
19.02. / 16:00 International
---
Fluidø
Fluidø
Germany 2017
80′
Director: Shu Lea Cheang
It is the year 2060 and AIDS has been eradicated. However, in some, the HIV virus has now mutated into a gene from which a drug can be produced that has become the white powder of the twenty-first century. A virtual scanning system enables the secret police to identify anyone who carries this gene. Meanwhile, elsewhere, young men are hooked up to a system of cables and ordered to produce sperm for the production of pharmaceuticals that will dominate the market. Filmed in Berlin, Taiwan-born multimedia artist and filmmaker Shu Lea Cheang's science fiction dystopia revolves around a struggle to gain control over the production and exploitation of bodily fluids. Her film is like an orgiastic opera; a breathless round of bodies, secretions, performances and sexual acts often performed in the service of an overriding economy. An unusual, largely experimental and deliberately parapornographic drama in which the borders between the sexes as well as homo-, hetero, bi, trans- or intersexual are constantly blurred.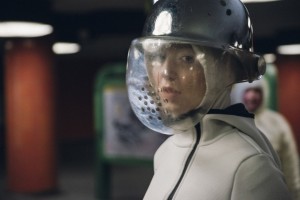 14.02. / 22:45 CinemaxX 7
15.02. / 20:15 CineStar 3
16.02. / 22:45 Cubix 7
16.02. / 22:45 Cubix 8
---
Freak Show
Freak Show
USA 2017
95′
Director: Trudie Styler
Being fabulous, no: being relentlessly fabulous is damn hard work. I should know. I've dedicated my life to the pursuit of it.' Could Billy Bloom be like everyone else if he wanted to? It would certainly save him a whole lot of trouble. But he has absolutely no desire to be like them. When others call him theatrical, he takes it as a compliment; when his classmates feel provoked by his drive to be different, it only motivates him further. 'The nail that sticks out gets hammered down', his father warns him. That does not deter Billy from deciding to run for homecoming queen. Somewhere in-between David Bowie, Lady Gaga, Freddy Mercury and Oscar Wilde, in the transgressive space of pop culture and dressed up as a high school comedy with wit, heart and a dazzling cast, Freak Show is about the violence of conformity and the power of self-determination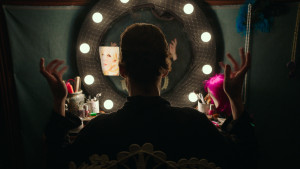 13.02. / 17:00 HKW
14.02. / 16:30 CinemaxX 3
18.02. / 15:30 Zoo Palast 1
19.02. / 15:30 Cubix 8
---
God's Own Country
God's Own Country
Great Britain 2017
104′
Director: Francis Lee
Young Johnny is running his ailing father's farm in Yorkshire, England. The communication between father and son reflects their adverse living and working conditions, the father's utterances mostly being restricted to terse criticism of his son. Johnny's grandmother plays her part stoically. A frustrated Johnny endures his strenuous daily routine. In a bid to escape the harsh daily grind, he has nostrings sex with men, or gets drunk at the local pub. In the spring, a farm hand is taken on for the season. Romanian Gheorghe is the same age as Johnny, who at first eyes him with suspicion. The initial tension between the two men soon gives way to an intense relationship. This opens up completely new prospects but also presents new challenges for Johnny. In his feature-length debut, Francis Lee finds authentic images to depict farm life as one of privation. His film concentrates on the looks and gestures of his characters and their physical proximity. The archaic landscape of 'God's own country' as the locals call their county, perfectly reflects the turmoil going on inside the protagonists.
11.02. / 14:30 Cubix 9
14.02. / 20:00 CinemaxX 7
15.02. / 22:45 CineStar 3
16.02. / 20:15 Cubix 7
16.02. / 20:15 Cubix 8
18.02. / 12:00 Zoo Palast 2
---
I Am Not Your Negro
I Am Not Your Negro
France/USA/Belgium/Switzerland 2016
93′
Director: Raoul Peck
In June 1979 renowned US writer James Baldwin began work on his last, unfinished text 'Remember this House'. His personal memories of his three murdered civil rights friends Malcolm X, Medgar Evers and Martin Luther King and his reflections on his own painful experiences as a black American serve to re-write American history. Raoul Peck has turned these thirty hitherto unpublished pages into a powerful collage of archive photographs, excerpts from films and newsreel footage: the boycotts and the resistance against racial segregation in the 1950s and 1960s, the invisibility of black Americans in Hollywood's legendary works, the AfroAmerican protests against white police brutality that continue to take place even today, Baldwin's complex relationship with the Black Power Movement and one FBI report's paranoid view of Baldwin's homosexuality. A trenchant and disturbing essay about the reality of the lives of African Americans – lives that are still largely ignored by America's mainstream. Samuel L Jackson's voice lends Baldwin's language suitably poetic, meditative expression.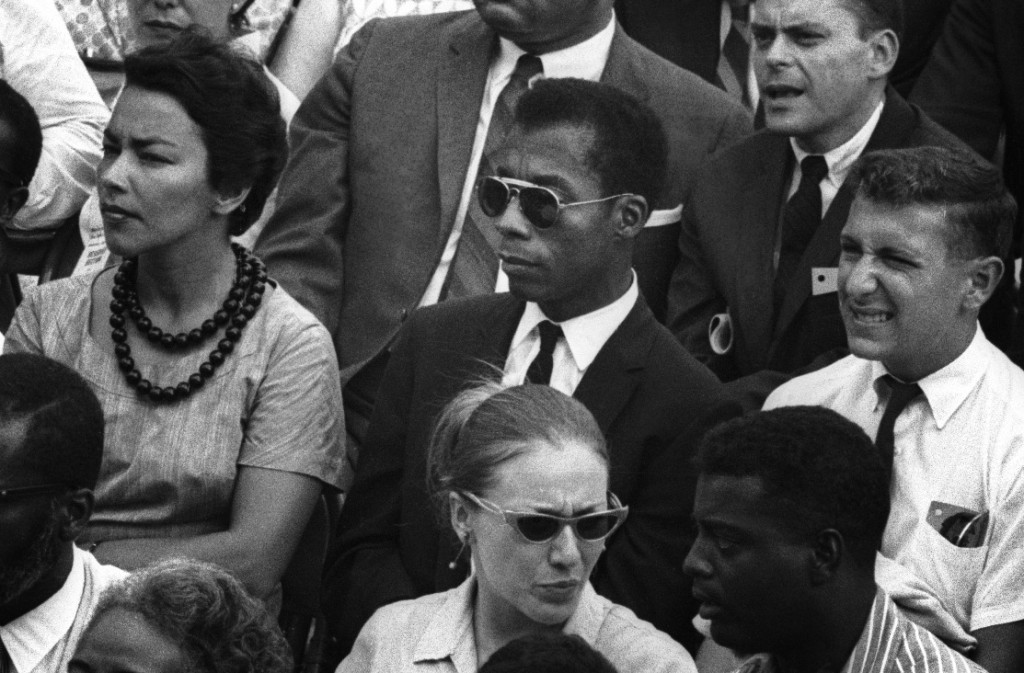 15.02. / 17:00 International
16.02. / 11:00 CineStar 7
17.02. / 14:30 Colosseum 1
19.02. / 14:30 Zoo Palast 2
---
Isla Santa Maria 3D
Isla Santa Maria 3D
Canada 2016
18′
Director: Oliver Husain
Cast: Liz Peterson, Naishi Wang
Isla Santa Maria – according to myth – is an island formed from the wreckage of a replica of one of Christopher Columbus's ships, created for the World's Columbian Exposition 1893 in Chicago. Based on this myth, Isla Santa Maria 3D draws together the violent colonialist legacy of Columbus with developments of perspective drawing and stereoscopic image-making as two histories that reordered the way we see the world. The film's cast of characters – a dancing conquistador, an oracle appearing as a floating hologram, a group of representatives from another planet, and a flock of Victorian era revelers on a beach – are pulled out of time into a nonlinear narrative that overlaps histories, truths, and fantasies to re-imagine possible futures.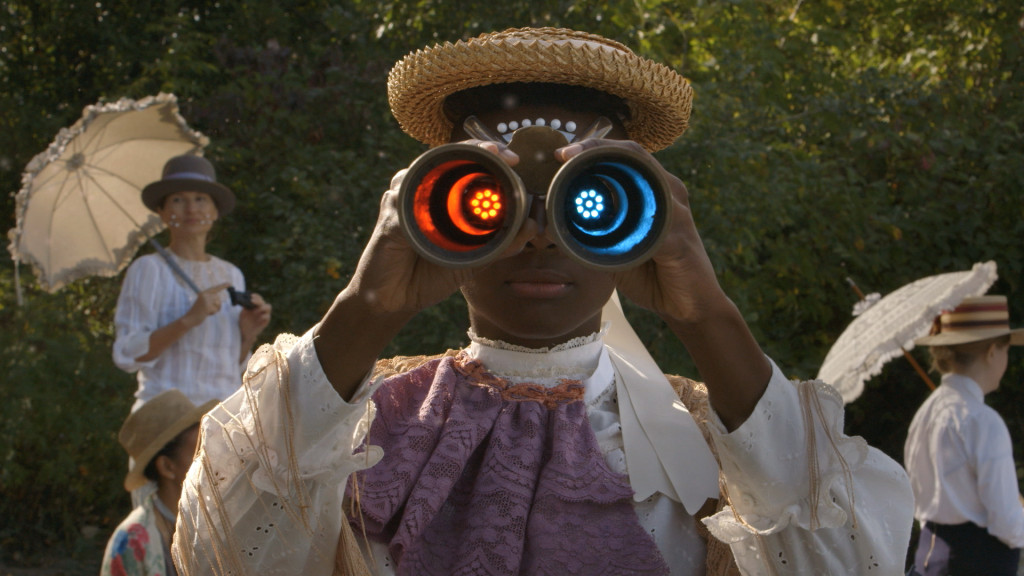 ---
Die Jungfrauenmaschine
Virgin Machine
Germany 1988
84′
Director: Monika Treut
Cast: Ina Blum, Marecelo Uriona, Gad Klein, Mona Mur
Young Hamburg journalist Dorothee Müller is fed up of her persistent lover, Heinz. A complete ingénue, she innocently embarks upon an exploration of romantic love – is it merely a 'woman's malady'? The places where she undertakes this research include a pleasureaddicted hormone researcher's practice and the monkey house at the zoo. Unable to find any satisfactory answers, Dorothee decides to leave Europe and head for California where she continues her research by conducting interviews and some personal explorations. In swinging San Francisco she meets three remarkable women: a cheeky Hungarian named Dominique who sneers at the German work ethic and offers to help Dorothee in her research; Susie Sexpert, a specialist in sexual pleasures who has an astonishing collection of dildos, and finally the attractive Ramona, who performs a hot strip as a drag king in a lesbian bar. By the end of her journey Dorothee has rediscovered her own sexuality and put several illusions firmly behind her.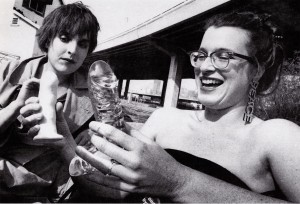 15.02. / 22:00 Zoo Palast 2
---
Karera ga Honki de Amu toki wa
Close-Knit
Japan 2017
127′
Director: Naoko Ogigami
Cast: Toma Ikuta, Rinka Kakihara, Kenta Kiritani
Eleven-year-old Tomo is pretty much left to her own devices. Unwashed dishes are piling up in the sink and supermarket onigiri are all there is to eat again. Tomo's single mother usually comes home late, and drunk. When she leaves her daughter for good one day the girl has to rely on help from her uncle, who takes in Tomo to live with him and his girlfriend Rinko. At their first meeting Tomo is flabbergasted to discover that Rinko is a transsexual. Rinko immediately sets about taking care of Tomo; not only does she lovingly prepare meals but she also succeeds in creating a new home for the girl. But before long cracks appear in their perfect nest. As in her last film Rentaneko (Panorama 2012) Japanese director Naoko Ogigami offers another story about finding a way out of one's loneliness; in the case of Tomo and her new family the solution is a mixture of human warmth, good food and the symbolic act of knitting. In quietly concentrated images the film portrays non-normative sexuality as a natural way of life and describes the value of families that are defined not by convention but by a loving, caring environment.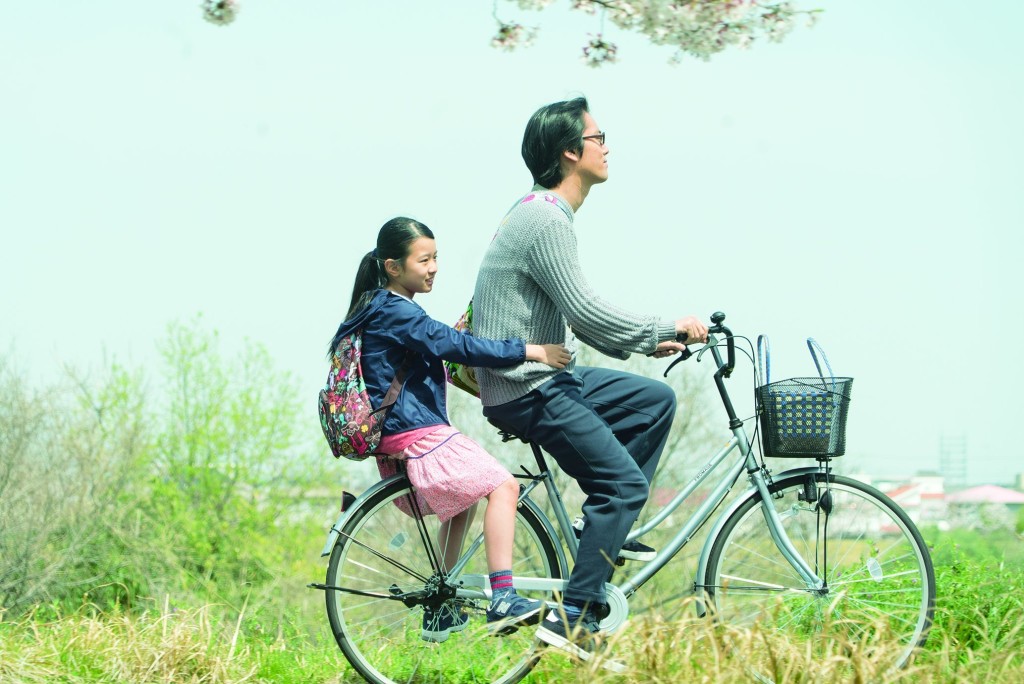 10.02. / 12:30 CinemaxX 7
15.02. / 18:30 Zoo Palast 1
16.02. / 10:00 CinemaxX 7
17.02. / 14:00 Cubix 9
19.02. / 15:30 Zoo Palast 1
---
Kometen
The Comet
Sweden 2016
11′
Director: Victor Lindgren
Cast: Abdi Aziis
The sea. High waves. Dark water. A border fence, two men in hiding. Their flight begins. Only one of them will reach Sweden. One of the men is played by Abdi Aziis, who himself has fled from Somalia to Sweden in order to escape the oppression and persecution of gay men. "He is our comet" explains director Victor Lindgren, who, in merely a few selected situations, manages to convey the exertions, the deep abyss, the arrival and the loneliness of those who flee. Both men lay alongside each other on a bench, one arm extended across the other's belly – an image that symbolizes their intimacy, their shared experience. And in the next moment it's all gone. Forever. How can life go on? Victor Lindgren's film Ta av mig was conferred with a TEDDY Award for Best Short Film at the 2013 Berlinale.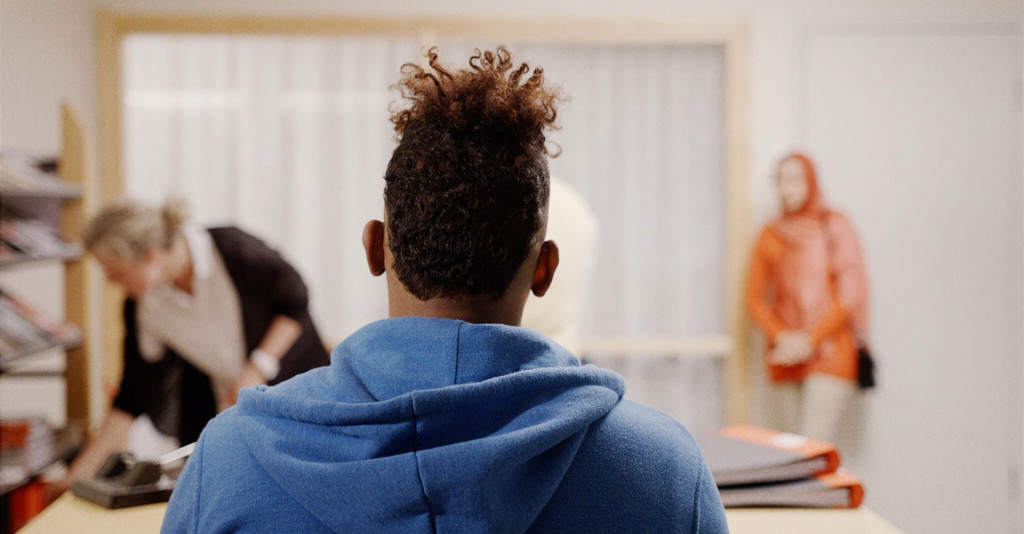 11.02. / 16:00 CinemaxX 5
12.02. / 22:00 CinemaxX 3
13.02. / 22:00 CinemaxX 3
14.02. / 17:00 Colosseum 1
16.02. / 16:00 CinemaxX 5
16.02. / 21:30 City Kino Wedding
19.02. / 16:00 International
---
Maurice
Maurice
Great Britain 1987
140′
Director: James Ivory
Cast: James Wilby, Hugh Grant, Rupert Graves, Denholm Elliott
At King's College, Cambridge in 1909, fellow students Maurice Hall and Clive Durham feel more for each other than mere friendship. But sexual contact, never mind the "unspeakable vice of the Greeks" as their Plato professor calls it, remains taboo. For fear of being ostracised, like one of their classmates, they keep their love secret. Later, after Clive has made a marriage befitting his station, they maintain a purely platonic friendship. When Maurice begins a relationship with the Durham's gamekeeper, it seems as if he has found happiness … Following their Oscar-winning turn with A Room with a View (1985), the team of James Ivory and Ismail Merchant took on this second film based on a book by E.M. Forster; although the novel had been written in 1913/14, it could not be published until after his death in 1970. In melancholy tones, the film deals sensitively with the grief of a forbidden love. The rigorously detailed production design precisely captures the Edwardian zeitgeist, while at the same time, the exquisite composition of the camerawork reveals the narrow-mindedness of a society in which prudery and hypocrisy rule. – World premiere of the digitally restored 2K DCP version.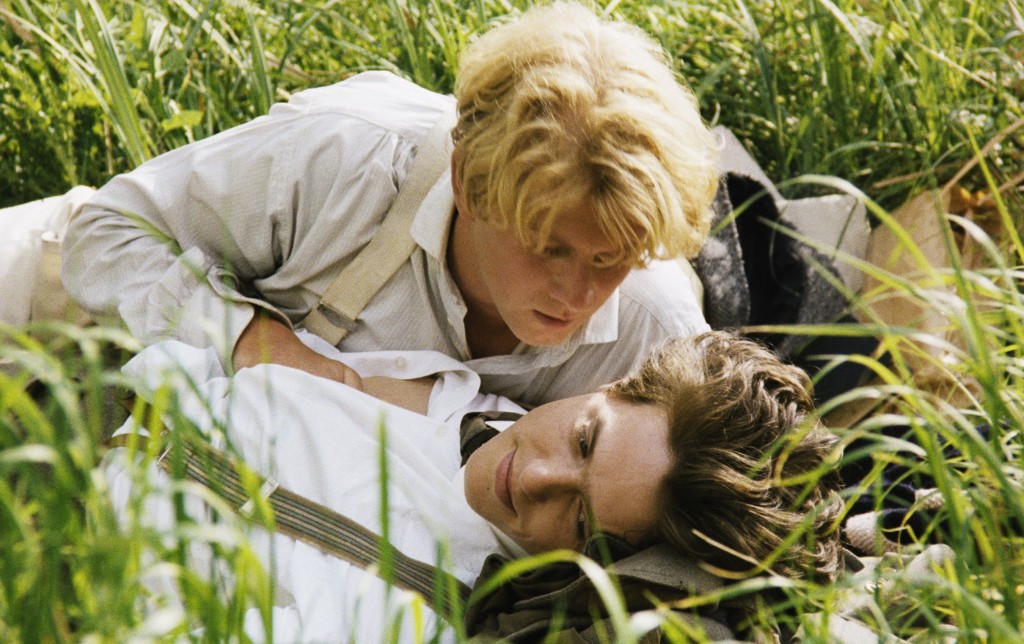 13.02. / 19:00 CinemaxX 8
17.02. / 11:30 CinemaxX 8
---
Mein wunderbares West-Berlin
My Wonderful West Berlin
Germany 2017
97
Director: Jochen Hick
Cast: Romy Haag, Maximilian Lenz, Ades Zabel
In West Berlin in the 1960s it was possible to find bars where men could be left to themselves – a fact that was to turn the city into a magnet for young gay men. The protagonists of this film, all still active members of the community today, recall those early years in the city. Theirs are memories of a community that fought steadily for its existence and for change, right up to the fall of the Wall. Faced with considerable social repression in the 1970s, a collective gay identity began to emerge, and the 'West Berlin homosexual campaign' called for the abolition of paragraph 175 and the overthrow of patriarchy. Ruined buildings become the venues for new ways of living together such as all-male communes or the 'queer house'. Cottaging, East-West affairs, leather bars, drag performances in the subway – an anarchic kind of joy outshines past suffering. A decade later, AIDS was to hit Berlin. After Out in Ost-Berlin (Out In East Berlin) Jochen Hick explores queer lifestyles in the West of the city and the roots of a fascination that the metropolis still holds as a refuge – and not just for gay men. A fascinating journey through time featuring previously unpublished archive material.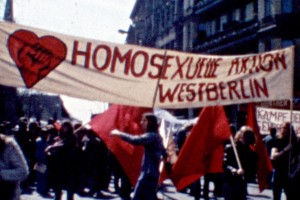 11.02. / 17:00 International
12.02. / 12:00 CineStar 7
13.02. / 14:30 Colosseum 1
18.02. / 22:30 CineStar 7
---
Min Homosyster
My Gay Sister
Sweden/Norway 2017
15′
Director: Lia Hietala
Cast: Juliette Safavi, Tina Pourdavoy, Erika A. Coleman
Ten-year-old Cleo has a head full of questions: How can I tell if I'm in love with somebody? How do I know if I prefer boys or girls? Since her older sister began dating another girl, there are new, strange feelings stirring inside Cleo. During a trip to the Norwegian fjords, she broaches the subject with the young couple and is given some helpful advice.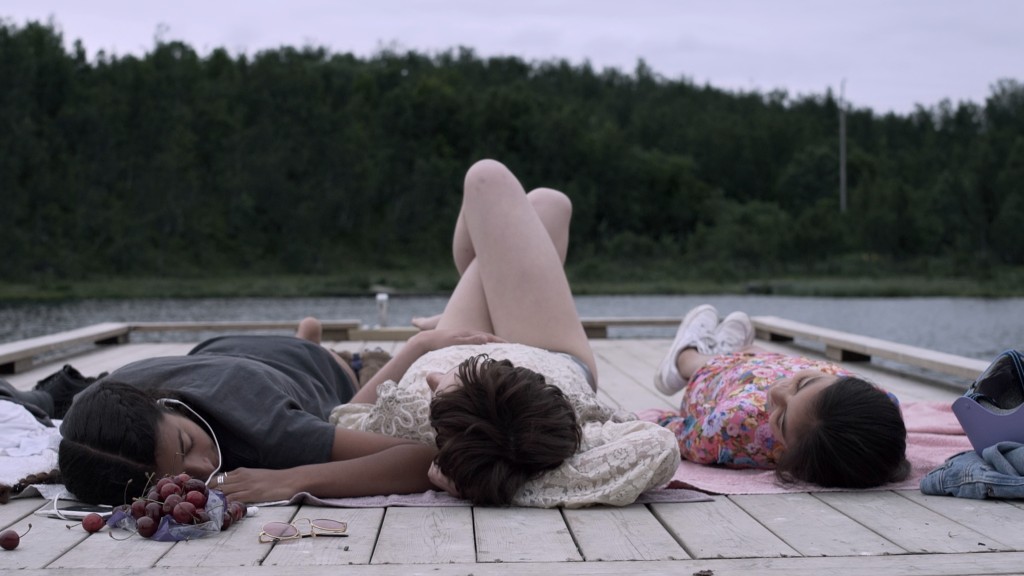 11.02. / 16:30 CinemaxX 3
12.02. / 22:00 CinemaxX 3
15.02. / 12:30 Filmtheater am Friedrichshain
16.02. / 14:00 CinemaxX 1
19.02. / 16:00 International
---
The Misandrists
The Misandrists
Germany 2017 91′
Director: Bruce LaBruce
Cast: Susanne Sachsse, Viva Ruiz, Kembra Pfahler, Caprice Crawford
Somewhere in Ger(wo)many … A radical female 'army of lovers' is preparing itself for a final revolution. Women are discussing, campaigning, menstruating and pondering the decline of patriarchy, learning about single sex reproduction, and having sex. But then of all people a young soldier appears, seeking refuge at this feminist convent; moreover, one of the women-warriors turns out to be a police informer. This brings their strict superintendent on the scene. And 'big mother' is not amused. "Two cocks! And a cop! In our house! That's intolerable!" But one question remains: is it possible to have equality in a corrupt system? Or will cocks need to roll first?! As if Valerie Solanas had directed an episode of 'Schoolgirl's Report', Bruce LaBruce's latest piece of shenanigans revolves around a utopian world without men. The Canadian director, experienced Berlinale guest and Teddy award-winner (for Pierrot Lunaire) serves up a merry, anarchic dance in which political slogans fall as trippingly off the tongue as religious acclamations. Their sermons are – naturally – rounded off with 'A(wo)men'. Sarcastic, very funny – and as queer as it gets.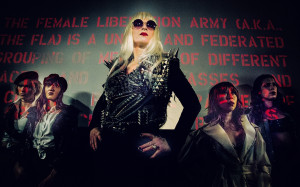 13.02. / 22:30 CinemaxX 7
14.02. / 20:15 CineStar 3
15.02. / 22:30 Cubix 7
15.02. / 22:30 Cubix 8
18.02. / 22:00 Zoo Palast 2
---
Una mujer fantástica
A Fantastic Woman
Chile/USA/Germany/Spain 2017
104′
Director: Sebastián Lelio
Cast: Daniela Vega, Francisco Reyes, Luis Gnecco, Aline Kuppenheim
Marina and Orlando are in love and plan to spend their lives together. She is working as a waitress and adores singing. Her lover, twenty years her senior, has left his family for her. One night, when they return home after having exuberantly celebrated Marina's birthday at a restaurant, Orlando suddenly turns deathly pale and stops responding. At the hospital, all the doctors can do is confirm his death. Events follow thick and fast: Marina finds herself facing a female police inspector's unpleasant questions, and Orlando's family shows her nothing but anger and mistrust. Orlando's wife excludes Marina from the funeral; she also orders her to leave the apartment – which on paper at least belonged to Orlando – as soon as possible. Marina is a transgender woman. The deceased's family feels threatened by her sexual identity. With the same energy she once used to fight for her right to live as a woman Marina, with head held high, now insists on her right to grieve. Even if her environment conspires against her, the film at least is entirely on her side, showing us a protagonist who, although increasingly side-lined, is nonetheless strong and worldly-wise – a truly fantastic woman.
12.02. / 22:00 Berlinale Palast
13.02. / 12:30 Zoo Palast 1
13.02. / 15:00 Friedrichstadt-Palast
13.02. / 21:30 Odeon
13.02. / 22:30 International
19.02. / 19:00 Berlinale Palast
---
The Party
The Party
Great Britain 2017
71′
Director: Sally Potter
Cast: Patricia Clarkson, Bruno Ganz, Cherry Jones, Emily Mortimer
Janet ist gerade zur Ministerin im Schattenkabinett ernannt worden – die Kronung ihrer politischen Laufbahn. Mit ihrem Mann Bill und ein paar engen Freunden soll das gefeiert werden. Die Gäste treffen in ihrem Londoner Haus ein, doch die Party nimmt einen anderen Verlauf als erwartet. Bill platzt mit gleich zwei explosiven Enthüllungen heraus, die nicht nur Janets Existenz in den Grundfesten erschüttern. Liebe, Freundschaften, politische Überzeugungen und Lebensentwürfe stehen zur Disposition. Unter der kultivierten linksliberalen Oberfläche brodelt es, und in der Auseinandersetzung werden schließlich scharfe Geschütze aufgefahren – durchaus im Wortsinn. In ihrem achten Kinofilm lädt die britische Regisseurin und Drehbuchautorin Sally Potter, die zuletzt 2009 mit Rage im Wettbewerb der Berlinale vertreten war, namhafte Akteure zur Party. Was als Komodie mit hintersinnigem Witz und scharfen Dialogen beginnt, kippt in die Tragödie. Wenn dem Leben mit Argumenten nicht mehr beizukommen ist, wird unversehens um den Fortbestand der nur scheinbar gefestigten Existenzen gerungen.
---
Pieles
Skins
Spain 2017
77′
Director: Eduardo Casanova
Cast: Ana Polvorosa, Candela Peña, Carmen Machi, Macarena Gómez
Samantha, Guille, Ana and Cristian all have something in common – and yet they couldn't be more diverse. Their bodies are different to those of other people; be it the mouth, the left side of the face, the texture of the skin or the feeling that your legs don't belong to your body. They all live and love hidden away in strangely artificial interiors. As 'freaks', they rarely go out onto the street. A confrontation with the rest of the world could have fatal consequences. Director Eduardo Casanova's strictly symmetrical, pink and purple world is populated by 'deformed' people that include the fat, the small, and a woman born without eyes who works as a sex worker. Spanish director Casanova's episodic feature-length debut is an extension of his previous shorts. Making use of deliberately artificial images he explores the lives of those who, living on the margins of society, are rarely granted places in which they feel secure. However, their situation is not as hopeless as it at first seems, and beauty is a term that is redefined at least once during the course of the film.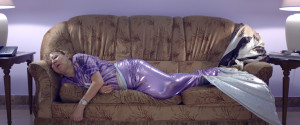 11.02. / 21:30 Zoo Palast 1
12.02. / 12:45 CinemaxX 7
13.02. / 17:00 Cubix 9
18.02. / 22:45 Cubix 7
18.02. / 22:45 Cubix 8
19.02. / 22:30 Colosseum 1
---
La prima sueca
Swedish Cousin
Argentina 2016
20′
Director: Inés María Barrionuevo, Agustina San Martín
Cast: María Paula Mattio, Cecilia Valenzuela Gioia, Ámbar Taborda Ceballos, Nazarena García
It's not long to go until Cata's 15th birthday and she's getting more nervous by the day. She's irritated about her dress, her chilled-out friends, everything! Even her level-headed and reserved cousin from Sweden annoys her. But Cata's moodiness gradually gives way to tentative feelings of affection. In a sensitive portrayal the two directors gently capture the emotional whirlwind and irritations of a teenager.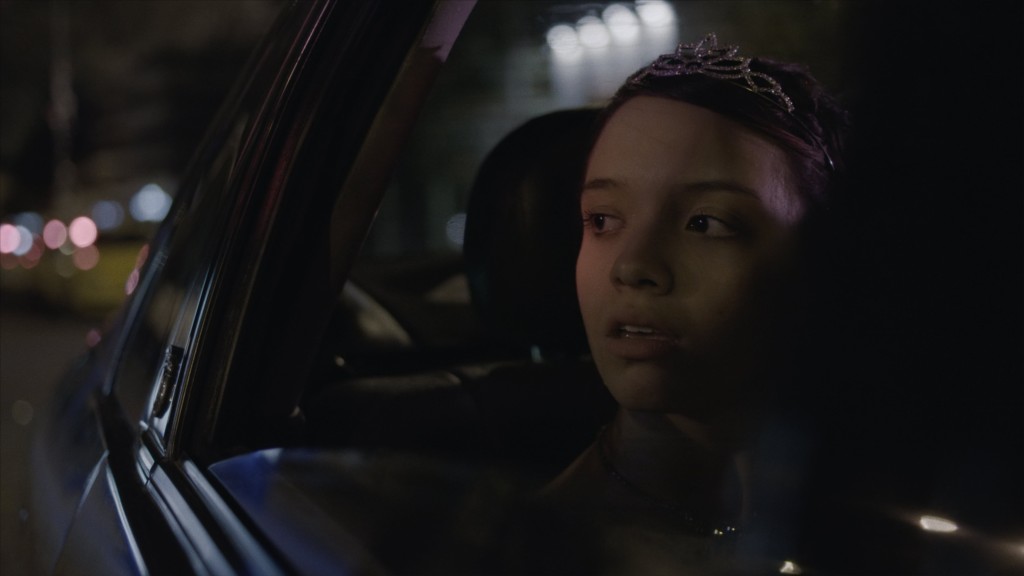 12.02. / 22:00 CinemaxX 3
14.02. / 11:30 CinemaxX 3
16.02. / 14:00 HAU Hebbel am Ufer (HAU1)
16.02. / 17:00 CinemaxX 1
18.02. / 11:00 CinemaxX 1
19.02. / 16:00 International
---
Ri Chang Dui Hua
Small Talk
Taiwan 2016
88′
Director: Hui-chen Huang
Anu is a tomboy. Although she was married off at a young age – as was customary in Taiwan in the 1970s – and had two children, she quickly divorced her violent husband and brought up her daughters alone. Since then her only relationships have been with women who, like her, earn a living as professional mourners at funerals. One of her daughters is filmmaker Hui-chen Huang. It's considered taboo in Chinese culture to question a mother's unconditional love, and yet this taboo is exactly the topic of Huang's intimate portrait. Mother and daughter set off on a journey together into the past during which Anu is confronted by questions that have tormented her daughter for years. In a series of long shots the two women discuss such topics as trust, abuse and cognisance, and yet most of these discussions end in painful silence. Shifting focus in order to plumb the depths of the topic, the director attempts to understand her mother by also talking to her mother's siblings and ex-lovers. In doing so she paints a picture of changing living conditions for three generations of women in Taiwan.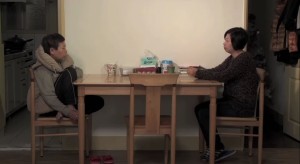 10.02. / 22:30 CineStar 7
11.02. / 17:30 Cubix 7
16.02. / 20:00 CineStar 7
17.02. / 14:30 CineStar 7
---
Richard the Stork
Überflieger – Kleine Vögel, großes Geklapper
Germany/Belgium/Luxembourg/Norway 2016
84′
Director: Toby Genkel
Cast: Tilman Döbler, Christian Gaul, Nicolette Krebitz, Marco Eßer
`What kind of a sparrow are you?' · 'I…I am a stork.' When Richard awakes one fall morning to find himself alone in his stork nest, he's aghast. How could the others have left him behind? Undaunted, Richard sets out alone for Africa to prove to his stork family that he's one of them. Unfortunately, there's one inconvenient truth: Richard is in fact a sparrow and not at all equipped with what it takes to complete such a long-distance flight. On his voyage across Europe, he encounters a whole cast of winged oddballs, including Mafiosi crows and high voltage pigeons, as well as the helpful owl Olga and karaoke-loving parakeet Kiki, who are both blessed with brilliant ideas. Through his many adventures, Richard finally learns that it's actually not so bad being a sparrow amongst the most colourful birds.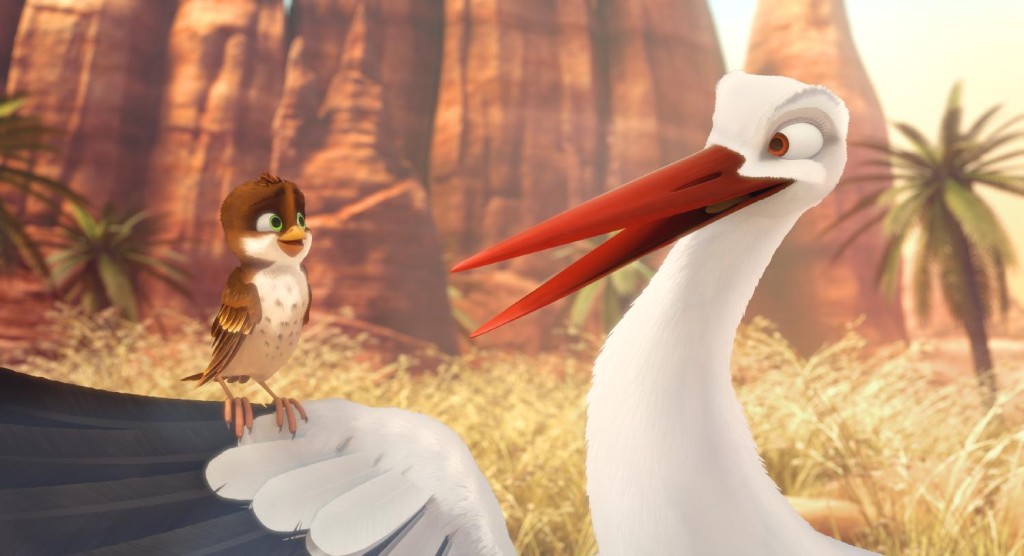 12.02. / 12:30 Zoo Palast 1
13.02. / 12:30 Filmtheater am Friedrichshain
19.02. / 13:00 HKW
---
Strong Island
Strong Island
USA/Denmark 2017
107′
Director: Yance Ford
In a phone call at the beginning of Yance Ford's film an employee for the district attorney refuses to make any more statements regarding the murder of William Ford and declares herself unwilling to take part in his documentary. William was Yance Ford's brother; his murder in 1992 threw his family into a state of shock. Their devastation came about not just because this young Afro-American man was shot and killed by a white car mechanic for an apparently trifling reason, but also because of what was to follow. Ford's subjective camera tells the story of a black middle-class family in America, a country which was, and still is, characterised by injustice and racism. His film is a puzzle, the pieces of which cannot be put together. Interweaving personal essay, detective investigation and documentary interviews with friends and relatives, he succeeds in painting a personal and political picture of the mood of this unequal country during the Obama era. Ford's concentrated, often minimalistic cinematic language describes simmering anger, grief and his own transgender coming out – as well as the relativity of equal opportunities.
12.02. / 17:00 CineStar 7
13.02. / 22:00 CineStar 7
14.02. / 13:30 International
16.02. / 17:15 CineStar 3
18.02. / 17:30 Cubix 7
---
Ulrike's Brain
Ulrike's Brain
Germany/Canada 2017
55′
Director: Bruce LaBruce
Cast: Gertrude Stammheim, Susanne Sachsse, Jonathan Johnson, Saskia Timm
Referencing sixties B-movies like They Saved Hitler's Brain and The Brain That Would Not Die, Ulrike's Brain finds Doctor Julia Feifer (Susanne Sachsse) arriving at an academic conference with an organ box. Inside the box: the brain of Ulrike Meinhof, which was saved by the authorities along with the brains of the three other leaders of the RAF after their deaths in Stammheim prison. Doctor Feifer can communicate telepathically with Ulrike's brain, which is directing her to lead a new feminist revolution. To that end, she is searching for the ideal female body to transplant Ulrike's Brain into. At the same time, her arch-rival, Detlev Schlesinger, an extreme right-wing ideologue, arrives at the conference with the ashes of Michael Kühnen, the former German neo-Nazi leader and infamous homosexual who died of AIDS in 1989. When the two Frankenstein's monsters of the extreme left and the extreme right meet, chaos ensues.
11.02. / 19:00 Akademie der Künste
18.02. / 20:00 Kino Arsenal 1
---
Vênus – Filó a fadinha lésbica
Venus – Filly the lesbian little fairy
Brazil 2017
6′
Director: Sávio Leite
Cast: Helena Ignez
In this animated fairy-tale Filly, a lesbian fairy with nimble fingers, seduces women by day dressed as a boy. But at night something strange happens and soon half the population of Whatsit Village are eagerly queuing up.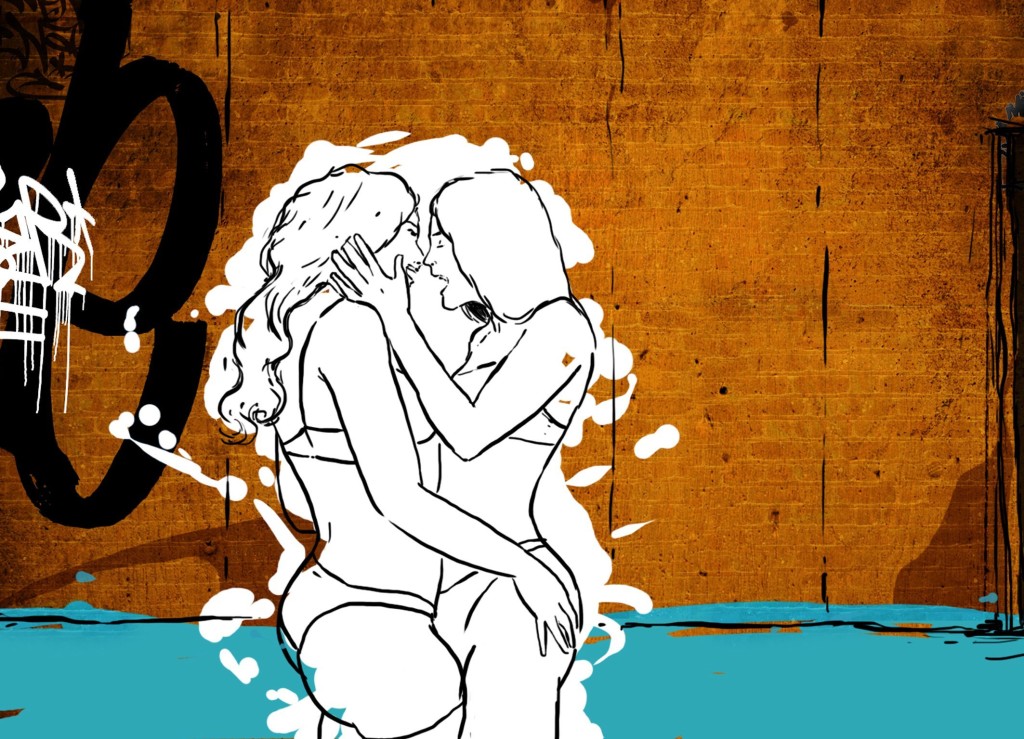 12.02. / 22:00 CinemaxX 3
14.02. / 22:45 CinemaxX 7
15.02. / 20:15 CineStar 3
16.02. / 22:45 Cubix 7
16.02. / 22:45 Cubix 8
19.02. / 16:00 International
---
Ein Weg
Paths
Germany 2017
107′
Director: Chris Miera
Cast: Mike Hoffmann, Mathis Reinhardt, Tom Böttcher, Cai Cohrs
A kiss by the sea, a promise for life. Who goes to the Baltic coast in the autumn? Nobody except Martin and Andreas. They come here every year and, every year, their son Max is a bit taller, and their own faces a bit older. This time Martin is fed up. The weather's unpleasant and he'd much rather have stayed at home. Andreas on the other hand tears off his clothes and jumps into the freezing sea. A worried Martin tries to stop him and, stumbling, gulps down the salty water. Back at their holiday home the mood is weighed down by their different expectations of how they should spend their holidays together. What do they have left after all these years? So many films about relationships end at the point when the couple have found each other. For director Chris Miera however this is precisely the moment when the interesting stories begin. What is the force that causes two people out of billions to decide to spend so much of their lives together? And what makes couples decide to part after such a long time? These are the questions that Ein Weg (Paths) sensitively investigates.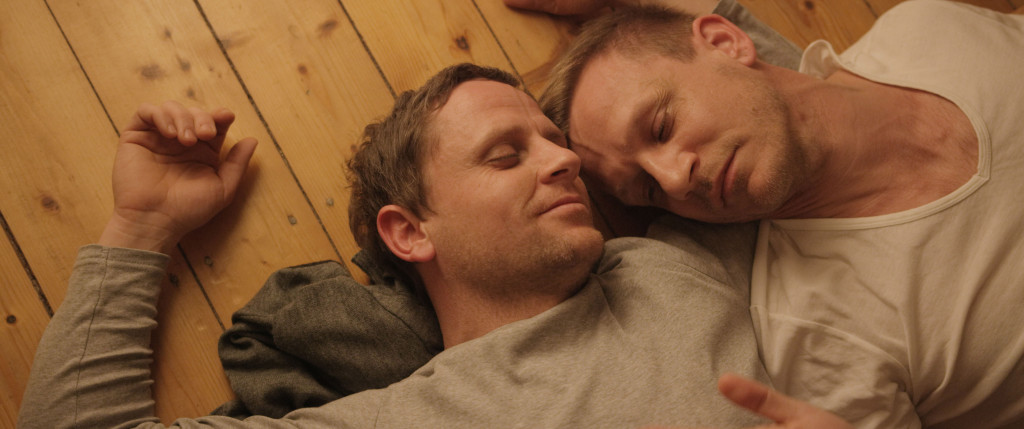 13.02. / 19:30 CinemaxX 3
14.02. / 12:00 Colosseum 1
14.02. / 21:00 CinemaxX 1
---
Weirdos
Weirdos
Canada 2016
84′
Director: Bruce McDonald
Cast: Dylan Authors, Julia Sarah Stone, Molly Parker, Allan Hawco
'I am a weirdo.' · 'Honey, she is a weirdo, too. We are all weirdos. That's what makes us beautiful.' In laconic black-and-white, Bruce McDonald tells the humorous story of two adolescent runaways, Kit and Alice. On the eve of the 1976 United States Bicentennial, the film accompanies the two hitchhikers on a turbulent journey through the breathtaking landscape of the Canadian east coast, set to a quintessentially 1970s soundtrack. While Kit wants to start a new life in his glamorous but unstable mother's artist commune, Alice makes no bones about her longing for romance. Yet in the glow of the crackling campfire of a beach party, they both reach new insights that put their relationship to the test. Likewise, the day following their joyous reunion sees Kit and his mother facing up to some uncomfortable truths.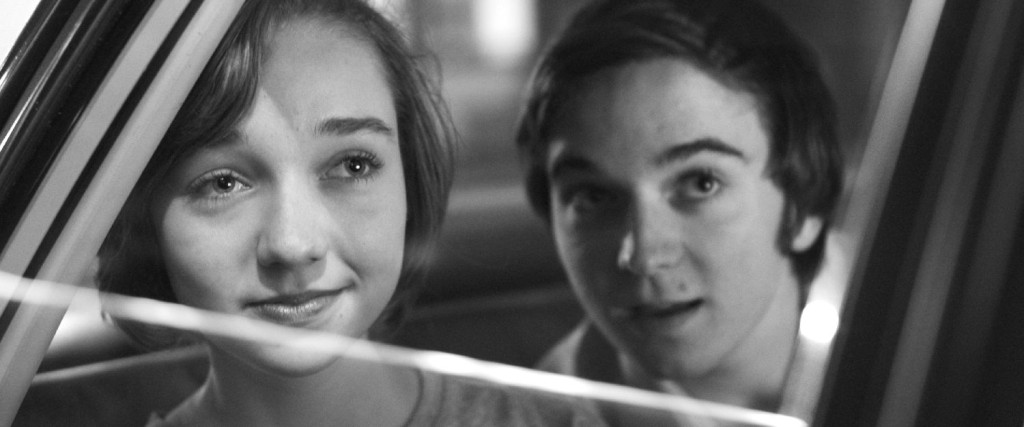 14.02. / 15:30 Zoo Palast 1
15.02. / 15:30 Filmtheater am Friedrichshain
16.02. / 14:00 CinemaxX 3
---
Wilde Maus
Wild Mouse
Austria 2017
103′
Director: Josef Hader
Cast: Josef Hader, Pia Hierzegger, Georg Friedrich, Jörg Hartmann
Georg feels confident and at ease in his position as a member of a Viennese newspaper's editorial staff. He is both loved and feared – as befits an established music critic who wields a sharp pen. But then he is suddenly made redundant. A cost-cutting measure, he is told – before being shown the door. But instead of telling his young wife Johanna, whose thoughts currently revolve around her desire for children and her next ovulation, Georg is out for revenge. He finds an ally in giving vent to his anger at his ex-boss in the shape of an old school friend, Erich. What begins with minor property damage soon turns into a campaign of all out terror. At the same time, Georg and Erich have a go at trying to revive a dilapidated rollercoaster in Vienna's Prater amusement park – the legendary 'wild mouse'. In his directorial debut, cabaret artist and actor Josef Hader tells a funny, dramatic story about the Austrian middle-classes' private fears of failure and social decline. A witty and ironic film that reflects on how a bourgeois life can go awry – and then perhaps manages to get back on an even keel after all.

11.02. / 22:00 Berlinale Palast
12.02. / 15:00 Friedrichstadt-Palast
12.02. / 18:30 Toni & Tonino
12.02. / 19:00 Haus der Berliner Festspiele
13.02. / 09:30 Haus der Berliner Festspiele
---
The Wound
The Wound
South Africa/Germany/Netherlands/France 2016
88′
Director: John Trengove
Cast: Nakhane Touré, Bongile Mantsai, Niza Jay Ncoyini
Eastern Cape, South Africa. A lonely factory worker, Xolani, takes time off his job to assist during an annual Xhosa circumcision initiation into manhood. In a remote mountain camp that is off limits to women, young men, painted in white ochre, recuperate as they learn the masculine codes of their culture. In this environment of machismo and aggression, Xolani cares for a defiant initiate from Johannesburg, Kwanda, who quickly learns Xolani's best kept secret, that he is in love with another man. Having first explored male circumcision in his short film IBHOKHWE, South African director John Trengove revisits this topic and other rituals of masculinity in his first feature. The tension that builds inexorably throughout the film derives on the one hand from the young Kwanda who increasingly calls into question the patriarchal codes of the initiation, as well as the unbearable crisis building in Xolani as he must choose between the traditional world that he knows, and his own fulfillment.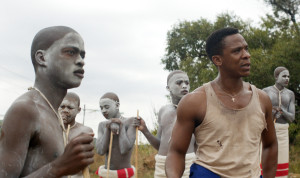 09.02. / 21:00 CinemaxX 7
10.02. / 22:45 CineStar 3
11.02. / 20:00 HAU Hebbel am Ufer (HAU1)
19.02. / 20:15 Cubix 7
19.02. / 20:15 Cubix 8