Name: Muffin Hix
Country: USA
Festivals: BFI Flare London LGBT Film Festival, Fringe! Queer Film & Arts Festival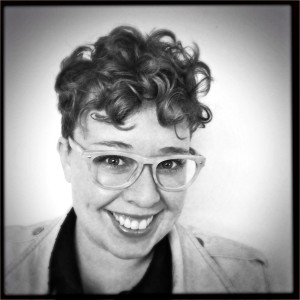 How do you like Berlin? What is special about the city for you?
I've only ever been to Berlin in the Winter – I really must get here in the Summer sometime to really experience the city! But even with a mad festival schedule, and the freezing cold, I always find ways of exploring the city's little corners, galleries and the revolving nightlife. What is that bar with pink fur covering the walls? I remember walking in there for the first time and thinking "YES!"
How would you describe the Berlinale in one sentence?
The Berlinale is the big, wintry bear hug in the festival year where you're as likely to catch up with old friends as you are to see your film of the year.
What was your first encounter with the TEDDY AWARD?
I first started following the TEDDY in 2010, and then really got to see what it was all about when I came to the Berlinale for the first time in 2011. Traveling with this little tribe around all the screenings and joining in with the queer programmers meeting – it gave me an instant home within the Berlinale, which can be a little (a lot) intimidating the first time.
In your eyes, what does the TEDDY AWARD symbolize? What does it stand for? What makes it unique?
The TEDDY AWARD is a means to support and recognize the artistry and courage in these films that capture the personal and political of the LGBTQIA experience in our world. It's about acting on what's happening right now and not losing our (once so elusive) queer heritage. The films that we'll get to see will go from here, from this recognition of even being acknowledged, all over the world. The TEDDY AWARD can be such a powerful symbol of acceptance and importance that can change the lives of the filmmakers, but most of all, can reach millions of others out there. And being part of this jury is equally important for us. It says that we're on the right track to doing something important in our  communities.
Tell us about a movie you've recently seen.
Sometimes when you're programming, you just watch so many films on a tiny screen with your headphones that it's hard to actually go to the cinema with friends and see a film in a wholly indulgent way. But it is so important – it's that coming together in the dark to be totally transported into another world that makes cinema so magical.
Last week I went to one of my favorite East London cinemas, the Genesis, and saw Whiplash. The cinema has a small screen just full of big comfy sofas – it's such a luxury to get tucked up and see a film that keeps you gripped (laughing, crying, screaming!) from start to finish. If anyone had tried to convince me that watching the training of a young jazz student would keep me on the edge of my seat, I would never have believed them. But I'm a convert now!