I know, I know: it´s exhausting, loud, everywhere it is full of people who are stressed out, it´s cold, you tend to be tired out, YES all of these things are part of the Berlinale. But somehow you love it. The festive atmosphere, to know about all the fantastic movies being shown in the cinemas around you, all these filmlovers, filmmakers, red carpets, journalists who are stressed out trying to type something in their computers like maniacs. All this is also a part of the Berlinale and what makes it so exciting! But what can I say, it just started and I am just getting into the mood!
This great documentary, which will be shown today, will also bring you into the mood: "Mapplethorpe: Look at the pictures" about the photographer Robert Mapplethorpe who was a part and a star of the New York Underground Art World in the 80s and who drew some attention on himself by taking homoerotic pictures of naked black men. The ones of you who read the book "Just Kids" by Patti Smith should know all about his wild life as an artist with his self-destructive drug abuse, the stay in the famous Chelsea Hotel and the friendship to musician and poet Patti Smith. The documentary analyses his life, the art scene he was living in and of course his great work as a photographer. If you like documentaries about artists and are also interested in the New York Underground World of the 80s and 90s, you honestly should be thinking about watching the movie. Now! I mean today!! Cheers
---
A Boy Needs a Friend
A Boy Needs a Friend
Canada/ USA 2015
23´
Director: Steve Reinke
In this latest installment of his ongoing video essay, "Final Thoughts", Steve Reinke ostensibly turns to the subject of friendship. A Boy Needs a Friend delves into its topic head on, in particular investigating the notion of queer Nietzschean friendship. Using his signature dry voice over monologue to tie together an eclectic array of disparate images, ranging from found footage collages to digital animation and cell phone video, Reinke sets forth theories about the identity of Stephen King and Joyce Carol Oates, needle point doodles, the upsides of owning both US and Canadian citizenship, and the ability of corpses to have sex. "Final Thoughts" was begun in 2004 as a life project: it will be complete upon Reinke's death. It is a collection of video essays, a stream of ongoing thoughts and provocative engagements. Forum Expanded screened The Tiny Ventriloquist: Final Thoughts, Series Two in 2012. A Boy Needs a Friend is part of The genital is Superfluous: Final Thoughts, Series Four (2016).
---
Der Ost-Komplex
The GDR Complex
Germany 2016
90´
Director: Jochen Hick
Even now, twenty-five years after German reunification, historians are still debating whether the GDR was an illegitimate state. In his current work, Jochen Hick, several of whose films have screened in the Panorama, tells the story of ex-GDR citizen Mario Röllig. Hick accompanies him as he visits his parents and his former colleagues but also the sites of his attempted flight from the GDR and his incarceration. Röllig started a relationship with a politician from West Berlin back in 1985 and was arrested in Hungary in 1987 for attempting to flee the German Democratic Republic; in 1988 the Federal Republic of Germany purchased his freedom. Today he regularly talks about his experiences in schools; he also volunteers as a guide at the former Stasi prison in Hohenschönhausen in Berlin that is now a memorial. Hick stays close to his subject at all times but remains neutral, instead observing and asking questions from behind the camera. In confrontations with GDR-sympathisers Rölling is accused of distorting history and it becomes abundantly clear that the battle to have the last word on how the history of the GDR should be interpreted is riddled with taboos and fraught with individual traumas.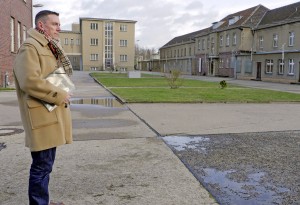 14:30, CineStar 7
---
Jonathan 
Jonathan
Germany 2016
99´
Director: Piotr J. Lewandowski
Cast: Jannis Niewöhner, André Hennicke, Julia Koschitz, Thomas Sarbacher, Barbara Auer
Jonathan is 23; he and his aunt, Martha, work on their farm. Jonathan also devotes himself to looking after his father Burghardt, who has cancer. But, railing against his own decrepitude that prevents him from a dignified end, his father stubbornly sabotages all of his son's efforts. Jonathan finds it increasingly difficult to cope until they hire a young carer, Anka, to help. Jonathan and Anka fall in love; her experience of working at a hospice helps Jonathan to gain a new inroad into his father's situation. When Burghardt's long-lost boyhood friend Ron appears on the scene his health visibly improves and, although the family sees Ron as an intruder and is against it, Ron continues to stay on to be with Burghardt. Jonathan discovers that, many years ago, his father and Ron were deeply in love. All at once, the façade of cherished family beliefs crumbles and long-repressed secrets come to light – but Jonathan also learns how to let go of his father and to accept his death as something that will open up the path towards a self-determined life.
---
Jug-yeo-ju-neun Yeo-ja
The Bacchus Lady
South Corea 2016
110´
Director: E J-yong
Cast: Youn Yuh-jung, Chon Moo-song, Yoon Kye-sang, An A-zu, Choi Hyun-jun
Youn So-young has contracted gonorrhoea. 'Make me well again quickly' she tells her gynaecologist, because she wants to get back to work. In a park in Seoul, this senior citizen manages to scrape together just enough money as a 'Bacchus lady' to avoid begging. 'Bacchus ladies' are elderly women who sell a popular soft drink containing taurine known as 'Bacchus' and offer sexual services on the side. Korea's rapidly ageing society barely has any money left for its pensioners and poverty among the elderly is soaring. When little Min-ho's mother is detained by the police, So-young takes him in. The boy, who only speaks Filipino, experiences a rather unique sort of patchwork family in this courtyard peopled, alongside So-young, by her transgender neighbour and a one-legged young man. Many of So-young's aged former clients and friends can no longer see a way out of their situation. One after the other, they ask this laconic lady, who for years has been harbouring a secret, for one last favour.
---
Kater
Tomcat
Austria 2016
114´
Director: Händl Klaus
Cast: Lukas Turtur, Philipp Hochmair, Toni, Thomas Stipsits
Andreas and Stefan live a blissful existence together with their tomcat, Moses. They inhabit a beautiful old house in the vineyards near Vienna and work in the same orchestra as manager and musician. Their passion for music, their large circle of friends and colleagues and their furry companion define the daily lives of the two men. But one morning an unexpected outburst of violence from Stefan shakes their harmonious relationship to its core. From this moment on, scepticism and alienation define their cohabitation and represent an almost insurmountable obstacle. While Stefan is losing the ground beneath his feet, Andreas struggles with his mistrust and his love for Stefan. Following his award-winning debut März (March), in his second film Händl Klaus portrays the expulsion of two lovers from paradise. Demonstrating exceptional sensitivity for the male psyche and for the blind spots in all our personalities, this artistic and poetic ballad tells of the fragility of love. Actors Philipp Hochmair and Lukas Turtur are both born theatre thespians and their naturalistic screen performances are impressive.
---
Little Men
Little Men
USA 2016
85´
Director: Ira Sachs
Cast: Greg Kinnear, Paulina Garcia, Jennifer Ehle, Theo Taplitz, Michael Barbieri
«Why they're still mad on us?» · «Our parents are involved in a business matter and it's getting ugly. So they're taking it out on us.» Summer in Brooklyn. Jake's parents have just moved into the house that used to belong to his grandfather. Tony's mother has been renting the shop on the ground floor forever. The two 13-year-olds quickly discover their shared interest in art, computer games and girls. Together, they dream of transferring to the renowned La Guardia High School in the autumn. Soon they become allies, not only against the other boys on the block, but also when it comes to the rent dispute between their parents. Attempting to stem the inexorable effect the adult world is having on their genuine friendship, they stage a headstrong protest. Once again renowned Indie director Ira Sachs intuitively explores the family and moral conflicts with emotional depth.
---
Mapplethorpe: Look at the Pictures
Mapplethorpe: Look at the Pictures
USA/ Germany 2016
108´
Director: Fenton Bailey, Randy Barbato
Cast: Robert Mapplethorpe, Edward Mapplethorpe, Debbie Harry, Patti Smith, Gloria von Thurn und Taxis, Brooke Shields, Fran Lebowitz, Brice Marden
He was a catalyst and an illuminator, but also a magnet for scandal. From an early age Robert Mapplethorpe had but one goal which he single-mindedly pursued: to 'make it' not just as an artist but also as an art celebrity. He could not have picked a better time: it is the Manhattan of Warhol's Factory, of Studio 54 and, following the Stonewall riots, an era of unbridled hedonistic sexuality. His first solo exhibition in 1976 already unveils his topics: erotic depictions, flowers and portraits. He is gaining notoriety through his series of explicitly sexual photographs from the gay sadomasochistic scene as well as nude pictures of black men. Fenton Bailey and Randy Barbato, who took part in the Panorama in 2003 and 2005, were given unrestricted access to Mapplethorpe's archives for their documentary Mapplethorpe: Look at the Pictures in which this exceptional artist talks candidly about himself in recently discovered interviews. At the same time, the testimonials of friends, lovers, family members, celebrities and models help paint quite a critical picture of this complex key figure of twentieth century photography.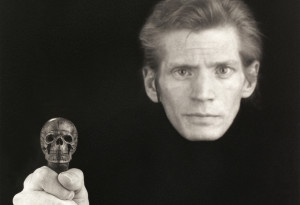 17:00, International
---
O Pássaro da Noite
L'Oiseau de la Nuit
Portugal/ France 2015
20´
Director: Marie Losier
Cast: Cast: Fernando Santos aka Deborah Krystal, Cindy Scrash, Alda Cabrita, João Pedro Rodrigues
In the latest of her series of portraits of legendary underground performers, Marie Losier takes us into the world of Fernando, aka Deborah Krystal, the glittering and poetic performer of the Lisbon club Finalmente. Over the last thirty years, Fernando has been performing every night at Finalmente, dressed in golden gowns. O Pássaro da Noite reveals the many skins of Fernando that lay underneath the layers of his colorful fabrics, and – with the help of a large cast of friends and filmmaking colleagues – lets Lisbon's legends come to life. Alternating and shape shifting between manifestations as mermaid, bird, and lion, Fernando takes us on a journey into the desires and dreams of metamorphosis and myth: From the bright sunlight of a colorful beach to the haunted shadows of a museum at night.
---
Quand on a 17 ans
Being 17
France 2016
116´
Director: André Téchiné
Cast: Sandrine Kiberlain, Kacey Mottet Klein, Corentin Fila, Alexis Loret
Damien and Thomas attend the same grammar school class. They cannot stand each other and whenever verbal insults fail to do enough damage they take a swing at each other. Yet they could just as easily be friends. Damien's mother Marianne is a country doctor and his father a military pilot on a tour of duty abroad. Thomas is of Maghrebi descent and is the adopted son of a farming family living on a remote farm in the mountains. After several miscarriages the farmer's wife is expecting again and, since her pregnancy promises to be a difficult one, Marianne invites the withdrawn boy to come and stay with them for a while. Damien and Thomas find themselves having to live under the same roof … André Techiné has already taken part in the Berlinale Competition several times with films such as Les temps qui changent (2005) and Les témoins (2007). In Quand on a 17 ans he explores what it is like to grow up in different social environments in this portrait of two confused youths trying to govern their emotions. A rugged village in the mountains of south-western France as the seasons pass becomes the psychological landscape of the relationship between two young men which vacillates between disdain and attraction.
22:00, Berlinale Palast
---
Rara
Rara
Chile/ Argentinia 2016
88´
Director: Pepa San Martin
Cast: Mariana Loyola, Julia Lübbert, Agustina Muñoz, Emilia Ossandó
«So … do your Mom and Lia kiss in public?» · «Sometimes. Not that much.» Since their parents split up, Sara and her younger sister live with their mother, whose new partner is a woman. Everyday life for the four of them is hardly any different than it is for other families. The situation is actually totally fine with Sara. But not everyone sees it that way – her father in particular has his doubts. As Sara's 13th birthday approaches, she's feeling rather overwhelmed: her first crush, a body in the midst of changes and to top it off, conflicts over loyalty with her parents … Everything feels wrong. The empathetic feature-length debut of director Pepa San Martín is based on a true story.
---
San Fu Tian
Dog Days
Hong Kong, China 2016
95´
Director: Jordan Schiele
Cast: Huang Lu, Tian Mu Chen, Luo Lanshan, Xing Dan Wen
Endless dog days of summer weigh heavily on the impoverished suburb of Changsha where a young mother, Lulu, works as a dancer in a cheap nightclub. Coming home late one night, she discovers that her boyfriend Bai Long has disappeared with their baby. Her desperate search takes her to a transvestite bar where gay man Sunny is performing; he knows the whereabouts of the child's father. A deal is struck between the odd couple whose lives are now fatefully intertwined: Lulu wants her child back and, in return, agrees to not stand in the way of Bai Long's and Sunny's homosexual relationship. In a hotel in Shanghai events come to a head as emotional and erotic trials and tribulations pile up. It transpires that, pretending the child's mother had died, Bai Long has now sold his son to a wealthy couple, a doctor and his wife. What does the future hold for Lulu and her child?
---
WEEKENDS
WEEKENDS
South Corea 2016
98´
Director: Dong-ha Lee
Cast: Jaewoo, Sander, Jonggirl, Namypooh, Gang
Every weekend the gay male choir G-Voice rehearses in Seoul – as they have been doing since 2003. The choir, being a kind of antidote to homophobic Korean society, makes the everyday lives of gay men its theme in an intelligent and humorous way. For their tenth anniversary, the members are planning to give their first big concert with ambitious arrangements, creative choreographies and many new pieces. This really puts these amateur singers to the test because the enthusiasm of some members outweighs their vocal abilities, whilst others work themselves into the ground as voluntary organisers. Besides preparing for their big day, G-Voice are also politically active, singing for equality and serenading against discrimination, and not just at LGBTQ demos. Director Lee Dong-hasucceeds, almost incidentally, in giving an insight into gay life in Korea. He also accompanies choir members and organisers after the rehearsals, when conversations become more personal over a meal. Filmed in the style of glossy music videos, G-Voices' set-pieces provide a commentary, among other things, on the men's experiences of Korean society, their conservative families and a gay joy of life.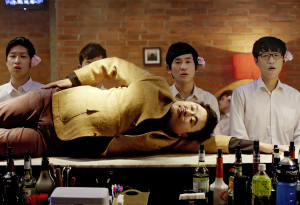 22:00, CineStar IMAX
---
Who's Gonna Love Me Now?
Who's Gonna Love Me Now?
Great Britain/ Israel 2016
84´
Director: Tomer Heymann, Barak Heymann, Alexander Bodin Saphir
Saar has never fulfilled his parents' expectations. Ever since he defied the rules of his kibbutz and was barred from the settlement community seventeen years ago, as far as his family is concerned, he simply does not exist. He left Israel to live freely as a gay man in London. When a three-year relationship ended, he threw himself into an excess of sex and drugs until he was diagnosed with HIV and was forced to rethink his life. He has finally found a home singing in the London Gay Men's Chorus where music is giving him the courage for a reunion with his family. This film provides a sensitive, humorous and charming record of how the now forty-year old protagonist and his estranged parents and siblings set off to confront their disagreements and fears. Unexpected warmth and deep rejection become equally challenging. Incidentally, Saar's intensely personal story also illuminates the fascinating diversity of a communal way of life that is pervaded by culture and religion; he also inspires us with the sincerity of his search for his identity. The film's numerous energetic and emotional choral scenes lend passionate expression to his message.
---
Zona Norte
Zona Norte
Germany 2016
90´
Director: Monika Treut
Fifteen years after Monika Treut portrayed human rights activist Yvonne Bezerra de Mello working with street kids in Kriegerin des Lichts (Warrior of Light, Panorama 2002), she returns to Rio de Janeiro to document the development and sustainability of the alternative educational project, Uerê. Every day, de Mello provides meals for around 250 children in her institution and offers them a loving, secure and effective learning environment. Her alternative approach to teaching enables the children to overcome learning disabilities that have resulted from experiences of severe violence. In the meantime, the preparations for the Olympic Games and heavy military intervention against the inhabitants of the favelas have created conditions akin to a civil war. Staying very close to her protagonists and employing a sensitive visual approach, Treut examines the effects of urban sociological changes. In Zona Norte she sets off in search of the protagonists of her earlier film. The schoolchildren she portrayed in 2001 seemed to have no future, but her re encounter with them demonstrates how, in the long run, de Mello's project has given these children a better chance in life.
---
Girl Talk
Girl Talk
USA 2015
4´
Director:Wu Tsang
Cast: Fred Moten
Girl Talk features poet and critical theorist Fred Moten dancing in slow motion, or 'dragged time', to an a cappella rendition of Betty Carter's jazz standard "Girl Talk", here reinterpreted and performed by musician Josiah Wise. Wearing a velvet cloak covered in jewels, Moten turns euphorically in a sunlit garden as the crystals adorning his body refract pink, blue, and green rays. In exploring the figure of the drag queen and the mother, Moten and Tsang, poet and artist, remain unfixed in any one persona.
10.02-22.0 2. / daily 19:00 – 21:00 Akademie der Künste as an Installation