Name: Julián David Correa
Country: Colombia
Festival: Ciclo Rosa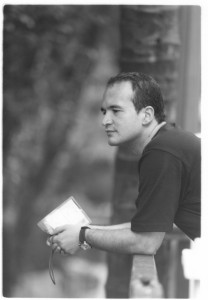 How do you like Berlin? What is special about the city for you?
I love Berlin. While growing up in Medellin, Colombia, and thought in Europe, I always imagine the whole continent like Berlin: A City protagonist of the western history, in which all cultures lives. I can imagine Döblin walking with Brecht, and both finding Wenders and Fassbinder in the middle of a noisy cabaret of the 20s.
How would you describe the Berlinale in one sentence?
The best film festival in the world, a summary of the diversity of cinema.
What was your first encounter with the TEDDY AWARD?
I began to find the name TEDDY AWARD when I selected films for Ciclo Rosa, and always saw the TEDDY AWARD linked with works and people I respect: Barbara Hammer and Julián Hernandez, among others.
In your eyes, what does the TEDDY AWARD symbolize? What does it stand for? What makes it unique?
I love a sentence by Tomás Gutiérrez Alea (director of "Fresa y chocolate") about his film: "The theme of the story, and now the film is not homosexuality. The subject embraces much more: Friendship and intolerance […] Learning about differences, admit that world is full of very diverse and complex people". The TEDDY AWARD and the arts are a way to discover the richness of our diversity.