Yesterday, the big TEDDY Opening Party took place in Schwuz – and everyone who has not returned home yet can directly go to the cinema now!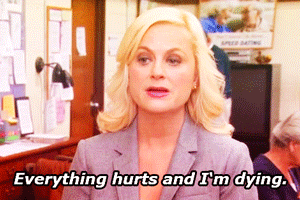 What is more beautiful than getting over a hangover while watching the moving images? The bright pictures will take you to the furthest corners of this world and there will be sad stories from Germany, a dreamy love from the Baltic Sea and a view into Spain in the year 2053. And in the evening? Well, it will go on with 54, the director's cut of the world famous party movie – so, get up and get going to the Berlinale cinemas and afterwards the next party is awaiting you. After all it is Saturday in Berlin!
---
Härte
Tough Love
Germany 2015
89′
Director: Rosa von Praunheim
Cast: Hanno Koffler, Andreas Marquardt, Luise Heyer, Marion Erdmann
When karate champ Andreas Marquardt thinks about himself he feels nothing but bitterness: 'I refused to feel anything. I was cold, like a block of ice, I couldn't give a shit about anything.' When he was two years old, his father poured water over him and put him outside on the balcony in subzero temperatures. Another time he crushed his hand. When he was six, his mother began to seduce him: 'Your prick belongs to me, my little friend.' Later, Andreas became a pimp and earned millions – until he wound up behind bars. Lovely Marion was the only one who stood by him, who went on the game for him, and gave him the courage to go on … Interspersing interviews with dramatized scenes from Andreas Marquardt's biography, Rosa von Praunheim describes a life that veers from fear and humiliation to contempt, hatred and brutality. Filmed in stylised sets replete with photographic wallpaper that recall West Berlin décor at the time, the film provides a shocking insight into the deep wounds caused by domestic violence and one man's desperate attempts at resistance. Is it possible to break out of such a vicious circle? And how does Andreas Marquardt cope with these experiences today?
---
Misfits
Misfits
Denmark/Sweden 2015
74′
Director: Jannik Splidsboel
Tulsa, Oklahoma is a city in the midst of the USA's Bible Belt with almost 400,000 inhabitants, over 4,000 churches and just one gay and lesbian youth centre. This is the meeting place for Larissa, Ben, 'D' and other youths who because of their decision to live gay, lesbian and transgender lives, are either not accepted or, on the contrary, have received strong support from their families and unconditional love.Jannik Splidsboel, whose film How Are You screened in Panorama in 2011, takes an almost entirely observational approach to his depiction of the lives of these three teenagers, their first love or their longing for love, their coming out, and their dreams for the future. In an unhurried, almost casual fashion, the film shows how 'D' manages step by step to improve his precarious existence and how Ben learns from his brother how to defend himself. Courtesy of Larissa and her girlfriend we are also are treated to one of the most dazzling and colourful lesbian kiss scenes in film history. Misfits portrays three basically 'average' young people as they try to live queer lives, find their gender identities, love and be loved in an environment pervaded by religious fundamentalism.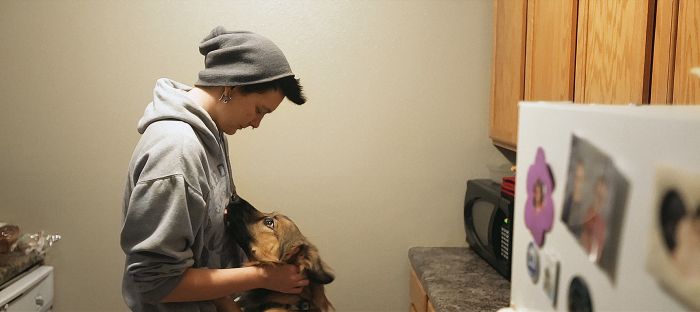 07.02.2015, 14:30, CineStar 7
---
Fassbinder – lieben ohne zu fordern
Fassbindern – to love without demands
Denmark 2015
109′
Director: Christian Braad Thomsen
Cast: Rainer Werner Fassbinder, Irm Hermann, Harry Baer, Andrea Schober
Rainer Werner Fassbinder was probably Germany's most significant post-war director. His swift and dramatic demise at the early age of 37 in 1982 left behind a vacuum in European filmmaking that has yet to be filled, as well as a body of unique, multi-layered and multifarious work of astonishing consistency and rigour. From 1969 onwards, Danish director and film historian Christian Braad Thomsen maintained a close yet respectfully distanced friendship with Fassbinder. Fassbinder – Lieben ohne zu fordern is based on his personal memories as well as a series of conversations and interviews he held with Fassbinder and his mother Lilo in the 1970s. The film also contains current interviews with Irm Hermann and Harry Baer, both of whom were close to Fassbinder. Beginning with Fassbinder's extraordinary childhood in traumatised post-war Germany, the film, which is divided into seven chapters, provides an illuminating, intimate and moving tribute that bears witness to the
enduring relevance of both the man and his work. Today in particular his oeuvre continues to provoke us to engage with controversy and tension – be it aesthetical, creative or critical.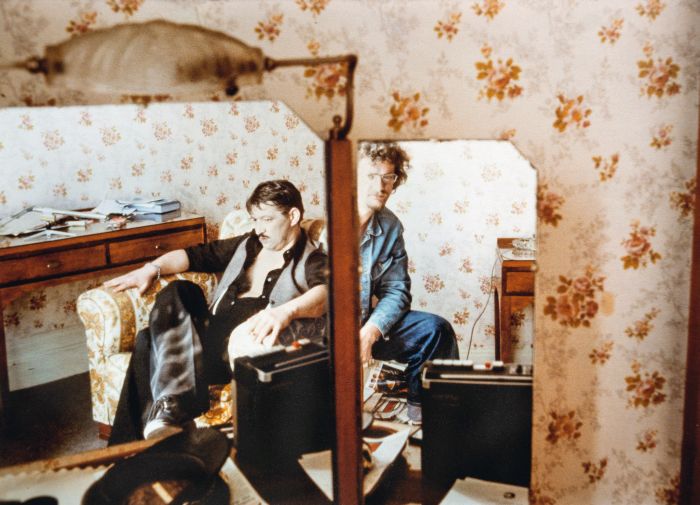 07.02.2015, 17:00, Cubix 7
---
Der letzte Sommer der Reichen
The Last Summer of the Rich
Austria 2015
91′
Director: Peter Kern
Cast: Amira Casar, Nicole Gerdon, Winfried Glatzeder, Heinz Trixner
Young and attractive company executive Hanna von Stezewitz (Amira Casar) has everything, and just takes whatever she doesn't. She's an arrogant and unscrupulous manipulator who has politicians
and banks in her pocket – she's a perfect example of predatory capitalism whose preferred sartorial look is patent leather and leather. To avoid boredom she seeks ever more extreme kicks and sees her abuse of a young girl with hopes of a career merely as collateral damage, nothing money can't fix. The only person who stands in her way is her bedridden grandfather, the family patriarch, and his reactionary worldview. Desperate to be rid of him, she hires a killer. When Hanna unexpectedly finds a lover who is her equal in the shape of Sarah, the nun who is her grandfather's nurse, her happiness seems complete. But does she really have everything under control? Peter Kern has succeededin creating an angry, opulent portrait of manners in which everyone – rich or poor – is corruptible or at least susceptible to seduction, and criminality and capital go hand in glove. A merry dance of corruption in which anyone who steps out of time is simply brushed aside.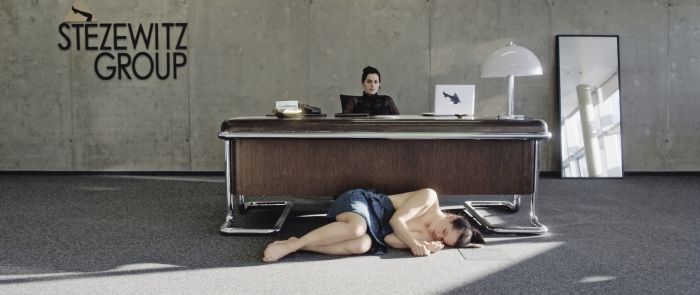 07.02.2015, 19:00, Zoo Palast 1
---
Sangue azul
Blue Blood
Brazil 2014
119′
Director: Lirio Ferreira
Cast: Daniel de Oliveira, Caroline Abras, Sandra Coverloni, Rômulo Braga
A ship with a circus on board approaches an island in the South Atlantic. During the evening performance the ringmaster and illusionist Kaleb presents an artiste named Zolah who immediately wins over the hearts of everyone in the audience. Zolah is Pedro, who left the island twenty years previously at the age of nine. His reunion with his mother Rosa and his introverted sister Raquel brings the well-travelled acrobat face to face with old wounds and buried dreams. Raquel's world is the sea, and she always retreats to its depths. She wishes that Pedro could be a part of it. Questions begin to present themselves to Pedro. Why did his mother send him away all those years ago? Whilst islanders and circus artistes enjoy a lively exchange, Pedro and Raquel seek out a place of their own. Feelings of guilt, rivalry and burgeoning pride soon become a challenge for the whole family. Lirio Ferreira explores these siblings' willingness to take risks in images of impressively virtuoso circus acts, combining these with elements of classical tragedy and magical images of the sea to create a brilliant cinematic experience.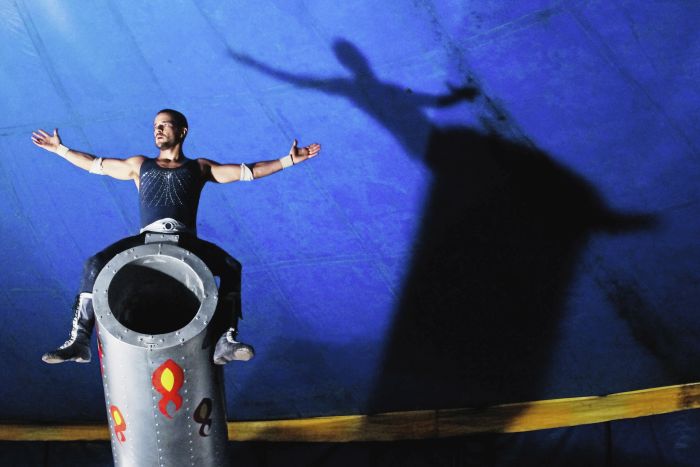 07.02.2015, 19:30, Cubix 7&8
---
Sangailė
The Summer of Sangailé
Lithuania/France/Netherlands 2015
88′
Director: Alanté Kavaïté
Cast: Julija Steponaityté, Aisté
Durité, Juraté Sodyté, Martynas Budraitis
Seventeen-year-old Sangaile is mesmerised by the dance-like loop-de-loop and pirouettes of acrobatic pilots. She herself suffers from vertigo and could never imagine sitting in a cockpit. A quiet and introverted girl, she is spending her summer in the countryside at her parents' holiday home where she tries to see the local air shows as often as she can. This is where she meets Auste, who lives out her days with impressive confidence and plenty of imagination. Sangailé is fascinated by Auste's natural assertiveness. Together the girls sample everything that life in the country has to offer. They soon become close and, when Sangailé shares with Auste her most intimate secret, it gives her a sense of security she has never known before and provides her with the courage to fly for the first time in her life. In buoyant, cinematic images suffused with light Alanté Kavaïté brings together the isolated emotions of two very different girls in the universe that is young love. In her sensitive, intensely sensual film, she tells the story of their intimacy, their passionate devotion and delicate collisions; their vulnerability and sense of trust.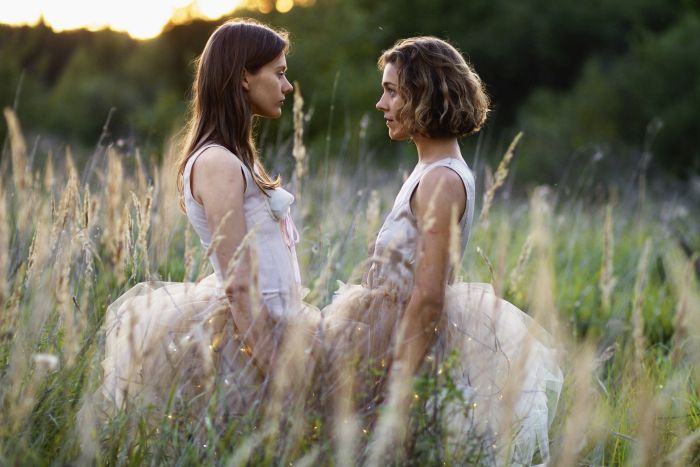 07.02.2015, 20:00, CinemaxX 7
---
Beira-Mar
Seashore
Brazil 2015
83′
Director: Filipe Matzembacher, Marcio Reolon
Cast: Mateus Almada, Maurício José Barcellos, Elisa Brites, Francisco Gick
Having been good friends for years, Martin and Tomaz now find themselves on the cusp of adulthood. Martin's father sends his son to southern Brazil, where the family is from, to sort out an inheritance matter. Tomaz accompanies him there. For both of them, the brief excursion to the coastal town becomes a journey into themselves. It's not just the sea that nearly reaches the doors of the country house which exerts a slow, yet relentless pull on them – the two friends have the same effect on one other. Filipe Matzembacher and Marcio Reolon's richly atmospheric, autobiographically inspired feature debut follows its two main characters on a weekend that will change their relationship forever. Beira-Mar is a wander through the borderlands between love and friendship, exploring sexual orientation and personal identity. The outstanding camerawork picks up on the protagonists' complex emotional states in the same way as the soundtrack captures the roaring of the sea: gentle and powerful in equal measure. Always on an equal footing with the subject and the characters, the film creates a moment of magic and tenderness. Looking for love and finding it are sometimes one and the same thing.
07.02.2015, 20:30, Colosseum 1
---
Mariposa
Butterfly
Argentina 2015
103′
Director: Marco Berger
Cast: Ailín Salas, Javier De Pietro, Julián Infantino, Malena Villa
A butterfly, a creature symbolising rebirth and a new beginning, epitomises Romina's and Javier's world, a world that consists of two parallel realities. In one of them they grow up as siblings who desire each other and try to give shape to their love without sexual fulfilment; in the other they are a young man and woman who form an awkward friendship instead of succumbing to their feelings
for each other. Javier finds himself in a discordant relationship with Mariela. Mariela's brother is interested in Bruno. Bruno is with Romina, but wants to be with Javier. Playfully alternating between
these two realities, the lovers find themselves drawn into ever new couplings in order to explore their intuitive feelings – cautiously, but at the same time prepared to lose everything.Marco Berger, who
won the 2011 Teddy Award, takes a fascinating film idea and turns it into an impressive universe of endlessly diverse approaches to friendship and love. This is an unusually dynamic space in which
emotional insecurity, sexual confusion, incest, self-deception, intuition and spiritual bonding all find their place.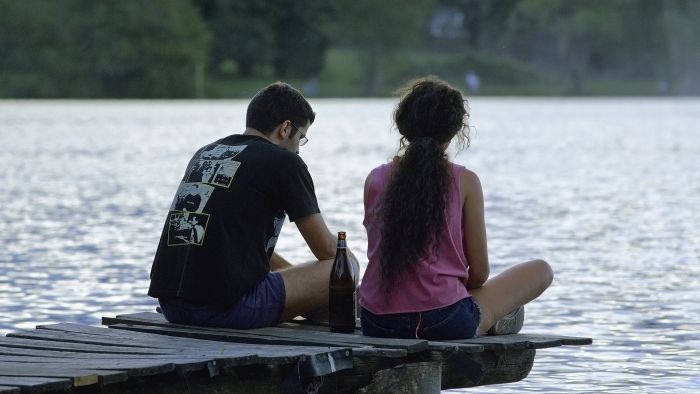 07.02.2015, 20:30, Kino International

---
Sueñan los androides
Androids Dream
Spain/Germany 2014
61′
Director: Ion de Sosa
Cast: Manolo Marín, Moisés Richart, Marta Bassols, Coque Sánchez
The year may be 2052, yet this is a future with one foot in the past. Between the strangely artificial skyscrapers along the coastline and the neon-lined broadwalk, there's nothing here to suggest it isn't still 1975, 1995 or 2015. But there are fewer people around nowadays and many apartments lie empty, a tranquil wasteland of exposed wires, unfinished plasterwork and endless dust. Those that remain are at least house-proud, eager to show off their knickknacks and traditional costumes, when not meeting up for the occasional dance. Hardly the most obvious place for a bounty hunter, but the robots still need to be exterminated, particularly as they already look so much like you and me. Ion de Sosa's spare, enigmatic adaptation of Philip K. Dick's "Do Androids Dream of Electric Sheep?" is at once a minimalist genre piece, an oblique treatise on difference and an essayistic almost-documentary on the unreal status quo of contemporary Spain. And as the title suggests, these androids do indeed dream: of far-off places and new opportunities; of the songs of past summers; of a shared embrace, a sheep on a leash, as the towers and mountains open out beyond.
07.02.2015, 21:30, Delphi Filmpalast
---
54: The Director's Cut
54: The Director's Cut
USA 2015
106′
Director: Mark Christopher
Cast: Ryan Philippe, Salma Hayek, Neve Campbell, Mike Myers
We've revolutionised going out', pronounces club owner Steve Rubell. At the legendary Studio 54, the mother of all nightclubs since the invention of disco, clubbing was much more than just socialising to music. In 1998, director Mark Christopher created a cinematic monument to this ostentatious mixture of Art Deco and plush, frivolous 1970s hedonism and drug-induced 24-hour party people. At the producers' behest his film about this up-market disco in New York was changed considerably prior to its theatrical release and an extra 25 minutes of new material was added – including an ending that differed from the one in the original screenplay. Now, seventeen years after the premiere of the producers' version, the Panorama is presenting for the first time the painstakingly reconstructed original version telling the story of young, curly-haired blond Jersey boy Shane O'Shea who loses himself in the bewitchingly glamorous world of sex, drugs and disco and who only just manages to jump ship before the club is closed down by the police. This reintegrated version is weightier, darker, more drug-addled and above all queerer than the version that received the nod at the time.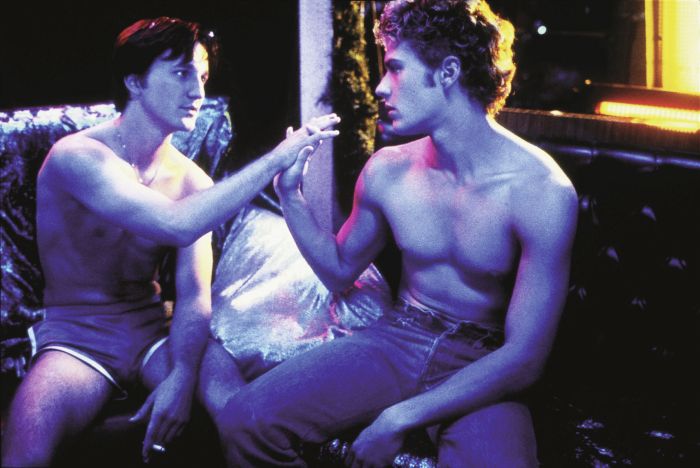 07.02.2015, 22:30, Colosseum 1

---
Feelings are Facts: The Life of Yvonne Rainer
Feelings are Facts: The Life of Yvonne Rainer

USA 2015
83′
Director: Jack Walsh
In 1966, Yvonne Rainer changed the world of modern dance with her performance 'Trio A' by analysing the repertoire of human movement in a radically unspectacular way. Influenced by Merce
Cunningham and John Cage, she developed socio-political choreographies in which she explored on stage everyday movements in a way that deliberately thwarted audience expectations. Determined not to appear biddable, she began experimenting with film – applying to the new medium the same
revolutionary impetus that was to be found in her body work. At the age of fifty-six she came out as a lesbian, and in 1997 she won the Teddy Award with MURDER and murder.Making abundant use of
film excerpts, archive footage and reinterpretations of Rainer's choreographies, director Jack Walsh succeeds in illustrating the artistic development of an unswerving yet likeable avant-gardist – from the 1950s to the present day. Complementing Rainer's own recollections are contributions from dance experts and fellow-travellers such as Carolee Schneeman and B. Ruby Rich. Today, aged 80, she is still working on the stage, after Mikhail Baryshnikov persuaded her to make a belated comeback as a choreographer in the year 2000.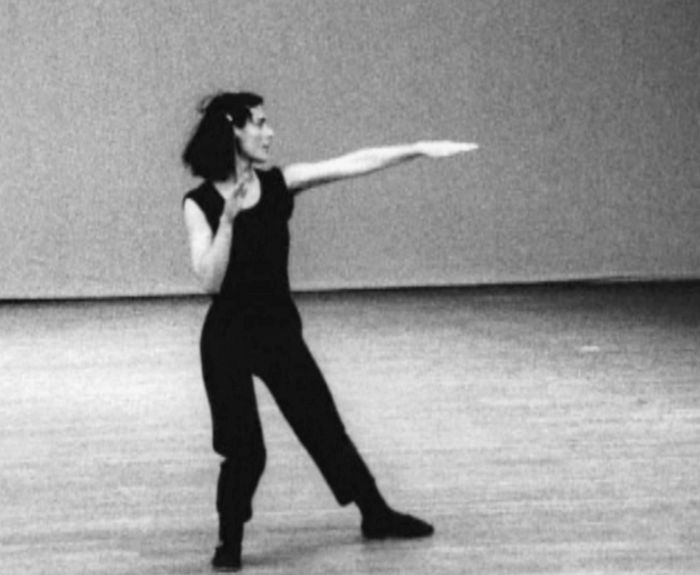 07.02.2015, 22:30, CineStar 7
---
Bizarre
Bizarre
France/USA 2015
98′
Director: Étienne Faure
Cast: Pierre Prieur, Adrian James, Raquel Nave, Rebekah Underhill
Maurice, a reticent young homeless man somehow manages to get by in Brooklyn; he spends his nights in parked cars until he finds himself at 'Bizarre', an underground club renowned for its burlesque shows. Maurice is fascinated by the club's playful revues celebrating self-determined sexuality and creative otherness, and the two female club owners both adore him. He soon becomes a part of their chosen family, and begins to bond with introverted Luka. But Maurice turns his back on Luka's growing affection. Running away from his true emotions he drifts aimlessly through the city. He tries to find his feet at a boxing club, where he meets Charlie. Unable to withstand the pressure of his repressed feelings, Maurice unleashes a mounting foment of emotions, pervaded by tenderness and menace. Étienne Faure shot his film on location at 'Bizarre'. Illuminating the promise of an independent future for his aimless escapees in the resplendent creations of 'Bizarre's' artistes, Faure moulds his keenly sensitive observations of these lost, disturbed souls to form a mesmerising trance.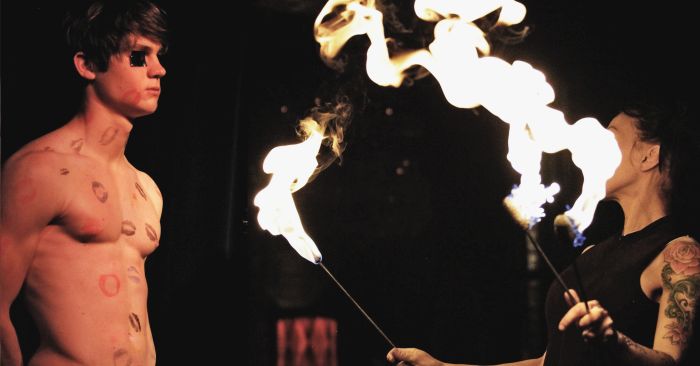 07.02.2015, 22:30, Cubix 7&8
---
Dyke Hard
Dyke Hard
Sweden 2014
94′
Director: Bitte Andersson
Cast: Peggy Sands, Alle Eriksson, M Wågensjö, Lina Kurttila
After scoring a huge hit with their first single, hip lesbian band Dyke Hard fall into the creative doldrums. When their front woman leaves it looks like curtains for the rest of the band, but then the girls hear of a battle of the bands in the big city in three days' time and decide to participate and give their maudlin career a kick start. A road trip adventure full of danger, intrigue and all sorts of obstacles ensues. The women find themselves in a haunted house and soon after wind up unjustly accused on death row until a gay prison warder helps them escape. They find brief respite at the home of a sweet old lady with a hidden agenda who almost makes them forget where they're going. But their luck turns again and, following a battle with cyborgs and ninjas they finally manage to make it to the competition, just in time. 'Trash as trash can!' is the ambitious motto of this camp and zany sexploitation-horror-trash-musical guaranteed to be lacking in anything resembling good taste. Told at breakneck speed, this is a tongue-in-cheek, perverse, polymorphic ride that has the potential to vie with cult offerings by the likes of John Waters and Russ Meyer, or the Austin Powers series.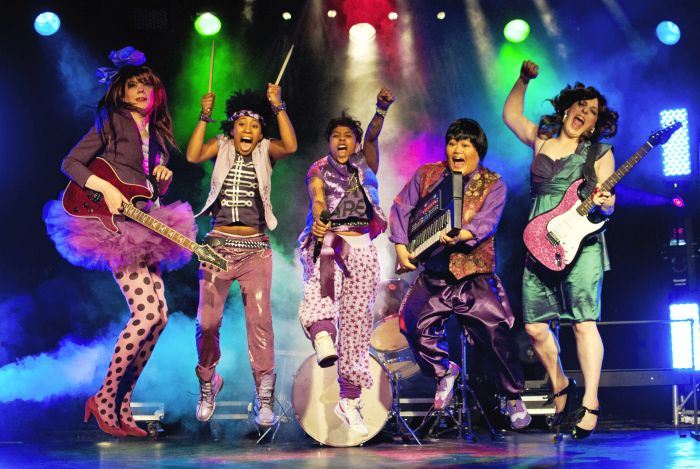 07.02.2015, 22:30, CinemaxX 7
---