Missed the last TEDDY-news? No time to check our daily updates on our blog and social media? Don't worry! Here's everything you shouldn't have missed.
Berlinale is two days away! This is not a drill! Yesterday, Panorama curator Wieland Speck gave an introduction to the queer films at Berlinale 2015. At  Kino International, the queer film fans of Berlin came together.
http://instagram.com/p/ynOdd-w6TN/?modal=true
For everyone who couldn't make it we can say this: the queer films at Berlinale this year will be great. For an overview, you can check them out on our website as well as on our blog. The TEDDY Programme Guide is also available for download. And just to give you an idea, here's the trailer for one of the craziest queer films this year, the Swedish musical Dyke Hard:
Don't forget that the TEDDY AWARD Opening Party at SchwuZ Club is this Friday! You can check out all the DJs here. We can assure you that it will be a night to remember. Lego & Marsmaedchen will play rock, Chance & Dark, Lucky Pierre and Ena Lind will provide you with electronic music and tons of other great DJs and artists will be there to entertain you!
The TEDDY wouldn't be the TEDDY if, besides the music and the party, we wouldn't also support important LGBTI causes. This year, we'll have information booths concerning trans* issues and especially Chelsea Manning. The Whistle Blower has been sentenced to 35 years in prison. Chelsea has come out as a trans*woman over a year ago and still has to fight for the start of the hormonal treatment that was promised her by the US government. Chelsea Manning needs our support!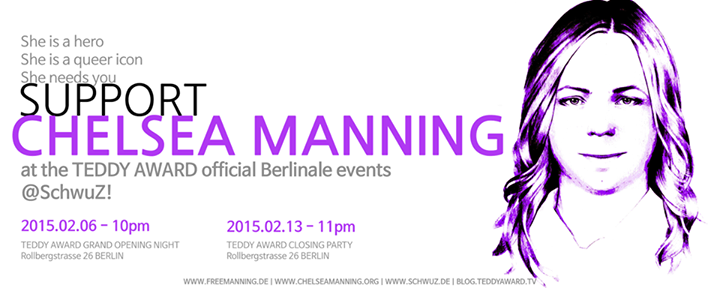 For those who want to read more about the TEDDY, we have been introducing the international TEDDY AWARD Jury on our blog all week. We also remembered the LGBTI activist David Kato on his 4th memorial anniversary and reported on Bombastic, the first LGBTI magazine in Uganda.
http://instagram.com/p/yl7-hwMOtl/?modal=true
As seen above, people were actually camping in front of the Berlinale ticket counters this week, so it's safe to assume that you guys are just as excited as we are for Berlinale to finally start. This is the last Week in Review. Starting Thursday the TEDDY Todays on this blog will inform you daily about everything that's happening at Berlinale. We are looking forward to a great festival with you!