So the Berlinale is now fully underway, and we at the TEDDY AWARD have been enjoying the red carpet of CineStar, where the lovely Zsombor's interviews took place yesterday. Remember you can find those, and all our further interviews with the directors and stars of the TEDDY AWARD, on our YouTube channel:  https://www.youtube.com/channel/UCD1iOuMk-g6JvV76Rj_qBkw
For today's films we've got a tour of Latin American queer cinema coming up. Our journey starts in Paraguay, where Marcelo Martinessi's lesbian drama about an older woman rediscovering her sexual desire takes place. Next, we move to Brazil, the site of Evangelia Kranioti's ethereal documentary depicting trans and queer life in the midst of Rio de Janeiro's carnival. And our final stop off is in Argentina, where we're introduced to the intricate art of Malambo dancing. 
Las herederas (The Heiresses)
Director: Marcelo Martinessi
Paraguay/Uruguay/Germany/Brazil/Norway/France, 2018, 95′, Spanish
Screening: 15.30, Berlinale Palast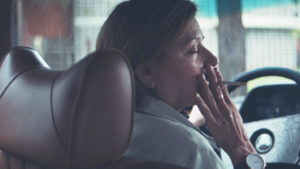 Chela and Chiquita have been a couple for a very long time. Over the years they have become adapted to a fixed allocation of roles. Extroverted Chiquita is responsible for managing their life together. Chela on the other hand is reluctant to leave the house, preferring to spend the day at her easel. Financial difficulties force them to sell some of their inherited furniture, each part of which is a beloved piece of memorabilia. When Chiquita is sent to prison for debt, Chela is suddenly left on her own. She uses her old Daimler to provide a taxi service to wealthy older ladies in the neighbourhood. In her new role as chauffeur, she meets one of these ladies' daughters – the young and life-affirming Angy. The encounter lures the rather passive Chela out of her reserve and helps her rediscover her own desires. Exploring the outside world as tentatively and carefully as its heroine, the film increasingly trains its gaze on a social strata that is strangely cut-off from reality and lives without a thought for tomorrow. However, when Chela visits her girlfriend in prison, a completely different picture emerges of conditions in Paraguay.
Obscuro Barroco
Director: Evangelia Kranioti
France/Greece, 2018, 60′, Portuguese
Screening: 19.30, CineStar IMAX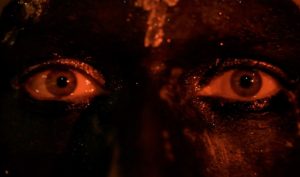 Slowly and elegiacally, the camera glides at first over a forest shrouded in fog, then over a panorama of Rio de Janeiro. An off-screen voice tells us that Rio is a factory of dreams and nightmares, a city of transformations. In her essayistic film Obscuro Barroco Greek director Evangelia Kranioti explores the poetic words of her transgender narrator Luana Muniz, who is herself an icon of Brazil's queer subculture. Amidst a somnambulistic tide of images she enters the pulsating world of creatures of the night. A stream of consciousness from Brazil's underground flows straight into the heart of the city's street carnival. In between the masks and the make-up, the young, naked and new bodies and a spectacular firework display, people come into view who have undergone a transformation that makes it difficult to clearly ascribe them to any gender. A white clown leads us through the film's visual universe in which, all of a sudden, raw-faced anti-government protests also put in an appearance. And then, behind closed doors, all is bared, the 'transvestites' are serenaded and celebrate who they are until the dream culminates in one ecstatic dance.
Malambo, el hombre bueno (Malambo, the Good Man)
Director: Santiago Loza
Argentina, 2017, 71′, Spanish
Screening: 20.00, CinemaxX 7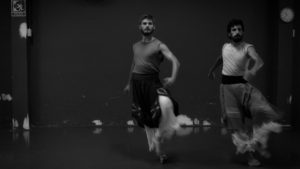 Dignified, strong and formidable, and oozing erotic attraction: young malambo dancer Gaspar is at one with his passion for dance that he has made his profession. But, as director Santiago Loza makes clear at the beginning of his film, the Argentinian competitive dance malambo is an uncompromising battle against time. This is a dance to which you devote your entire life and, even if you should happen to win the top championship joust, you are henceforth condemned to training the next generation or to appearing in nightly cruise shows, for there is no possibility to take part in this competition again. Loza's contrasty, magical black-and-white images whisk us away into the world of Argentinian gaucho dance. Billed as a fiction, his film comes across as a mixture of documentary, fairy-tale, biography and essay in which he juxtaposes the beauty of the dance battles with the harsh realities faced by the dancer himself. Gaspar's devotion begins to take its toll on his body. There seems to be no longer anything else but malambo. In his few rare encounters with life beyond the dance floor Gaspar meets family members, competitors and his flatmate – all in the heat of his tiny apartment.