Bashtaalak sa'at
(Shall I Compare You to a Summer's Day?)
Regie: Mohammad Shawky Hassan,
Egypt, Lebanon, Germany, 2022, 66 Min.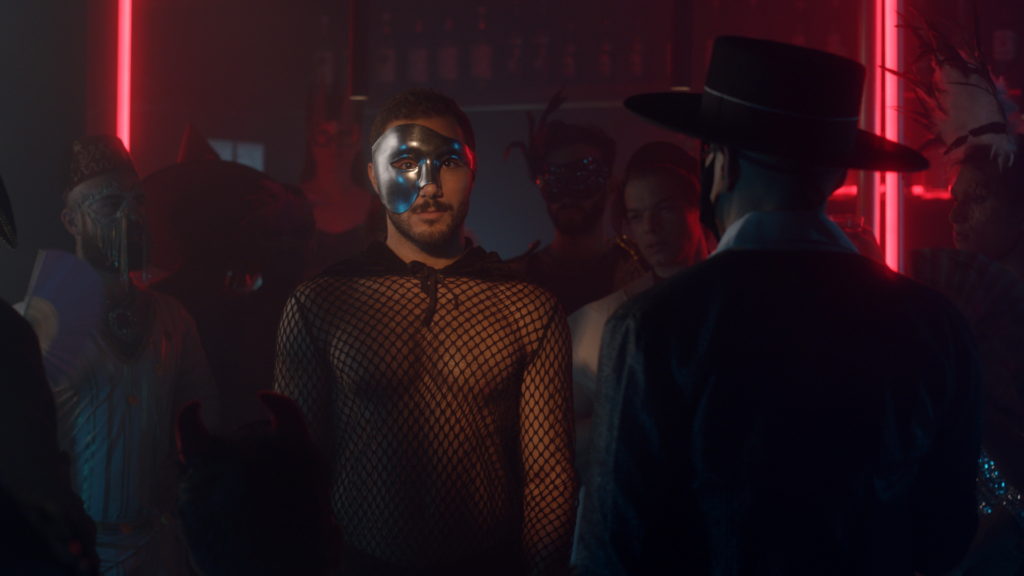 A glance leads to a smile, a smile to a rendezvous: every love story begins the same way. These narratives are stored in songs and poems and live on beyond their inevitable endings, as Shakespeare's titular sonnet 18 also suggests. In Mohammad Shawky Hassan's metafictional essay, a female narrator who wishes to tell the story of a love between two men encounters a polyamorous chorus of lovers, and this oft-told tale is multiplied. In Club Scheherazade, there is no protagonist, and every song has various versions.
Heteronormative dramaturgy is challenged polyphonically and across a range of media: lovers ask each other about threesomes, Grindr contacts and past dates. Pop clichés are twisted, heartache permeates the men's singing, and poems by Wadih Saadeh are read out while a lover's dirty laundry is aired. The narrator mischievously tries for a happy ending as her characters exit the story. "If pain could be forgotten through words," we hear at one point, "no lover would ever have to walk away wounded."
Berdreymi (Beautiful Beings)
Director: Guðmundur Arnar Guðmundsson,
Iceland, Denmark, Sweden, Netherlands, Czechia, 123´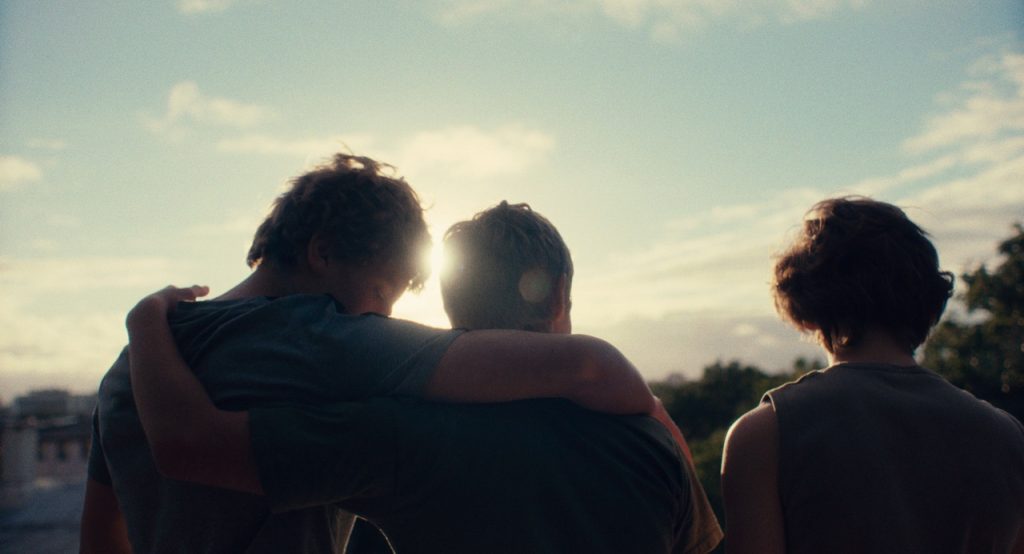 Fourteen-year-old Balli is something of a misfit. He lives with his drug-addicted mother in a squalid house and is bullied by his classmates. A stepfather who "thought the gun wasn't loaded" has left him with a glass eye. But then Balli meets three boys of his own age – Addi, Konni and Siggi – and a friendship gently develops. For the first time in his life, Balli finds that he is able to connect, especially with Addi, whose mother believes in "the subconscious". Addi is fighting his own demons and, when his visions appear to indicate that Balli's brutal stepfather can no longer be tolerated, the boys decide to act.
Icelandic director Guðmundur Arnar Guðmundsson finds poetic images for a world marked by violence and aggression in his coming-ofage drama. In it, he depicts a group of youths who are in danger of foundering on the gender-normative behavioural code of their peer group. Desperately they cling to each other – with a grip that is painful and tender in equal measure.
Calcinculo (Swing Ride)
Director: Chiara Bellosi
Italy, Switzerland, 2022, 90´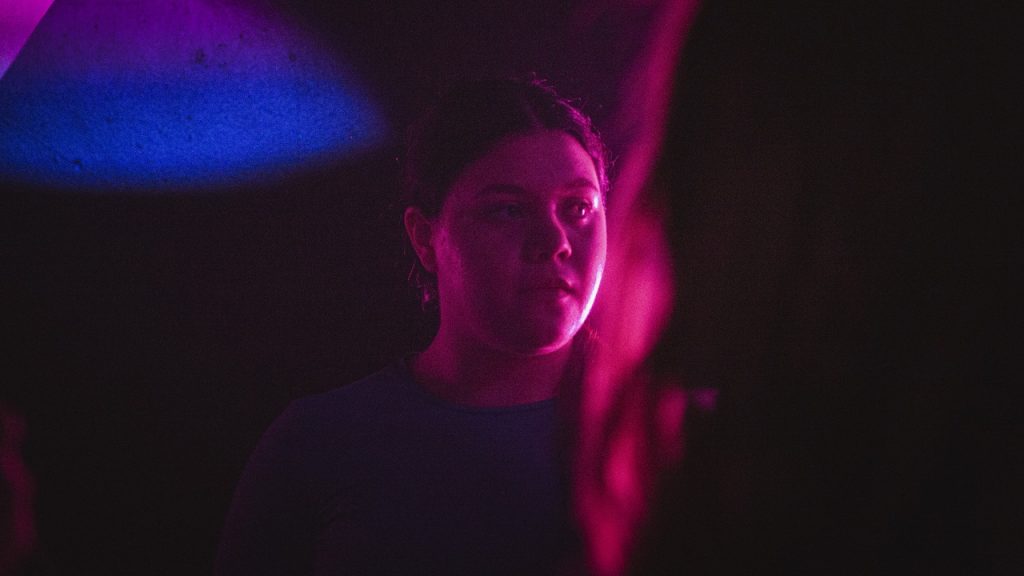 Benedetta, 15, lives in rural Italy with her parents and her two little sisters. After work, her father enjoys tinkering with cars while her mother takes out her frustration on Benedetta. When a funfair sets up on the family's doorstep, she meets a fairground worker named Amanda who lives a self-determined life and defies gender norms. Benedetta is immediately fascinated by the older Amanda's selfconfidence and independence, and school quickly fades into the background. The two barely talk; their cautious friendship is not one fuelled by grand emotions but rather by genial affection, curiosity and unspoken acknowledgement.
Chiara Bellosi depicts them growing closer in quiet moments and precise observations that lend this coming-of-age film both its poetry and a pervasive sense of lightness. Calcinculo takes a tender look at an unusual friendship whilst unfolding a tale of self-discovery and breaking free.
Concerned Citizen
Director: Idan Haguel
Israel, 2022, 82′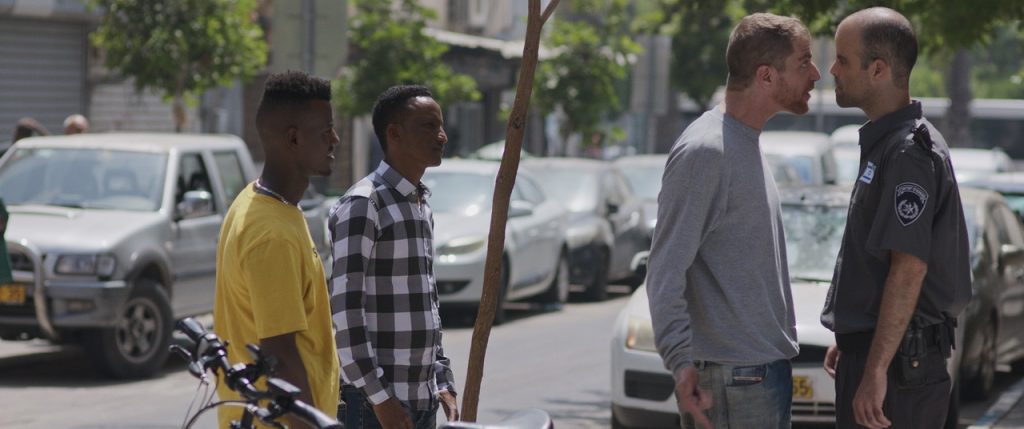 Ben plants a tree on the street in front of his house in Neve Sha'anan, a migrant neighbourhood in the south of Tel Aviv. The district is on the up, and Ben has bought and upgraded a flat here together with his partner Raz. This gay couple now enjoys a settled existence, their days are structured by a well-established routine and everything is in its proper place. Time then, to tackle their desire to have children. And so, assiduously and conscientiously, they set about searching for a suitable egg donor and surrogate mother. One day, when a neighbourly conflict escalates over the tree he has planted, Ben becomes witness to brutal police violence against an Eritrean. The incident upsets his self-image and his plans for a life together with Raz.
Idan Haguel portrays a gay middle-class couple whose desire for self-realisation begins to narrow their worldview, bringing deep-seated prejudices to light. A deftly told parable about the mechanisms of gentrification which, with a hint of satire, raises an uncomfortable question, namely: exactly how tolerant are we?
Fogaréu
Director: Flávia Neves
Brazil, France, 2022, 100´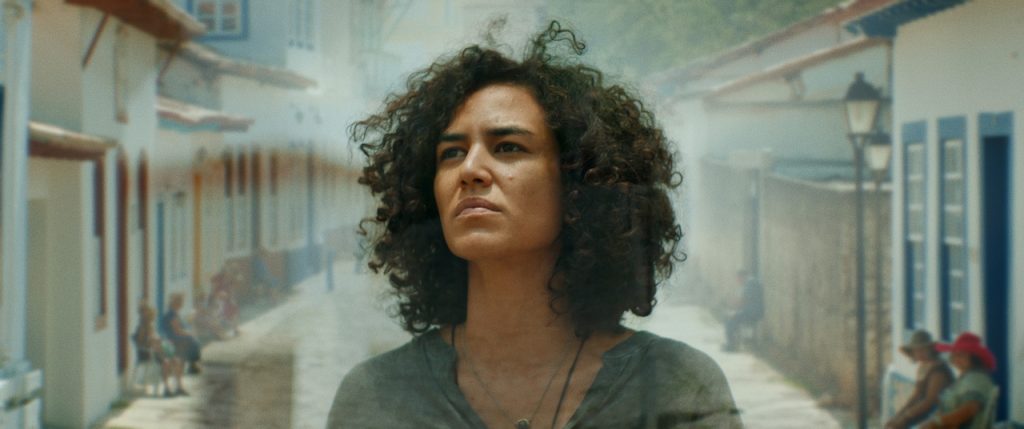 Fernanda returns to her uncle's ranch in Goiás in mid-western Brazil after an absence of many years, bringing the ashes of her deceased adoptive mother back home. Her appearance and her search for the truth about her roots shake the façade of her middleclass family. For her landowner uncle, a conservative mayor of the local municipality who is campaigning for re-election, Fernanda's investigations and accusations are rapidly becoming a threat. But she remains unyielding in her bid for truth and justice.
In her surreal, fantastical debut, Flávia Neves masterfully interweaves the search for one's own origins with Brazil's colonial past. At the heart of this family drama is the confrontation with antiquated traditions, exploitative relationships and with those who profit from them. Fogaréu depicts an inspiring attempt to break out of hardened structures as well as the hope for a new beginning.
A Love Song
Director: Max Walker-Silverman
USA, 2022, 81´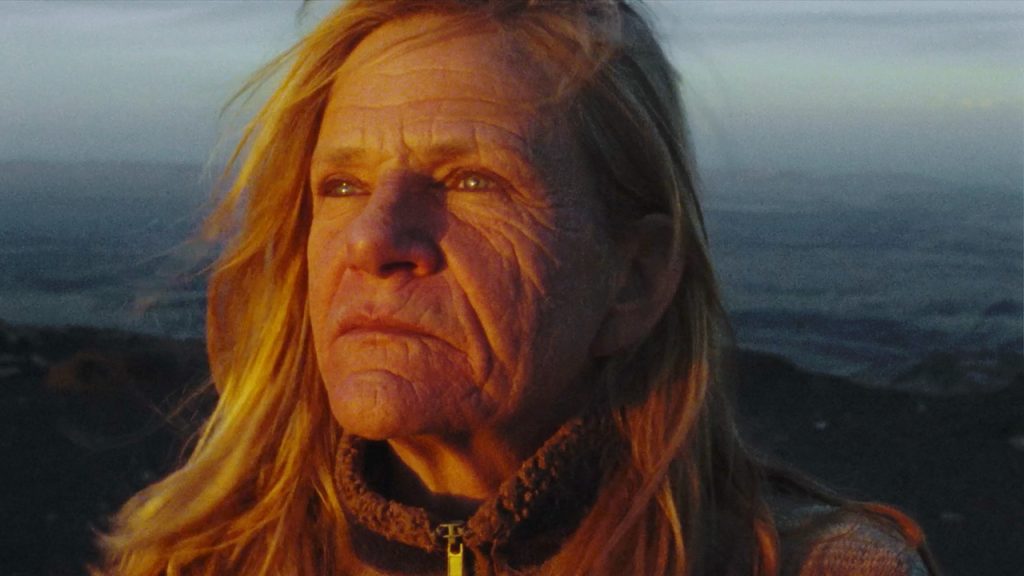 A remote lake in the North American landscape. The sand is yellow, the sky is blue and the mountains distant; there is nary a tree far and wide to provide shade. Faye is spending her days here in a trailer, with two books and a radio, leisurely birdwatching and stargazing. With her wiry build, wild blonde hair and hands that speak of a life of labour, she fits in perfectly here. Anything that breaks, she simply fixes; the only time she sits up and takes notice is when there is a knock at the door. Because Faye is waiting for Lito. Their connection goes way back to their youthful love for each other, but for some years now they have also shared the pain of loss – both are widowed. Max Walker-Silverman's gentle, laconic film is about contemplative introspection, the power of love and the depths of melancholy. Dale Dickey's portrayal of Faye is a touching mixture of inner strength and fragility, which is also reflected in the impressive natural scenery and a delicate soundtrack.
Peter von Kant
Director; François Ozon
France, 2021, 90´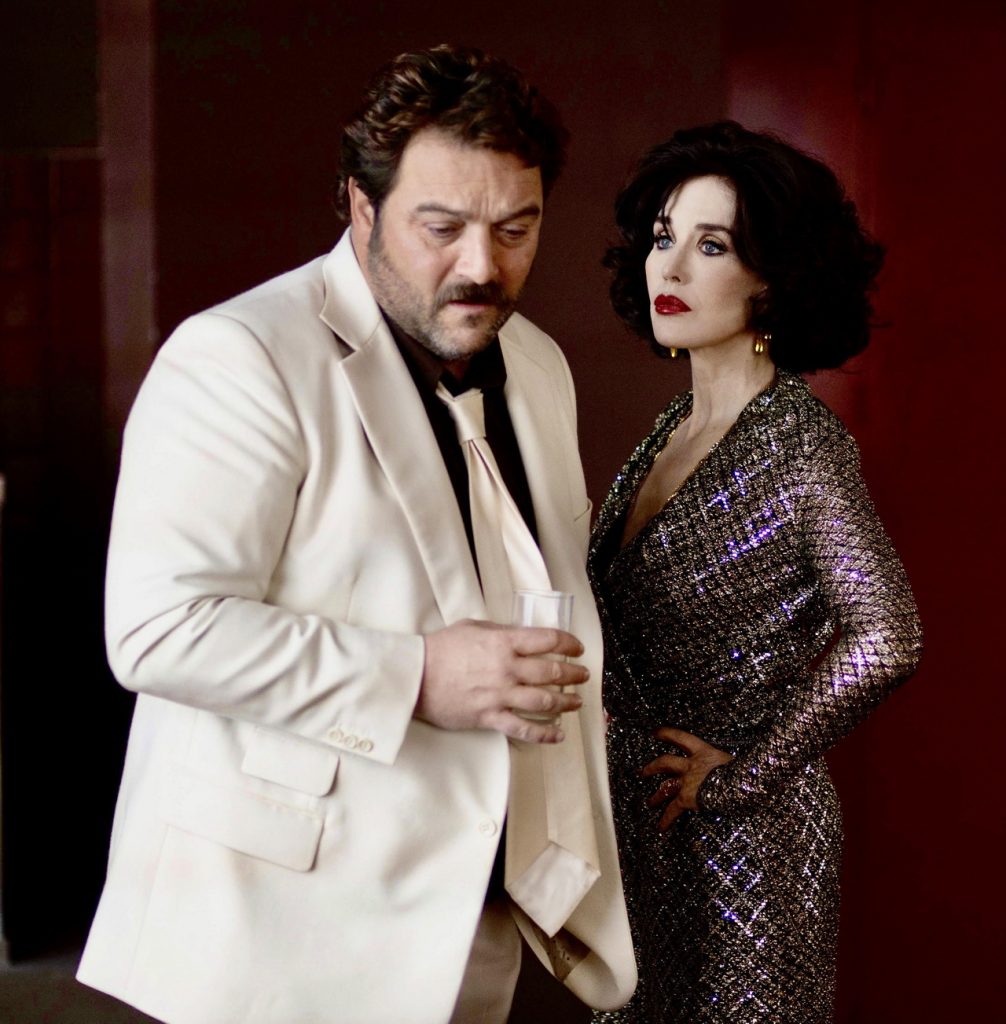 Peter von Kant is a successful film director. He lives with his assistant Karl, whom he likes to mistreat and humiliate. Sidonie is the great actor who was his muse for many years. She introduces him to Amir, a handsome young man of modest means. Peter falls in love with Amir on the spot and offers to share his apartment with him and help him break into the film industry. The plan works, but as soon as he acquires fame, Amir breaks up with Peter, leaving him alone to face his demons. Loosely adapted from Rainer Werner Fassbinder's The Bitter Tears of Petra von Kant, Ozon's cheeky take is an aesthete's delight and a feast of satirical humour. An impressive, committed cast embraces wholeheartedly the French auteur's ruthless commentary on celebrity and its shortcomings. All the performances are a delight: from Denis Menochet's physical tour-de-force as the tortured artist and a fearless Isabelle Adjani willingly riffing on her own film-star image to the reticent but astonishingly expressive Stefan Crepon as the heartbroken assistant, young breakthrough talent Khalil Gharbia as the cruel Amir and, of course, the eternal Hanna Schygulla, in a moving appearance that nods reverently and sincerely to the source material.
Queens of the Qing Dynasty
Director: Ashley McKenzie
Canada, 2022, 122´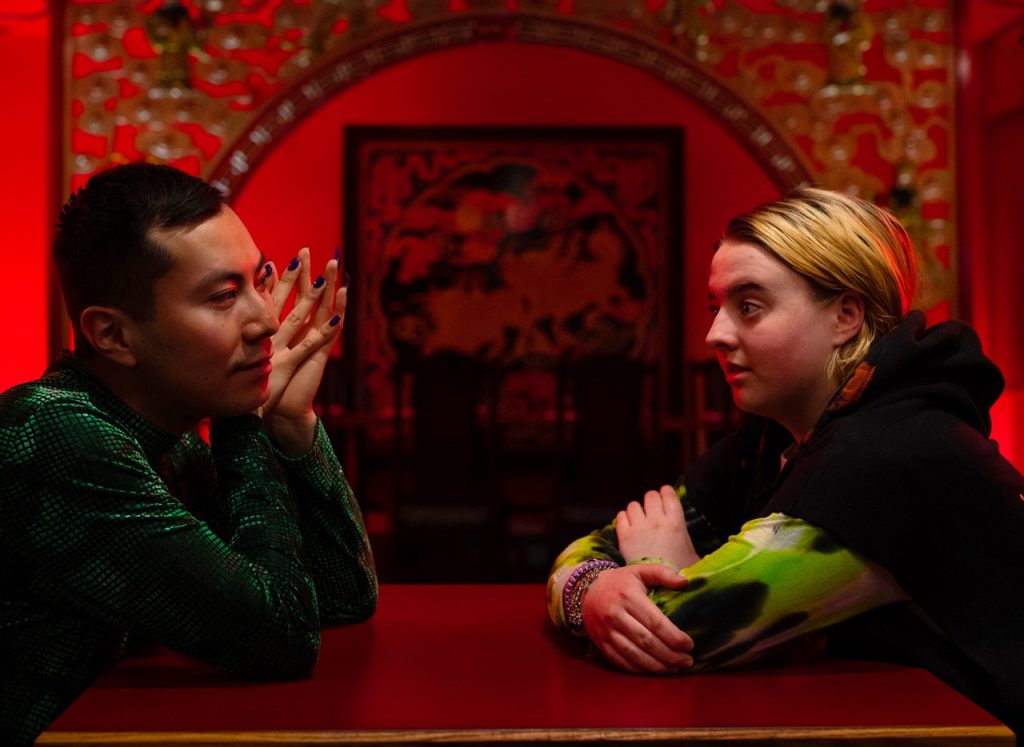 Star, a suicidal teen now too old for foster care, develops a candid rapport with An, a student from Shanghai who is assigned to watch her while she is in hospital. A nightly exchange of secrets, text messages and possessions quickly expands the boundaries of their relationship, altering their inner chemistry. Gilded by a soundscape that interweaves work by emerging and pioneering electronic musicians, Queens of the Qing Dynasty is an offbeat ode to neurodiversity and genderqueer individuals who refuse to conform. Director Ashley McKenzie's blend of formalism and gritty realism does not fail to surprise and treats the audience to flashes of visual and conceptual poetry. Her cast is entirely composed of first-time actors who convincingly convey how unique every individual is, both in how they see the world and how they relate to others.
Ziyin Zheng in the role of An graciously embodies a mix of idiosyncrasy and frankness that makes them an ideal confidante for Star (Sarah Walker). They have what it takes to be on the receiving end of the scrutinising gaze of Star, who sees through conventions and never ceases to be amazed at life's bewildering events. Veering on slapstick, Walker's performance will not go unnoticed.
Sublime
Director: Mariano Biasin
Argentina 2022, 100´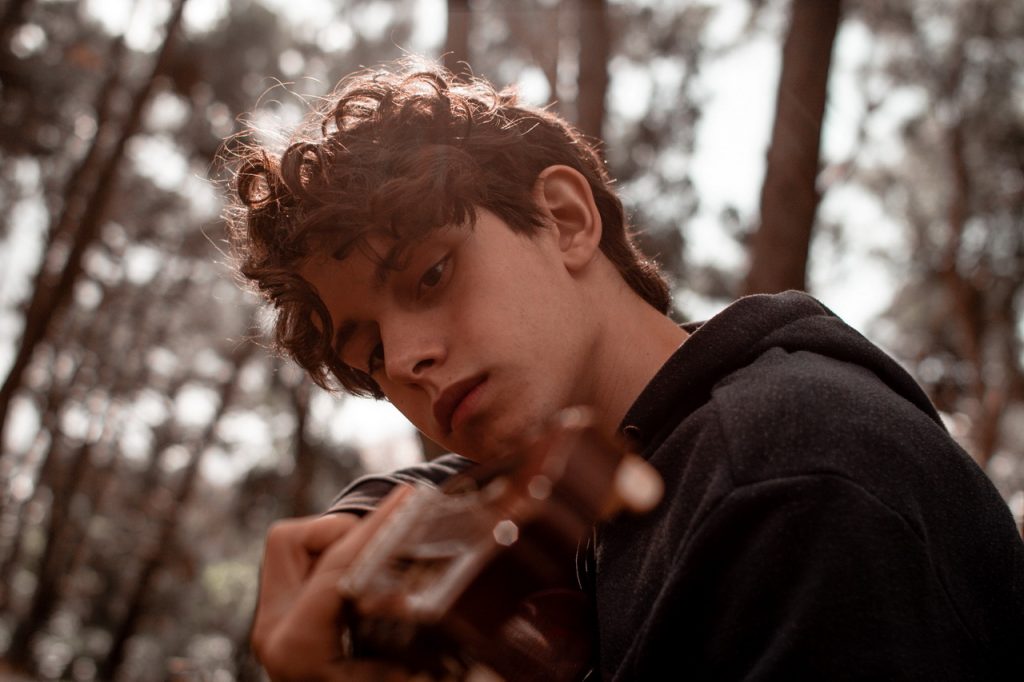 "Say it. Say it."
In his dreams, bathed in a brilliant glow, Manu and his best friend Felipe are inching closer and closer together, yet they never kiss. A confusing desire, as Manu is dating Azul, and the two are about to have sex for the first time. In Mariano Biasin's Sublime, a niggling desire simmers beneath the surface of 16-year-old Manu's everyday life, his emotional turmoil bubbling up and revealing itself in indirect ways – during his attempt to find the right chords for his latest lyrics and in his flights of melancholic introspection, at band practices with the rest of the guys or during supper with his parents. Cautiously, with increasing resignation, Manu keeps trying to solve the conundrum: how do you avoid losing something precious, when it's the very thing tearing you up inside?
Três tigres tristes
(Three Tidy Tigers Tied a Tie Tighter)
Director: Gustavo Vinagre
Brazil, 2022, 86´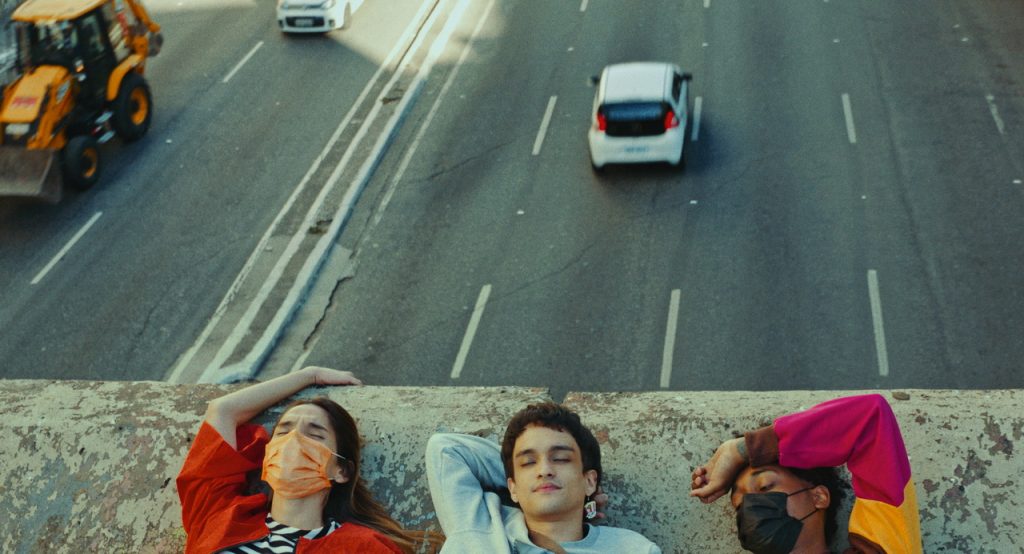 São Paulo, in a dystopian future not so very far from the present. A virus is circulating, one that mainly attacks the brain and the ability to remember. A state that has forgotten a past marked by colonialism and dictatorship desperately awaits some indeterminate "Golden Phase." Three young queer people drift through a city bled dry by the pandemic and rampant capitalism, remembering each another's late lovers, sharing their experiences with HIV, getting makeup tips for masked faces and ultimately coming together with others forgotten by society for an antique revue in the salon of a singer named Mirta. In Gustavo Vinagre's affable, surrealist survey of a politically imposed amnesia, a queer era has dawned in which memories can only survive because they are shared collectively and
passed on through affective relationships. Those who spread out in all directions do not collide. And those entirely unconcerned with dying rich and privileged are experiencing the Golden Phase right now. In Três tigres tristes, the margins of society glitter, forgotten by the pandemic.
Tytöt tytöt tytöt (Girl Picture)
Director: Alli Haapasalo
Finland 2022, 101´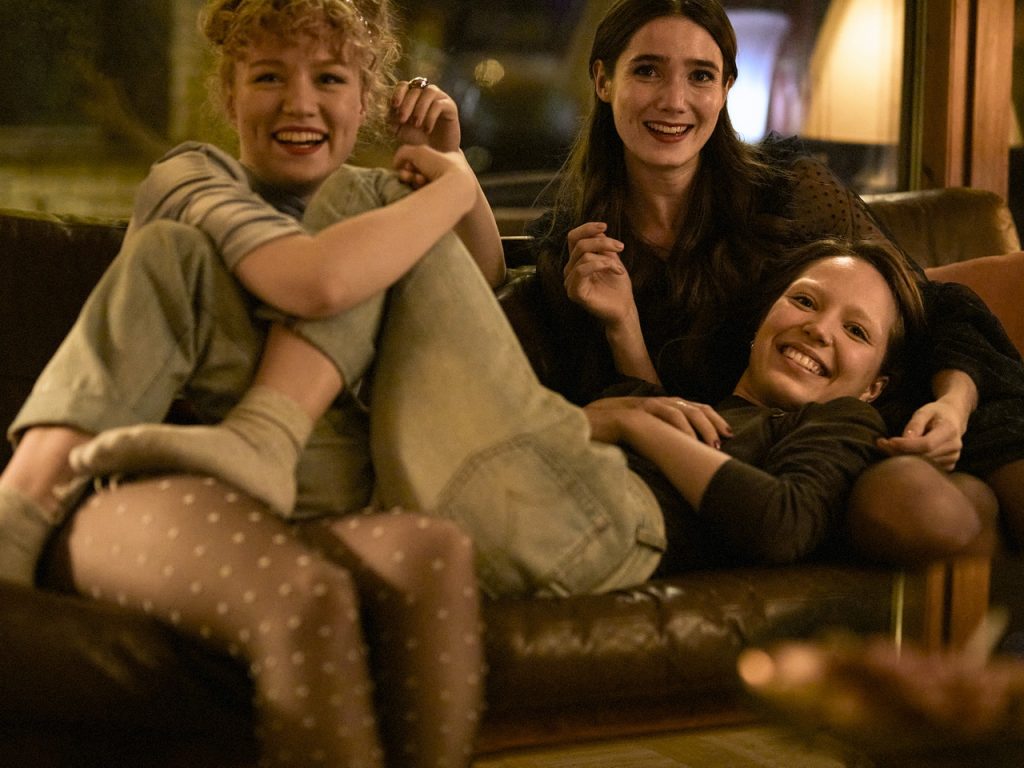 "Shouldn't you feel it at first glance?" – "How depressing would it be if that was true!"

It's Friday night and just like every other week, best friends Rönkkö and Mimmi are busy beating back the darkness of the Finnish winter with an irrepressible lust for life and love. With her quirky wit, Rönkkö stands out at every party and has no trouble getting the boys' attention – yet how do you turn desire into fulfilment? When Mimmi loses her temper, you might find yourself on the wrong end of her hockey stick. But when she falls in love with the graceful figure skater Emma, everything suddenly seems bright and easy. With its episodic narrative, Alli Haapasalo's film tells a story of friendship, and of three exhilaratingly headstrong individuals trying to wrest dreams from reality and redefining relationships and sexuality along the way.
Viens je t'emmène ( Nobody's Hero)
Alain Guiraudie
France, 2022, 100´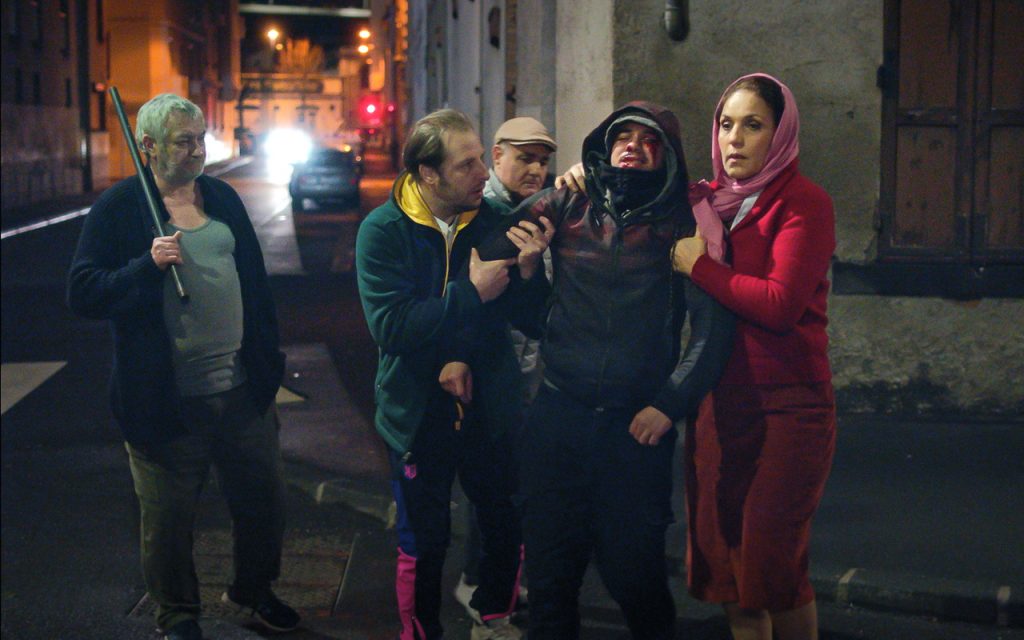 The news of a terrorist attack in Clermont-Ferrand in France catches Isadora and Médéric in bed. Médéric, a likeable, unassuming man in his mid-thirties, has fallen head over heels in love with the older, married sex worker Isadora. The attack brings their lovemaking at the Hotel de France to an abrupt end. The city is in turmoil. Sélim, a homeless young man of Arab origin, is given money and shelter by Médéric. But then the latter begins to suspect that Sélim might have been involved in the attack, and calls the police. In the meantime, Isadora's husband turns up and starts to feel jealous. And so it is that Alain Guiraudie's lively and sometimes turbulent carousel of characters begins to spin.
Partly serious and partly satirical and witty in tone, this is a film about impossible love, the paranoia of society and neighbourly solidarity. Topics such as body image, age, religion and sexual orientation are also broached in a wonderfully casual way. The more individuals who come into play, the more unpredictable and surprising the plot becomes and, although it may sometimes veer towards the absurd, it always treats its unusual characters with a lot of love.