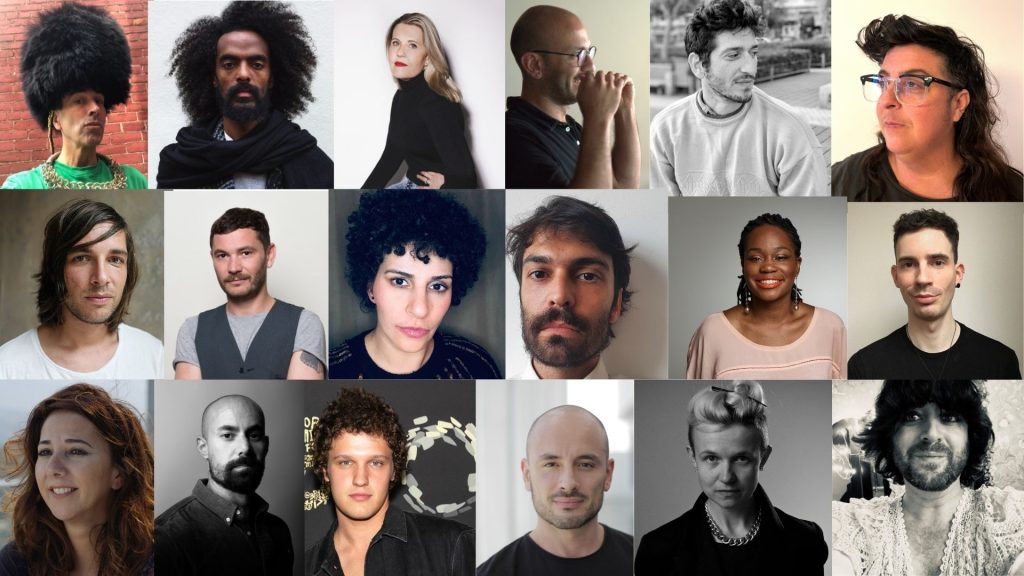 Alle Talks und Panels im Livestream auf
www.teddyaward.tv/live
Freitag 11.02.2022 – 18:00 Uhr
A TEDDY Jury Reception:
Die traditionelle Vorstellung unserer TEDDY AWARD Jury Online. Zsombor Bobák im Gespräch mit der Jury des 36. TEDDY AWARD:
Robert Moussa , Joanna Ostrowska, Faridah Gbadamosi & Pepe Ruiloba über ihre Festivals, die Arbeit der TEDDY-Jury und was ein Queer-Filmpreis für sie bedeutet.
THIS TALK IS AVAILABLE TO WATCH HERE

Samstag 12.02.2022 – 16:00 Uhr
TEDDY Talk: The TEDDY Winners Path through a Pandemic
Samuel Girma im Gespräch mit Eliane Raheb & John Greyson
Ein Gespräch mit Gewinner:innen des letztjährigen TEDDY AWARD darüber, wie der Gewinn des TEDDY AWARDs den Weg ihrer Filme im zweiten Jahr der aktuellen Pandemie beeinflusst hat und mit welchen Herausforderungen und Überraschungen sie und ihre preisgekrönten Filme im Laufe ihrer Festivaltour konfrontiert waren.
THIS TALK IS AVAILABLE TO WATCH HERE
Sonntag 13.02.2022 – 16:00 Uhr
TEDDY Talk: Evolving Experimentation
Toby Ashraf im Gespräch mit Liz Rosenfeld, Mohammad Shawky Hassan & Gustavo Vinagre
Filmemacher:innen, die die Norm herausfordern, nicht nur in der Geschichte, sondern auch in der Form. Ein Gespräch mit drei Filmemacher:innen, deren Werke im Rahmen von Forum und Forum Expanded gezeigt werden, über die Bedeutung von Experimenten im Queer Cinema. Vom Entwicklungsprozess bis zur Geschichte, die die Form diktiert oder umgekehrt und über die Kämpfe, die mit der Entwicklung dieser Kunstform des Geschichtenerzählens verbunden sind.

Sonntag 13.02.2022 – 18:00 Uhr
DIRECTORS EXCHANGE: Motivations
Nastaran Tajeri-Foumani im Gespräch mit Idan Haguel, Alli Haapasalo & Antonio Marziale
Drei Regisseur:innen, deren Werke bei der 72. Berlinale Premiere feiern, diskutieren die unterschiedlichen Motivationen, die ihre Filme beeinflusst haben. Von der ersten Idee bis zum finalen Schnitt – welche Rolle spielen brandheiße Themen in der Storyline und für die Charaktere? Wie schwierig ist es, komplexe Charaktere mit sozialkritischen Arbeiten zu verbinden?
THIS TALK IS AVAILABLE TO WATCH HERE

Montag 14.02.2022 – 18.00 Uhr
Queer Your Program: Online Speedy Film Pitches
(nur mit Voranmeldung)
Moderation: Bartholomew Sammut
25 Filmschaffende, deren Filme bereit für den Verleih sind, präsentieren ihre Projekte in zweiminütigen Pitches vor Filmverleihern, Programmchefs und Agenten.
20:00
Queer Industry Reception goes Online
(nur mit Voranmeldung)
Moderation: Bartholomew Sammut
Einführung: Michael Stütz
Die jährliche Zusammenkunft von Fachleuten aus der Queer-Film-Branche, von Filmemachern über Programmierer bis hin zu Verleihern und Vertriebsagenten. Was normalerweise persönlich mit einem Glas in der Hand und gekritzelten Namensschildern auf den Hemden geschieht, wird einmal mehr online stattfinden. Wir werden weiterhin als Gemeinschaft zusammenkommen, Kontakte knüpfen und Netzwerke aufbauen, über das vergangene Jahr und die Filme, auf die wir uns freuen, plaudern und etwas dringend benötigte gemeinsame Zeit miteinander verbringen.
Alle Talks und Panels im Livestream auf
www.teddyaward.tv/live