Similarities and Disparities of the COVID-19 pandemic and the HIV/AIDS epidemic
FREITAG 05. März 2021 | 14 Uhr
Two global public health crises, two invisible threats to human life. But in what ways compare the COVID-19 pandemic and the HIV/AIDS epidemic? What are the most striking differences? Is it ethical at all to compare the two? And what role can cinema and filmmakers play in tackling the harshest of realities brought by these viruses? Where do their responsibilities and political power lie? A conversation about visibility, power, trauma, memory, and film activism.
DIE GÄSTE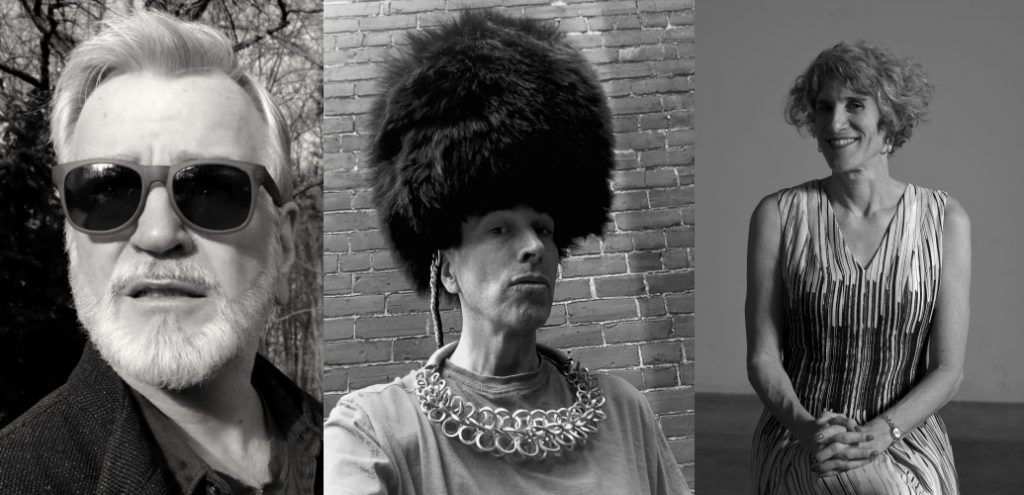 Dr. Alexandra Juhasz
Dr. Alexandra Juhasz is a Distinguished Professor of Film at Brooklyn College, CUNY. She makes and studies committed media practices that contribute to political change and individual and community growth. She has been making and thinking about AIDS activist video since the mid-80s. She is the author/editor of scholarly books on AIDS including 'AIDS TV' (Duke, 1995) and 'AIDS and the Distribution of Crises' (with Jih-Fei Cheng and Nishant Shahani, 2020), fake (and real) documentaries, YouTube, and black lesbian filmmaking (with Yvonne Welbon, 'Sisters in the Life: 25 Years of African-American Lesbian Filmmaking', Duke 2018). She is the producer of educational videotapes on feminist issues from AIDS to teen pregnancy as well as the feature fake documentaries 'The Watermelon Woman' (Cheryl Dunye, 196) and 'The Owls' (Dunye, 2010). Her current work is on and about feminist Internet culture:
Fakenews Poetry and HIV/COVID-19.
Foto © Dr. Alexandra Juhasz
John Greyson
John Greyson is video/film artist and pioneer of the new queer cinema. Since 1984, his many features, shorts and transmedia works have explored such queer activist issues as police violence, prison, AIDS activism, solidarity, homo-nationalism and apartheid (both South African and Israeli). These include International Dawn Chorus Day (2021), Mercurial (2018), Gazonto (2016), Murder in Passing (2013), Fig Trees (2009), Lilies (1996), Zero Patience (1993), The Making of Monsters (1991) and Urinal (1989), which have received 40+ best film awards at such festivals as TIFF, Lisbon, Ann Arbor, Hamburg, San Francisco, Vancouver, Locarno, Montreal, Los Angeles and Hong Kong, as well as 3 Berlinale Teddies and 5 Canadian Screen Awards (Canada's Oscars). He teaches in York University's Cinema & Media Arts department, was a member of the Blah Blah Blah and Olive Project media collectives, co-editor of Queer Looks: Perspectives on Lesbian & Gay Film & Video (1993), co-producer of the cable series Toronto Living with AIDS (1991) and producer of the AIDS activist media project Viral Interventions (2021).His films are subject of the critical anthology The Perils of Pedagogy: The Works of John Greyson. IDCD is his eighth film to premiere at the Berlinale.
Foto © John Greyson

Wieland Speck
*1951, aufgewachsen in Freiburg i.Br.
1973-76 | Studium FU: Germanistik, Theaterwissenschaften, Ethnologie
1976-79 | Theaterleiter TALI KINO Kreuzberg (heute Moviemento)
1979-80 | Filmstudium am San Francisco Art Institute, u.a. bei George Kuchar
1987 | Gründung TEDDY AWARD – der queere Filmpreis der Berlinale
1992-2017 | Programmleiter PANORAMA Berlinale
1992-2019 | Mitglied Auswahlkomitee Wettbewerb Berlinale

Diverse Jury Tätigkeiten, Programmberatung für verschiedene int. Filmfestivals und Institutionen. Gremiums Mitglied in Filmförderungen. Autor und Schauspieler.
Foto © Wieland Speck
MODERATION
Zsombor Bobák
Zsombor hat an der Universität Amsterdam den Studiengang Heritage Studies: Preservation and Presentation of the Moving Image Programm im Jahr 2018 absolviert. Seitdem ist er Mitglied des TEDDY AWARD-Teams und führt Interviews mit Filmemacher*innenn und Filmschaffenden. Er interessiert sich leidenschaftlich für queere Kino, queere Filmgeschichten und das politische Potenzial von Filmfestivals.
Hier ist der Link zum Livestream, damit ihr auch wirklich nichts verpasst!